Build Wealth!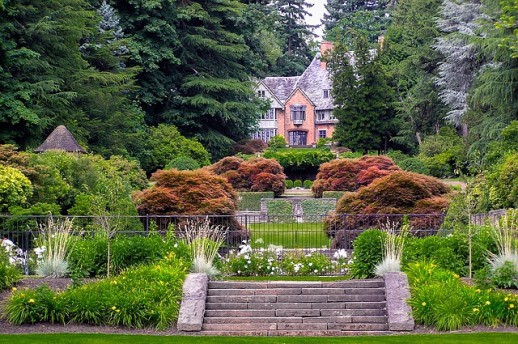 I walked by a property recently that looked like the one in this picture. We are lucky to live in a nice town, but our house and yard are slightly more humble. As I passed, I thought the owners must really know how to build wealth.
BUILD WEALTH?
I always enjoyed reading about and studying wealthy people. In my younger years, I wondered what they knew that I did not. How did they build their wealth? Is it multigenerational wealth? What are their secrets? Are they happy?
THE MILLIONAIRE NEXT DOOR
Like most personal finance bloggers, I loved the book The Millionaire Next Door. Furthermore, I read it cover to cover more than once in 1998. And it explained to me what most millionaires are really like. As a result, I learned how they became millionaires.
At that time, I had great aspirations to become a millionaire myself. However, 1998 was 20 years ago. And, I have been wondering what has changed. Are there more millionaires today? In addition, do they build wealth in the same way as they did 20 plus years ago?
Looking back over my life now, how do the principles in The Millionaire Next Door compare to my current beliefs and experiences.
THE BUILD WEALTH PLAN
To do this lets look at a couple areas to kick things off:
review some past and recent statistics on wealth in America

discuss some wealth-building techniques according to Tom here at Dividends Diversify
Related: The 4 pillars of wealth creation
WHAT IS WEALTH?
First of all, let's set a definition for wealth. To keep it consistent, we will use the metric from The Millionaire Next Door. That being, net worth. Net worth is defined as the current value of one's assets less liabilities.
WEALTHY IN THE 90'S
Back in 1998, the book defined wealthy as having a net worth of $1 million or more. Based on this definition, the book goes on to say that only 3.5% of the 100 million households in America were considered wealthy at that time.
I know. I know. You say that $1 million is not what it used to be. It is not a good indicator of wealth. However, I want to use that level for purposes of comparison and consistency. Give me a break, I'm an accountant, we like comparability and consistency.
Related: 24 ways to attract money, wealth & good fortune
WEALTHY TODAY
So, I took a virtual stroll over to DQYDJ. That stands for Don't Quit Your Day Job. It's an informative website with a lot of good economic data. By the way, I quit my day job in 2013 so I don't always follow the advice I read.
According to DQYDJ, in 2016 there were 126 million households in America. Furthermore, almost 12% of those households had attained millionaire status. So, 20 years later there are more than four times as many millionaire households in America. Note that other studies have the number at about 10%. No one knows for sure.
Based on the DQYDJ data, in 2016, $3 million must be the new $1 million. Because a little more than 3.5% of American households had attained a $3 million net worth by 2016.
HAVE THE RULES OF WEALTH BUILDING CHANGED?
Recently, I have been doing some research on what it takes to become wealthy. I'm interested if the rules of the game have changed much since the 1990s. In fact, this article is the first of a multi-part series on building wealth and the new millionaires.
For right now, I'm going to use my past experience to present the Dividends Diversify personal finance wealth-building rules. I have an entire blog category of posts here at Dividends Diversify called Building Wealth. Therefore, I must know something about it. Or, at least I pretend to.
#1 -WHY BUILD WEALTH?
Why do you want to be wealthy?
Those are just a few suggestions. There is no wrong answer. It is all up to you. After all, it is your life. Just remember, if you can visualize and want it bad enough, you can achieve it.
For me, I wanted freedom. As I hit my early 40's, career stress and work fatigue started to settle in. I felt like I was leaving part of life "on the table". And, I wanted my life back. I wanted the freedom to do what I wanted when I wanted to.
Build wealth rule number 1: Determine why being wealthy is important to you.
#2 – MAXIMIZE YOUR EARNINGS
It's so important to maximize your earnings potential. Your earnings power is the raw material to build wealth. Your job, your career, your business. Whatever it is, put a laser focus on it. Be balanced, but don't get distracted.
Develop and invest in yourself. Become an indispensable contributor, a rainmaker. Differentiate your skills. Put in the hard work and long hours. Once you do this, make sure you are being compensated at the high end of the market value. If your employer doesn't recognize your value, find another one that will.
Don't get complacent. I stayed 10 years at my second employer. It was too long. I learned a lot there, but I wasn't being compensated at the market rate.
I left in my early 30's and went to a smaller company that was being prepared for sale. Other candidates for the job didn't want to take the risk.
It paid off well based on equity compensation from the sale. In addition, it was a stepping stone to a higher paying job at another company. I didn't see the situation as risky. I knew my skills had value in the market whatever happened. Value my previous employer wasn't willing to pay for.
So remember, work hard, be disciplined, invest in your skills, and network in your industry. And, make sure you get paid well. This an important formula for wealth.
Build wealth rule number 2: Put a laser focus on your career or business to maximize your earnings.
#3 – MANAGE YOUR SPENDING
Some people call it being frugal. Others, living below their means. There are many ways to save money. Whatever you want to call it, just do it!
Here is a simple cash management formula I have used for years:
Cash coming in from earnings

Minus cash going out for living expenses

Equals free cash flow
I have tracked and budgeted using this formula for my own needs every month for the last 30 years. Make your free cash flow as large as possible by earning more and spending less. It's part of a solid foundation for building your wealth.
Build wealth rule number 3: Manage your spending. Track and maximize your free cash flow each month.
#4 – HAVE A PLAN FOR EVERY DOLLAR
Next, have a plan for every dollar of free cash flow you create. Here are the primary options:
Build your cash emergency fund

Pay off debt

Invest in the financial markets, real estate or other areas

Invest in yourself
Be careful about investing in higher education. It is very expensive. If you spend money, make sure you can get a return on your investment by increasing your earnings power. Remember, that is rule number 1.
In addition, investing in yourself can be free. For example, volunteer for a project at work that will provide on the job learning experience and increase your skills.
In my 20's and 30's, many of my co-workers were getting their MBAs part time at night and weekends. I considered it, but opted to spend my time and energy at work building my professional skills. And, I have no regrets.
Furthermore, I went back and got my masters degree in accounting in my late 40's as a stepping stone into my current role as a part time university teacher.
Free cash flow is like the blood running through your veins. Put it to work in ways that will reduce your financial risk, provide a return on investment or both.
Build wealth rule number 4: Have a plan for every dollar of free cash flow you generate
#5 – INVEST, INVEST, INVEST
Okay. You now have some free cash flow. And, some cash set aside for emergencies. Your debt is under control or getting there. And, you're working your tail off on your career or business.
Things are starting to look up. You have some extra free cash flow to invest. We will keep the investing principles to a minimum here. The most important one is to start early. It takes time to build wealth.
The sooner you start investing the better off you will be. If you haven't started yet, start now. It will never be earlier than today. You should know I like investing in dividend stocks. There are plenty of millionaire dividend investors out there.
Build wealth rule number 5: Invest early and often.
CONCLUSION-BUILD WEALTH
I doubt the rules of wealth-building have changed very much. At least not in my lifetime
So, in summary form, here are the Dividends Diversify top 5 rules for building wealth:
Determine why you want to build wealth

Maximize your earnings

Manage your spending & track your free cash flow

Have a plan for every dollar of free cash flow you create

Start investing as early as possible
Follow these rules. Turn them into your affirmations of wealth.
And you will be creating your own financial independence, rags to riches, and early retirement story.  Looking at this list reminds me of how my parents built their wealth and me in their footsteps.
So readers, what do you think? Have I missed anything? Do you have some secret sauce to build wealth that you can share and contribute to the conversation? Leave a comment and let us know!
Most importantly, don't forget to check out the rest of the series:
You can do it. Build Wealth!