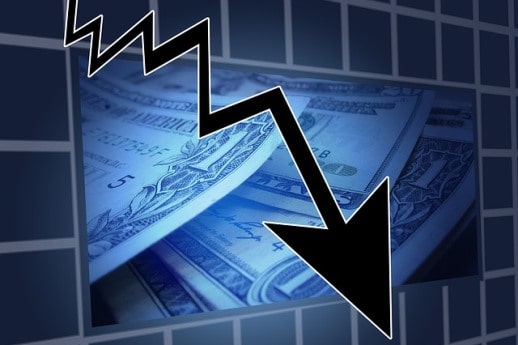 As of last Thursdays close, the US stock market was down about 10% from its 52 week high.  I measured the decrease by looking at the change in price of the Vanguard Total Stock Market ETF (VTI).
MARKET CORRECTION
That's 10% in 9 trading days taking us back to price levels last seen in November 2017.  A drop of that size from the most recent market peak is typically defined as a market correction.  A 20% decrease is considered a bear market.
HOW DID I REACT?
I haven't been paying that much attention to the market correction.  Why?  Being an income investor and specifically a long term holder of dividend stocks, I worry more about the cash dividends my investments pay out.  Not trying to time the market is a core investing principle.
With rising interest rates and a couple dividend increases the last few days, our passive investment income has gone up.  In the same period of time, we have had this nasty little thing called a stock market correction, finally.
As the stock market kept rising the last few months, I wan't adding much to my individual stocks.  You can see what I was buying on a consistent basis and why here.
WHAT I'M DOING NOW
With a correction under way, I think it's a good time to add to at least one of my stocks.  My first consideration was to look back at the dividend deep dives (DDD) I have completed over the last several months to see how the correction has impacted these companies.
I'm writing this on a snowy Friday morning trying to decide what to buy before the market closes.  That said, the current price and dividend yield in the chart are as of Thursday's close on February 8th.  The buy price, was based on my DDD analysis.  Each company symbol is linked to its DDD.  But, you should do your own research specific to your personal circumstances.
DIVIDEND DEEP DIVE RECAP
| | | | | | | |
| --- | --- | --- | --- | --- | --- | --- |
| Company Symbol | Date of DDD | Buy Price | Price on DDD Date | Current Price | % Change | Dividend Yield |
| D | 9/22/17 |  80 | 77.04 |   73.30  |  -4.9 |     4.6% |
| WEC | 10/6/17 |  60 |    64.30 |    59.50 |  -7.5 |  3.7 |
| CMI | 10/27/17 | 140 |  179.50 |  165.72 |  -7.7 |  2.6 |
| CMP | 11/7/17 | 63 |    66.30 |    67.25 |   1.4  |   4.3  |
| GE | 11/21/17 | NO |    17.83 |    14.45 |  -19.0 |  3.3 |
| JNJ | 12/19/17 | 120 |  141.78 |  126.4 |  -10.9 |  2.7 |
| PM | 1/9/18 | 100 |  104.89 |   100.4 |  -4.3 |  4.3 |
| O | 1/23/18 | 55 |    54.53 |    47.6  |  -12.8 |   5.5  |
You can see the significant declines in most of the stock prices since the date I reviewed them.  Only two of the stocks (D and O) were below my buy price on the date of the dividend deep dive.  WEC has now moved below.  While PM and JNJ are getting close.  The funny thing is, there have been few significant changes in their business fundamentals.  The only developments I have noted recently are:
Dominion (D) announced a planned merger with SCANA.

GE continues to bumble along trying to figure out their direction, while the SEC opened an investigation of their accounting practices.

Compass Minerals (CMP) whose major business is selling road deicing salt is benefiting from a snowy winter after 2 years of below average snowfall in their major markets.  I can vouch for that.
IT'S SNOWING
Here's the view out my picture window Friday morning: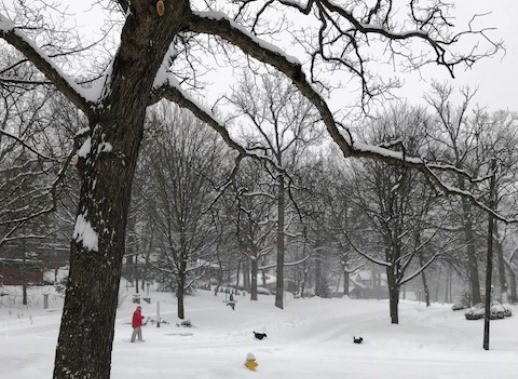 That's my neighbor and his two little black dogs out for a morning stroll.
Mrs. DD works at the same local University where I teach.  The University closed down for the day.  Mrs. DD is home enjoying an unexpected day off.  She is outside shoveling the drive.  It's hard to find good help. So hang on to it when you do!  Here she is.  Ain't she cute.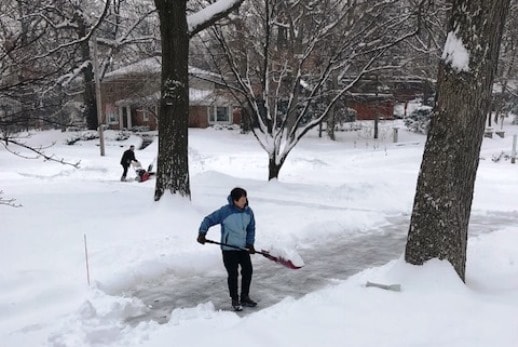 BACK TO THE POINT
Okay.  Enough about life in DD land.  I need to buy some stock.  This is what I was thinking:
I really like O at this price, but I don't have any available cash in the IRA account I hold it in.  So, I will wait and hope the price stays low until I accumulate some dividends to reinvest in the company.

I also like D a lot.  It is a great combination of current dividend yield and expected 7-8% dividend growth over the next few years.  Since D is one of my larger positions and I added to it in January I will take a pass for now.
THIS IS WHAT I DID
I added shares to my position in Southern Company (SO), the regulated gas and electric utility company based in Atlanta, Georgia.  I have not published a Dividend Deep Dive on SO yet.  But, the company has been a long term holding of mine.  SO is also a member of the Dividends Deluxe model portfolio.  Here are the facts on my purchase:
Stock price $43.74

Dividend yield 5.30%

Expected annual dividend growth 2-4%
Look for an upcoming dividend deep dive on Southern Company right here at Dividends Diversify.
WRAPPING IT UP
What do you think of this purchase?

What have you been buying lately?

How have you been handling the market correction?

Mrs. DD needs a side hustle, would you hire her to shovel your drive?
Leave a comment, join the discussion and let us know.
Disclosure & Disclaimer
I am long all stocks mentioned in this article.  Always remember that the information on this site is for educational and entertainment purposes only.  The information is not to be used as investment advice specific to your circumstances.  Consult your personal investment and/or tax advisers prior to investing money.  Please realize you are solely responsible for any investment gains or losses as a result of the investments you enter into.  You can find additional information under this site's disclaimer tab:  Disclaimer & Privacy Policy.