Financial Independence Day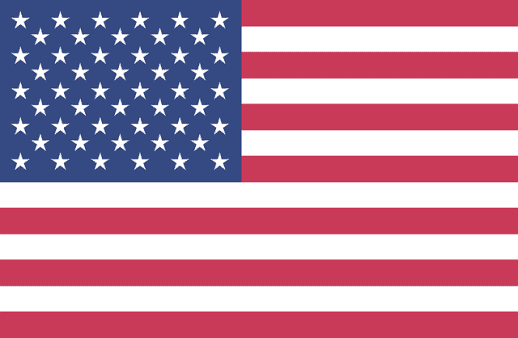 The 4th of July holiday also known as Independence Day is a great day in the U.S.  This year has special meaning for me.  Why?  It is the 5 year anniversary of my financial independence day.
I am really an independent person.  Furthermore, it is partly how I'm wired.  And partly how my parents raised me.  In addition, independence means a lot to me.  I have always reached for independence at every stage of my life.
STAGES OF INDEPENDENCE
Because of my financial independence day anniversary, I have been thinking about some of the different stages of independence I have conquered.
INDEPENDENCE – ON 2 WHEELS
I can't remember how old I was when I mastered the art of the two wheel bicycle.  I do remember going up and down the driveway at home trying to get it.  And when I did, independence!  I grew up in a small town and the streets were now mine.  I had wheels and could blow out the house and head out into town any time I wanted.  "See ya later Mom, heading out!"
INDEPENDENCE – ON 4 WHEELS
When I turned 17, I bought a used car with the money from my part time jobs.  My parents also kicked in 50% of the cost as my high school graduation present.  Yes!  A new level of independence achieved.  No more asking to borrow my parents car.  In addition, nearby towns and states were a new possibility.  "See ya Mom and Dad.  Heading out for a while."
INDEPENDENCE – AWAY FROM HOME
I could not wait to leave home for college.  As a result, I started full time summer classes at my college a few weeks after high school graduation.  I needed my space.  Most importantly, space away from parents.  And space away from the people in the small town I grew up in.  The college I attended was an hour and a half drive from my home town.  Student enrollment alone was 5 times larger than my hometown's population.
I had my car, but my parents joined me the first weekend before classes started to help me settle into the dorm.  I will never forget the moment they left.  Maybe I cried a little.  I'm not sure if they were tears of joy or tears about a future unknown.
However, I did know I had a achieved new level of independence.  Free to do what I want.  To stay out late and not be questioned.  And hang out with anyone I wanted to.  Finally, the dream of the prior few years had come true.
FINANCIAL INDEPENDENCE – WELL, SORT OF?
I started my career in the accounting field shortly after college graduation.  My starting salary was enough to pay for an apartment, food and gas.  I paid for a lot of my college tuition, but my parents helped out.  Had I achieved financial independence now?  Only from my parents.  I had just stepped into a new world.  Financial dependence on Corporate America.  It felt great at the time, but I had no idea what I was in for.
FINANCIAL INDEPENDENCE DAY
5 years ago, on Friday June 28, 2013, I walked away from the career I had built over the preceding 25 plus years.  Most noteworthy, my real financial independence plan had become a reality.  I wrapped up a 9 month consulting assignment at my client and walked away on that day:  financial independence day.
Here is a picture outside my office that morning.  I was all spiffed up and looking my best for a board of directors meeting that just happened to fall on my last day.  That smile goes from ear to ear doesn't it?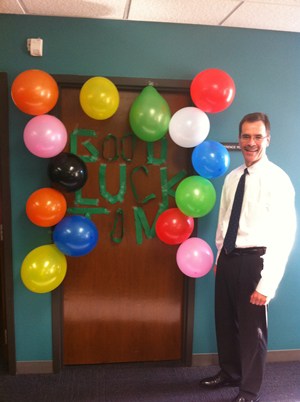 FINANCIAL INDEPENDENCE DAY – WRAP UP
It was my last day at the client, but only one person knew I was "retiring".  I wouldn't have felt comfortable with the office staff knowing the truth.  Consequently, they all just thought I was moving on to a new assignment.
But here's the thing I'm most proud of on my last day.  It wasn't the "higher ups" or the President or the Board of Directors that decorated my office and threw a catered lunch party on my behalf.  To them, I was mostly just a high priced fee for service business transaction.
The receptionist and her buddies in customer service decorated the office and threw the party.  I didn't really work with them.  I just saw them everyday and joked around because I liked them and they were fun.  I'm not sure how, but I think they could see inside and beyond the protective corporate shield I wore to work everyday.
Is there a moral to this story?  I guess.
Life is a long journey.  Be independent my friends.  Most importantly, be nice to people and they will be nice back.
In addition, if you are interested in a journey of a different kind, check out Jason's over at Winning Personal Finance.
If you are in the US, happy Independence Day everybody.  What are you doing to celebrate?  Parade, barbecue, baseball, family time or just a little rest and relaxation?  Leave a comment and let us all know!
BE SURE TO SUBSCRIBE
As part of your subscription to Dividends Diversify, you will get 20 wealth building and investment tips free!  In addition, never miss a new post.  I will send a weekly email to all subscribers with a link to the current weeks new content.  Last but not least, thanks for visiting.