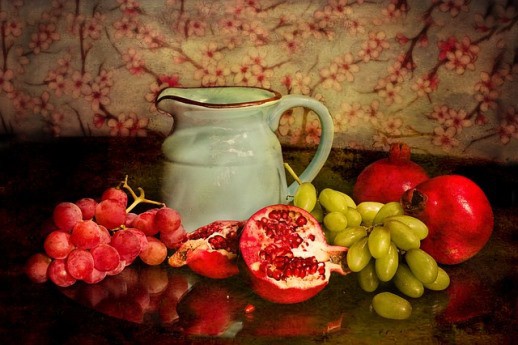 I am an investor at heart.  I love researching and making investments.  As you likely know, here at Dividends Diversify, I write a lot about investing techniques and dividend paying investments.  After all, my tag line is "Building Wealth One Dividend at at Time."
YOU NEED EXTRA CASH TO INVEST
In order to make investments, you have to have spare cash.  How do you generate spare cash?  Quite simply by spending less than you make.  It's pretty simple.  Make more money, spend less money or some combination of both.  It is key to building your wealth.
If you have read my about page, one of the objectives of Dividends Diversify is to write about savings techniques.  I have been thinking about doing a post on saving money for a while and Joe over at Retire by 40 inspired this one.
Joe recently wrote about some expensive limited edition prints he and his wife bought in their younger days when they weren't as serious about pursuing financial independence.  Essentially, they spent a pretty good chunk of money on artwork for their home.
WALL ART
Now Mrs. DD and I live in a comfortable home that meets our needs and that we are grateful to own.  We moved in last year so we are still decorating the place.  We aren't really into art work.  But, you gotta put something on the walls.
Specifically, I needed about three pictures for my home office.  The pictures in my office in our prior home got dispersed elsewhere in our new house.
So far we have found two that we like.  Mrs. DD and I enjoy hiking and the outdoors, so they fit with that leisure interest.
SAVING MONEY ON  PICTURE NUMBER 1
The first one is pictured below.  It cost $5 dollars from a local resale shop.  It's this rustic cabin in the foothills of some unknown mountain range.  It's a print and has a signature at the bottom I can't quite make out.
The store we found it in is hilarious.  Picture all your parents stuff and all your grandparents stuff and all your friends parents stuff dumped in a store to be picked through by would be new owners of that stuff.  We walk through the store several times a month.  We rarely buy anything, but this picture seemed like a keeper.
Don't be scared, that's me in the photo.  I was told I was cute when I was younger, but all my good looks have faded over the years.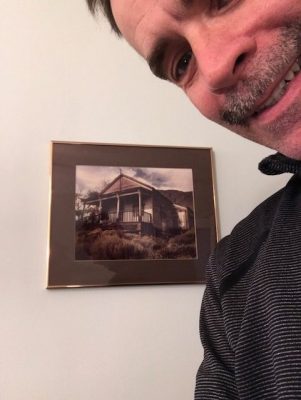 SAVING MONEY ON PICTURE NUMBER 2
Now on to the next one.  This past summer one of my new neighbors had a garage sale.  Most of the items were from their parents houses that they cleaned out after their passing.  Their parents belongings had accumulated at our neighbors home and they were trying to make a little money getting rid of some of it.
The photo below was marked at $20.  They were so happy we were interested they said we could have it for $10.  Sold!  It's a picture of a mountain range that my neighbor's Dad had taken on one of their vacations in the South West United States.  I guess he was an amateur photographer.  It goes nicely with the first picture.  The cabin in the first picture could be in the foothills of these mountains for all I know.
My neighbor was happy her Dad's picture found a new home.  All for the low, low price of $10.  Sorry, but there I am again.  Just focus on the framed picture and you will be fine.  I usually look better if you have had a couple alcoholic beverages.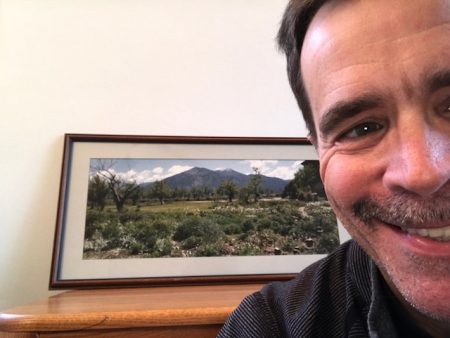 PICTURE NUMBER 3
I need one more picture in the $5-15 range to finish off decorating my home office.  We haven't found it yet, but we will keep looking.  If you have something at home and offer free shipping, send me a photo and I will check it out.  The great thing is, if I get tired of them or we move and don't want them anymore I have no regrets about giving them back to a charity for resale.
WRAPPING IT UP
That's my story on one savings technique I have employed recently: shopping at garage sales and second hand stores.  As you know, most wealthy folks love to save money.  What do you think…
How do you like the pictures (please be nice)?

Do you ever shop at second hand stores or garage sales?

Do you have a recent story about saving money we all could learn from?
Leave a comment, join the conversation and let us all know.
Now that you have some extra money, payoff your debt or check out the Dividend Deluxe model portfolio for some great companies to invest it in!