Frugal Fitness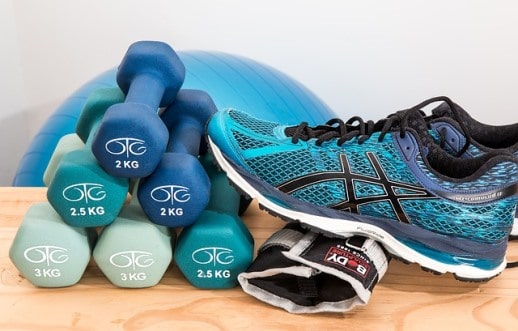 I've always been active. Starting as a young kid playing backyard football, basketball, and baseball. Furthermore, I like to exercise on a regular basis. It makes me feel good and more energetic and it doesn't have to be expensive. Here are a few frugal fitness tips, Dividends Diversify style.
FRUGAL FITNESS – A LITTLE HISTORY
I wasn't much of a team sport athlete. Never being fast, big or strong, I didn't do well in team sports as a youth. Other than in the back yard with my buddies. But I discovered that I could exercise for long periods of time. It's the story of my life. Whatever it's been, I could usually outlast the competition.
So in my 20's, I turned to long-distance recreational bicycling. And in my 30's I started jogging and walking on a regular basis. My claim to fame is a 7-day 550-mile bike ride through the Rocky Mountains in South West Colorado when I was 30.
Also, I've run several half marathons. My favorite was in Quebec City, Canada when Mrs. DD and I vacationed there quite a few years ago.
As for cost, a good road bike is expensive. But once you make that investment, jogging and bicycling are frugal fitness.
FRUGAL FITNESS – TODAY
I no longer own a bike. Furthermore, I have no desire to run a half marathon. Certainly, I still like to stay fit and exercise on a regular basis. Exercise is great and it doesn't have to be expensive. Let's save some money. Here are a few frugal fitness tips.
FRUGAL FITNESS – STRENGTH AND STRETCH
I've had this dumbbell set and weight bench for about 25 years. It resides in our basement. This set up cost several hundred dollars at the time.
So two days a week I will do some form of light weight work or stretching. I also like to do planks. They are a great core workout and you do not need any equipment.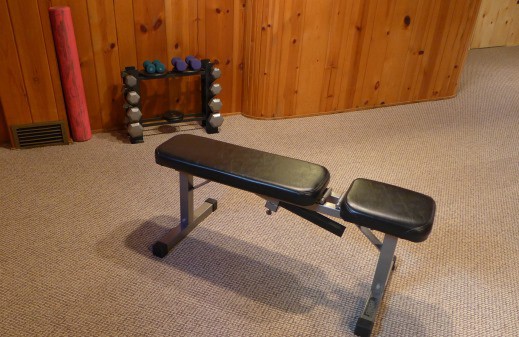 On either side of the bench is a pretty good size open carpeted space for stretching. As I've gotten a little older, I really like to stretch. It's relaxing. Almost like meditation to me and it eases muscle tension. Although I've spent a few bucks on a yoga strap and the pink foam roller by the dumbbells, you can do a good stretch routine for free.
FRUGAL FITNESS – WALK AND JOG
Two days a week I jog two miles. And then on the weekends Mrs. DD and I like to go for long walks together. Isn't that sweet? Depending on how much time we have, we walk for at least three miles and sometimes as many as nine. It's all outside and totally frugal fitness.
But now a confession. We own a very nice treadmill. It resides in an unfinished area in our basement next to the strength and stretch area. Mrs. DD bought this before we got married and we have also owned it for about 25 years. It was a floor model so she got a good discount. I think it cost her about $2,000.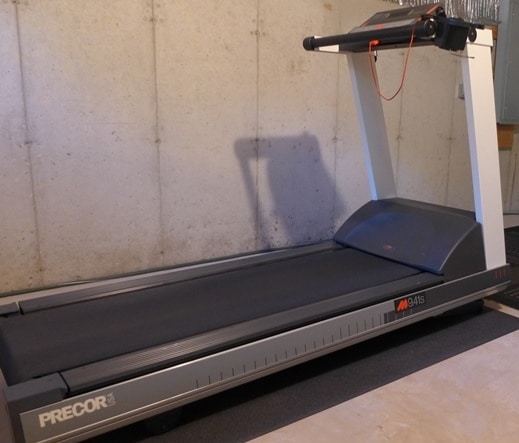 We prefer going outside to walk and run, so it doesn't get used as much anymore. They no longer make parts for it so if it breaks down, we won't replace it.
FRUGAL FITNESS – DO OVER
If I could do it over, I would skip on buying the weight bench and treadmill to save money. We bought those when we were younger and inflicted by consumerism. Also much busier working Corporate jobs. If you do want to make those kinds of investments, buy quality stuff. The equipment will last a long time for personal use. Let's say the weights, bench and treadmill cost us about $2,500. Over 25 years, that's only $100 per year. And we have used the equipment frequently.
In contrast, I know many people that spend on exercise equipment thinking that will motivate them to exercise, but in the end, it does not. So if I could do it over, I would spend a $100 bucks or so on a few dumbbells, a foam exercise roller, yoga strap, etc. And then I'd fit my current routine around that equipment. Which is basically what I'm doing today.
FRUGAL FITNESS – ROUTINE
Here's my current routine:
Monday – Strength and Stretch

Tuesday – Jog 2 miles

Wednesday – Strength and Stretch

Thursday – Jog 2 miles

Friday – Strength and stretch (or optional day off)

Saturday – Walk between 3 and 9 miles with Mrs. DD

Sunday – Walk between 3 and 9 miles with Mrs. DD
FRUGAL FITNESS – SHORT ON CASH?
This routine can be done for next to nothing. Skip on buying the pricey equipment or paying for the health club membership.
FRUGAL FITNESS – SHORT ON TIME
If you cut the weekend walks down to 2 miles or less, all of these activities can be done in less than 30 minutes at home or in your neighborhood.
So that's my frugal fitness routine. What's yours?
BE SURE TO SUBSCRIBE
As part of your subscription to Dividends Diversify, you will get 20 wealth building and investment tips free! Also, never miss a new post. I will send a weekly email to all subscribers with a link to the current weeks new content. Thanks for visiting today!
PINTEREST
Finally, are you a Pinterest user? Then be sure to follow Dividends Diversify on Pinterest by clicking this link: Pinterest Home Page. Then click the red follow button. Thanks for following and save the pin below for later!