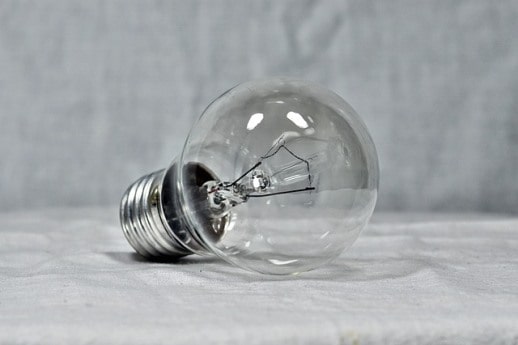 General Electric (GE) just announced its new strategy under incoming CEO John Flannery.  I have been a long time holder of GE stock.  Readers know it has been a disappointing investment for me.  With the company undergoing so much change, let's give it a fresh look from a dividend stock investors perspective.
GENERAL ELECTRIC COMPANY BACKGROUND
GE is an industrial conglomerate.  They have historically operated in a number of different niches.  They include aviation, energy, oil services, lighting, healthcare, industrial automation and power to name a few.  Prior to the financial crisis they had a large presence in lending and financial services.  Over the past several years they have divested from financial services.   Their recent focus has been on industrial businesses including the application of technology, data and analytics to industrial process improvement.  The newly announced strategy heading into 2018 will focus on three core markets: power, aviation and health care.
DIVIDEND YIELD
After announcing a 50% reduction to the dividend on November 13, GE is paying an annualized forward dividend of $.48 per share.  This represents a 2.6% yield at the recent price of $18.35 per share.  In 2009, GE also cut their dividend by 68% at that time.  The dividend was reduced in 2009 due to the reduction in earnings from their financial services unit.  The current per share dividend payout is about the same per share as 1998.  Aside from unsustainable increases to the dividend during interim years, that's almost 20 years of zero dividend growth.  It is clear GE is no longer your parents dividend growth stock.
EARNINGS, DIVIDENDS AND PAYOUT RATIO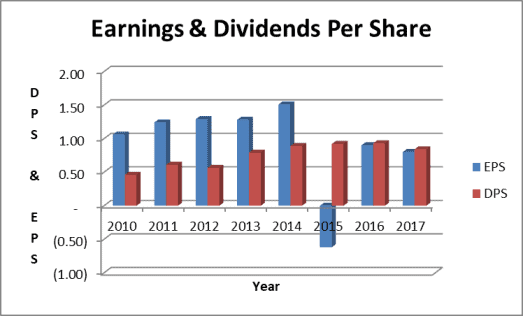 Over the last few years, GE has divested it's financial services business.  These businesses were very profitable and their absence, in addition to a sizable loss on disposal recorded in 2015, has been a drag on earnings.  The slump in oil prices and energy markets over the past several years has also weighed on profits.
In recent years, GE has been paying out nearly all of it's earnings in the form of dividends.  This was not sustainable since many of GE's businesses are capital intensive and require cash to grow.  On a positive note, the company has generated sizable amounts of cash from its one time divestitures of the businesses it has been selling.
The low end of the company's 2018 earnings per share projections is about $1.  This brings the dividend payout ratio to a more sustainable 48% after taking into account the dividend cut.
VALUATION AND CONCLUSION
The uncertainty around next years $1 per share earnings estimate is high.  Using that estimate, GE's forward price to earnings ratio is about 18.  As earnings projections for 2017 and 2018 have fallen, the stock has dropped rapidly leaving the PE ratio in its historic range of mid to high teens.
With 2 dividend cuts in the last 10 years, GE is clearly not a dividend growth stock.  The bad news is out and the stock has corrected and may represent good value and opportunity for those investors believing in the company turnaround plan.  With only a 2.6% dividend yield and dividend growth no where in sight, I will look to exit my position in future months at a more attractive price.  Investments that rely on company turnaround and restructuring are not part of my dividend growth stock strategy even if the company pays a dividend.
What do you think?  Does GE look to be attractively priced now?  Do you invest in stocks like GE where investment gains are reliant on turning the company around?  Before you go, check out the dividend deep dive process.  Leave a comment and let me know.
Disclosure & Disclaimer
I am long GE.  The information on this site is only for educational and entertainment purposes.  It is not intended as investment advice specific to your circumstances.  Consult your personal investment and tax advisers prior to investing money. You are solely responsible for any investment gains or losses as a result of the investments you enter into.  You can find additional information under this site's disclaimer tab Disclaimer & Privacy Policy.