Investigating Home Health Care Services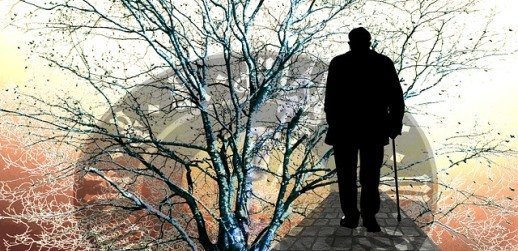 Some day you may be faced with finding home health care services for a loved one.
Unfortunately, I have gained some recent experience in this area and I want to share it.
There is both a personal angle and of course a personal finance angle to this article. I will start with a personal angle to give you some context.
But this wouldn't be Dividends Diversify if there wasn't a financial perspective to my story.  Specifically, the cost of home health care services. And being prepared financially to handle those costs so they create money issues.
MY DAD
The DD household has one remaining living parent. It is my Dad.
My Dad is 90 years old. Dad has lived alone in the house I grew up in since my Mom passed away more than 10 years ago.
He keeps a positive attitude and until recently maintained his home at a high level considering his age. Dad mowed the grass in the summer, shoveled snow in the winter, washed laundry, cleaned the house, handled his finances and shopped for groceries.
And yes he still drives to get those groceries. He passed his annual driving test last year before his 90th birthday. Fortunately, he lives in a small town where the traffic is light and the driving is pretty tame. But he still ventured out to larger surrounding communities when necessary.
90 YEAR OLD HAS NO NEED FOR HOME HEALTH CARE SERVICES
I am thankful that my Dad is a pretty remarkable man. He has never needed home health care.
Not many people make it to 90 years old. And if they do, they usually aren't living the quality of life that he has enjoyed.
In contrast, he has had ups and downs with his health like most of us as the years pile up. And his energy and mental focus have decreased as he has gotten older.
MY DAD'S ACCIDENT
It was a cold Saturday afternoon one day this past February. Wanting to get some exercise, but not desiring to walk outside, as usual, he decided to exercise in the basement of his house.
He has one of the original Nordic Track personal trainers. He had completed 20 minutes of cardio on the Nordic Track. And then was following it up by walking laps around the basement.
Before finishing the laps, he tripped on a throw rug and fell on the concrete floor severely breaking his arm and shoulder.
He knew he was hurt badly, but was able to climb the basement stairs and call 911. The ambulance arrived and took him to the emergency room.
My cousin who lives in the area met him at the emergency room. She gave him a ride home later that day. My brother stayed at my Dad's home with him through the surgery date 3 days later.
The day after surgery with his left arm immobilized, he was admitted to a post-operation recovery wing of a nursing home. He would stay there for nearly 2 months undergoing physical therapy and rehabilitation.
DAD NEEDS HOME HEALTH CARE SERVICES
Suddenly, our family's world was turned inside out. My brother and I divided and conquered tasks the best we could. We both live a 1-2 hour drive away from my Dad's home.
My brother attended meetings with doctors and therapists, cleaned my Dad's house and managed communications with extended family and friends.
My cousin, who lives a few minutes from the nursing home, visited him almost every day. She did his laundry and brought him any incidentals as he needed them.
I handled his finances and income tax filing requirements. And I also took on the task of investigating home health care services in the event he needed help upon returning home.
That brings me to the main points of this article:
How to find home health care services
Costs for home health care services
Related: How to find affordable life insurance for your family
GETTING STARTED
I didn't know exactly what we would need in terms of home health care services. My brother and I brainstormed and thought he could use help several days a week for a few hours each day.
Duties would include meal preparation, light house cleaning, shopping, errands and mobility assistance around the house.
With that background, this is what I found when researching home health care services for my Dad.
2 PRIMARY DELIVERY MODELS FOR HOME HEALTH CARE SERVICES
You can access home health care services through 2 primary delivery models. The first are for-profit businesses or agencies that provide these services through their employees.
And the second delivery model, are people who work independently.
So let's cover the advantages, disadvantages, and costs of each health care service option.
HOME HEALTH CARE AGENCIES
Through internet searches I identified 2 home health care agencies that provide home health care services in my Dad's area. They appeared to be branch offices of larger companies that have locations across the region. I telephoned each agency and spoke with a customer service representative. This is what I learned.
The agencies can provide a full range of in-home services. These services include:
Bathing
Dental hygiene care
Using the restroom
Getting dressed
Getting in and out of bed
Physical therapy
Meal preparation and planning
Laundry
Light housekeeping
Transportation to and from appointments
Companionship
An agency representative will come to the home, make an assessment and provide a personal care plan from this list of services. Their home health care services can be for as little as one day per week up to every day.
COST FOR HOME HEALTH CARE AGENCIES
The only contractual requirement is a 3-4 hour minimum on any day that is scheduled. The cost is $25 per hour. This comes to at least $75 to $100 per day.
ADVANTAGES OF HOME HEALTH CARE AGENCIES
Staff assignment within 1-2 days of the in-person meeting
Employees are background checked and drug tested by the agency
Employees are licensed, bonded and insured
For service problems, the customer calls and the agency takes care of the issue
The agency handles all employment taxes and filings
One call, one meeting – efficient use of the customers time
DISADVANTAGES OF HOME HEALTH CARE AGENCIES
Customer is not guaranteed the same caregiver from day to day
More impersonal
Company employee may not be vested in the care of your loved one
INDEPENDENT HOME HEALTH CARE PROVIDERS
My research indicated that there are plenty of independent home health care providers that offer the same services like home health care agencies. But the challenge is how to identify and screen these people.
A LIST OF OPTIONS
First of all, the nursing home gave me a long list of independent home health care providers. It had basic information like name, phone and service area.
Most of them did not work in my Dad's town. That narrowed a long list down to about 5 home health care providers.
And at that point, it was up to me to call these people, judge their interest, availability, fit and next steps. This process didn't seem very appealing to me.
A MATCH MAKING WEBSITE
On the other hand, my research led me to a website called Care.Com. Care.com operates like an online matchmaking or dating site. Independent caregivers post their profiles. Those in need of care post their job requirements.
I didn't have much to lose, so I posted a job with the requirements I was looking for. Within a couple of days, I had more than 10 people apply for the job through the Care.Com internet based portal. And several of them lived in my Dad's home town. It's a small town, so I knew they would live near his home.
But here is the catch. In order to get contact information, I had to become a paid subscriber to Care.Com. A 3-month subscription cost $46 dollars. Not a big deal, so I signed up.
SCREENING INDEPENDENT HOME HEALTH CARE PROVIDERS
I selected 3 independent home health care providers that lived in town and had applied to my posting. I contacted them through the Care.Com messaging system and set up meetings to interview them in person at my Dad's house. Keep in mind my Dad was is in a nursing home at the time. So he had no idea that I was doing this.
The independent home health care providers deliver the same services as the agency employees. Each applicant was very responsive in getting a meeting time set up. Over the course of a week, I met each one in person to judge their fit for the assignment. Each showed up on time for their meeting with me, dressed neatly and drove a nice vehicle. Each meeting lasted between 20-40 minutes.
Just like hiring anyone for a job, each independent home health care provider had different skills, interests, and personalities. Overall, I was pleased with the results of each meeting. And I felt that I had some good options for my Dad's eventual return home.
COST FOR INDEPENDENT HOME HEALTH CARE PROVIDERS
Regarding cost, each independent home health care provider determines their pay rate. In general, rates range from $12.50- $17.50 per hour depending on qualifications and job requirements. Scheduling service times are flexible. But each applicant had other customers to schedule around.
Here are some of the advantages and disadvantages of the independent home health care provider model.
ADVANTAGES OF INDEPENDENT HOME HEALTH CARE PROVIDERS
Personal service – I know who will show up
The caregiver is more engaged – their personal reputation is on the line
Opportunity for longer term relationship building
Local options near my Dad's home
DISADVANTAGES OF INDEPENDENT HOME HEALTH CARE PROVIDERS
Time-consuming to identify and screen candidates
Background checks, employment taxes, and quality control are the customer's responsibility
Caregivers are usually not licensed bonded or insured
May create need for more than one caregiver to ensure adequate coverage
Related: How to save money with Ebates
SUMMARY
If you ever need home health care services for a loved one, there are options available.
2 PRIMARY OPTIONS
The home health care agency delivery model is a higher cost, less personal but much less work for the customer.
The independent home health care provider model is less expensive but much more time consuming to get set up and monitor.
If the customer has the time to administer the process and can find the right person, the independent caregiver model will likely be a better option. It may provide more personalized services at a lower cost.
AND WHAT ABOUT MY DAD?
And oh yeah, my Dad.
He returned home after more than 6 weeks in the nursing home. He has limited use of his arm but has not needed home health care services. We did hire a company to mow the lawn. But I know he is dying to do it himself again.
AND WHAT ABOUT ME?
For me, it was a learning experience. And you never know what the future will bring. So I will tuck what I learned away in case I need to pull it out again another day.
That's my experience at investigating home health care services for my Dad.