Hormel Dividend Stock Analysis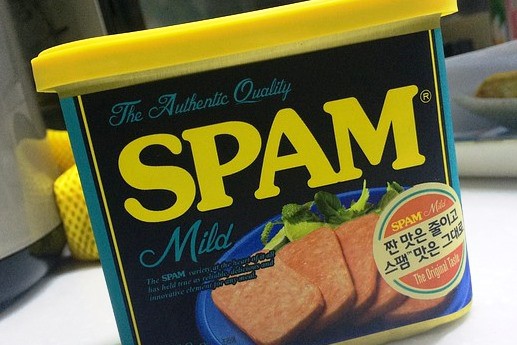 I recently did a review of dividend stocks in the packaged food sector.  In addition, I initiated a position in Hormel Foods (HRL).  Join me for a dividend deep dive of this iconic 127 year old U.S. based company.
COMPANY BACKGROUND
Hormel Foods is a Fortune 500 company that manufactures and markets high-quality, brand-name food and meat products.  Their brands count more than 50 and range from the legendary canned meat product called Spam to more "naturally" produced products like Applegate and Justin's nut butter.
HORMEL DIVIDEND YIELD
Hormel is paying an annualized forward dividend of 0.75 cents per share.  This represents a 2.1% yield at the recent price of $35 per share.
COMPOUND ANNUAL DIVIDEND GROWTH RATE
| | | | |
| --- | --- | --- | --- |
| 1 Year | 3 Years | 5 Years | 7 Years |
| 17.24% | 19.35% | 17.78% | 18.30% |
The Hormel dividend has grown rapidly over the past 7 years.  In addition, they have increased their dividend payment annually for 52 consecutive years!  This is one of the longest dividend increase streaks on record.
Consistent with past timing, Hormel announced their most recent annual dividend increase in the 4th quarter of 2017.  As a result, the quarterly dividend for 2018 was increased by 10.3%.  This recent Hormel dividend increase is a noticeable reduction from recent years increases.
REVENUE
 
The packaged food sector has been struggling because of changing consumer preferences.  We no longer want our food in a box or can.  We want fresher, healthier fare.  Additionally, life is fast paced.  Many folks want to snack multiple times a day rather than sit down for a traditional meal.  Like its competitors, Hormel has been slow to adapt to these market changes.
Hormel's revenues have been stuck in the low $9 billion range since 2014.  The consensus analyst forecast calls for about $9.8 billion in revenue for the year ending in October of 2018.   This represents a nice increase from recent years performance if they can achieve it.
HORMEL DIVIDEND, EARNINGS AND PAYOUT RATIO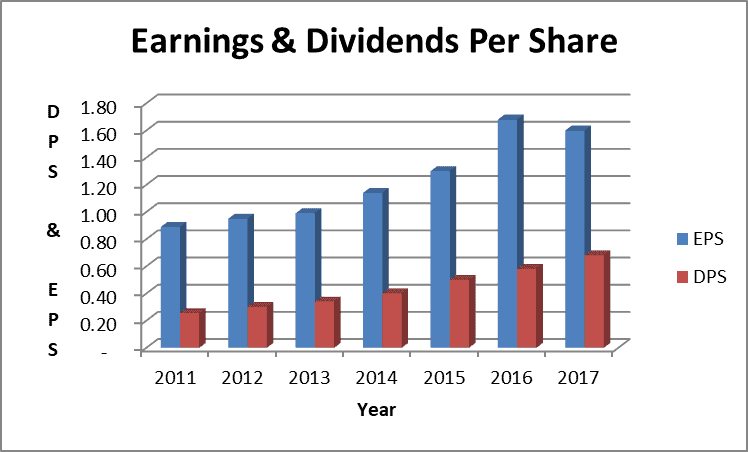 Even with a stagnant revenue base over the past few years, Hormel has been able to increase earnings on a consistent basis through expense controls and to a lesser extent share buy backs.  Analysts call for another increase in 2018 to $1.83 earnings per share.
Rapid Hormel dividend growth has exceeded the growth in earnings.  This relationship has caused the dividend payout ratio to rise from 29% in 2011 to a still reasonable 43% in 2017.
VALUATION & CONCLUSION
Hormel's price to earnings ratio has been on the decline since 2015.  This is a result of rising earnings per share coupled with a stagnant stock price.  For example, the recent price of $35 per share is roughly unchanged from the Fall of 2015, or about 2 and half years ago.
If you, as the investor, are comfortable with the 2018 earnings estimate, the price to earnings ratio is looking more reasonable in the high teens.
WRAPPING IT UP
HRL appears to be a reasonable dividend stock investment at or below $34 per share.  And, I initiated a position in March at $33.46 per share.  With this purchase, Hormel will replace General Electric as a member of the Dividends Deluxe model portfolio.
If you liked this dividend deep dive be sure you have checked out some of the others at Dividends Diversify.  Here are a couple from the consumer goods category:
Do you own Hormel?  Do you see any other risks or opportunities with their business I haven't considered?  Leave a comment and let us all know!
Disclosure & Disclaimer
As of this writing, I am long HRL.  Always remember that the information on this site is for educational and entertainment purposes only.  The information is not to be used as investment advice specific to your circumstances.  Consult your personal investment and/or tax advisers prior to investing money.  Please realize you are solely responsible for any investment gains or losses as a result of the investments you enter into.  You can find additional information under this site's disclaimer tab: Disclaimer & Privacy Policy.