Increase income!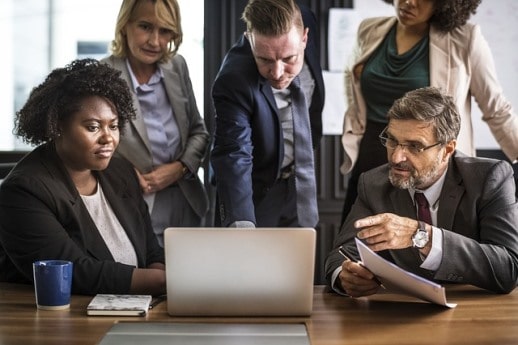 Do you want to increase income from your job, career or business?  I say put in the work, invest in yourself and think long term.  In the early years of my career, I couldn't increase my income fast enough.  As a result, the situation frustrated me.  Maybe you can relate?
First of all, I promote here at Dividends Diversify that you should focus on increasing your income if you want to build wealth.  Your earnings power from your job, career or business is the raw material for wealth building.
For example, the first point in my most popular article to date titled 6 Steps to Create Your Passive Income Machine was to increase income.  That was also my second point in another popular article called quite simply Build Your Wealth.
INCREASE INCOME
In the first article of this 2 part series, Flex Your Main Hustle Muscle, I highlighted several reader comments where they emphasized the need to put the focus on your primary career.  Most noteworthy, I call it, your main hustle.  The readers commented that making some extra money from side hustles is fine.  But, not if it comes at the expense of your main hustle.  This philosophy, from my readers, is one I agree with.
However, increasing your income is a long-term process.  The return on investment often comes many years after the investments in yourself have been made.
If you are grinding away and higher earnings do are not appear anywhere in sight, don't despair, try to be positive about your financial situation.  I felt the same way in my 20's and early 30's.
It took 15 years into my career in my mid-30's for investments in myself to pay off in a big way.  Invest in yourself and think long term to increase income.  I will chart and use my personal earnings history as an example.
GET CERTIFIED TO INCREASE INCOME
The chart below starts my senior year in college – Year 1.  I worked part-time during most of my college years, but not my senior year.  I was busting my hump 60 plus hours a week studying for the Certified Public Accounting (CPA) exam.  Fortunately, I passed the first time I took it.  Making no money at the time, my compensation index was at zero.
START BIG AND BLUE CHIP – IF YOU CAN
Year 2 is my first year working at an international public accounting firm.  I started right after college at an average salary for a college graduate at the time.  That years salary is the base year.  The remaining years are indexed off of this base.  Here's the chart: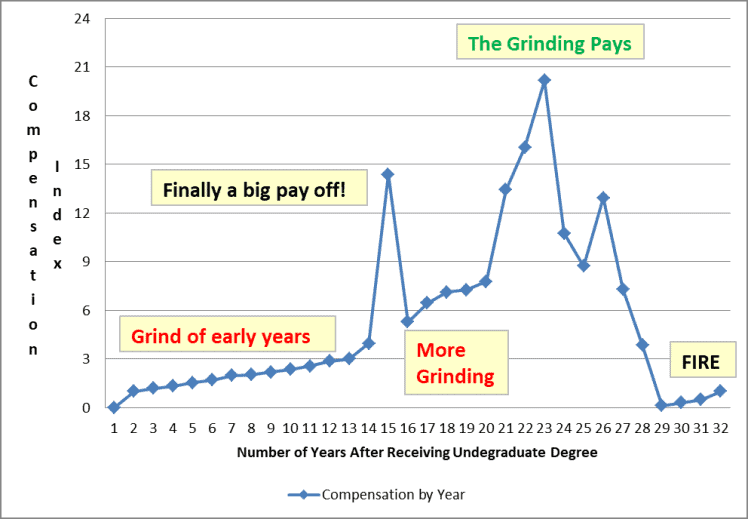 I worked 3 years on 20 plus clients at that public accounting firm.  And, I didn't really like it much.  Long hours and lots of gossipy office politics that I wasn't prepared for.  I couldn't really relate to the work or my co-workers so I left after 3 years.  However, it was a blue-chip firm that gave my resume instant credibility.  So, I moved on to another blue-chip firm.  A Fortune 100 company in the health care industry.
GO LATERAL
I fit in much better at my second workplace.  And, I liked the work in addition to the people.  I worked there for 10 years but started looking to leave after about 7.  Why?  Brutally long hours and limited potential to climb the ladder and get paid for it.  There were lots of talented accounting and finance professionals at this company competing for the same jobs.
Although I got promoted from Senior to Supervisor to Manager during the 10 years, most of my moves were of a lateral nature to gain more experience in different areas of the business.  I count 8 distinct and different positions across three operating divisions that I worked in at this company.
However, as the chart shows, income growth was a slow grind during these early career years.  And, I didn't see it changing anytime soon.  That's why I was on the lookout after 7 years to move on.  Finally, I did so at the 10-year mark.  On a personal note, I met the future Mrs.  DD there about mid-way through my 10 years.  As I said, I liked the people at this workplace.
TAKE SOME RISK TO INCREASE INCOME
Smaller companies typically do not have a robust internal talent pool to draw from.  They often need outside talent.  I took a risk and moved to a senior financial position reporting to the Chief Financial Officer (CFO) at a company that was being positioned for sale.
In exchange, I received a much higher base salary and bonus potential as well as an equity stake if the company was successfully sold.  My compensation started to turn up.  And finally, the big pay off.  Bonus and equity payments hit after a year when the company was sold.  Don't be fooled though, it was high stress and long hours selling a company and transitioning it to new ownership.
GO SMALL TO INCREASE INCOME
After 2 years I left to become a CFO at another company.  A very small volatile company with a lot of growth potential.  And again, the compensation was heavily incentive based.  In other words, make the company more profitable for the owners and get paid a nice slice of the profits.
Over the 10 year stint, there was a lot more grinding.  I and the other senior managers increased company profits exponentially and were rewarded accordingly.  The grinding pays!  The downside?  Brutal stress and long hours building out the people, processes, and infrastructure to take a company from $40 million in sales to $275 million in sales over an 8 year period.  I was on the bad side of burn out and networked heavily to find my next gig.
THE GIG ECONOMY – NOT A SIDE GIG
For the last 3 years of my professional career, I joined the gig economy and consulted for a number of companies.  Companies where their finance and accounting functions were broken and needed fixing in a bad way.  This wasn't a side gig.  It was full-time work leveraging skills accumulated over a lifetime of education and professional experiences to assist troubled businesses.
High pay was the reward for high stress, travel, lofty expectations and no job security or benefits as a consultant.  Then, my income dropped like a rock as I exited the consulting assignments after 3 years and started to transition to a new life chapter.
REINVEST AGAIN-ENCORE CAREER
I executed my financial independence retire early (FIRE) plan.  I always wanted to teach so I went back to school and got a Masters Degree in Accounting plus 2 additional professional certifications.  My income went back to zero while in school.  I now teach part-time at a local university and earn about what I did when I came out of school the first time 30 plus years ago.  The difference between now and the past?  The hours are less and the stress is zero.
SUMMARY 1 – YOUR PRICE OF ADMISSION
So when I promote that one of the first things you should do to build wealth is to increase your income, I don't mean to make it sound easy.  It is not.  From my experience, here is the price of admission to the high earners club:
Long hours

High stress

Personal sacrifice

Time

Patience
SUMMARY 2 – MAKING HIGHER INCOME HAPPEN
But again, these good habits and characteristics of money are just the price of admission.  Most anyone can do those things.  You need more than that to increase income.  You also need valuable skills that are in demand by businesses willing to pay for them.  Here is a chronological summary of the "millionaire skills" from this article based on my past experiences:
Choose a marketable & in-demand college major

Get professionally certified in your field

Market yourself to and work for blue-chip companies

Network within your company, industry, and profession

Make lateral moves to increase your skills and experience

Take smart career risks to increase compensation when the time is right

Go small later, sometimes small companies will pay more for your blue chip company skills

Invest in yourself 

Leverage the gig economy if and when it makes sense
Maybe others have an easier way?  But, I sure couldn't find it.
What do you think readers?  Is this the path to high earnings or do you have another way?
SUBSCRIBE
In addition, be sure to subscribe.  As part of your subscription, you will get 20 wealth building and investment tips free!  Most noteworthy, never miss a new post.  I will send a weekly email to all subscribers with a link to the current weeks new content.  Last but not least, thanks for visiting.