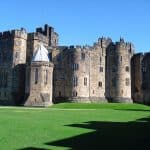 Hi.  I'm glad you found your way here to Dividends Diversify.  I'm Tom and this is my blog.  You are reading my first post on personal finance.  Welcome…
On a recent Sunday morning, my wife and I went to a movie called The Glass Castle starring Brie Larsen and Woody Harrelson.  I like matinee showings since a night at the movies can be pretty expensive.  Our matinee tickets cost only $4.75 each.  We also packed a lunch and ate it in a beautiful park after the show was over.  A little more on all that later, let's get back to the movie.
The Movie
The Glass Castle was based on a true story about irresponsible parents who led a nomadic life of poverty in the Southern United States while raising four children.  Rex Walls, the father, was a mostly unemployed, alcoholic dreamer and the mother was a starving artist.  Moving from place to place one step ahead of the law and bill collectors, their children lived in deplorable conditions.  They never knew when or where their next meal was coming from or what their parents would do next.
The movie focused on Rex's dream to build a beautiful home (The Glass Castle) for his family.  Jeanette Walls, the 2nd oldest daughter, struggled to look out for her siblings and dreamed to someday break away from the trappings of her upbringing.  She ultimately did so by working at a local newspaper as a youth, going to college and becoming a successful columnist in New York City.  As for Rex, he of course never built a glass castle.  In fact, the foundation he started to dig with his young children ultimately became their family's dumping ground for garbage.
Why Does It Matter?
So what's the moral of the story here?  Let's not build our personal finance plans on a shaky foundation made of garbage and a castle made of glass.  Let's build a rock solid personal finance foundation and an iron castle.  How do we do build wealth here at Dividends Diversify?  We do it by following a few tried and true personal finance practices:
Making money & spending less than we make (try the $4.75 matinee & picnic lunch next time)

Saving and investing, focused on creating a passive income stream from dividends and interest

Minimizing investment costs and taxes
Let's not be misguided dreamers like Rex.  Let's be like Jeanette: resourceful, smart and determined as we make our individual journeys toward financial independence like a millionaire would do.
Thanks again for visiting.
Check out my wealth building category for more money tips.