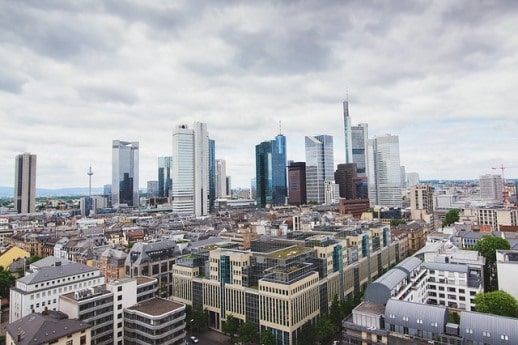 Realty Income (O) is also known as The Monthly Dividend Company.  And, O has been a popular stock in the dividend growth investment community lately.  Let's find out why with a dividend deep dive.  
This post has been updated.  Check it out here:
Realty Income – The Monthly Dividend Company
COMPANY BACKGROUND
The monthly dividend company is structured as a real estate investment trust (REIT).  They make money through ownership of over 5,000 commercial properties that generate rental revenue from long-term net lease agreements.
O's customer base is diversified with 251 commercial tenants operating in 47 industries, located throughout 49 states and Puerto Rico. Their properties are generally freestanding buildings in prime locations with good access and visibility.
You have likely been in one of their properties.  Many of their tenants are household names like Walgreens, FedEx, LA Fitness and Walmart.
THE MONTHLY DIVIDEND COMPANY AND ITS YIELD
Any business calling itself The Monthly Dividend Company has to be a friend of Dividends Diversify, right?  As our friend, O is paying an annualized forward dividend of $2.628 per share.  This represents a 4.96% dividend yield at the recent price of $53 per share.  They announced this newly increased dividend rate on January 16th.
COMPOUND ANNUAL DIVIDEND GROWTH RATE
| | | | |
| --- | --- | --- | --- |
| 1 Year | 3 Years | 5 Years | 7 Years |
| 5.67% | 4.86% | 7.36% | 5.64% |
Dividends per share have grown consistently in the mid single digit percent range over the past 7 years.  In my eyes, a 5% current yield plus a 5% dividend growth rate is a pretty nice combination.
I mentioned earlier that O is organized as a REIT.  There are pros and cons for the investor as it relates to this type of business structure.
As long as they meet certain operating metrics and distribute most of their taxable income as dividends to shareholders, they pay no federal income tax. This eliminates the "double taxation" of their income generated and the dividends they pass along to shareholders.
On the other hand, the dividends received by the investor do not receive preferential tax treatment as qualified dividend income.  They are taxed as ordinary income.  Under current tax law, your tax rate on the dividends received from O will depend on your tax bracket.  It could be as high as 37%.
Due to this tax treatment, it may be best to hold REIT's in an IRA or 401k.  That's what I do, but consult your tax adviser to understand whether it's better for you to hold O in a taxable or tax advantaged account.
EARNINGS, DIVIDENDS AND PAYOUT RATIO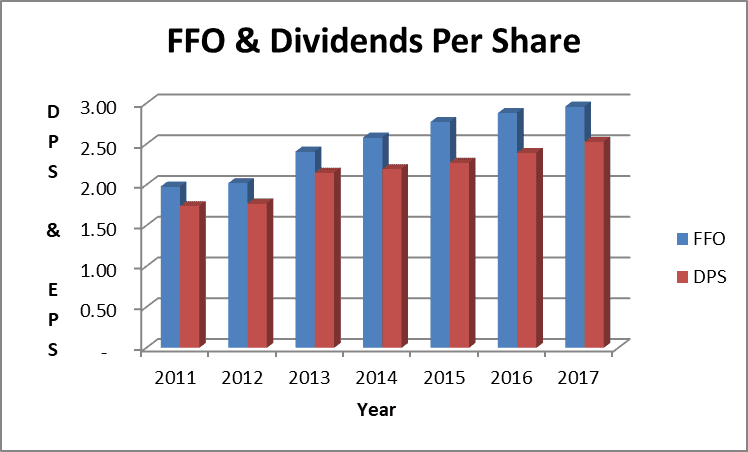 For REIT's, funds from operations (FFO) are a better measure of dividend payment capacity and earnings than traditional earnings per share.  O boasts of stable and consistent FFO growth in their investor materials.  You can see the consistent growth on an annual basis in the above chart.
Dividends as a percent of FFO generally run in the mid to high 80% range and grow along with earnings.  O states that they grow earnings in 2 primary ways: 1) increasing the size of their real estate portfolio and 2) increasing rents over time. 
VALUATION & CONCLUSION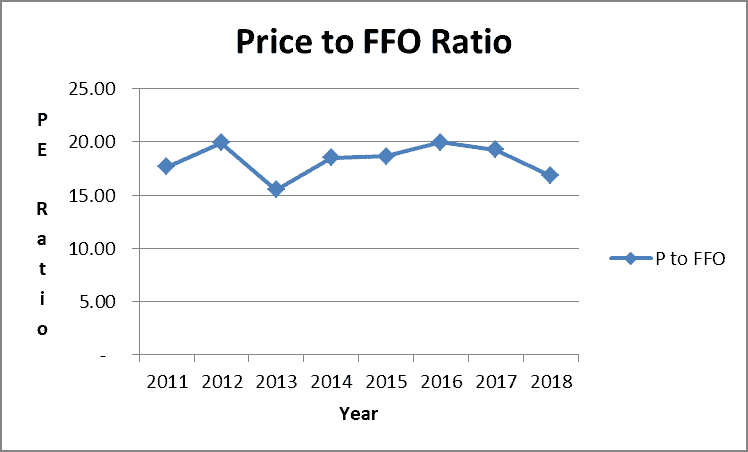 O's stock price peaked in the low 70s in mid 2016.  At that time, interest sensitive stocks were benefiting from the anticipation of interest rates staying lower for longer due to sub par US gross domestic product (GDP) growth.  Higher GDP, jobs and wage growth have led the Federal Reserve to slowly raise interest rates putting pressure on O's stock price over the past 18 months.
Consistent growth in FFO combined with a falling stock price have resulted in a lower valuation.  On a current stock price to projected 2018 FFO, the price to FFO ratio stands at a little over 17.  This is the low end of its recent historical range.
One business risk is worth mentioning, in my opinion.  Many of O's tenants operate in the retail industry.  Brick and mortar retail is under continuing pressure from online retailers like Amazon.  This industry dynamic may decrease O's future ability to grow like it has in the past.
I think O represents a reasonable value below $55 per share and I recently added to my position at $53.21 per share.
Realty Income is a member of both the Dividends Deluxe and Core and Explore  model portfolios.  If you liked this dividend deep dive analysis be sure you have checked some of the others here at Dividends Diversify:
Realty Income is also featured in this review of three great stocks for income, income growth and capital appreciation called the Triple Play. 
Do you own O?  Do you think the monthly dividend company is a good investment?  Or, do you think the changing retail landscape will put pressure on their ability to grow profits into the future?  Do you see any other risks that I haven't mentioned?  Leave a comment and let us all know!
Disclosure & Disclaimer
I am long O.  Always remember that the information on this site is for educational and entertainment purposes only.  The information is not to be used as investment advice specific to your circumstances.  Consult your personal investment and/or tax advisers prior to investing money.  Please realize you are solely responsible for any investment gains or losses as a result of the investments you enter into.  You can find additional information under this site's disclaimer tab:  Disclaimer & Privacy Policy.