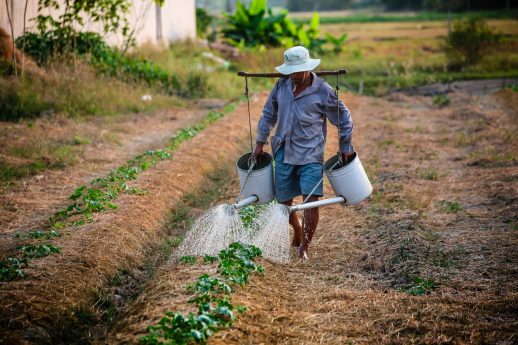 I love good rags to riches stories.  I always think there is something to be learned.  A while back, I was reading the September 16th Wall Street Journal.  The paper edition is delivered to my door in the morning.  Old habits die hard.  I must be a real dinosaur reading a print newspaper.
There was an article about a man named Dennis Washington.  Mr. Washington is a wealthy 83-year-old businessman.  His net worth is $6 billion according to Forbes.  Yes, he is a billionaire!  He made the news because his privately held entity, Washington Cos., is set to close its biggest acquisition ever.  They are purchasing a diamond mining concern for $1.2 billion.
I did a little more research on Mr. Washington.  Forbes magazine profiled his life in 2013.  You can read that article here:  Billionaire Highway Man: Life Lessons Dennis Washington Learned When He Was 25
RAGS
Here is a brief recap of Mr. Washington's early life as reported in the Forbes article.  Mr. Washington bounced around several different grade schools on the West Coast as a youth.  He contracted polio at age 8 and spent eight months in a rehab clinic in Seattle.  His family lived in a government housing project during World War II.  Mr. Washington bounced around living with his Mom, Uncle and at a boarding school during various points after his parents separated.
He worked construction jobs at his Uncle's construction company as a young adult.  At the age of 29, he married and struck out on his own starting Washington Construction with a $30,000 loan from a friend.  In the 1960s, they lived mostly on his wife's teaching salary.  Their house only had an outdoor bathroom and no indoor plumbing for several years.  He credits his early business survival to the following money affirmations:
Discipline

Hard work

Accepting only profitable construction jobs

Focusing on positive cash flow
Even as he met with some financial success, he stated "I still never borrowed money for cars, boats, and homes.  I never really felt financially secure until about 1988."
RICHES
The Wall Street Journal Article focused on his current personal, business and investment, and wealth-building philosophies.  Specifically:
Running businesses that pour off cash for reinvestment

Putting seeds in the ground and just keep plowing them

Focusing on long term investing

Owning businesses forever

Living frugally (okay, we will have to give him a pass on his yacht collection)

Hating to lose money frivolously
WHAT DOES IT MEAN FOR YOU AND ME?
So what can we learn from Mr. Washington? And how he built wealth?
Lots.  We want the businesses we talk about and invest in here at Dividends Diversify to:
Be disciplined and work hard for us, and

Focus on profitable business lines that pour off cash
We will take some of the cash from those businesses in the form of dividends to:
Put seeds in the ground and just keep plowing them, and to

Reinvest in new holdings
We will manage our finances in smart ways:
Living frugally, and

Not losing money frivolously
Do you have any other important business and investment philosophies?
Do you have a rags to riches wealth building story of your own?  Leave a comment and let me know.
Related:  How to become a millionaire from nothing