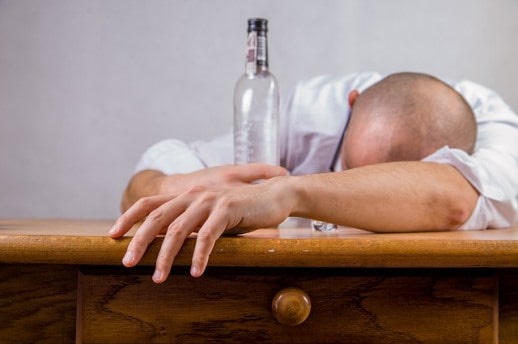 In my last post, about asset allocation, I wrote about the effects the 2007 – 2009 bear market had on us.  It had lasting effects on us personally, professionally and financially.
Dreams of financial independence were shattered or at least delayed.  At the time, leaving the corporate world no longer seemed possible.  A few tears were even shed in the Dividends household.  Mostly by Mrs. DD.  I'm only a cry baby when she doesn't give me my way.  Fortunately, I get my way most of the time.  At least that's what she tells me.
THE GOOD NEWS – WE SURVIVED THE LAST BEAR MARKET
Fast forward from 2009 to the present.  We survived.  Our finances recovered.  We were both able to exit the corporate world a few years later.  I am now a teacher and Mrs. DD is a librarian.  I know pretty exciting stuff.  That is if you like watching paint dry or grass grow.  Well, maybe not so exciting, but it works for us.
HANGOVER PREVENTION 101
Now I'm the first to admit I like a few cocktails from time to time.  "Whiskey, wine or beer will do, while you're at it bartender I will have a vodka too" is one my favorite drinking slogans.  When I was younger, the more the better.  In my advancing years, I have found moderation to be my second best friend (right after Mrs. DD).
However, I always like the hangover prevention methods I read about.  Drink plenty of water, don't mix different types of alcohol, take two aspirin before you go to bed, get plenty of rest the night before imbibing, drink on a full stomach, etc. etc.  Some of them actually work pretty well.
WHERE AM I GOING WITH THIS?
This isn't a blog about drinking so where am I going here.  I think surviving a hangover is like surviving a bear market after the bull market party is over.  There are things you can do before the party ends to limit the after-effects of the beer.  Sorry, I meant bear.  Here are four investing principles to consider:
1) Asset Allocation
Your investment diversification across asset classes will play a large role in determining your overall losses in the next bear market.  Make sure you are comfortable with the risks you are taking.
Your allocation to different asset types plays a large role in investment risk.   So a little moderation goes a long way, know your asset allocation and make sure it's consistent with your risk tolerance.
2) Stay Diversified
The last bear market was partially brought on by the financial crisis.  Some investments declined more than others.  Banks, financial institutions, mortgage REITs just to name a few were absolutely crushed.  I owned some, but they were part of a diversified selection of stocks and bonds that limited the overall damage to our net worth.
I don't know what will get hurt most in the next bear market, so I stay diversified and think you should consider the same.  While mixing alcohol is a bad idea, mixing up your investments is a good one.  Don't put too much of your hard-earned money into any single company or any group of companies in the same industry.
3) Review Your Holdings for Weakness Now
If some of your holdings aren't meeting your expectations, find out why and consider selling them now while the market is up.  Research why the company's stock is not performing well.  Is it just out of favor in this bull market?  That can happen and may be okay.  Investors might be shunning the company, not because of its fundamental earnings or prospects, but because it's not the sexy high flying growth stock everyone is talking about.
On the other hand, has the company's earnings stagnated, dividend growth slowed and a clear growth strategy not been communicated to investors?  This is a bad sign.  If a company can't perform well financially in a growing economy, how will it do in the next recession?  Probably not so well.  If this is the case, sell it now and move your money elsewhere while stock prices are high.  Make sure you have a well-rested portfolio by reviewing all your investments and removing the tired performers.
4) Have Some Cash On Hand
A little extra cash will help in two ways 1) Cash won't decline in the next bear market, and 2) you can use it to buy when the market is down.  Buying when the market is down (not selling) is a good way to improve your market returns over the long term.
I like a dollar cost averaging strategy.  You can read more about that here: Should You Invest in the Stock Market Now?.  Keep some aspirin handy and make sure to have a little extra cash to take advantage of opportunities.
HOW ABOUT YOU
I have no idea when the next bear market will occur, but it is good to be prepared.  Do you have additional methods to limit bear market damages to your investments?  Better yet, do you enjoy a "beverage" from time to time like me?  Leave a comment, join the conversation and let us.
Disclosure and disclaimer
Always remember that the information on this site is for educational and entertainment purposes only and not to be construed as investment advice specific to your circumstances.  Consult your personal investment and/or tax advisers prior to investing money and realize you are solely responsible for any investment gains or losses as a result of the investments you enter into.  You can find additional information under this site's Disclaimer and Privacy tab.