Hi and welcome to Dividends Diversify LLC. My name is Tom. You can learn about Dividends Diversify and me right here. But first…
Dividends Diversify Is About YOU
If you are like most visitors, you desire personal financial stability. Maybe you even dream of being financially independent someday.
You may be a young adult and just getting started. Or, you might be further along in your journey and want to break through to another level.
Regardless, you want the most from your investment and money management decisions.
Does This Sound Like You?
Working hard to make ends meet
But desire more time to pursue your personal interests
Want to make the most of your money decisions
Would like to have extra money & invest it wisely
Desire financial stability or better yet financial independence
If this sounds a little like you, then you are not alone. Many of us have felt this way.
And I Can Relate to YOU
I know how it feels to have a strong desire for financial independence. To have more control over your life.
To have the means to do what you want. Not what others want you to do.
For years, while I was a professional in the corporate world I had this dream too. And through Dividends Diversify, I share my experiences.
What Is Dividends Diversify?
Dividends Diversify is a personal finance website with an emphasis on building passive income by investing in dividend stocks.
The content on Dividends Diversify promises to entertain and educate you about the following areas:
Building your wealth
Money management & personal finance
Investing principles and techniques
Dividend investing, dividend stocks and dividend-paying ETFs
Personal development
I like to think of these areas in the form of a pyramid.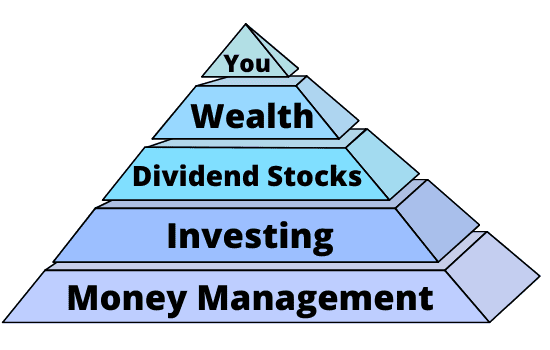 If you can manage these areas effectively, you are on your own path to financial freedom, wealth, and self-improvement. And being at the top of your wealth pyramid.
Get Started With A Few Popular Articles
Here is a sample of a few popular articles that you might enjoy:
About Me – Tom
Next, let me give you a little background on myself…
Getting My Start
At a young age, I developed an interest in making money, saving, investing, and business. I started mowing lawns around my neighborhood at age 10. By age 15, I did landscaping work, delivered newspapers, and waited tables at a restaurant.
Becoming An Investor
The money earned from working at a young age allowed me to invest in my first stock at age 10. I made that investment through the company's dividend reinvestment plan with a little help and encouragement from my Dad.
In total, I have over 45 years of personal hands-on do-it-yourself investing experience. This includes publicly traded stocks, bonds, mutual funds, ETF's and investments in privately-held businesses.
A Finance & Accounting Professional
I earned an undergraduate accounting degree and Certification in Public Accounting (CPA) by the age of 21. And spent 25+ years as an accounting professional running the finances for both small and large businesses.
But, in my late 40's, I declared my own financial independence. And walked away from the full-time grind of the corporate world. Ahhhh, what a relief.
My Brand Of Financial Independence
I view financial freedom as an honor and privilege. And I never want to waste a moment of it.
So I went on to complete a Master's degree in accounting with a secondary emphasis in investing and financial planning. Armed with that graduate degree, I pursued a university-level teaching position.
And have since taught a number of graduate business courses for a local university. My favorite course to teach? Financial Statement Analysis. Because digging into a company's financial statements is one of the best ways to assess its investment prospects.
And in my current life chapter? I research and write informative and entertaining articles for you. Published right here on Dividends Diversify.
"About Me" Is Really About YOU
I bring my investing experience, academic training, and professional background to your attention for one main reason. Why?
Because the goal at Dividends Diversify is to leverage my unique experiences to bring YOU the best content possible. To inform YOU, educate YOU, entertain YOU, and inspire YOU. After all, it's YOU at the top of the wealth pyramid!
And last but not least, thank YOU for stopping by and visiting Dividends Diversify!
You can contact me by email at dividendsdiversify (at) gmail (dot) com.
Disclosure & Disclaimer: I am not a licensed investment adviser, financial adviser, or tax professional. And I am not providing you with individual investment advice, financial guidance, or tax counsel. Furthermore, this website's only purpose is information & entertainment. And we are not liable for any losses suffered by any party because of information published on this blog.