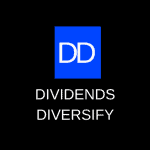 The Dividends Diversify blogroll is broken into 2 parts.
Part 1 called "My Favorite Five" are five blogs I find myself going to time and time again.  I find them especially informative and entertaining.  I also like to observe how the site owners operate and learn about blogging from them.  I update these 5 slots periodically as my interests change.  The last update was June 2018.
Part 2 is my more comprehensive blogroll.  There are just 3 requirements to be included.
I need to know about your blog

It must be active, defined as at least 2 blog posts per month.  I audit the list periodically and remove inactive sites

The site operates in a similar niche as Dividends Diversify.  The niche is broadly defined as personal finance, investing and financial independence
If I have missed your blog on the Dividends Diversify blogroll and your blog meets the 3 requirements, leave a comment at the bottom of the page and I will include your site.
FAVORITE FIVE
Great quick and insightful reads on a variety of personal finance topics.  The author, Zach, is wise beyond his years in my opinion
Joe at RB40 writes about his family's journey to financial independence.  When I first found the site, I found it really interesting and spent an hour or so reading several of the articles.  Joe's got a great down to earth writing style.  When I read his blog, I feel like he's an old friend even though we have never met.
Keith over at DivHut has a great site.  Everything about it is clean, polished and professional.  Keith covers personal finance and investing, but also has frequent guest posts that reach out into some other areas like careers and education.
The Dividend Diplomats are just a couple of 20 something dudes blogging their way to financial independence.  We think a lot like them back home here at Dividends Diversify.  Bert and Lanny were some of my first visitors and contributors on this site.  I don't think those two guys ever sleep.
My favorite aspect of Dividend Hawk is the weekly round up he puts together on Sundays.  Check it out sometime.
BLOG ROLL