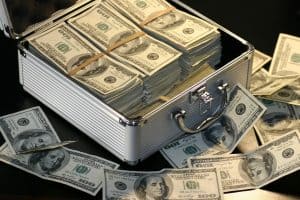 | | | |
| --- | --- | --- |
| Security Type | Symbol | Name |
| Stock | D | Dominion |
| Stock | JNJ | Johnson & Johnson |
| Stock | O | Realty Income |
| Stock | CMI | Cummins |
| Stock | MSFT | Microsoft |
|   |   |   |
| Equity ETF | VYM | Vanguard High Dividend Yield ETF |
| Equity Mutual Fund | DODFX | Dodge & Cox International Stock Fund |
| Equity Mutual Fund | PRIDX | T. Rowe Price International Discovery Fund |
|   |   |   |
| Bond ETF | VCIT | Vanguard Intermediate Term Corp Bond ETF |
| Bond Mutual Fund | VWITX | Vanguard Intermediate Term Tax-Exempt Bond Fund |
| Bond Mutual Fund | VWEHX | Vanguard High Yield Corporate Bond Fund |
PORTFOLIO OBJECTIVES
Diversification among securities and asset classes
 PORTFOLIO ASSET ALLOCATION
45% Bonds

35% US Equities

10% International Equities

10% Cash Reserves
This is a fairly conservative asset allocation.  However, I believe it works well for my purposes.  Above all, each individual investor's asset allocation will be different.  As a result, asset allocation should be based on each individual's personal situation and risk tolerance.   Even more, research shows that asset allocation is one of the greatest factors influencing a portfolios return.  Hence, asset allocation decisions are very important.
SECURITY SELECTION
US Equities
For US equities, I prefer individual dividend paying stocks.  There are many advantages to building your own high quality individual stock portfolio.  Therefore, I plan on adding to the individual stocks in this portfolio as time progresses.   And as a result, I will reduce reliance on the Vanguard High Dividend Yield ETF (VYM).  VYM is representative of the dividend paying US equity market.  Consequently, I use VYM for diversification purposes.  
International Equities and Bonds
For the international equity and bond portion of my portfolio, I prefer mutual funds and exchange traded funds.  Because I do not feel I have the expertise to choose individual securities in these areas.  I track the market through an ETF or let a professional manager do the work for me.  Investments costs always concern me when investing in actively managed funds.
You can check out my individual stock selection criteria here:  Stock Selection Criteria
CONCLUDING THOUGHTS
Additionally, I will explore portfolio structure, costs, asset allocation, stock analysis and fund reviews through my weekly posts.  To wrap up, how do you structure your portfolio?
Disclosure and disclaimer
I am long all of the holdings listed in the above portfolio.  Always remember that the information on this site is for educational and entertainment purposes only and not to be construed as investment advice specific to your circumstances.  Consult your personal investment and/or tax advisers prior to investing money and realize you are solely responsible for any investment gains or losses as a result of the investments you enter into.  You can find additional information under this site's disclaimer tab:  Disclaimer & Privacy Policy