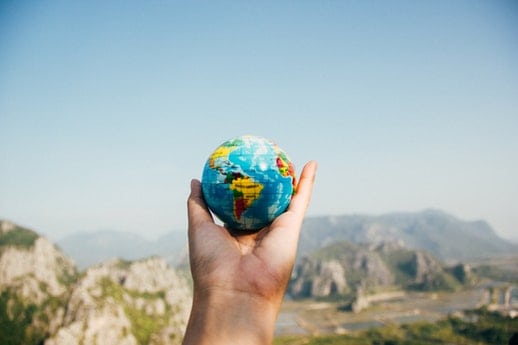 Should you invest in international stocks?  I think so, but there are advantages and disadvantages. There are also different ways to obtain international diversification for a U.S. based investor.  Let's take a look at this topic.
GETTING INTERNATIONAL DIVERSIFICATION
I do believe international exposure is important.  Furthermore, diversification is a core investing principle.  There is a lot of money to be made all over the world.  I primarily get international (outside the U.S.) exposure into my portfolio in two different ways:
U.S. based stocks with significant foreign sales

Internationally focused mutual funds
Cummins (CMI) is a great example of the first way.  CMI generates about 40% of its revenue outside the United States.  They are truly a global company.
The Dodge & Cox International Stock Fund (DODFX) illustrates the second way.  This fund holds a diverse basket of international company stocks.  It's objective is long term growth of principal and income.  This fund has more of a total return focus versus an income focus.  Most noteworthy, it does pay an annual dividend at the end of the year.  I would not own the fund if it did not pay a meaningful dividend.
WHY THESE METHODS TO GET INTERNATIONAL DIVERSIFICATION?
Here are the reasons why I approach international investing in this manner:
First of all, many foreign countries withhold taxes on dividends paid to U.S. shareholders.  These taxes may be recoverable, but it depends on your tax status and what type of account you hold the stock in

Furthermore, many foreign companies do not pay a consistent quarterly dividend like US companies; therefore, foreign company dividend policies are not always suitable for building a consistent passive income stream

In addition, currency fluctuations are an issue when trying to generate consistent dividend income.  These fluctuations create changes in the amount of dividends paid when converted into US dollars

Finally, your time and expertise are required to analyze and build a diverse portfolio of foreign-based dividend-paying stocks.
ADDRESSING THE ISSUES
U.S. based stocks with foreign sales address all of my objections.  Mutual funds do not eliminate reasons 1-3; rather, mutual funds help with investment research and immediate diversification.  Because of the benefits provided by mutual funds, there is a cost for that service.  You know, those pesky mutual fund fees.  Minimizing investment costs is an important consideration.  Dividend-focused international stock ETF's are also an option to keep fees low.  But investment costs and international dividend-focused ETFs are a topic for another day.
Do you have international exposure in your investment portfolio?  If yes, how do you get it?  What is your opinion and approach to this topic if you live outside the U.S.?  Leave a comment and let me know.
Disclosure and Disclaimer
I am long CMI and DODFX.   Always remember that the information on this site is for educational and entertainment purposes only.  The information is not to be used as investment advice specific to your circumstances.  Consult your personal investment and/or tax advisers prior to investing money.  Please realize you are solely responsible for any investment gains or losses as a result of the investments you enter into.  You can find additional information under this site's Disclaimer & Privacy tab.