Because Smart Finance Department Goals And Objectives Are The Keys To Success
Having spent nearly 30 years rising through the ranks of the finance and accounting profession to the position of Chief Financial Officer (CFO). I thought it was finally time to share my best examples of finance department goals and objectives.
For when you are in a leadership position. Or, an individual contributor. This article has goals every finance team and each member of that team should consider.
And before we are done, I will explain the SMART goal-setting process. Also, the best way to achieve your finance department's objectives.
So, let's get moving. Then you can get busy setting finance department goals and objectives for success now…
Examples Of Finance Department Goals
Here are our top 10 finance department goals examples for your consideration…
Make your finance department a business partner
Change the structure of the finance department
Improve the talent in the finance department
Make budgeting and financial planning strategic
Identify investments with good returns
Improve processes to produce higher profits
Enhance cash management
Reduce time to complete monthly close
Turn data into information
Better manage compliance and risk
Next, let's turn these finance department objectives into reality. With a brief discussion of each one…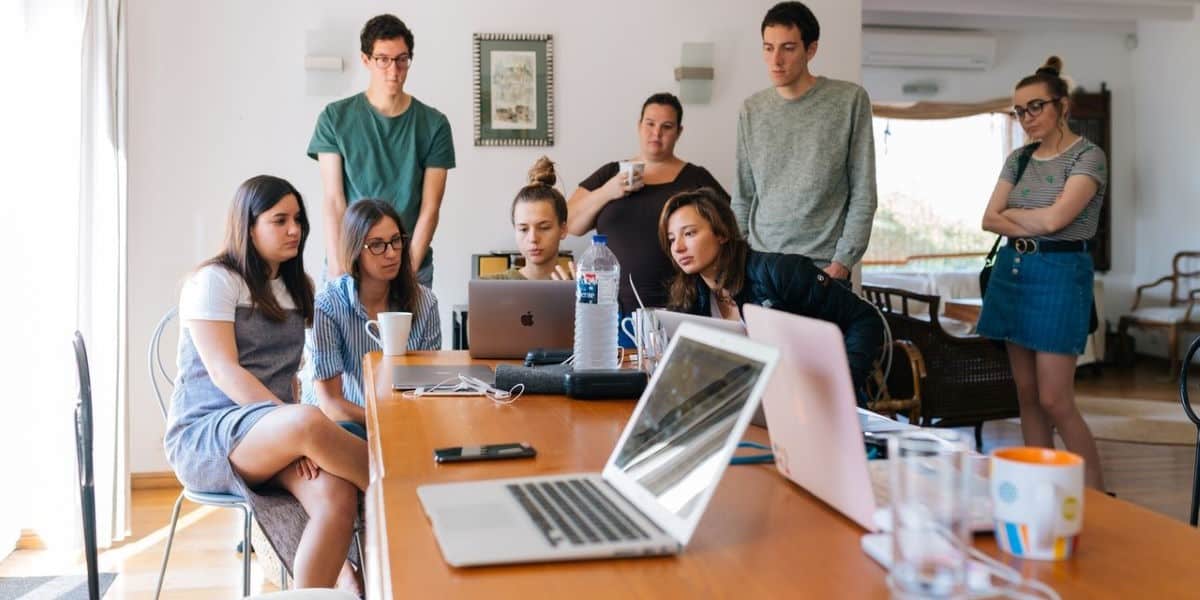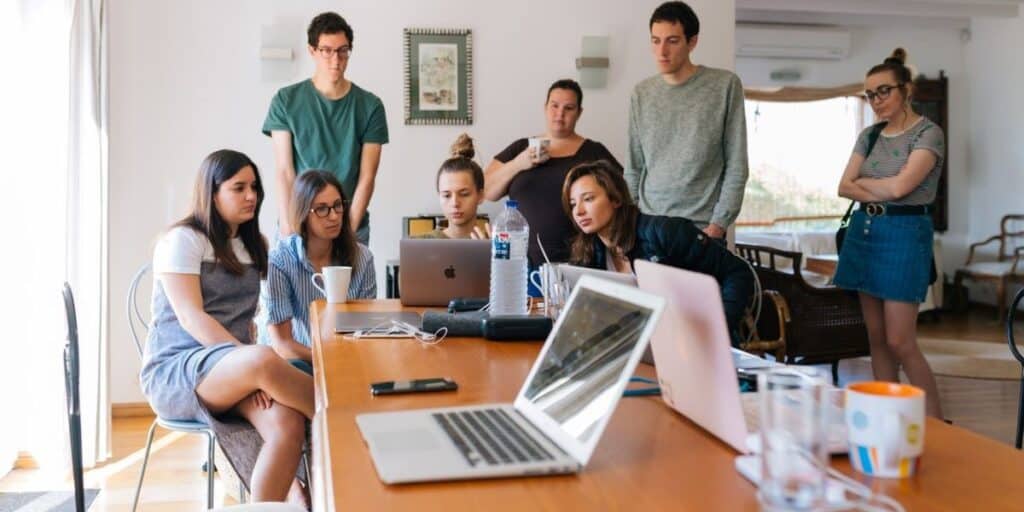 Disclosure: At no cost to you, I may get commissions for purchases made through links in this post.
Make Your Finance Department A Business Partner
First things first. Be sure to position the finance department as a business partner. Not a support function.
This should be one of the long-term goals for every business.
And it is one of the first things I always noticed as a consultant. When walking into a client to assess the finance teams.
Because when the team isn't acting like a business partner. Chances are good the finance team is underperforming in other ways too.
Two things are important when trying to accomplish such a goal. First, it takes the right mindset from all members of the team. Second, it takes the right organizational structure.
Let's talk about that point next. As we dive deeper into goals for a finance department…
Change The Structure Of The Finance Department
To be a business partner. You have to structure yourself like one.
Most finance leaders structure their teams by accounting and finance functions. For example, accounts payable, corporate accounting, accounts receivable, treasury, risk management, financial planning, and strategic business analysis.
And that's okay since all of those jobs need to get done.
However, think about a different approach to the organization because each business operational area should have a finance support person.
This includes sales, marketing, operations, and human resources. So, consider how you can restructure the team. Or add a layer of responsibility to each team member.
To allow every key business function to have a dedicated support person in finance.
Improve The Talent In The Finance Department
Your finance team won't ever deliver on its goals and objectives if it doesn't have the talent to do so.
So, take a hard look at your personnel and improve the talent through:
Direct training of job skills
Cross training
Mentoring
Unfortunately, for those in leadership positions, sometimes you have to make a tough decision.
By cutting a team member loose. And replacing them with a more talented individual.
Hopefully, doing so only when time, training, and development cannot bring their contributions to an acceptable level. Furthermore, this is also a great opportunity to increase diversity among the staff.
Also, for individual contributors looking to set business goals. Challenge yourself to increase your skills through training and on-the-job experiences. Don't wait for the boss to tell you to do it.
Take charge of your career development! Because if you do not. Chances are good that no one else will.
Okay. So far, we have discussed the business partnering mindset the finance team needs to adopt. Also, optimizing the structure and the people that operate in it.
These finance department objectives must be in place. Otherwise, it isn't easy to take your business to a higher level. So, finance goals must first be set and achieved in these areas.
Then you can get on with adding real value to the business. Also, promoting profitable business growth.
To do so, consider setting finance department goals and objectives in the next several areas…
Make Budgeting And Financial Planning Strategic
First, if you do not have at a minimum, an annual budgeting process. Then set a goal to put one in place.
Because, as a finance department, analyzing the past isn't good enough. The team must also be forward-looking.
Once a budgeting process is in place. Take it to another level by making it a strategic type of business goal.
What I mean is don't just roll up the numbers. No way.
Get involved with and for the managers of the business. Specifically on how to increase revenues, improve business processes, and make smart business investments.
Speaking of making business investments. That topic is next in today's list of finance department objectives. Along with the best goals to achieve them…
Identify Investments With Good Returns
Sometimes finance and accounting professionals get too hung up on challenging company management to reduce expenses to save money. Rather than spend it.
Certainly, there is room for this important role within the finance department. But don't obsess over it. Because sometimes it takes spending money to make money.
Thus, encourage your business partners in sales and operations to look for potential investments. Whether it be in buildings, equipment, technology, product development, or people.
Then challenge them with determining the financial benefits for the company of investing. Because the finance team is in a unique position to calculate return on investment.
So, lead the charge to find good business investments. Those investments can return 15%, 20%, or even more. Then roll them into your strategic plan.
But there are other ways to help your company become more profitable as part of setting finance department goals.
Here's how…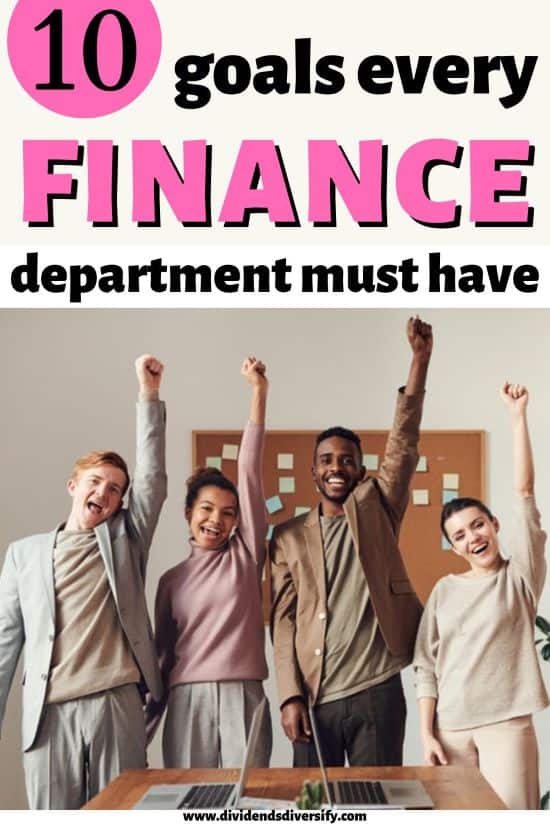 Improve Processes To Produce Higher Profits
Yes, you can look at the direct processes of the finance department. But don't ignore company-wide processes.
For example, look for ways the finance team can get involved with:
Optimizing pricing
Increasing sales volumes
Spend management
Eliminating unnecessary expenses
Reducing taxes
Because all of these options are outstanding financial goals for a business.
Next, is another great example of finance team goals…
Enhance Cash Management
Aside from people, cash may be the next most important resource for a business. And the benefits of cash flow forecasting are undeniable.
Most importantly, the finance function is in an excellent position to project future cash needs. In addition to creating increasing its availability.
Thus, think about setting goals related to cash and cash management to:
Improve the cash forecasting process
Negotiate extended supplier payment terms
Reduce inventories
And when the situation calls for it. A goal to raise capital and ensure adequate financing is in place may be required.
So, create a cash forecasting process if you don't have one. Then, set goals to increase cash flow.
This next point may be my favorite goal for the finance and accounting department function…
Reduce Time To Complete Monthly Close
Because there was one common theme at every company I walked into. Where the finance and accounting function was underperforming.
What's that? It took too much time to close the books each month. From my perspective, reducing the time to close is one of the most critical accounting goals.
Usually, what I found is that it wasn't the lack of personnel and computer systems. Although that's what the finance and accounting staff would tell you.
It was generally due to poor processes. And a lack of priority setting.
It was typical to talk to the company controller during the first week of the month. And find they were working on everything else but the month-end close.
So, make reducing the time to close one of your high-priority non-financial goals. In my opinion, it should never take more than 3 to 5 business days.
Okay. Here's another telltale sign of a finance function in need of improvement. Thus, it is a great area for finance department goal setting.
Turn Data Into Information
Just about every finance function that I walked into could be described as this: "data rich and information poor".
Because the information technology systems could spit out all kinds of data. But it was virtually worthless as it didn't provide easy-to-digest and actionable information for small business managers.
So, as an individual contributor, always try to provide valuable information. Along with your insight about that information.
As a finance leader. Look to staff the finance department with people that can get out from under the reams of data and data entry. What you want are staff members that focus on information.
Last, but not least, here is number 10. In today's goals of finance department examples and related objectives…
Better Manage Compliance And Risk
I'm talking about compliance and mitigating risk. Because the finance function should play a big role in these areas.
So, look for risk management and compliance goals related to…
Improving internal accounting controls
Assessing business insurance needs
Complying with tax and financial reporting rules
Ensuring employee privacy
…just to name a few possibilities.
Olay. That completes our discussion of several areas where you can identify and choose finance department goals.
But before I wrap up, I want to offer a few thoughts for you to consider…
Setting And Achieving Finance Department Goals
Because it's not good enough to identify and choose goals. The finance department must set them effectively. And, most importantly, achieve them.
Let's discuss…
How To Set SMART Goals For Finance Departments
First, you need a goal-setting system. And I suggest there are two good options to choose from.
One is called SMART goals. And the other is referred to as HARD goal setting.
However, I strongly recommend SMART goals for finance departments. By setting each goal so it is:
Specific
Measurable
Achievable
Relevant
Time-bound
I have published an entire article about the virtues of setting SMART vs HARD goals. It is a post you should dive into and fully understand.
Okay. So you have chosen your finance department goals and objectives and set them. Then what?
That's next…
How To Achieve Finance Department Goals
I suggest the following 5 steps for improving the odds of achieving the finance department goals you select and set.
The steps to successfully achieving goals are…
Create the right mindset
Make an action plan
Work on your plan
Create the right environment
Monitor your progress
Dig into this article about successfully achieving goals. For a detailed explanation of each of these steps.
Finally, please allow me to wrap this all up with a few parting thoughts…
Examples Of Finance Department Goals: Wrap Up
We talked about some business areas that are ripe for identifying and selecting goals for a finance department.
The areas revolve around having the right people in the right department structure. Encouraging them to function as forward-looking business partners. And utilizing their unique strengths in finance and accounting to provide information for making any business more profitable and more successful. Doing so in conjunction with reducing business risks will lead to positive transformation.
Finally, make SMART goals for your finance department. And use our 5 tips for achieving accounting and finance department goals.
That's all for today. But perhaps you are ready for more? If so, check out all of our…
Articles about Money and Business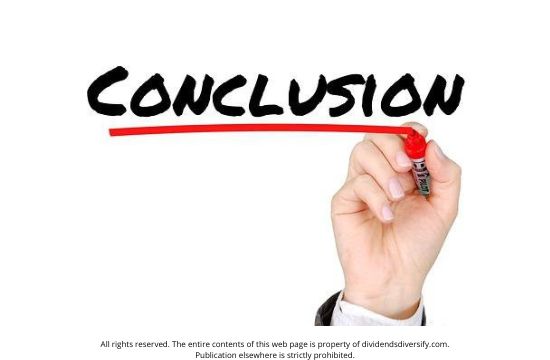 Author Bio, Disclosure, & Disclaimer: Please join me (Tom) as I try to achieve my goals, find my next place to live, and make the most of my money. However, I am not a licensed investment adviser, financial counselor, real estate agent, or tax professional. Instead, I'm a 50-something-year-old, early retired CPA, finance professional, and business school teacher with 40+ years of DIY dividend investing experience. I'm here only to share my thoughts about essential topics for success. As a result, nothing published on this site should be considered individual investment, financial, tax, or real estate advice. This site's only purpose is general information & entertainment. Thus, neither I nor Dividends Diversify can be held liable for losses suffered by any party because of the information published on this website. Finally, all written content is the property of Dividends Diversify LLC. Unauthorized publication elsewhere is strictly prohibited.
How To Choose, Set, And Achieve Finance Department Goals Explained