Managing your money in an effective manner is super important. It is the foundation for building wealth.
Make good financial decisions. Set your personal financial processes up the right way. Then you are ready to move up the pyramid and build your wealth.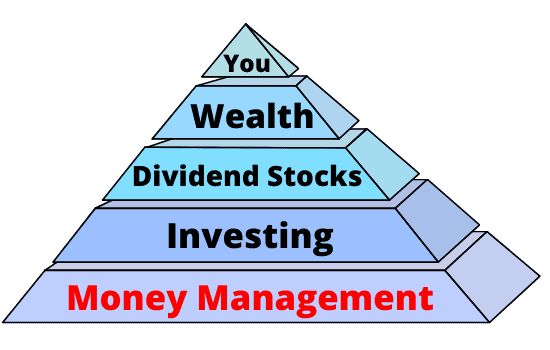 Get a handle on this critical area with these articles:
How To Manage Your Money
Be proactive and take care of these important aspects of your finances.
Problem identification and problem-solving are critical when it comes to money management. Also, avoiding money mistakes in the first place. Here's what you need to know in this area:
If you have most of your financial problems solved, then turn to look forward. That is identifying, setting, and achieving financial goals. Here's a series of articles on this important topic.
Saving Money
Saving money is an important part of managing your money. You can't get ahead financially if you spend more than you make. It's just impossible.
Here are some articles about a few ways to go about saving a few bucks!
Disclosure & Disclaimer
This article, or any of the articles referenced here, is not intended to be investment advice specific to your situation. I am not a licensed investment adviser, and I am not providing you with individual investment advice. The only purpose of this site is information & entertainment. We are not liable for any losses suffered by any party because of information published on this blog. See this site's Disclaimer and Privacy tab for more information.