Exploring A Move To Arkansas For Retirement
Is Arkansas a good state to retire in? This article explores why retirement living in Arkansas may be perfect for you. During our journey, I will cover a few potential downsides to watch out for.
It's time to get started by addressing today's question head-on.
Is Arkansas a Good Place To Retire?
For many people, Arkansas is a great place to retire. The Natural State offers an affordable cost of living, attractive tax benefits, mild weather perfect for outdoor activities, and abundant natural scenery. While the state isn't perfect, Arkansas appeals to retirees seeking to stretch their retirement savings and enjoy a laidback, down-to-earth lifestyle.
If you are intrigued by the possibilities, read on to learn more about what makes Arkansas a retirement haven. Plus, precisely what to watch out for before moving to Arkansas.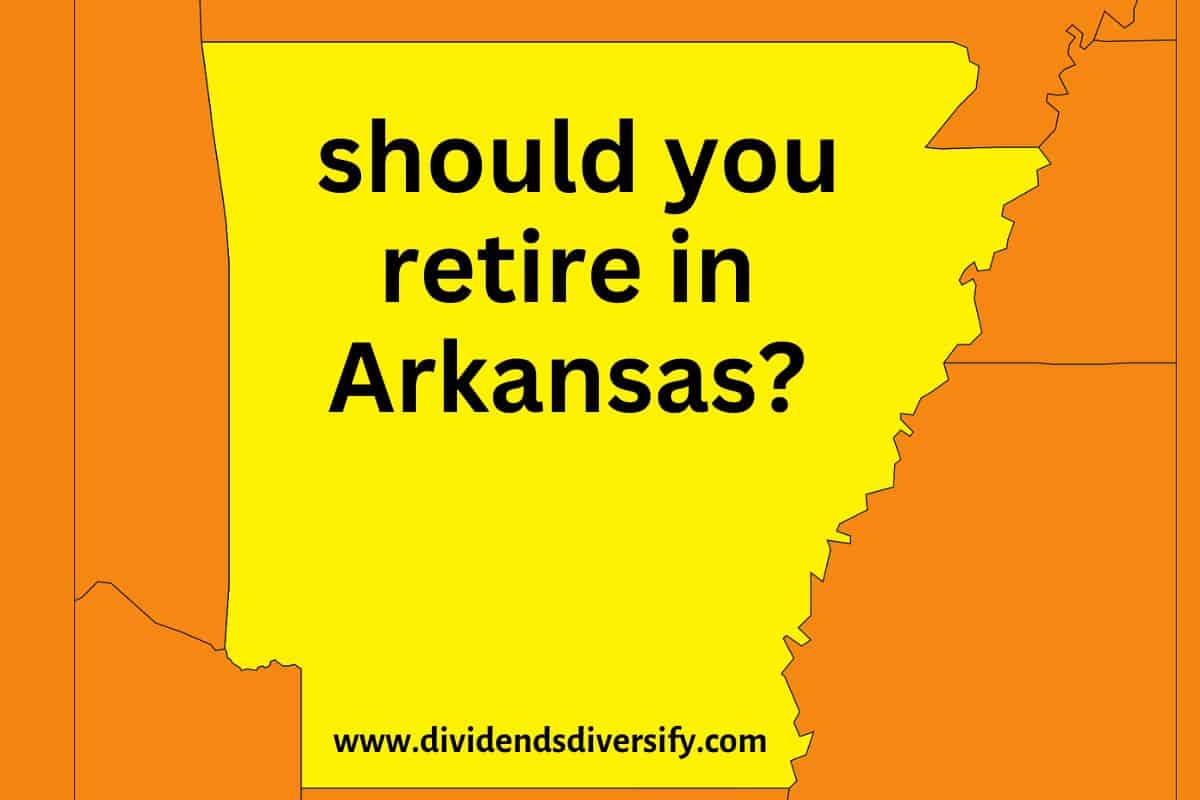 Disclosure: At no cost to you, I may get commissions for purchases made through links in this post.
Affordable Living For Retirees In Arkansas
First, median home prices in the state are approximately 40% less than average across the country.
Source: Redfin
Furthermore, groceries, utilities, transportation, and healthcare all run 5-15% below the national average.
Source: Missouri Economic Research and Information Center
As a result, the state ranks as one of the top 10 cheapest states to live in, regardless of the cost study you choose to rely on.
What does it mean? Arkansas retirees get more for their money by living here.
Tax Benefits Sweeten Retirement In Arkansas
Tax benefits make retiring in Arkansas even more affordable. I won't bore you with an extended tax discussion. Still, consider the following savings opportunities waiting for retirees in Arkansas.
Property taxes on homes come in as some of the lowest of all states in the nation.
New laws have recently reduced income taxes for both individuals and corporations.
Social Security and military retirement pay are exempt from state taxes.
Finally, Arkansas allows seniors aged 59.5 and above to deduct up to $6,000 from their state income taxes for other forms of retirement income like pensions and IRA withdrawals. Source: Arkansas.gov
What you should watch out for:
Watch out for the state's progressive tax system. Progressive taxes means the more money you make, the higher your tax rate.
Sales taxes are another issue, averaging about 10% on your purchases. The state has one of the highest sales tax rates in the country.
As a result, Arkansas retirees that have high incomes and like to spend large sums of money may not feel the benefits of the state's otherwise beneficial tax laws for retirees. The tax also negatively impacts poor people living in Arkansas.
Mild Weather Makes Arkansas Retirement Friendly
Arkansas is a great state for retirees that enjoy mild winters and warm weather during the spring through fall seasons.
During the worst part of winter, low temperatures rarely fall below 30 degrees. Snowfall is light in the northern parts of the state and is nonexistent in the southern regions.
What you should watch out for:
July and August can be intensely hot and humid. So, if you can't tolerate the heat, plan how to beat it after your retire in Arkansas.
Tornados are one of the several dangers of moving to Arkansas. They can occur year-round and at all hours with little notice.
Retire To Arkansas For Natural Beauty And Outdoor Activities
Arkansas is known for its beautiful landscape and natural scenery. The state's nickname is the "Natural State" for good reasons.
There is geographical diversity because of the valleys of the Arkansas and Mississippi rivers and their tributaries. In the western part of the state, there are two mountain ranges: the Ouachitas and the Ozarks.
The mountains, bluffs, forests, and lakes combined with the mild weather mean this state has plenty to offer outdoor lovers. So, enjoy the more than 50 state parks and nearly 250 days of sunshine each year after retiring in Arkansas.
What you should watch out for:
First, the state is landlocked, and the ocean coastlines are many miles away.
Second, mosquitoes love living in the state's lush green spaces.
They may ruin your next outdoor adventure. In worse cases, these bugs can carry the West Nile virus and less common mosquito-borne diseases.
Different Locations To Meet A Variety Of Retirement Lifestyles
No matter your dream lifestyle, you can find high-quality retirement living in Arkansas.
First, the state is mostly a collection of small towns. These places offer charm, southern hospitality, and a relaxed pace of life.
For a faster pace and more cultural amenities, consider the largest city of Little Rock or one of the college towns like Fayetteville or Jonesboro. The greater Fayetteville-Springdale-Rogers region has become a popular place to live for its growing economy and lifestyle features.
What you should watch out for:
Choose your retirement location within the state wisely. Make the wrong choice, and you may face unnecessary challenges after you retire in Arkansas.
Crime. Areas in the state have high crime rates. Property crime is especially problematic.
Rural living. Most of the state is rural. While it can be advantageous for many retirees looking for the solitude of rural culture, that lifestyle isn't for everyone.
Access to healthcare. Small towns in remote parts of the state have limited access to healthcare. Furthermore, the quality of health care services across the state is not highly rated.
Do your homework! Plenty of places to retire in Arkansas offer the amenities you desire, low crime, and reasonable access to healthcare services.
Okay, now you know why Arkansas is a good place to retire. And a few things to be on the watch out for. So, let me wrap up with some final thoughts.
Why Is Arkansas A Good Place To Retire?
Arkansas is a good place to retire for the following reasons:
Affordability
Low property taxes
Retirement tax benefits
Mild winters
Warm weather, spring through fall
Scenic beauty
Geographical diversity
Small-town charm
Mid-sized cities
Why Is Arkansas A Bad Place To Retire?
Arkansas is a bad place to retire for these reasons:
Income taxes on high earners
High sales taxes
Hot and humid summers
Risk of tornados
A landlocked state
Mosquitoes
Higher crime rates
Access to quality healthcare
Choose your location in the state wisely. Doing so will address most of the above issues, making Arkansas a good place to retire.
More reading: Comparing Arkansas vs. Missouri living
Good luck, no matter where you choose to settle down.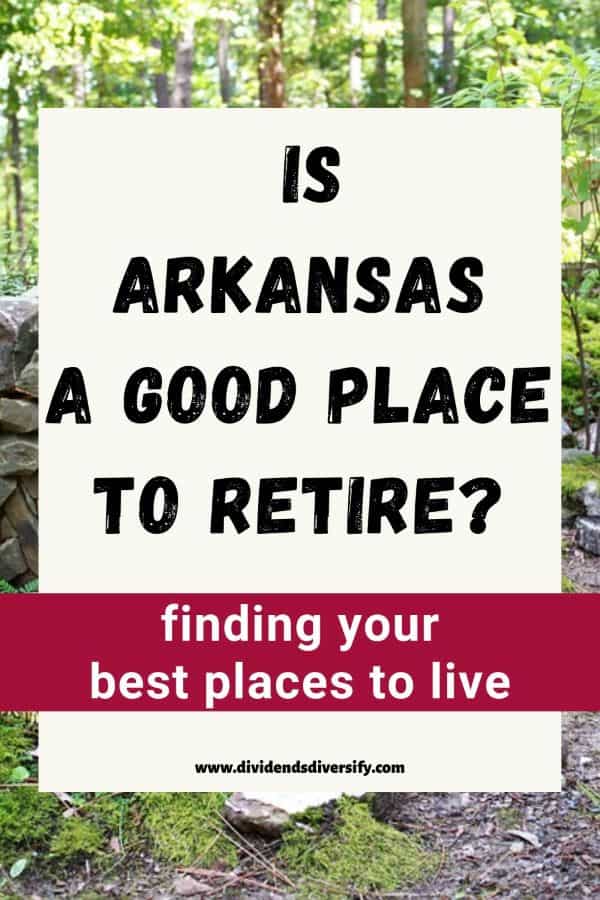 Author Bio, Disclosure, & Disclaimer: Please join me (Tom) as I try to achieve my goals, find my next place to live, and make the most of my money. However, I am not a licensed investment adviser, financial counselor, real estate agent, or tax professional. Instead, I'm a 50-something-year-old, early retired CPA, finance professional, and business school teacher with 40+ years of DIY dividend investing experience. I'm here only to share my thoughts about essential topics for success. As a result, nothing published on this site should be considered individual investment, financial, tax, or real estate advice. This site's only purpose is general information & entertainment. Thus, neither I nor Dividends Diversify can be held liable for losses suffered by any party because of the information published on this website. Finally, all written content is the property of Dividends Diversify LLC. Unauthorized publication elsewhere is strictly prohibited.
Your Question Answered: Is Arkansas A Good Place To Retire?