Providing Positive Leadership Feedback Is An Essential Management Skill
Effective performance depends on leadership from everyone. Thus, this article will cover 55 positive leadership feedback examples for managers that will engage and motivate your current and future leaders.
Positive leadership feedback throughout the year provides valuable input to team members about their behavior and its impact on others. Additional benefits of giving leadership feedback during performance reviews include:
Recognizing effective leadership
Identifying new potential leaders
Helping all associates improve
Identifying developmental needs
Providing constructive feedback
Creating an environment of self-awareness
With that introduction in mind, we will cover five common types of leadership development feedback, each serving a different purpose. The result is 55 leadership feedback examples for managers.
When done, you will be well-equipped to make giving constructive leadership feedback one of your managerial goals. Let's get moving.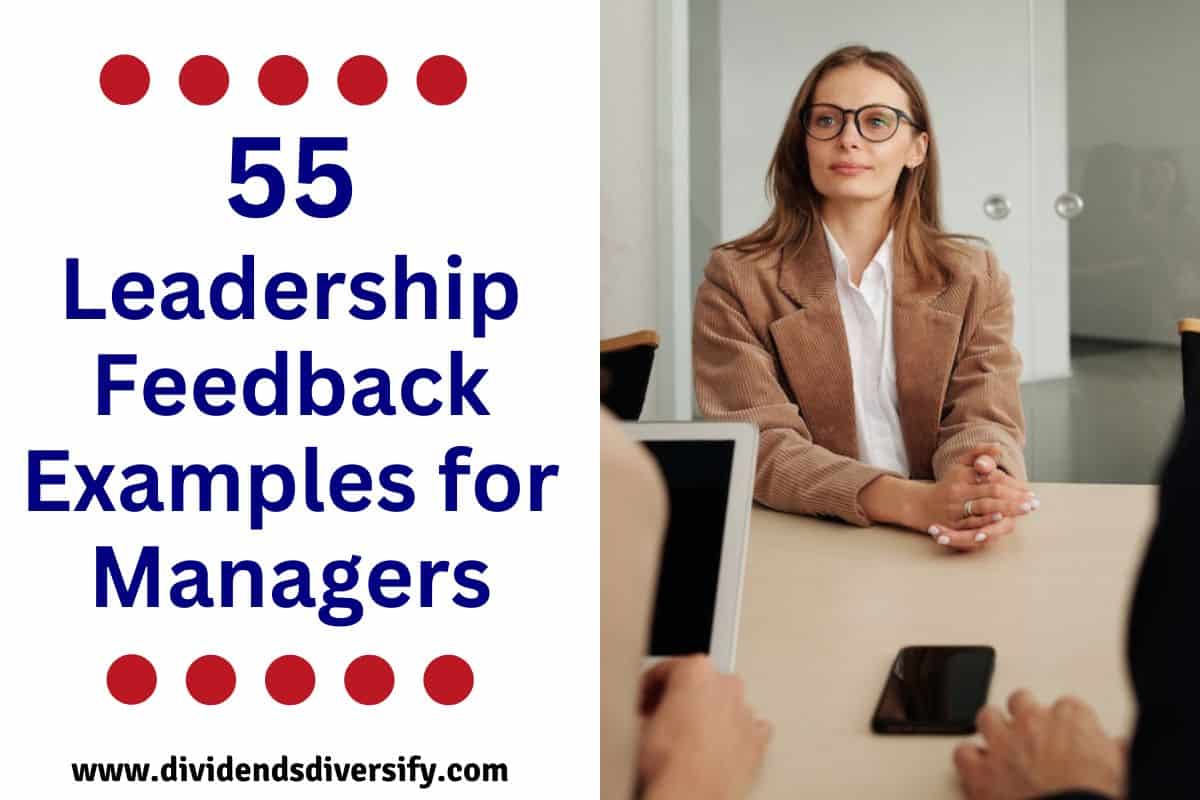 Disclosure: At no cost to you, I may get commissions for purchases made through links in this post.
10 Positive Leadership Feedback Examples For Team Leaders
The first type of leadership feedback is for team leaders – specifically those with formal leadership roles.
All of these examples are excellent performance review phrases. Thus, good feedback for leaders may include:
You are doing a great job leading the team. Your efforts bring everyone together for a common cause.
Everyone feeds off your upbeat leadership style. You create a positive energy within the group.
You have exceptional leadership traits. Under your watch, the team knows how to set and achieve management goals.
Your attention to providing constructive feedback helps everyone develop professionally.
I'm impressed with your knack for identifying talented team members and nurturing them to their full leadership development potential.
Your ability to collaborate with other departments has helped us complete some challenging projects this year.
Your delegation skills have created one of the company's highest-performing and most productive teams.
I'm grateful for your commitment to professional development. Your approach sets an excellent example for everyone.
I like how you have been networking outside of the company. The contacts you are making are invaluable for our future success.
I'm impressed with how you allow your staff to take risks and assume full responsibility for their roles. Their positive performance reviews reflect their outstanding performance. You know how to build an empowered team.
11 Positive Leadership Feedback Examples For Communication Skills
The second type of leadership feedback focuses on communication skills. Every team member's performance review should include constructive comments about communication.
I respect how you fully engage when listening to someone speak. Your attention to what others have to say brings out their best.
You are skilled at creating a safe and positive work environment where team members are comfortable voicing their thoughts.
Your ability to communicate our strategic vision helps the group feel they are a valuable part of the company's long-term plans.
I appreciate how you respectfully communicate with everyone and hold their views in the highest regard.
Your presentation at yesterday's team meeting was outstanding. The preparation and attention to detail was evident.
Your team communications result in a highly informed, engaged, and motivated group of employees.
The staff have commented how much they appreciate the time you take in their one-on-one meetings.
Your project team meetings are excellent. They help build trust and understanding within the group.
You have a knack for timely, articulate, and inspiring communication skills. They motivate and align the team with this year's key performance objectives.
Your leadership feedback is always timely, specific, and actionable. It brings out the inner leader in everyone involved.
The way you balance praise with constructive criticism for improvement helps everyone feel good about pursuing their developmental needs.
11 Positive Leadership Feedback Examples For Decision-Making
The third type of leadership feedback is about decision-making and decision-making processes.
Your strong analytical skills enable you to analyze data and make informed decisions benefiting the company.
I appreciate your decisiveness. Your quick, wise decisions give everyone confidence we can meet our deadlines.
The team respects your willingness to consider different perspectives before making a decision. Your balanced approach has led to better outcomes for the company.
You have a unique way of understanding the pros and cons of different options and making a well-reasoned decision from those inputs.
Your decisions always have the company's and our employees' best interests in mind.
I like how you gather and weigh all the facts before making an important decision.
You have a unique ability to leverage your instincts to make good decisions when under pressure.
I'm impressed with your data-driven decision-making approach. The results of those decisions contribute significantly to our success.
The intuition you bring to your decision-making provides fresh perspectives.
I appreciate how you involve the team before making a big decision.
I'm impressed with how you reflect on your past decisions, looking for opportunities to learn from the outcomes and make better decisions in the future.
10 Positive Leadership Feedback Examples For Critical And Strategic Thinking
The fourth type of leadership feedback dives into effective critical and strategic thinking. Constructive comments about thinking skills are essential for leadership performance reviews.
Your strategic approach to projects helps the company achieve its goals and objectives.
I admire your strong problem-solving skills. They enable you to overcome obstacles and find practical solutions.
I'm impressed with your strategic vision for our department. Your well-rounded managerial mindset inspires and motivates us all to do our best work today for a better tomorrow.
Your ability to see the big picture helps align our team's goals with overall company objectives.
I appreciate the way you approach problem-solving. Your critical thinking skills help us with complex situations and achieving our goals.
You have fantastic creative thinking skills. Your unique solutions to challenging situations are valuable for the team.
I am impressed with your ability to anticipate potential management problems before they arise. Your viewpoints help us stay ahead and prepare for the unexpected.
Your inclusive approach to strategic planning makes the team feel invested in the company's long-term success.
I like your analytical approach to problem-solving. You make the most difficult challenges seem easy to handle.
I appreciate how you eliminate bias and form objective decisions.
13 Positive Leadership Feedback Examples For Performance Management
The fifth type of leadership development feedback focuses on job performance.
Your strong work ethic sets a positive example and contributes to the organization's success.
I am impressed with your ability to manage multiple projects simultaneously.
Your attention to detail has ensured that all projects are completed on time and to a high standard.
You take on new challenges and responsibilities, demonstrating your desire to grow professionally.
I admire your commitment to innovation. Your creative ideas have resulted in new approaches that have improved our operations.
Your flexibility and adaptability have enabled us to navigate changes and challenges in our target markets.
I appreciate your commitment to goals and continuous improvement. The ongoing enhancements have streamlined our internal processes.
Your dedication to safety and compliance has ensured that our manufacturing operations are conducted responsibly for the well-being of our workforce.
You have a solid commitment to customer service levels. The emphasis has ensured our customers have the highest level of satisfaction.
I love your attention to detail in managing department budgets and project resources. The cost savings are valuable for our company.
You consistently meet and often exceed your key performance indicators. Doing so sets a solid example for everyone at the company.
I am impressed by your ability to exceed production targets while ensuring the quality of our product.
Your ability to identify and hire the right staff is impressive.
Okay. That concludes my review of 55 positive leadership feedback examples for managers. So, please allow me to close with some concluding comments.
Providing Positive Leadership Feedback In Performance Reviews And Beyond
Leadership feedback is an essential tool for the development and growth of teams. While it is critical to highlight leadership skills in performance reviews, I recommend providing positive leadership feedback anytime it is appropriate.
Feedback For Leaders Should Be:
Clear and direct
Focus on strengths and areas for improvement
Use examples
Include constructive criticism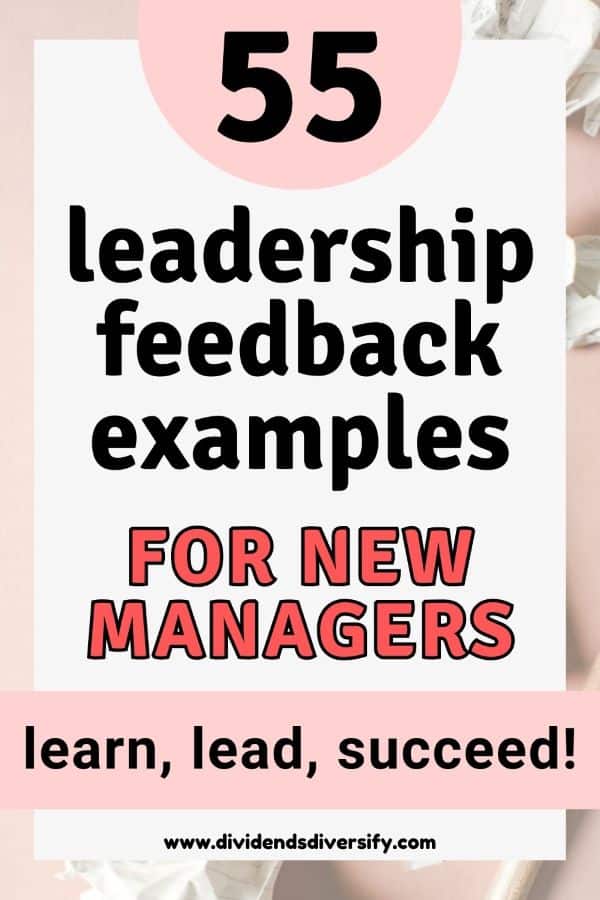 Author Bio, Disclosure, & Disclaimer: Please join me (Tom) as I try to achieve my goals, find my next place to live, and make the most of my money. However, I am not a licensed investment adviser, financial counselor, real estate agent, or tax professional. Instead, I'm a 50-something-year-old, early retired CPA, finance professional, and business school teacher with 40+ years of DIY dividend investing experience. I'm here only to share my thoughts about essential topics for success. As a result, nothing published on this site should be considered individual investment, financial, tax, or real estate advice. This site's only purpose is general information & entertainment. Thus, neither I nor Dividends Diversify can be held liable for losses suffered by any party because of the information published on this website. Finally, all written content is the property of Dividends Diversify LLC. Unauthorized publication elsewhere is strictly prohibited.
Leadership Feedback Examples For Managers