Building wealth is one of my favorite topics. Because it is the culmination of everything we do with our money. That's why it is second only to you on top of the Dividends Diversify wealth pyramid.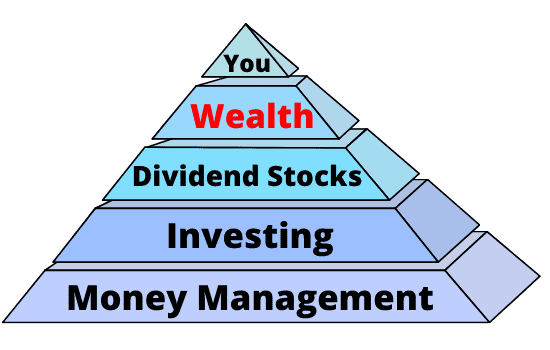 I believe that one of the best ways to get better at building wealth is by learning. How do we learn about wealth? Well, we learn from:
Books about money
People who have attained wealth
Our own personal development and experiences
Do you want to build your wealth? I am sure you do. So, here is a great group of resources to help you on your way.
How To Build Wealth
When it comes to having more money, it's all about knowing how to go about it. Start with these guides I put together just for you.
Everyone thinks a little differently. So, I look at wealth-building from a variety of angles.
There should be something here that will connect with your personal style. And how you think about money.
The Foundations Of Wealth Building
First, set a strong foundation for wealth with these articles:
Wealth Tips By Age
Building wealth means different things at different ages. So, here is a series of articles with wealth-building tips by age bracket:
Investing For Wealth
Good investment practices and one's wealth go hand in hand. Because it's virtually impossible to build wealth without strong returns on your investments.
Sub-Strategies To Build Wealth
As I said earlier, wealth can be approached in many ways. And here are some approaches that may work for you.
Book Reviews
I read the books for you. And, want to share want I learned. There is a ton of wealth building information in these book reviews.
The New Millionaire Study
"Just for fun", I did my own research about people with money. I call the folks in the study, "The New Millionaires". It is a 5-part series.
Personal Development
Last, but certainly not least, let's touch on self-improvement. In my opinion, wealth-building and personal development are closely related. That's why YOU, YOU, YOU are at the top of YOUR wealth pyramid.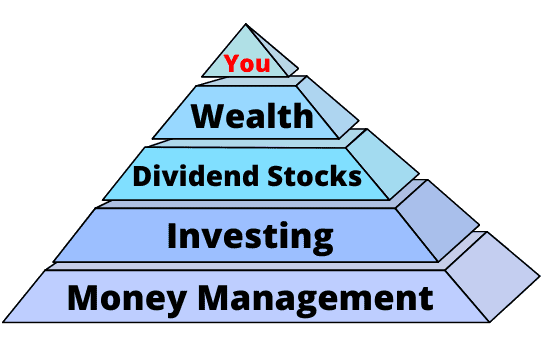 If you want to have wealth and keep it, you need to get better, smarter, stronger every day. Here a few suggestions when it comes to personal development and money.
Disclosure & Disclaimer
This article, or any of the articles referenced here, is not intended to be investment advice specific to your situation. I am not a licensed investment adviser, and I am not providing you with individual investment advice. The only purpose of this site is information & entertainment. We are not liable for any losses suffered by any party because of information published on this blog. See this site's Disclaimer and Privacy tab for more information.