Farmers Market Savings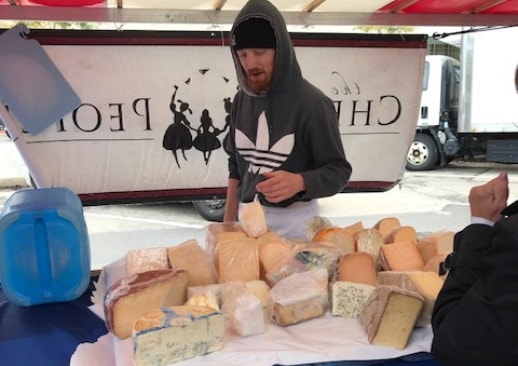 That is the cheese man at one of our local farmers' markets pictured above.  Can you save money by going to a farmers market?  Let's check it out.
Mrs. DD and I like to visit farmers markets.  There is a really good one held every Saturday about 3.5 miles from our house.  Also, when we travel on vacation we check them out in other cities and towns if it is convenient.
But can you save money by shopping at a local farmers market?  Well maybe, but I really doubt it.  The products are high-quality goods from local farmers and artisans.  It's great stuff, but it is all premium priced.  We can usually find similar products for less money at our local grocery stores.
So we try to save money whenever we can.  Over the past 2 years living in this area, here's how we go about saving money at our local farmers market.  It's not what you would think.
FARMERS MARKET SAVINGS – WALK
First of all, we walk.  Yes, it is about 8 miles round trip.  So we get a whole lot of free exercise and fresh air.  And a little quality time together.  It is also hard to buy anything when we walk.  Because we would have to carry it home.
FARMERS MARKET SAVINGS – FREE SAMPLES
Next, this market is loaded with free samples.  You can get a light snack.  Or if you want to be aggressive, practically a free lunch.
I usually start with the pickles for an appetizer.  And maybe a slice or two of a just picked apple from the orchard with a taste of cheese.  Then I move onto the jambalaya soup course.  I like grilled sausage bites as my main entree.  Finally, there are plenty of pastry's, cakes and cookie samples for dessert.  Wash that down with a little coffee from one of those tiny sample cups and I'm good to go.
FARMERS MARKET SAVINGS – FREE ENTERTAINMENT
Then there are always a few musical acts booked and set up by the picnic tables.  So that is certainly fun and free to enjoy also.
FARMERS MARKET SAVINGS – PHOTOS
Here are a few photos from one of our recent visits to the market.
First of all, pretty flowers on display….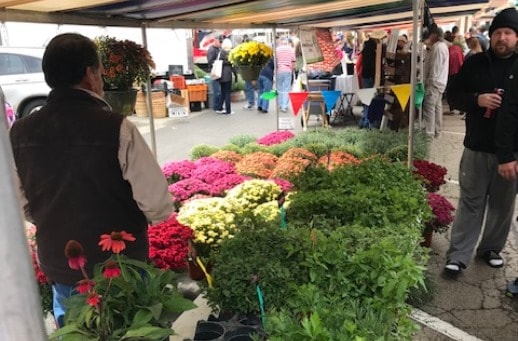 Then spicy peppers to peruse.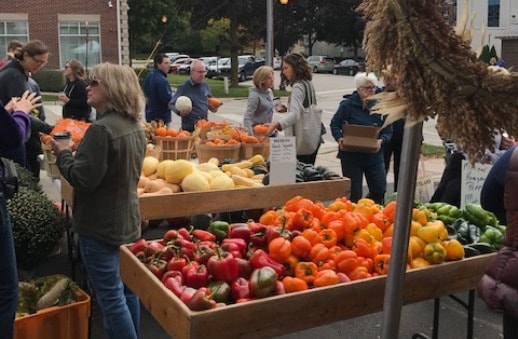 Furthermore, celery, sweet corn, and heads of healthy green vegetables to haggle over.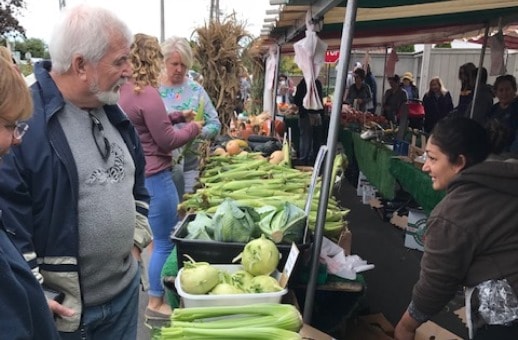 Tasty tomatoes to sink your teeth into.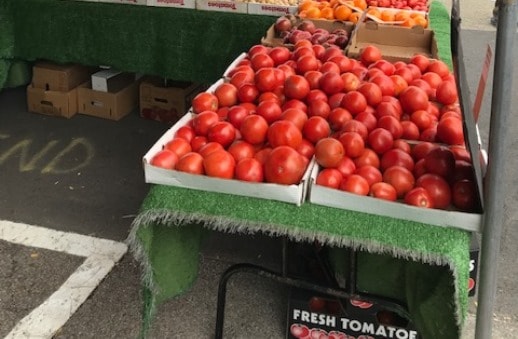 Assorted fruit to tantalize your taste buds.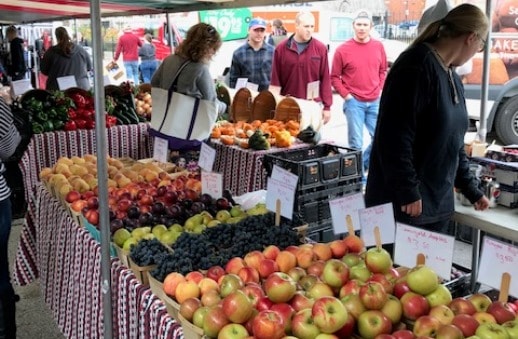 Finally, a dude jammin' on his guitar to keep your mood right.  Who couldn't use a side hustle like that?  I can whistle, but they told me that's not good enough.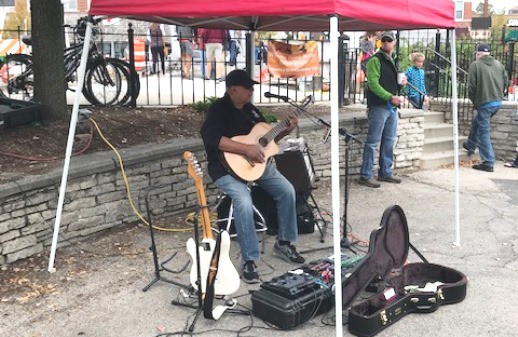 NO FARMERS MARKET SAVINGS
Mrs. DD's sister from out of state is coming to visit soon.  Her family owns a small farm and sells their products at farmers markets in Tennessee.  So we are planning a big trip to our local farmers market when Mrs. DD's sister is here.  So she can check out the local farmers and how they go to market with their products.
There won't be any savings.  Furthermore, we are driving, taking our cooler and shopping bags and going on a big buying spree for all our favorite products from our favorite vendors.
Their samples haven't gone to waste.  We know what we like and want to support them with our purchases.  Since I'm sure it is not easy trying to run a business like that.  Then we are going to cook up our bounty for Saturday night dinner.  And hopefully, have plenty of leftovers.
Come back soon.  I will have a big write up on what we bought and how much it cost.  Finally, we gotta spend a little money and help out the local farmers and economy, right?  And I bet it will still cost less than going to a restaurant.
3 WAYS TO ENJOY FARMERS MARKET SAVINGS
In the meantime, to benefit from your local farmers market and save money while doing it, here are 3 ways:
Get exercise by walking

For a light snack or lunch, try some samples

Enjoy some of the local entertainment
Do you have a farmers market in your town?
BE SURE TO SUBSCRIBE
As part of your subscription to Dividends Diversify, you will get 20 wealth building and investment tips free!  In addition, never miss a new post.  I will send a weekly email to all subscribers with a link to the current weeks new content.  Finally, thanks for visiting.
PINTEREST
Are you a Pinterest user?  Then be sure to follow Dividends Diversify on Pinterest by clicking this link:  Pinterest Home Page.  Then click the red follow button.  Thanks for following and be sure to save this pin for later!