Don't Underestimate The Importance Of Goal Setting
Today I found myself brainstorming why goal setting is important for success. Most importantly, I came up with 32 reasons describing the importance of goal setting.
So, let's get moving, then you can start improving!
Best Reasons Why Goal Setting Is Important For Success
Allow me to sum up the importance of goal setting in these 32 points:
Creates a vision for the future
Outlines steps to your future state
Forces strategy creation
Provides direction and purpose
Pushes you beyond your comfort zone
Triggers new behaviors
Requires the pursuit of new knowledge
Encourages continuous improvement
Enhances responsibility
Builds your commitment
Increases accountability
Improves motivation
Mobilizes your energy
Encourages action
Decreases procrastination
Prompts organized thinking
Increases your focus
Provides structure
Forces prioritization of resources
Minimizes distractions
Creates manageable steps
Promotes productivity
Elevates your performance
Accelerates achievement
Sustains your momentum
Allows for measuring progress
Increases alignment with others
Builds a sense of accomplishment
Reinforces your sense of well-being
Promotes self-mastery
Reduces stress
Improves self-confidence
As I reviewed this epic list detailing why goals are important, I boiled them down into five big-picture categories.
As a result, I would like to touch on these categories next. Then, before I wrap up, I will give you some suggestions on how and where goal setting can improve your life.
Let's dive right in.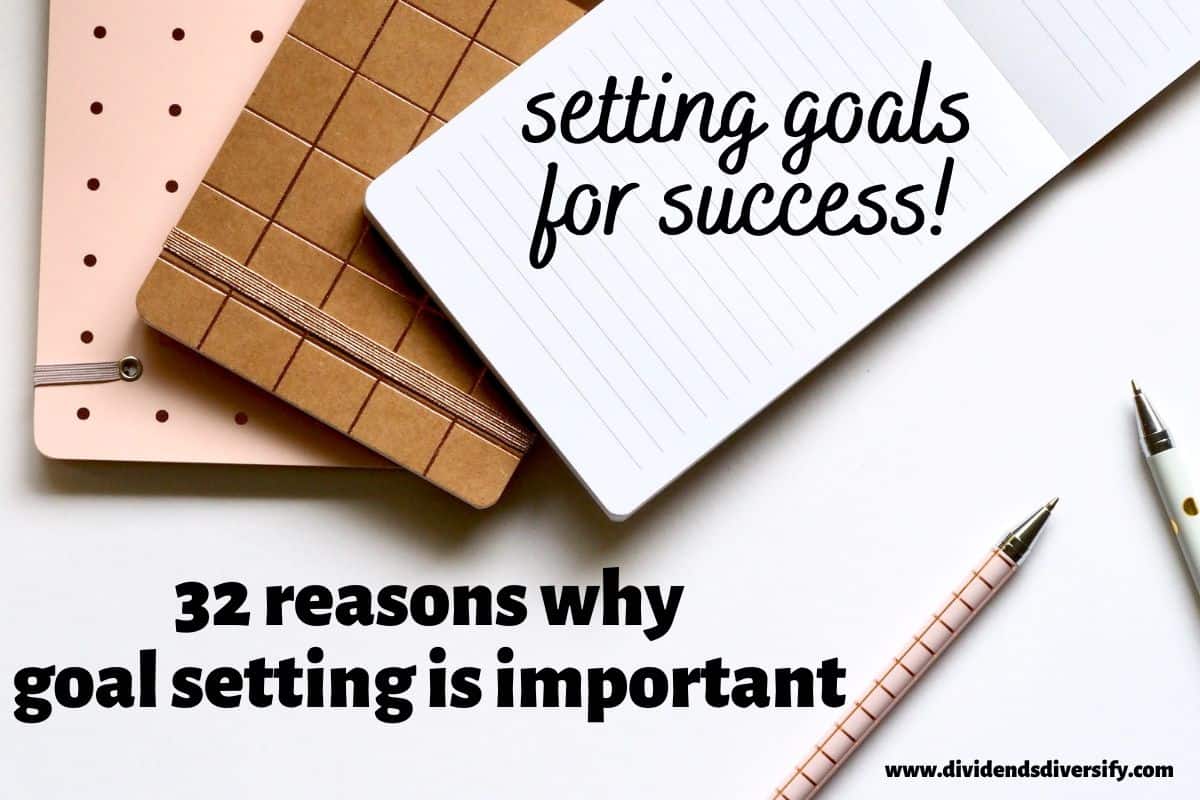 Disclosure: At no cost to you, I may get commissions for purchases made through links in this post.
Goal-Setting Requires You To Develop A Vision Of The Future
The initial four reasons why goals are essential are because they require a vision for a better future. In this regard, two sayings ring true.
First, if you can envision it, you can achieve it.
Second, think big. Thus, do not be limited by your thoughts.
So, think hard about your future when you begin your goal-setting. Then, decide what you want the long-term future to be.
Most importantly, be open to your thoughts. Think big!
Next, why are setting goals important? Here's another reason why.
Setting Goals Is Important Because It Promotes Positive Change
The next group of reasons why goal-setting is vital for success is for creating positive change each month.
First, you have decided that your current state could be better. That is why you are setting a goal.
Furthermore, you desire something different or better tomorrow. In other words, you want to go from point A to point B.
As a result, embrace change to make your journey to a new and better future place.
So, set firmly in your mind that change is good. Then, become a change agent for your life to make it better and achieve goals.
Why is goal-setting important? Here's another reason why I think so.
Goals Create A Winning Mindset For Success
Next, smart goals are about winning, which requires the right mindset. That's where reasons nine through fifteen come into play.
Think of it this way. Every National Football League (NFL) team starts the year intending to win the Super Bowl. Of course, that's the ultimate goal.
However, achieving that goal can be challenging. It takes commitment, motivation, and action, to name a few of the short-term ingredients required for winning.
As a result, after you start setting goals, more likely than not, you will begin to think like a winner.
Why is setting goals important? Please allow me to continue and tell you.
Goals Are Important Because They Enhance Your Effectiveness
At this point, you have a vision for the future, are ready to make positive changes, and have developed a winning mindset. They are all significant steps to take and qualities to possess; however, they are not enough.
That's where reasons why goals are important, 16 through 27, come into play. But, of course, I'm talking about execution now since your dreams will only become a reality by taking action.
However, you must distinguish activity from achievement because your actions need to be productive to achieve your desired result.
Fortunately, setting goals helps you organize, focus, prioritize, and maximize the impact of your actions.
Think of it this way; you wouldn't just jump in your car and start driving, hoping to arrive in a new but undetermined location.
Yes, you will end up someplace new, but it wouldn't be productive. In other words, that's an activity, not an achievement.
Conversely, if you wanted to go somewhere, you would first decide on a destination and then plan a route. Then, before leaving, you would pack any essentials you need for the trip. These are all productive actions in pursuit of your goal.
Once you plan your destination, the proper short-term goal-setting actions will naturally follow.
Finally, before we move on, let me leave this topic with a parting thought.
Goal setting will encourage you to work on the right things and work on them in the right way.
That's how you accomplish your objectives.
Goal Setting Success Provides Positive Reinforcement
Now, onto the last group of reasons describing the importance of goal setting. Again, I'm talking about points 28 through 32.
Once you start getting results and achieving goals, your success becomes self-fulfilling. In other words, goal-setting helps reach success and breeds more success.
Goal achievement means your self-confidence increases, and you feel in control of your life. Reduced stress results because you are no longer reacting. You are now taking proactive action!
Okay. That concludes my discussion about the 32 reasons why goal setting is important.
Does this sound like what you want? If yes, check out this course on:
How To Develop A Winning Mindset
Otherwise, please stick with me here as we dive deeper into how having goals can help you get to the top of your game.
So, let's keep moving.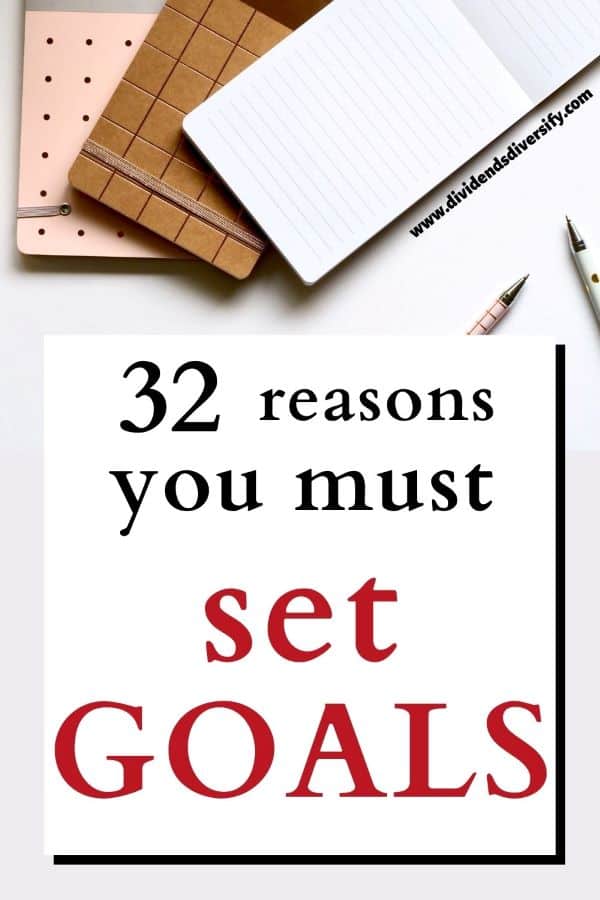 Importance Of Goal Setting Applied To Different Aspects Of Your Life
As I promised at the beginning of the article, let's talk about several areas where you can begin setting goals for success.
Daily Goals
Improving your daily habits is a great way to be better today than you were yesterday and better tomorrow than you are today.
Examples of daily goals:
Get up early
Eat a healthy breakfast
Adopt a positive attitude
Accomplish something right away
Keep an organized work area
Read more about the importance of daily goals.
Life Goals
On the other end of the spectrum, opposite your daily goals, we have life goals.
They are those tremendous things you want to accomplish in life. Deep down inside, they are core to your values and beliefs. But, typically, they can take many years to complete.
Examples of important goals for life:
Learn to be at peace with yourself
Practice meditation
Leave a lasting legacy
Retire early
Make your "bucket list" and achieve it
Read more about the essential nature of life goals.
Personal Goals
Next, we have personal objectives. These plans usually revolve around friends, family, experiences, and personal growth.
Examples of personal objectives:
Expand your network of friends
Find your perfect life partner
Become a better spouse
Grow into a better parent
Develop a mentoring relationship
Read more about the importance of personal goals.
Work Goals
I put in many years in the workforce. So, I learned a few things about setting work objectives to impress the boss.
Examples of objectives for work:
Reduce or eliminate expenses
Streamline a business process
Improve upon a business KPI
Lead a team or project
Cross-train in another functional area
Read more about setting and achieving work goals.
Career Goals
When I think of work, I think of improving things at one's current job. However, when discussing career goals, I'm talking about the bigger picture, enhancing your prospects at your current employer or a new one.
Examples of career goals:
Seek out performance feedback
Develop a career plan
Find career mentors
Make a top-notch resume
Expand your professional network
Read more about career goals.
Business Goals
I already mentioned my many years of experience in the workforce. And yes, while working, I was also building my career.
But now, I own and operate a small business. So, don't overlook your company's objectives if you are a business owner.
Examples of specific goals for a business:
Define your value proposition
Develop a business plan
Improve product or service quality
Increase sales volumes
Reduce expenses
Read more about the importance of business goals.
Leadership Goals
First, think of leadership as something other than a trait just for business people. Good leadership skills can apply to many areas of your life.
For example, you can be the leader of your family, a local civic organization, or a group of friends. So, get busy and work on your leadership skills.
Examples of leadership traits:
Develop confidence and presence
Improve time management
Practice active listening skills
Set expectations for others
Provide positive feedback
Read more about leadership goals and success.
Professional Development Goals
We are working up a hierarchy of goal setting specifically as it relates to your job or business.
First, we have touched on tactical objectives for your current job. Then we moved on to more meaningful goals for your career. Then, leadership.
Now, you want to work towards being a better professional no matter what you do.
Examples of professional development goals:
Make a personal development plan
Get input from the right people
Get to know yourself very well
Be efficient with your time
Become an educator
Read more about goals for professional development.
Lifelong Learning Goals
Last but not least, we have lifelong learning. Since one's education does not end when formal school years are over.
Examples of lifelong learning:
Master a foreign language
Learn a musical instrument
Join a club or organization
Play a new sport
Read more about the importance of lifelong learning goals.
Okay. That's all I have for today. So, please allow me a few parting thoughts.
Wrap-Up: Why Goal-Setting Is Important For Success
First, thank you for letting me spill out my brainstorming about the importance of goal setting.
Second, assuming I have convinced you that goals are essential. Then take a closer look at the various areas of your life I have highlighted. Specifically, where goal setting can help you set a vision, chart a course, and work towards arriving successfully at a new destination.
Finally, thanks for reading; good luck with your plans, and be sure to check out our:
Library of Articles for Success with Goals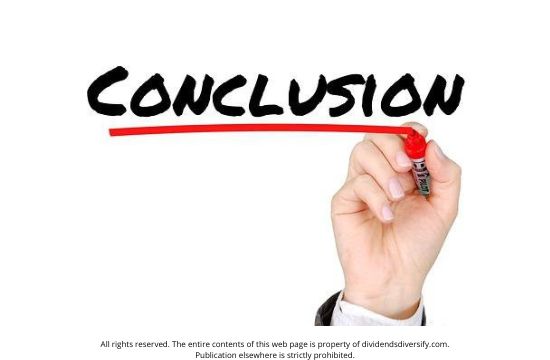 Author Bio: Tom Scott founded the consulting and coaching firm Dividends Diversify, LLC. He leverages his expertise and decades of experience in goal setting, relocation assistance, and investing for long-term wealth to help clients reach their full potential.
The Importance Of Goal Setting Fully Explained