Financial Independence Mexico Style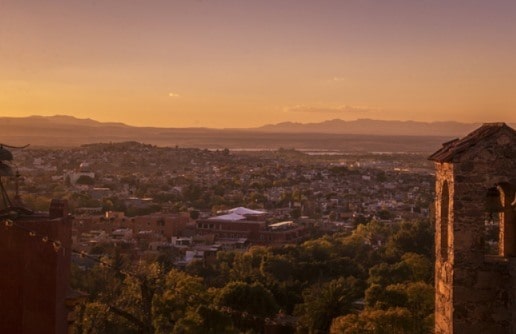 I ran across a recent news article about a town in Mexico called San Miguel de Allende. I remembered the town from a book I read in the early 2000's. While working at the time, I actually was really dreaming about financial independence as I read the book.First of all, the book started to shape my thinking about life after full time work. A sort of financial independence Mexico style. I recently bought a used copy of the book and read it again. Here's a brief book review. Maybe it will prompt you to pick up the book. In additiion, get you to think about your own financial independence in a new or different light.
ON MEXICAN TIME
This non-fiction book is called On Mexican Time, written by Tony Cohan. Mr. Cohan writes about his life with his wife Masako from 1985 to 1999. Tony, a professional writer and Masako, an artist visited San Miguel on a 3 week vacation in January 1985. Upon their return to their home in Los Angeles, California, they abruptly sold their house and moved permanently to San Miguel to start a new life.
WHAT WAS THEIR WHY?
When I write about pursuing financial independence or building wealth, I always suggest there needs to be a "why"? Why sacrifice now for financial independence in the future? For Tony and Masako, they were disenchanted with their lives in LA.
Tony writes in chapter 1 about his life in LA: "There were days when I'd find myself hurtling down freeways toward receding destinations of evaporating worth, suspended between the fantastic and the mundane, between wide acclaim and abject defeat. Somewhere, I'd missed a turnoff."
In the early 2000's, a statement like Tony's deeply touched me. I could have said the same thing. Because I felt the same way. And then I was hooked on the book. Maybe you will enjoy the book for similar reasons.
FINANCIAL INDEPENDENCE MEXICO STYLE
The book goes on to record their next 15 years of life in San Miguel. From staying in rented rooms to buying an ancient run down home to renovate and live in. It was a different life. A much simpler life, but not always an easy one. Things we take for granted like clean water, reliable electricity and accessible telephone networks were not always available in San Miguel. Thirty years ago, San Miguel wasn't the upscale tourist destination that it may have transformed into today.
Financial independence wasn't really the focus of the book. That concept hadn't really caught on yet. But Tony and Masako were ahead of their time. They were in search of a better life with more freedom and fewer cares. They continued to work while in Mexico. Tony wrote and Masako created her art. It was an environment that encouraged their creative efforts. And occasionally, they would travel back to the United States or other countries to promote their work.
They weren't wealthy as far as I could tell, but money never seemed to be an issue. The money they had went a long ways in San Miguel. That's why I call their way of life financial independence Mexico style.
A TRANSFORMATION
Tony and Masako went through a transformation. Some of their experiences intrigued me the first time I read the book over 20 years ago. And by the second reading last month, their experiences rang true in different ways. Ways that reminded me of my own transformation into a world of financial independence. Here are a couple classic lines from the book to illustrate.
"We sleep and wake at odd times: our tiredness, we discover has many layers."
"With the passing days I note the gradual departure of the frozen, strained glare in the mirror. Some vaguely human apparition gazes back."
WRAPPING IT UP
Tony and Masako's journey may not be the textbook form of financial independence. However, it is one way to go about. Twenty plus years ago it got me to consider the possibilities. Maybe it will get you to do the same!
Have you read this book? What about your thoughts on financial independence Mexico style? Would you move to a foreign country if it helped you achieve your "why"? Leave a comment and let us all know!
PINTEREST
Are you a Pinterest user? Then be sure to follow Dividends Diversify on Pinterest by clicking this link: Pinterest Home Page. Then click the red follow button on the Dividends Diversify Pinterest home page.