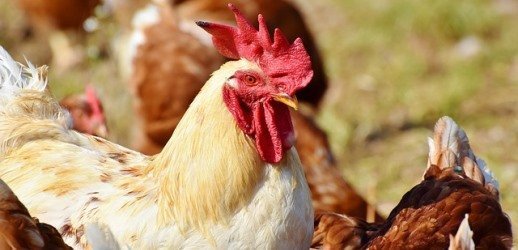 Here is a story about hobby farm life.
And, making money with a hobby farm as a side hustle. Maybe you want to start a new hobby farm? Or retire to a hobby farm someday?
Then, check this article out for 18 things to consider before you get started in hobby farming.
Or any side hustle for that matter. Having an income from a side hustle can help you recover from financial mistakes if and when necessary.
Hobby Farm Life And Dividends Diversify?
But first, you may be asking how an article like this fits on Dividends Diversify?
Well, there is a money management angle to just about everything in life. And, that includes side hustles and leisure interests like hobby farming.
Then, the next question you might ask is what the heck do I know about hobby farming? And my answer to that is…..more than you might think!
So today, I have an article inspired and co-written by Mrs. DD's brother in law, Jerry. Our topic is hobby farming and hobby farm life for profit or pleasure.
Jerry's an architect by day. Then, spends his free time working on his hobby farm.
Jerry and his family bought a home and turned it into a hobby farm several years ago. And, they have learned a lot about hobby farming. So, I would like to share some of those learnings with you.
And, I will throw in my financial perspective. I managed the finances of both small and large businesses for nearly 30 years. And, 13 of those years were in the fresh and frozen prepared foods industry.
So, between Jerry and me, we have all the bases covered.
Hobby Farm Names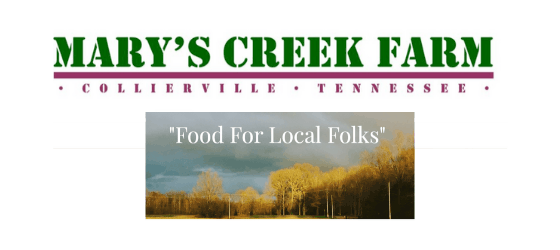 Finally, every hobby farm needs a name, right? When it comes to hobby farm names, I like the one Jerry and his family selected.
They call their hobby farm Mary's Creek Farm. It was named after the creek that borders their property. And their tag line is "Food For Local Folks".
Enough of introduction, let's plow ahead…
What Is A Hobby Farm?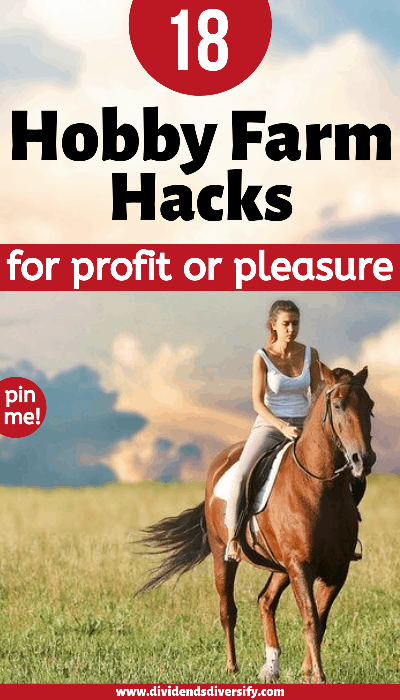 First of all, what is a hobby farm? According to Wikipedia…
A hobby farm is a small farm that is maintained without expectation of being a primary source of income.
Some hobby farms provide plenty of recreational land for living and perhaps a few horses for the family's children. Other hobby farms are managed as working farms for side income.
Finally, some hobby farms are run at a loss. In this case, the farm is a lifestyle choice by people with the means to do so. In this way, the hobby farm functions more like a country home than a business.
As I think about this definition, Jerry's hobby farm has fulfilled all of these functions for his family. Certainly, it has provided for beautiful country living in Tennessee.
A Hobby Farm Comes To Life In A Short Story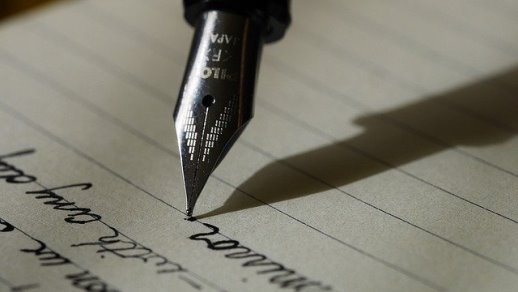 While visiting over the Christmas holiday, I find out that Jerry likes to write short stories. I've known Jerry for more than 20 years, but I didn't know he wrote short stories.
Jerry's daughter, our niece Leslie, read the story to us out loud. I was fascinated and saw a blog post in the making.
A Day In The Life Of A Hobby Farmer
So, without further delay, here is a day in the life of a hobby farmer as written by Jerry.
In the second half of the article, I will add my financial perspective. After all, this is a personal finance and investing blog!
Take it away Jerry – Our Family's Hobby Farmer
It was Wednesday afternoon and I got away from work early. I needed to go home to pick produce and cut flowers for our Thursday morning farmer's market.
By three o'clock, I was pulling onto the gravel road that leads to our farmhouse. So, I went inside and changed from my city work clothes and into my farm work clothes.
Hobby Farm Life Means Working on the Weekends and Holidays
My work boots reside beside my favorite chair on our front porch. They had been sitting there since Sunday, Father's Day.
That Sunday afternoon was spent in the garden. I planted gladiolus corms, watered produce and picked blackberries.
Hobby Farm Life Requires A Good Pair Of Work Boots!
My work boots show signs of limited remaining life. Furthermore, they are no longer waterproof. I was hoping they had dried out since the abuse they took on Sunday.
After sitting down in my favorite front porch chair, it was not easy to talk myself out of it. The chair is comfortable, the porch breeze is pleasant and the view across the pasture is tranquilizing.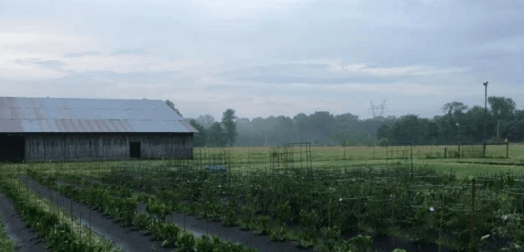 With my right boot on, but unlaced, I sat back in the chair again. Then, I took a moment to visually survey the property.
My left boot always goes on last. I'm not sure how that got started. But now, with both boots on, they got laced.
I noticed my left boot was uncomfortable up in the toe section. The boots were dry, but the left boot must have dried in a deformed fashion.
Or, maybe the boot was coming apart. I'm tough on boots. "Maybe it's time to go buy a new pair," I thought. "And then, make my day-to-day pair, my work boots."
As I sat on the porch, the birds were singing. The view was nice. I could have stayed there all day.
But, the farmer's market was tomorrow morning. So, I started my march from the porch, down the hill and out into the garden.
The uncomfortable left boot was more uncomfortable than initially perceived. My march was more of a limp. But, I was sure that it would break in after I got busy with my chores.
Hobby Farmers Need To Set Priorities
Planning was the first thing that I needed to do, then prioritizing the plan. Not high on my list for the farmer's market, but still critical, was blueberry picking.
Blueberry picking is labor-intensive. You can pick for one hour and get maybe a gallon of berries.
Only a few farmers' market customers will pay a fair price for true farm-fresh berries grown without insecticides or pesticides. Assuming illegal farm labor is not used; blueberries are only profitable as a pick-your-own crop.
That said, the meteorologist on my phone told me we had a good chance for strong storms occurring in the state that night. The tender skin of blueberries, when nearly ripe, will split from rains. For the four weeks when the berries turn from green to a deep beautiful blue, the hobby farmer prays that it will not rain.
And, the berry field behind our house was loaded with ripe berries. I could not let them be damaged by a storm. So, picking berries took top priority.
Hobby Farmers Must Have An Analytical Mind
There are roughly 100 blueberry bushes in our field. And, about a third of them had already been picked over.
That left me with an estimated 66 bushes to pick berries from. So, I thought for a moment…
If I can spend slightly less than two minutes at each bush, the task would be completed in two hours. That will still leave me plenty of time to cut flowers for bouquets and cut the gladiolus for individual sale.
Hobby Farm Life Requires Physical Work
To pick berries on three-foot-high bushes, you have to stoop. And, I mean you have to stoop a lot.
After about 33 stoops, my left toes were very uncomfortable. Had I not been in a hurry, these boots would have been sent to the dumpster and replaced with a better pair.
I picked, stooped, picked, stooped, and was almost done. This activity must be good for physical fitness, I thought.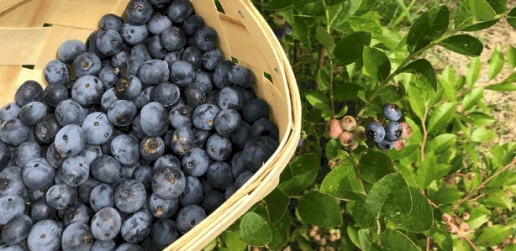 Hobby Farm Life Is A Family Affair!
Then Pat, my growlingly impatient wife, wanted to know when we were going to cut flowers.
She said I was "obsessing" over the blueberries. I started to explain my thought process and my priorities. But, I was too tired and my boot had my left toes in pain.
A Hobby Farmer's Work Is Never Done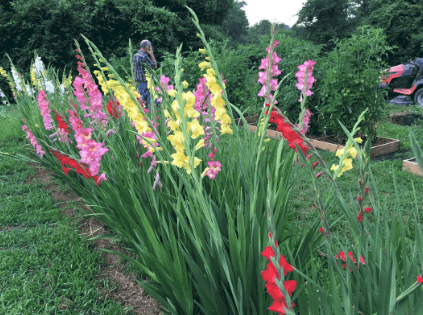 Long shadows were cast across the garden when we started cutting flowers. We cut celosia, snapdragons, dianthus, zinnias, and asclepios for the farmer's market bouquets.
Cutting these flowers required extreme stooping. I was on my hands and knees with toes turned under for support. How much more of this could my left foot take?
So, it was a big relief to get up on two legs to cut the gladiolus flowers. But, it took great concentration to not let the toe pain cloud my flower cutting decisions.
Hobby Farm Life Can Bring Out Your Emotions
My wife was irritable. It is often hot and humid in this area of the country. And she does not like either.
My procrastination earlier that afternoon may have set the tone. I was irritable too.
So, we quickly wrapped up the task of flower cutting. Best to do so before someone said something they would later regret having said.
Hobby Farming & Business May Not Mix Well Together
I have come to believe that farming should only be approached as a hobby.
When you turn it into a business, all the fun gets washed away with the rain.
Hobby Farmers Need An Artistic Touch
Now, all those buckets of cold water and fresh-cut flowers had to be taken inside. The next task was to make the bouquet arrangements.
We both tried to remain civil during the delicate art of flower arrangement.
Our irritation with heat, humidity, fatigue and sore toes, had to be managed. Without suppressing these negatives, our artistic design of the flowers would be affected. And perhaps, our marriage.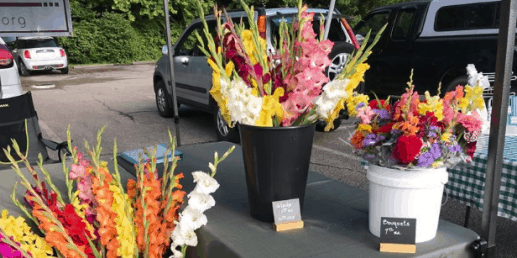 Days On A Hobby Farm Are Long But Come To An End
Somewhere around 9 pm. that evening we were done. In the morning, we would pack the car and arrive at the market by 7 am. to claim a good spot.
I limped into the den and found my favorite resting spot on our couch. This favorite stop is not as rewarding as our front porch. But, it does offer a good view of the big-screen television.
Just as I had earlier taken my time to put on my work boots, I slowly unlaced each with my remaining strength. For obvious reasons, the left boot took priority this time.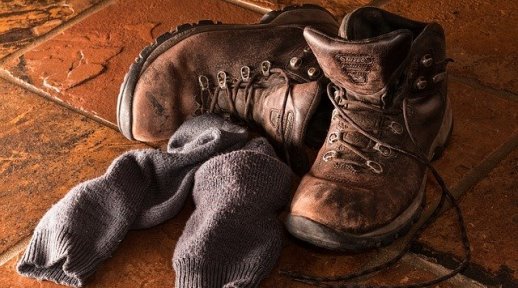 With the laces undone, my hot, sock-covered foot slowly slid out. I raised the boot to assess its pitiful condition. Then, something rolled inside the boot from the toe into its heal.
Without glasses to correct my old vision, it appeared to be a ball of wool. From maybe a year's worth of wool sock wear. However, it appeared quite big and had mass.
I reached for my reading glasses and secured them on nose and ears. There, in my left boot, with tongue hanging from its mouth, laid a fat dead toad frog.
How did she get in my boot? How long did she suffer in that hot confined environment? Was it long before she passed on to a more peaceful place?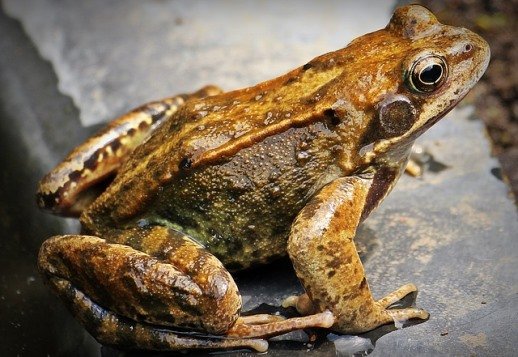 I guess some questions just never get answered. But now we know a little bit about life on Jerry's hobby farm.
Let's move on to some financial aspects of living in a farming community.
Hobby Farming Requires Money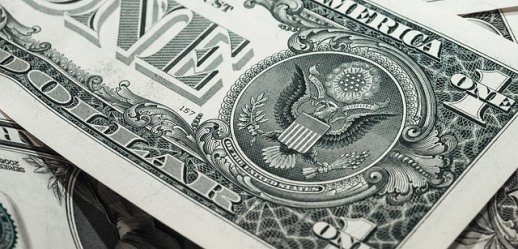 If your farm is truly a hobby, the cash financial considerations are pretty simple. Set a budget for what you can afford to spend on your hobby. Then do your thing and have fun. After all, it is your hobby.
On the other hand, you may want to make money or earn a side income with a hobby farm. Then, things get a little more complicated.
There's no fool-proof way to make sure that you accomplish your goals. But, here are a few best practices to consider before starting your profitable hobby farm.
Making Money With A Hobby Farm Requires A Business Plan
When you want your farm to make money as soon as possible, planning can seem tedious. However, successful business owners will tell you, a plan can often help you avoid financial issues down the road.
Planning pushes you to think carefully about how you're going to bring your venture to life. Your planning will include coming up with a strategy for building your hobby farm into a successful side business.
While you're in the planning stage, it is important to set goals. Goals will provide you with direction and important areas to focus on right away.
For example, your financial goals may include trying to get a certain number of customers within the first few months. Or, determining what types of products you intend to produce and sell.
Business strategy is the big picture mission of your hobby farm business. Goals are more tactical, but they should directly relate to your strategy.
Here are a few things to consider when planning for your hobby farm side business.
What natural resources your land or location offers
Which specific products will you produce and what price will they fetch in the market
What market channels will you access
What size and scale do you need to for your farm to be profitable
Resources: Details of a small business farm plan
Maximizing Your Hobby Farm Income Requires An Opportunistic Mindset
For people like me, it's easy to get excited about financial goal planning. And analyzing the potential business opportunities.
Having a plan is important. But it's equally important to be opportunistic.
Sometimes you need to go where the current takes you. Because being open to innovation is an important business measurement. Just be smart about it.
I've watched Jerry do just this over the years. After observing the market, he transitioned away from farm fresh eggs and tomatoes. The pricing and competition were very tough.
He went on to emphasize fresh-cut flowers and peppers. These products had less competition and higher farm profit margins.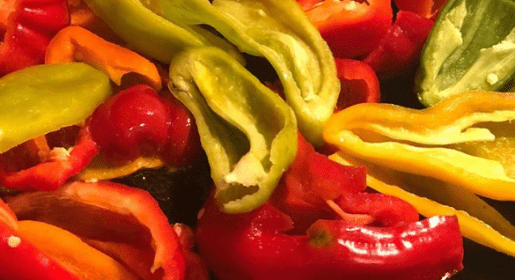 Here's another example of opportunism…
Jerry put a lot of sweat equity into a horse barn and arena that resided on his property. He recently subdivided the property and sold the barn, arena and adjacent land for a tidy sum. Now that's an opportunistic mindset.
One of my favorite sayings is to figure out what is working and work with that. And, determine what you are good at, and then be great at it. Don't spread yourself too thin. But always keep your eyes open for a good opportunity you had not considered.
Profiting From A Hobby Farm Requires Start-Up Capital
Money is one of the first things you're likely to think about when starting a business and setting financial goals for it. However, most people focus on the money they can make, instead of the cash necessary to get started and operate.
Starting and running a business can be expensive. But, it doesn't have to be. It all depends on your strategy and goals.
Unless you've spent years saving up money, there is a chance that you're going to need to apply for a business loan to finance your hobby farm. Having a solid business plan with achievable financial goals will help you secure money from a 3rd party, if necessary.
Most importantly, spend money only on what will help you achieve your strategy and goals. Integrate spending needs into a cash forecast so you will know the money is available when you need it.
Here are several areas that may require some upfront cash for your hobby farm. And should be included in your cash plan.
Equipment
Seeds
Water
Starter livestock
Liability insurance
Making A Hobby Farm Profit Requires Marketing & Sales Efforts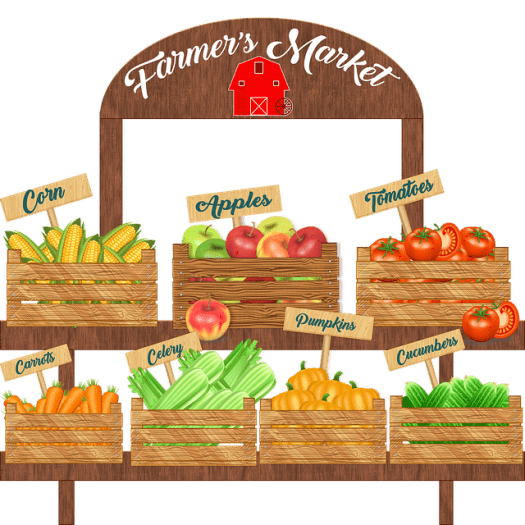 It's easy to assume that everyone will love your products if they are of high quality. For instance, there are thousands of people in your area that are sure to like your farm fresh eggs or vine-ripened tomatoes.
However, you need a solid understanding of your target audience. If you're going to convince them to choose your products over others. So, I consider market analysis one of many important short-term business goals.
Take some time to figure out who is most likely to be attracted to your products. Then, how will you get your products in front of them?
Here are some possible channels to market and sell the products from your hobby farm. To extend your businesses' long-term reach.
Neighbors
Friends
Family
Work associates
You pick it produce on the farm
Roadside stands
Farmers markets
Local restaurants
Local grocers
Also, do your research and be creative. I'm sure you can up with other hobby farm income ideas. How about a farm to table dinner event hosted outside on your property?
Resource: 6 ways your farm can make money outside the farmers market
Earning Money With A Hobby Farm Requires Knowing When You Need Help
When you first start running a business, getting help can be expensive. If you decide to hire employees, then you're going to need to pay for that time. That is another chunk out of your capital that you need to think about and plan for.
However, you may be going solo for a while. Then, it is still important to recognize the business areas where help is needed.
For instance, there's a good chance that you're going to need professional support from an accountant or attorney at some point.
So, decide on the places where you could benefit from some extra help. Then, make the necessary business investments when the time is right.
Making Money With A Hobby Farm Requires Patience
Finally, few people understand just how difficult it can be to start and run a successful business. This is true even if you have a great idea, an amazing marketing campaign, and plenty of money to get started.
You may still experience ups and downs in your sales and production cycles. Those cycles may cause financial challenges and can make it difficult to keep going.
The important thing to remember is that you need to stay committed to your cause if you want to get the best results. Don't give up the first time you come across a hurdle. Stay positive and remind yourself that all businesses have their ups and downs.
If it helps, create an additional savings fund during the times when you're making the most income. This fund will help you out during the times when you have less cash coming in.
Summary: The Pleasures and Profits Of A Hobby Farm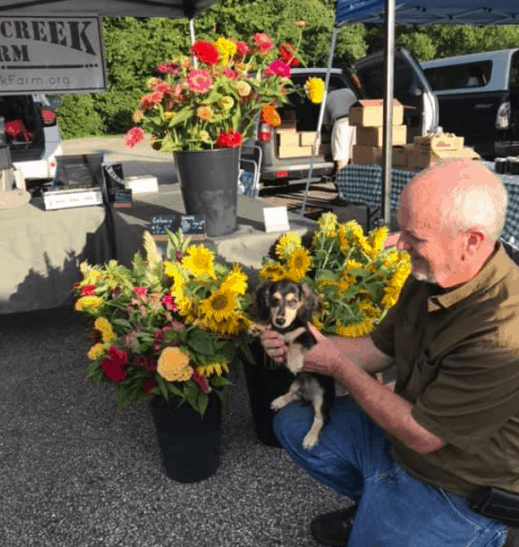 I hope you enjoyed this real-life case study of what it means to be a hobby farmer.
To summarize, here are the 18 things to consider when starting your hobby farm for profit or pleasure:
Hobby farm life means working on the weekends and holidays
Life on a hobby farm requires a good pair of work boots
Hobby farmers need to set priorities
Hobby farmers need an analytical mind
Physical work is required on a hobby farm
Hobby farm life is a family affair
A hobby farmer's work is never done
Hobby farm life can bring out your emotions
Business & hobby farming may not mix well together
Hobby farmers need an artistic touch
Days on a hobby farm are long
Hobby farming requires money
Making money with a hobby farm requires a plan
Maximizing your hobby farm income requires an opportunistic mindset
Profiting from a hobby farm requires start-up capital
Making a hobby farm profitable requires marketing & sales efforts
Earning money with a hobby farm means knowing when you need help
Making money with a hobby farm requires patience
More reading about another good place to live in the mid-south United States.