Housing Costs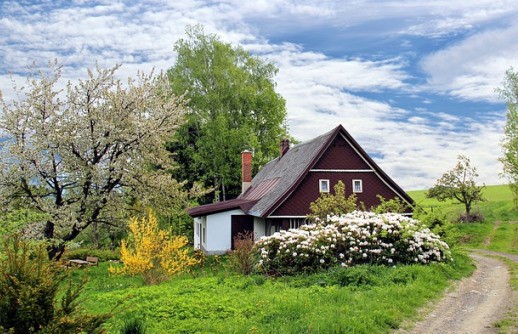 One of the ways to save money and improve your finances is to keep your housing costs in check. We saved a lot of money over the years living in a modest house. This article is my quick take on housing costs based on my personal experience!
First of all, a couple of years ago Mrs. DD and I moved to be closer to the university we work at. I am a part-time teacher and Mrs. DD is an academic librarian. So we put our prior home of 24 years on the market, sold it and bought a new house in a new town about 30 miles away. That 30 miles saves 2 plus hours of commuting time per day.
Furthermore, both our old and new houses were in the suburbs of major US city. Price appreciation has been pretty modest in the suburbs. 2-3% annually. Rather, it's nothing like what I hear about in other metropolitan areas like Seattle and Vancouver.
OLD HOUSE
Our old house was a 1,200 square foot ranch with a single car attached garage. It was located in a nice, but isolated subdivision in a very modest suburb about 40 miles from the downtown of a large US city. The suburb was challenged from a location standpoint. It was a 15 to 30 minute drive to any of the major expressways. And it was an hour and half commuter train ride to the city.
NEW HOUSE
In contrast, our new home is a 2,400 square foot single story house with a two car detached garage. It is located in a much more upscale suburb 20 miles from the city's downtown. We live walking distance from a quaint village center with lots of shops and restaurants. A 30 minute train ride puts us downtown in the big city. Many of our neighbors walk to the train and commute downtown for their jobs on a daily basis.
A FEW OTHER FACTS
The new house costs a lot more. We paid up for a desirable location in a nice village with excellent schools. We have a pretty relaxed 9 mile drive to work that takes about 20 minutes. Here are a few facts:
| | | |
| --- | --- | --- |
| Facts | Old House | New House |
| Purchase price | $153,000 | $628,000 |
| Sale price | $228,000 | To be determined |
| Annual cost of maintenance & remodeling | $3,000 | To be determined |
| Years owned | 24 | To be determined |
| Square feet | 1,200, plus full basement, plus 1 car garage | 2,400, plus full basement, plus 2 car garage |
Before we talk about costs, I'm going to make one big assumption that I think is true for our real estate market. Over the long term, you need to invest 2-3% of the houses value into repairs, maintenance, upgrades, renovations and improvements annually. This in turn will lead to 2-3% appreciation in the value of the home each year. So over the long term, I assume this will net to zero. That's what happened at our old house. I think it will be the same for our new house. Your real estate market may be very different. It is all about location, location, location.
HOUSING COSTS – REPAIRS & RENOVATIONS
We did a lot to our old house. It was dated when we bought it and we lived there a long time. Consequently, we installed a new roof, siding new windows, new driveway and new bathrooms over the years. And oh yeah, a tree root broke our sewer line one summer so that was a very expensive repair. So was the time when a tree fell on our electric line connected to the house. I could go on and on.
In other words, I assume the annual cost of maintenance and renovation will roughly equal the annual appreciation in the house value. Again, that's what happened at our old house. I can't say for sure if this is how it will work out in the new house, but based on my knowledge of our real estate market this is my best guess.
And I'm not handy, so I'm always paying contractors. If you can "do it yourself", I'm sure the economics are much more favorable.
HOUSING COSTS – TRANSACTION FEES
Finally, don't forget transaction costs when you buy and sell. Real estate agents and lawyers cost money too. We will leave those cost out for now too. Let's just focus on living expenses.
HOUSING COSTS
Here's what the annual expenses look like:
| | | |
| --- | --- | --- |
| Expense | Old House | New House |
| Property taxes | $6,000 | $12,000 |
| Home Insurance | $550 | $900 |
| Utilities & waste disposal | $2,000 | $2,600 |
| Mortgage interest (or cost of funds) estimated at 5% of purchase price | $7,650 | $31,400 |
| | | |
| Total Annual Cost | $16,200 | $46,900 |
| | | |
| Average Monthly Cost | $1,350 | $3,908 |
So by up scaling our housing both in terms of space and location, we are incurring about $2,500 extra dollars a month in costs for the privilege. I'm not complaining. We have a beautiful and spacious house in a lovely town with access to a major metropolitan city. But it ain't cheap! And we are already thinking about where to move next. But that's a story for another day.
BUILDING WEALTH
First of all, the money we saved living in a small, modest home for 24 years was a key factor to building wealth and achieving financial independence. Furthermore, this goes against the advice we heard when we bought the old house many years ago. At the time, the typical advice was buy as much house as you can afford buy taking on as big a mortgage that you can get. That strategy may work in markets with high annual appreciation, but it doesn't work in more mature markets where appreciation is modest. Finally, it's a deadly strategy when housing prices drop like they did in 2007-2010.
WRAP UP
Finally, I don't consider our primary residence an investment. If I did, it would be one of my worst investments and a far cry from my best investment. Rather, it's a home and a place to live. As a result, keeping our costs low for so many years, we were able to invest the savings in other assets. You know, dividend stocks! But I will be the first to admit. I'm not a real estate expert.
So, I would like to hear from those readers who are real estate experts. Or maybe you just have had a different experience with your primary residence. Furthermore, am I analyzing this the right way? Or maybe I'm just crazy? Or maybe both? I'm not sure sometimes.
BE SURE TO SUBSCRIBE
As part of your subscription to Dividends Diversify, you will get 20 wealth building and investment tips free! In addition, never miss a new post. I will send a weekly email to all subscribers with a link to the current weeks new content. Finally, thanks for visiting.
PINTEREST
Are you a Pinterest user? Then be sure to follow Dividends Diversify on Pinterest by clicking this link: Pinterest Home Page. Then click the red follow button. Thanks for following and be sure to save this pin for later!