For Turning Dividends Into A Steady Passive Income Stream
Are you interested in dividend investing for passive income? If yes, I will outline and describe 6 easy steps to create a passive income dividend portfolio for you today.
That's enough of an introduction. So, let's get moving.
How To Build A Passive Income Dividend Portfolio
Here are my recommended six recommended steps for creating an income dividend portfolio:
Learn about dividend investing
Pick a dividend investing strategy
Choose the best dividend stocks
Optimize your dividend portfolio
Reinvest all dividends received
Adopt a long-term mindset
Next, I will outline how to complete each step in the process. Then you can get busy building your dividend portfolio to generate passive income.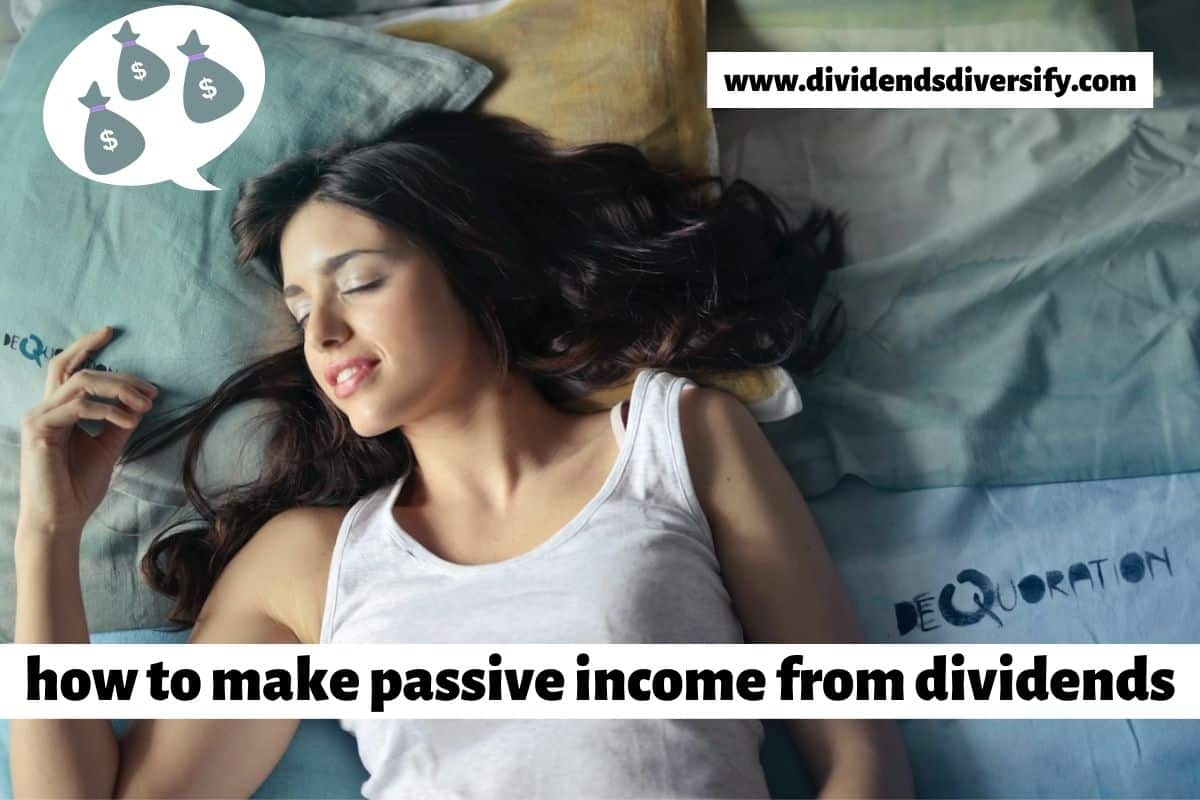 Disclosure: At no cost to you, I may get commissions for purchases made through links in this post.
1. Learn About Dividend Investing For Passive Income
First, I won't write the seemingly mandatory section for every dividend article on the web titled "What are Dividends and How do they Work."
Furthermore, if I see that sub-topic again, I will lose it. Also, I want to respect your intelligence.
Instead, please allow me to provide an excellent resource for anyone wanting to dig into the basics of dividend investing. Most importantly, learning to invest in dividend stocks is the key to building an income-growth dividend portfolio.
For example, I learned a ton from the following online offering from Simply Investing:
Financial Freedom Investing Course
The course's ten modules teach you everything you need to know about dividend investing.
So, with that recommendation taken care of, let's move on to the rest of today's tips about building a passive dividend income portfolio.
2. Pick A Dividend Investing Strategy That Meets Your Objectives
Every dividend investor should have a strategy.
Why?
A strategy that serves your investment objectives will keep you grounded during difficult times.
In addition, a strategy guides your day-to-day and month-to-month decisions for finding the best dividend stocks and dividend investing. Also, it provides guidelines on how to manage and optimize your dividend portfolio for passive income.
There are three possible dividend strategies to choose from.
1. High dividend income – low growth. This strategy focuses on stocks with high dividend yields.
2. High growth – low dividend income. The second strategy emphasizes stocks with rapid dividend growth.
3. Balanced growth and dividend income. The final strategy seeks to balance the first two options described above.
You can read more about the three dividend strategies. And I encourage you to do so now or another day when you can.
3. Choose The Best Dividend Stocks That Fit Your Strategy
After choosing a dividend investing strategy, the next step in today's guide might be the most important. Specifically, select from the best dividend stocks that fit your plan.
Before investing in stocks that pay dividends, you should consider several dividend metrics. I've included a link to a comprehensive article on each metric if you want to dig deeper into the topic.
However, here is a brief overview of several essential dividend measures.
The percentage of the amount you invest that will be paid to you in dividends each year. You can calculate dividend yield by dividing the annual dividend rate per share by the stock price. Or look it up online.
It indicates how much and how often a company increases its dividend rate per share. Companies providing consistent dividend growth over time are said to have dividend-growth stocks.
First, this metric means the time in years a company has paid an annual dividend. Also, it would be best to investigate how many consecutive years the dividend rate per share has increased.
Furthermore, Dividend Kings and Dividend Aristocrats are well-known stocks with rich histories of paying dividends.
The payout ratio indicates the percentage of a company's resources paid to stockholders in dividends. The metric provides information for assessing dividend safety.
Alternatively, you can buy a high-quality exchange-traded fund (ETF) that pays dividends versus selecting individual stocks.
Read more about the best dividend stock ETFs. These index funds make building a passive income dividend stock portfolio easy.
4. Optimize Your Passive Income Dividend Portfolio
Next, as you add to your dividend stock holdings, focus on the bigger picture—precisely, the makeup of your dividend portfolio for passive income.
Here are several suggestions for your consideration.
First, buy and hold an adequate number of dividend stocks for diversification purposes.
I recommend at least 20, but at most, 30.
Less than 20, and your portfolio may need more diversification. More than 30, and the number of holdings becomes challenging to monitor.
Second, diversify your holdings among different stock market sectors and industries.
For example, do not hold 20 electric utility companies in your 20-stock portfolio. Instead, for example, spread your money to dividend stocks from different sectors, such as:
Real Estate Investment Trusts
Consumer staples
Health Care
Industrials
Business Services
Technology
Utilities
Third, every stock owned should be manageable in size. Ideally, each holding in a 20-stock portfolio represents approximately 5% of the portfolio's total market value.
Finally, add new money to your passive income dividend portfolio regularly.
To do so, set aside a fixed amount each month for investment, known as dollar-cost averaging.
5. Reinvest All Dividends Received
Unless you need your dividend income to pay essential monthly expenses, reinvest all dividends received.
You can reinvest dividends in one of two ways:
1. Instruct your stock broker to automatically reinvest dividends received immediately into the stock that paid them.
2. Let the dividends accumulate in your cash account. Then periodically invest the cash in the dividend stock or stocks you choose.
Here, you can dive deeper into my thinking about dividend reinvestment.
6. Adopt A Long-Term Mindset
Finally, as you start and grow as a dividend investor, remember this next important point.
Think long-term!
Remember that dividend investing is a marathon, not a sprint. Dividend investing is a long-term wealth-building strategy. It is not a get-rich-quick scheme.
Thus, set the goals for your dividend portfolio high. However, know that your objectives will take time to accomplish.
More importantly, continue to invest in dividend-paying stocks through the stock market's ups and downs. Do not get rattled when the stock market falls. Doing so is for amateur investors, not experienced dividend investors.
Okay. That's all I have for today.
So, let me wrap up with a few final thoughts. Before you read the wrap-up, save this image on Pinterest so you can return later.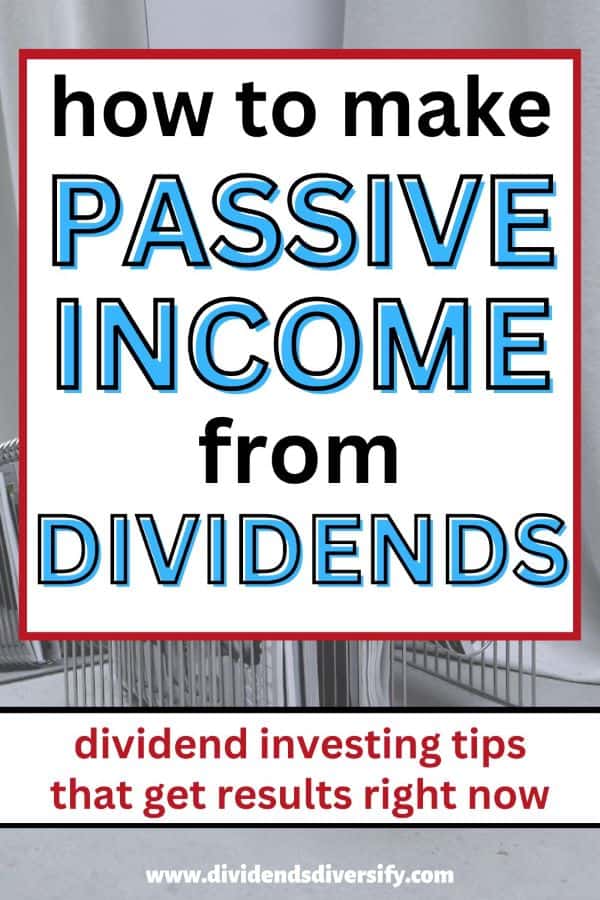 How To Build A Passive Income Dividend Portfolio – Wrap Up
You can build a passive dividend portfolio for reliable income from dividends. To do so, keep these essential points in mind along the way.
Determine your investment objectives
Select a dividend investment strategy
Pick quality dividend stocks
Buy and hold for the long term
Manage your passive dividend portfolio wisely
Reinvest your dividends
Continually learn about dividend investing
Think long-term
Then, sit back and enjoy receiving the cash flow from your dividends.
Finally, good luck with personal finance and your investments.
Are you hungry for more knowledge about dividend investing for passive income? If yes, check out this article:
How To Make $1,000 in Dividends Every Month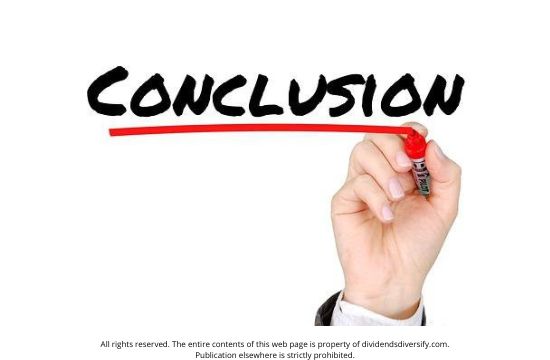 Author Bio, Disclosure, & Disclaimer: Please join me (Tom) as I try to achieve my goals, find my next place to live, and make the most of my money. However, I am not a licensed investment adviser, financial counselor, real estate agent, or tax professional. Instead, I'm a 50-something-year-old, early retired CPA, finance professional, and business school teacher with 40+ years of DIY dividend investing experience. I'm here only to share my thoughts about essential topics for success. As a result, nothing published on this site should be considered individual investment, financial, tax, or real estate advice. This site's only purpose is general information & entertainment. Thus, neither I nor Dividends Diversify can be held liable for losses suffered by any party because of the information published on this website. Finally, all written content is the property of Dividends Diversify LLC. Unauthorized publication elsewhere is strictly prohibited.
A 6-Step Guide To Creating A Passive Income Dividend Portfolio