Essential Things You Must Know Before Moving To Clemson, South Carolina
Do you want to relocate to South Carolina and find the perfect place to move? If yes, consider the pros and cons of living in Clemson, SC.
Then you can decide if a tiny town with a big university in the upstate region of South Carolina is the right place for you.
Pros And Cons Of Living In Clemson, South Carolina
Today's pros and cons of moving to Clemson, SC, include:
Clemson University
Collegiate sports (The Tigers)
Access to the arts
Diversity
Major retailers
Beautiful natural scenery
Foothills of the Appalachians
Nearby lakes
Students everywhere
High population density
Bad traffic congestion
Far away from urban communities
A car is required
It's not Greenville
I will address these pros and cons in more detail in a moment. But first, let me answer the big question of the day.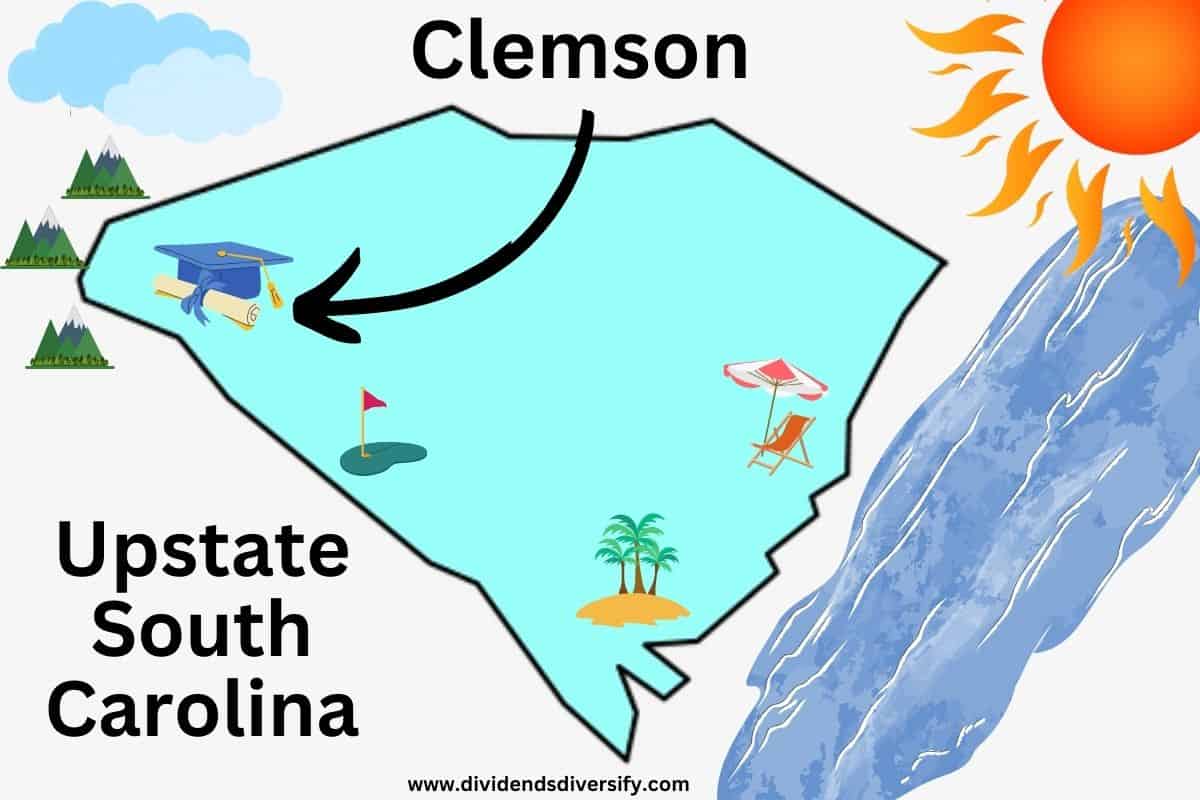 Disclosure: At no cost to you, I may get commissions for purchases made through links in this post.
Is Clemson A Good Place To Live?
Clemson is an excellent place to live in South Carolina if you desire small-town living with a big college-town atmosphere. However, the massive presence of the University and its students may not be to everyone's liking. Town residents also enjoy the area's incredible scenic beauty, including proximity to three lakes and the foothills of the Appalachian Mountains.
Okay. With the highlights covered, let's move on to the pros and cons.
Living In Clemson Means Living In A College Town
Let's be honest. Clemson wouldn't be anything like it is today without the presence of the University. It would just be another small town in a relatively remote and rural area of South Carolina.
Thus, residents enjoy highly competitive collegiate sports and many school-sponsored arts and cultural attractions. Highlights the school brings to the town include:
Division 1 college sports
John E. Walker Sr. Golf Course
South Carolina Botanical Gardens
Bob Campbell Geology Museum
Brooks Center for the Performing Arts
Let's continue with another one of the advantages of living in Clemson.
After Moving To Clemson, You Have Access To A Great Outdoor Environment
Three lakes and the Appalachian Mountains foothills are nearby. Thus, locals enjoy biking, hiking, fishing, camping, boating, and many other outdoor activities.
Area water features include Lake Jocasse, Lake Keowee, and Lake Hartwell. Beautiful hiking trails are accessible throughout the area. Venture a little farther to the northwest and explore the Blue Ridge Mountains.
Okay. It's time to switch gears. To balance out today's discussion, here are the disadvantages of living in Clemson.
A Big University In A Small Town Is Not For Everyone
First, the area and the school's popularity are well documented. As a result, the permanent resident and student populations have increased dramatically over the past decade. Furthermore, the town and surrounding communities are becoming much less rural.
Thus, the growth has placed considerable demand on the local infrastructure.
Traffic and parking are more significant problems now than ever before. There is constant construction, whether new additions to the school, apartment complexes, hotels, or shopping plazas.
Heavy traffic for football games is especially problematic. Over 100,000 people descend on town during game day weekends creating gridlock for miles around the stadium.
Finally, this next point might be the worst thing about moving to Clemson.
Clemson Is Close To Everything Yet So Far Away
Remember that we are talking about a small town surrounded by other small towns. Unless you are content with staying hyper-local, you must commute to work and area attractions.
Thus, you will need a car unless you can pull off living, working, and recreating in a confined area.
For the record, other area destinations and transportation options include:
Clemson Area Transit (CAT) bus service on campus and around town.
Amtrak offers service in Greenville and the small city of Spartanburg to major East Coast cities.
The Greenville-Spartanburg International Airport.
Atlanta, Georgia, and Charlotte, North Carolina, are approximately two hours away by car for the extensive city amenities they offer.
Travel nearly four hours by car to go to the Charleston area and everything the Atlantic coastline offers.
In the opposite corner of the state is beautiful Hilton Head, 5 hours away.
Speaking of Greenville, South Carolina, many locals say that moving to this revitalized city (about a 45-minute drive from Clemson) is a better option for many. Unless, of course, you work or are going to school at the University here.
Okay. That's all I have for today regarding the pros and cons of living in Clemson. Please allow me to wrap up with some parting thoughts.
Living In Clemson, South Carolina
Clemson offers a unique lifestyle featuring a major U.S. university located in a tiny one-time rural southern town. For anyone looking for a place with those dominant characteristics, Clemson could be your perfect place to live.
Best of luck, no matter where you choose to settle down.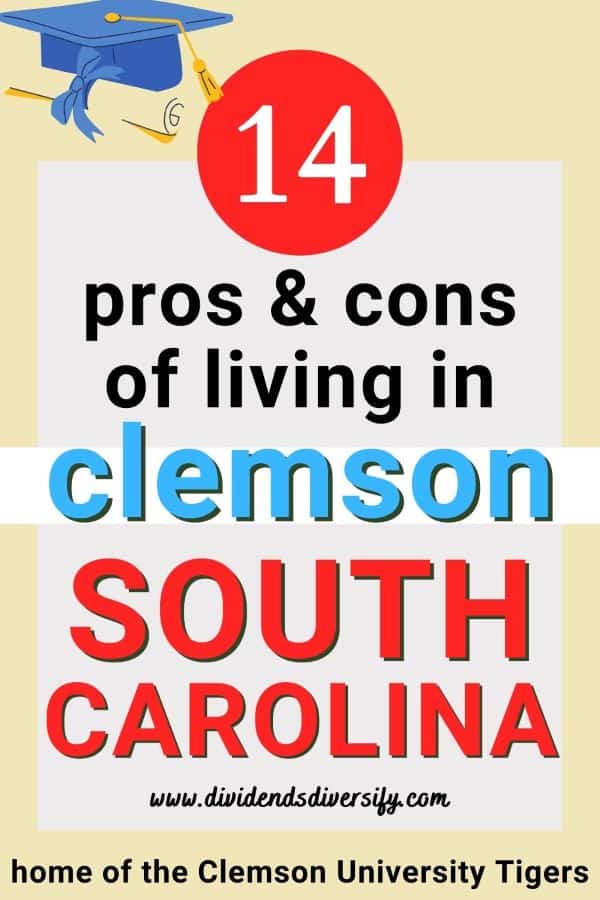 Author Bio, Disclosure, & Disclaimer: Please join me (Tom) as I try to achieve my goals, find my next place to live, and make the most of my money. However, I am not a licensed investment adviser, financial counselor, real estate agent, or tax professional. Instead, I'm a 50-something-year-old, early retired CPA, finance professional, and business school teacher with 40+ years of DIY dividend investing experience. I'm here only to share my thoughts about essential topics for success. As a result, nothing published on this site should be considered individual investment, financial, tax, or real estate advice. This site's only purpose is general information & entertainment. Thus, neither I nor Dividends Diversify can be held liable for losses suffered by any party because of the information published on this website. Finally, all written content is the property of Dividends Diversify LLC. Unauthorized publication elsewhere is strictly prohibited.
The Living in Clemson, SC Pros And Cons Fully Explained