Things To Know Before Moving to Mount Pleasant, South Carolina
Are you moving for new job opportunities, looking for a place to retire, or just seeking a fresh start in a new location? If yes, you owe it to yourself to explore the pros and cons of living in Mount Pleasant, SC.
Perhaps the South Carolina Lowcountry will be your perfect place to live. However, moving to Mount Pleasant will only be for some, not all. So, let's find out the reasons why.
Pros And Cons Of Living In Mount Pleasant, SC
The top living in Mount Pleasant, South Carolina pros and cons include the following:
Nice neighborhoods
Well-maintained
Good schools
Accessible shopping
Close to the beaches
Low crime rates
An international airport
Easy access to Charleston
Mild winter weather
Too many transplants
Strained infrastructure
High cost of living
Heavy traffic
Bad drivers
Intense summer heat
Risk of hurricanes
Prone to flooding
Let's dive deeper into today's reasons for moving to Mount Pleasant. Plus, some things to watch out for so you won't regret your decision.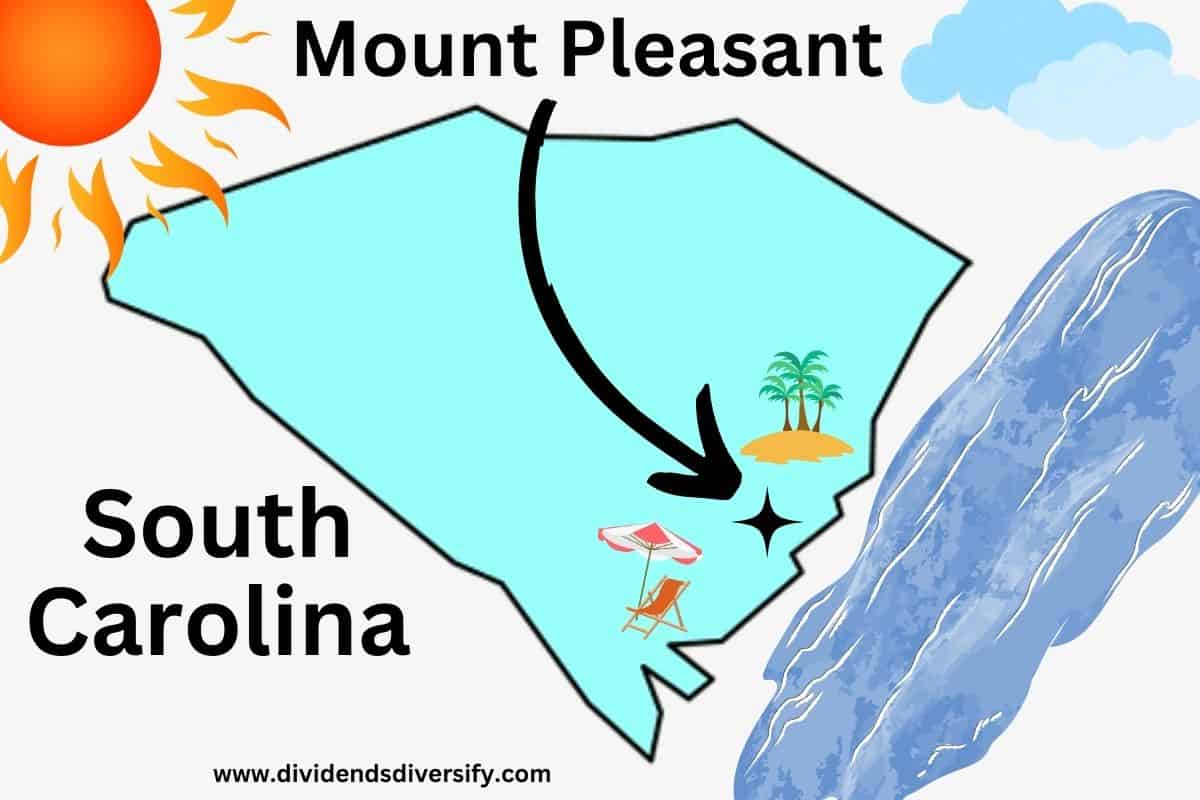 Disclosure: At no cost to you, I may get commissions for purchases made through links in this post.
The Pros: Why Mount Pleasant Is A Good Place To Live
Mount Pleasant is a good place to live in South Carolina for anyone seeking a family-friendly environment with peaceful neighborhoods, excellent schools, and plenty of fun things to do. Furthermore, residents love the mild winter weather, proximity to downtown Charleston, and easy access to stunning beaches.
Next, I have a few more highlights for you.
Great Places To Live
Consider this South Carolina city as two distinct areas, upper and lower, with the Isle of Palms Connector Bridge as a dividing point.
Developed first, lower Mount Pleasant is more densely populated and closer to downtown Charleston with older homes and several newer high-end real estate developments.
Upper Mount Pleasant was developed more recently and has experienced a building boom. The region has many wonderful residential areas, including excellent golf course communities.
Next up, one of the most significant benefits of living in Mount Pleasant.
Amazing Beaches And Parks
One of the biggest attractions is the close community access to beaches here. Residents and visitors from all over love to explore and enjoy:
Isle of Palms
Sullivans Island
Or you can venture a little farther away to visit these beautiful places:
Bone Yard Beach
Folly Beach
People also get to enjoy the outdoors at:
Water Front Park
Palmetto Islands County Park
Plenty of Amenities
Living in Mount Pleasant means you have many amenities at your fingertips.
First, nearby downtown Charleston's history, culture, and entertainment options are top-notch.
Second, residents can easily access the area's shopping centers, restaurants, and grocery stores.
Find groceries at:
Harris Teeter
Publix
Costco
Whole Foods Market
Traders Joe's
Local shoppers love:
Belle Hall
Market at Oakland
Towne Center
For travelers, there is Charleston International Airport.
Finally, for restaurant goers, there are too many options to mention.
Okay. It's time to switch gears. To balance out today's discussion, here are the cons of living in Mount Pleasant.
The Cons: Why You May Not Like Living In Mount Pleasant
The city's popularity has led to rapid population growth. The increase in population has made living in Mount Pleasant less desirable.
Strained infrastructure, terrible traffic, and demand from new residents have increased the price of homes and the cost of living. Furthermore, there is intense summer heat, humidity, and the annual threat of hurricanes.
Please allow me to highlight of few of these issues.
Cost Of Living In Mount Pleasant
Unfortunately, popularity has a price. Homes for sale have almost doubled in price over the past five years. Furthermore, housing is nearly twice as expensive as the average home in the United States.
To emphasize, the city's real estate has become very expensive.
More reading: A much less expensive city in South Carolina
Here is another disadvantage of living in Mount Pleasant.
Heavy Traffic Congestion
Because commuters must cross either the Ravenel Bridge or the Don Holt Bridge, traffic in or out of the city is terrible.
Expect extreme traffic and large crowds, especially on weekends. Plan for extra time since getting around is slow and sometimes nearly impossible during peak travel times.
Next, here is another drawback to Mount Pleasant living.
Inclement Weather
The area is prone to hurricanes and tropical storms. Thus, reinforced windows, evacuation plans, and emergency supplies are essential.
Finally, the summer heat and humidity will only be suitable for some. After all, the city is located in the deep south and has a subtropical climate. So, be prepared to sweat!
Okay. That's all I have for today. Please allow me to wrap up with some parting thoughts.
Pros And Cons Of Living In Mount Pleasant, SC
Mount Pleasant is an excellent place to live on the east coast of South Carolina. Located near Charleston, the area offers plenty of great places to live and fun things to see and do. However, moving to Mount Pleasant will only be for those who can afford the cost of living and are okay with the Lowcountry's intense summer heat and humidity.
Good luck with your decision, no matter where you decide to move.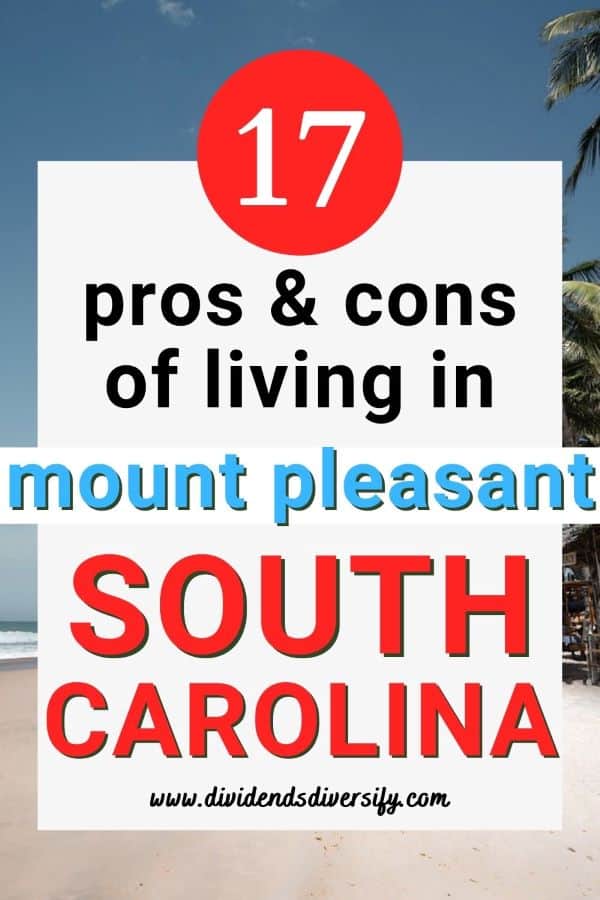 Author Bio, Disclosure, & Disclaimer: Please join me (Tom) as I try to achieve my goals, find my next place to live, and make the most of my money. However, I am not a licensed investment adviser, financial counselor, real estate agent, or tax professional. Instead, I'm a 50-something-year-old, early retired CPA, finance professional, and business school teacher with 40+ years of DIY dividend investing experience. I'm here only to share my thoughts about essential topics for success. As a result, nothing published on this site should be considered individual investment, financial, tax, or real estate advice. This site's only purpose is general information & entertainment. Thus, neither I nor Dividends Diversify can be held liable for losses suffered by any party because of the information published on this website. Finally, all written content is the property of Dividends Diversify LLC. Unauthorized publication elsewhere is strictly prohibited.
The Living in Mount Pleasant Pros And Cons Fully Explained