Essential Things To Know Before Moving To Summerville, South Carolina
South Carolina has become a popular place to live. As a result, let's explore the pros and cons of living in Summerville, a desirable community near the historic city of Charleston.
Pros And Cons Of Living In Summerville, South Carolina
My top list of the moving to Summerville pros and cons include:
Growing economy
Good schools
Historic Downtown
Excellent location
Mild winter weather
Outdoor destinations
Local attractions
Rapid population growth
An increasing cost of living
Congested traffic
Overcrowded schools
Risk of hurricanes
Prone to flooding
Summer heat
Pesky critters and bugs
With that list of 15 points about moving to Summerville in mind, let's get into the details.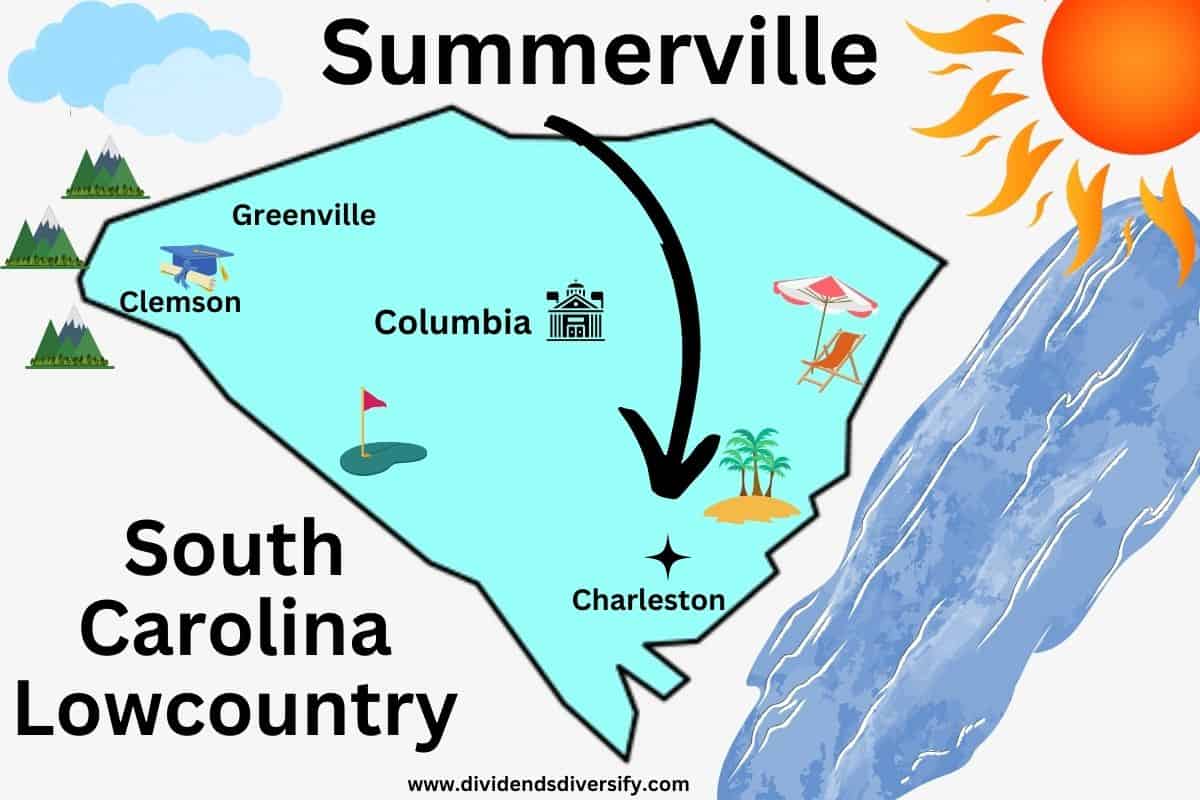 Disclosure: At no cost to you, I may get commissions for purchases made through links in this post.
1. Growing Economy
Summerville is located in Dorchester County and is part of the greater Charleston tri-county area. The region has been successful in attracting new businesses to the community.
As a result, the economy is growing, and many jobs are available in health care, education, manufacturing, and transportation.
Well-known Summerville area employers include:
Boeing
Bosch
Volvo
South Carolina ports
2. Good Schools For Families Living In Summerville
First, for families moving to Summerville, rest assured that you have access to quality schools.
This South Carolina city is part of Dorchester School District Two. The district is one of the top ten highest-rated districts in the state (source: Niche.com) and is home to 27 schools and programs, including:
Three traditional high schools
Seven middle schools
15 elementary schools
One alternative school (grades 6-12)
An adult education program
Furthermore, the area has several colleges and universities, including the College of Charleston.
You can also take advantage of in-state tuition in western South Carolina at Clemson – also, the University of South Carolina campuses throughout the state.
Okay. We are just getting warmed up. So, let's continue with the pros and cons of moving to Summerville.
3. Historic Downtown
The downtown boasts a vibrant commercial area. Visitors and residents dine in local restaurants, browse art galleries, and shop in the many independent stores.
The Short Central pedestrian street provides a scenic path from nearby historic neighborhoods to the Hutchinson town square. Other points of interest in downtown Summerville include:
Gurerin's Pharmacy
James F. Dean Community Theatre
The Timrod Library
Consider this next significant advantage of living in Summerville.
4. Excellent Location For Those Living In Summerville
Summerville residents live in the center of everything the Charleston area offers. For example, driving times to popular area attractions include:
30-60 minutes to nearby lakes
30-45 minutes to downtown Charleston
45-60 minutes to the beaches
2.5 hours to Hilton Head
5. Mild Winter Weather
As the name indicates, life in Summerville might be perfect for anyone seeking to escape a cold northern climate.
It is warm here most of the year, and it rarely snows. January is the coldest month, yet higher temperatures are typically near 60 degrees. Low temperatures rarely drop below freezing.
Access to fantastic outdoor destinations is one of the best things about living in Summerville. Let's discuss it.
6. Outdoor Destinations
The mild weather provides plenty of opportunities for outdoor recreation. Popular area spots to enjoy nature and the great outdoors include:
Beaches
Folly Beach
Isle of Palms
Sullivan's Island
Kiawah Beachwalker Park
Edisto Beach
Lakes
Parks
James Island County Park
Wannamaker County Park
Palmetto Island County Park
Additionally, many dog parks, walking trails, and swimming pools are available throughout the area.
7. Local Attractions
After moving to Summerville, there are many other exciting things to see and do.
Several local attractions include:
3-day Flower Town Festival
Weekly farmers market
Magnolia Plantation and Gardens
Middleton Place Historic site
Okay. That concludes seven significant benefits of living in Summerville.
Now, I want to balance this conversation out and cover the cons.
8. Rapid Population Growth From People Moving To Summerville
Summerville remains a relatively small community with just over 50,000 residents. However, in the last 20 years, the population has more than doubled.
Unfortunately, not everyone living here is happy with the fast population growth. Transplants change the local culture and put demands on resources that are difficult to serve.
Next, let's explore some disadvantages of living in Summerville resulting from population growth.
9. An Increasing Cost Of Living In Summerville
Over the past three years, median home prices have increased by almost 45%. Couple the rising real estate costs with the below-average household incomes here, and making ends meet is more challenging than ever for the typical Summerville family.
10. Congested Traffic
Traffic is heavy. The conditions of the roads could be better, and travel safety is a concern.
Congestion heading to the beaches is horrible during the summer. If being close to the beach is a priority, check out the neighboring community of Mount Pleasant.
Furthermore, travel times for commuters have been getting longer. Local and regional commuters heavily travel U.S. 17, Summerville's Main Street. The busy train tracks through downtown can also create delays.
11. Overcrowded Schools
Many schools are becoming overcrowded due to the rapid population growth. Most of the schools are full every year.
Thus, for anyone moving to Summerville with school-age children, it is essential to register early and reserve a spot for your child.
Okay. The last three points address problems with population growth and the city's infrastructure. Now, let's move on to the weather. I am beginning with one of the worst things about living in Summerville.
12. Risk Of Hurricanes
Hurricane season runs annually from June through November.
Each year, South Carolina has about an 80% chance of being impacted by a tropical system. September is the month that the state is most likely to see a storm.
Emergency plans are necessary for residents since Summerville is only 30 miles inland from the ocean.
If you are not interested in dealing with hurricanes, consider moving to a city in the upstate region of South Carolina. There, you will be 200 miles from the Atlantic coastline.
13. Prone To Flooding
Heavy rains, tropical storms, and hurricanes combined with the city's proximity to sea level means flooding is always possible.
Homes in flood zone X have a moderate risk of flooding. While homes in flood zones AE and VE are at greater risk. I recommend purchasing flood insurance in these areas.
14. Summer Heat
During June through August, the weather is hot and muggy. High temperatures routinely climb into the 90s combined with high humidity.
Thus, it is sticky and uncomfortable for most of the summer season.
So, be prepared to beat the heat. Some people stay in the comfort of air conditioning for most of the season.
Finally, here is one of the bad things about Summerville, possibly ruining your best outdoor plans.
15. Pesky Critters And Bugs Are Living In Summerville
People aren't the only ones who enjoy the Summerville lifestyle. As a result, you should get accustomed to some unwanted neighbors, such as the following:
Mosquitoes
Palmetto bugs
No-See-Ums
Alligators
Raccoons
Possum
Okay. That completes my review: 15 pros and cons of living in Summerville. So, please allow me to wrap up.
Is Summerville, SC A Good Place To Live?
Summerville, South Carolina, is a great place to live because of the beautiful weather, growing economy, good schools, and abundant recreation options. Furthermore, residents love easy access to the many regional attractions of the greater Charleston area and adjoining coastal communities.
However, moving to Summerville will only be for some. Thus, carefully examine all the pros and cons before packing!
Most importantly, best of luck, no matter where you settle down.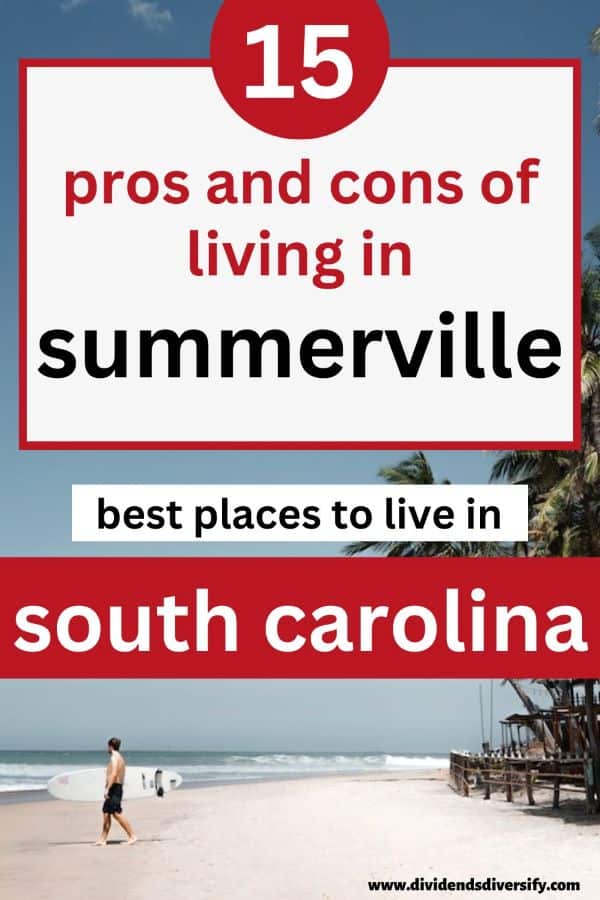 Author Bio, Disclosure, & Disclaimer: Please join me (Tom) as I try to achieve my goals, find my next place to live, and make the most of my money. However, I am not a licensed investment adviser, financial counselor, real estate agent, or tax professional. Instead, I'm a 50-something-year-old, early retired CPA, finance professional, and business school teacher with 40+ years of DIY dividend investing experience. I'm here only to share my thoughts about essential topics for success. As a result, nothing published on this site should be considered individual investment, financial, tax, or real estate advice. This site's only purpose is general information & entertainment. Thus, neither I nor Dividends Diversify can be held liable for losses suffered by any party because of the information published on this website. Finally, all written content is the property of Dividends Diversify LLC. Unauthorized publication elsewhere is strictly prohibited.
15 Living in Summerville, SC Pros And Cons Fully Explained