Essential Things To Know Before Moving To Jacksonville, North Carolina
Today, let's explore coastal North Carolina by diving into the pros and cons of living in Jacksonville, NC.
Whether you want to live by the ocean, move for a new opportunity, or relocate to find a fresh start, I have addressed the most critical opinions and facts about Jacksonville living.
So, before you start packing, let's get going. Then you can decide whether or not to move to Jacksonville.
Pros And Cons Of Living In Jacksonville, North Carolina
My top 10 living in Jacksonville, NC, pros and cons include:
Nice neighborhoods
A modest cost of living
Beautiful beaches
Family-friendly things to do
Mild winter weather
High humidity and bugs
Risk of hurricanes and flooding
Noise pollution
Limited employment opportunities
High tax burden
Shortly, I will review these must-know items about living in Jacksonville in detail. But first, please allow me to address the most crucial question of the day.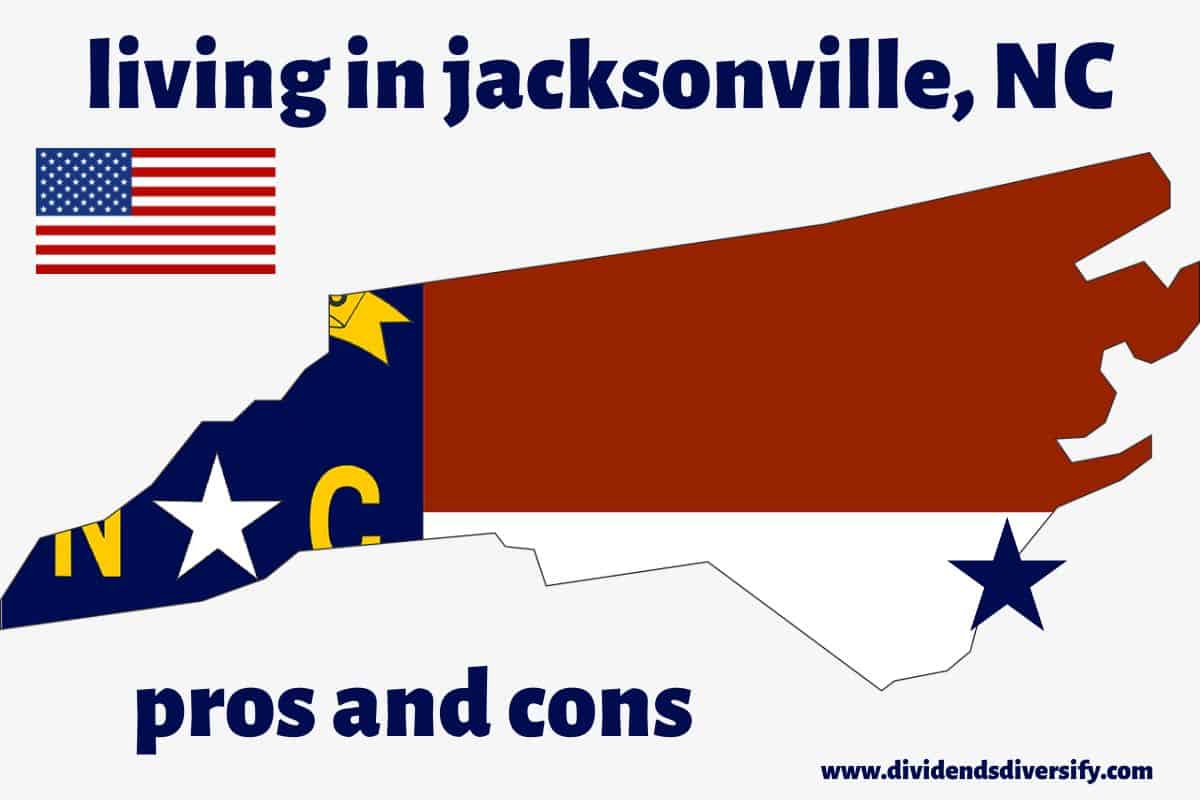 Disclosure: At no cost to you, I may get commissions for purchases made through links in this post.
Is Jacksonville, NC A Good Place To Live?
Jacksonville is a military town home to Camp Lejeune. Thus, many residents are affiliated with the military, making it a patriotic place to live. In addition, the small-town vibe, youthful population, modest cost of living, good weather, and family-friendly environment add to the good life in Jacksonville.
Okay. With the high-level highlights about Jacksonville living addressed, let's carefully examine my top moving to Jacksonville pros and cons. Since living here will be great for some, but not not-so-good for others.
1. Nice Neighborhoods
First, everyone needs a nice place to live. And there are many good neighborhoods to choose from here.
It all depends on what you are looking for, so allow me to highlight several.
Great Communities For Jacksonville Living
Sterling Farms
At Sterling Farms, residents enjoy a peaceful rural setting with convenient access to all the amenities of Jacksonville. Furthermore, the community offers a clubhouse with an oversized kitchen, dining room, and pool.
There are smaller single-family homes, condos, and townhouses available. Thus, the community has something to fit the Jacksonville lifestyle you desire.
Northwoods
Northwoods is a well-established neighborhood known for its mature trees and ranch-style homes. The community is one of the most affordable in the area. Houses date back to the 1950s, but newer construction is available too.
Located in the heart of Jacksonville, residents are just minutes away from Coastal Carolina Community College, Camp Lejeune, and various shopping options.
Sewell Fields of Verona
Sewell Fields of Verona is an exclusive neighborhood with limited lots nestled five miles South of Jacksonville, just off Highway 17.
Residents enjoy modest homeowners association fees and easy access to Jacksonville and other towns, cities, and attractions, for example…
Camp Geiger
Marine Base Johnson
Holly Ridge
New Bern
Richlands
Sneads Ferry
Surf City
Topsail Beach
Wilmington
…are all nearby.
Other Popular Jacksonville Area Communities To Consider
You may enjoy investigating these places too.
Bell Fork
Half Moon
Tar Landing
Walton's Store
Williams Farm
So, with all these great places to live around the area, how much does it cost? This question leads me to another one of the benefits of living in Jacksonville.
2. A Modest Cost Of Living
Coastal living usually comes at a premium price. However, the cost of living in Jacksonville is quite reasonable.
At the time of this article and according to Redfin, the median home price was in the low $200,000, nearly half the median-priced home in the United States.
Because of the modest property values, real estate taxes are also affordable. They typically run less than 1% of the assessed value.
Next, according to BestPlaces.net, groceries, utilities, and transportation expenses also run well below the national average.
Finally, save on all your online purchases using the Rakuten app.
For a limited time, get $10 for signing up and making your first purchase. The money-back app from Rakuten is a great way to save on everyday expenses no matter where you choose to live.
Then check your credit for free using Credit Karma. Potential employers, mortgage companies, and landlords will require a high credit score.
So, get prepared and check your credit now.
Next, I have one of the best reasons to move to Jacksonville.
3. Beautiful Beaches
You will find the most amazing beaches here. A mix of tourists and locals enjoy the waterfront in this area, known as the Crystal Coast.
The Crystal Coast is an 85-mile stretch of ocean waterfront and protected beaches extending from the Cape Lookout National Seashore southwestward to the New River that runs through Jacksonville.
Many of the local beaches are remote and rarely crowded with people. Furthermore, a charming coastal town is usually nearby and ready for you to explore.
Most Popular Beaches When Living In Jacksonville
Please let me highlight the three main beaches. Then you can research the smaller ones surrounding them.
Topsail Beach
Topsail Beach is very popular with both residents and tourists. As a result, many visitors plan their vacations around this lovely destination.
Two other beaches share the 26-mile barrier island—first, North Topsail Beach and second, Surf City Beach.
However, the beach is the most pristine near Topsail because there are no large hotels or huge resort destinations in this area. So, you can enjoy it without the crowds associated with some beach towns.
Emerald Isle Beach
Emerald Isle Beach has soft sand, incredible views, a family-friendly atmosphere, and incredible sunsets.
In addition to its location on the western edge of the Bogue Banks, Emerald Isle Beach features 12 miles of largely undeveloped shoreline. As a result, there are stunning views of both the Atlantic Ocean and Bogue Inlet.
A maritime forest surrounding the beach includes McLean-Spell Park, which has walking trails.
Onslow Beach
Camp Lejeune maintains this beach primarily for recreational use by the military community. However, in the past, Marine Corps exercises have been conducted here.
For access, you must drive through the military base. Unfortunately, this beach is not open to the public. Only military personnel, guests, and visitors on official business are allowed.
Next, here are more good reasons to live in Jacksonville.
4. Family-Friendly Things To Do
Demographically, Jacksonville is one of the youngest cities in the United States, with an average age below 25. In addition, many households have children under the age of 18.
As a result, this North Carolina city is community-minded, and numerous family-friendly recreational options are available. Please allow me to provide some examples.
Zing Zumm Children's Museum. This museum is a hands-on learning experience for toddler-aged children up to 10 years old.
The Altitude Trampoline Park is an excellent place for children to burn off some energy! They have attractions for any age and party space for groups and special occasions.
Roller City is a family-owned roller skating rink.
Megaplay is a wonderful children's indoor playground and birthday party center. The fun includes a multi-level play structure.
Mac Daddy's. An amusement center with bowling & arcade games, and a sports bar serving beer, wine & pub food.
North Carolina Aquarium at Pine Knoll Shores. This aquarium features touch pools, a submarine tank, and local aquatic life, from otters to sharks.
The Jacksonville Commons Recreation Complex is a vast green space in the city known as "The Commons" for short. Facilities include ball fields, a skate park, tennis courts, a soccer field, and an amphitheater.
Residents enjoy several golf courses for good golf on pristine greens. And to get your heart pumping, there is the Big Branch Mountain Bike Park.
Finally, opportunities for water recreation are abundant.
The New River flows through the heart of Jacksonville and offers impressive views throughout this North Carolina city. Combine the river and the ocean to explore opportunities to fish, swim, boat, or stick your toes in the sand and soak in the sunshine on shore.
Next, here is another one of the best things about Jacksonville living.
5. Mild Winter Weather
The southeastern United States, Jacksonville included, is known for its summer-like conditions. On average, residents enjoy eight months of warm weather.
Thus, you can frequently find a good time to visit the beach. Or enjoy the other outdoor activities I mentioned.
High temperatures rarely drop to less than 40 degrees, even during the coldest winter months. Better yet, you won't have to deal with snowfall.
Yes, like any place, some days get rainy and cold. However, it's sunny and 70-plus degrees most of the time.
Okay. That completes my top five pros of living in Jacksonville. To balance out the article, it's time for the cons of Jacksonville living.
Unfortunately, I'm still talking about the weather. So, read on!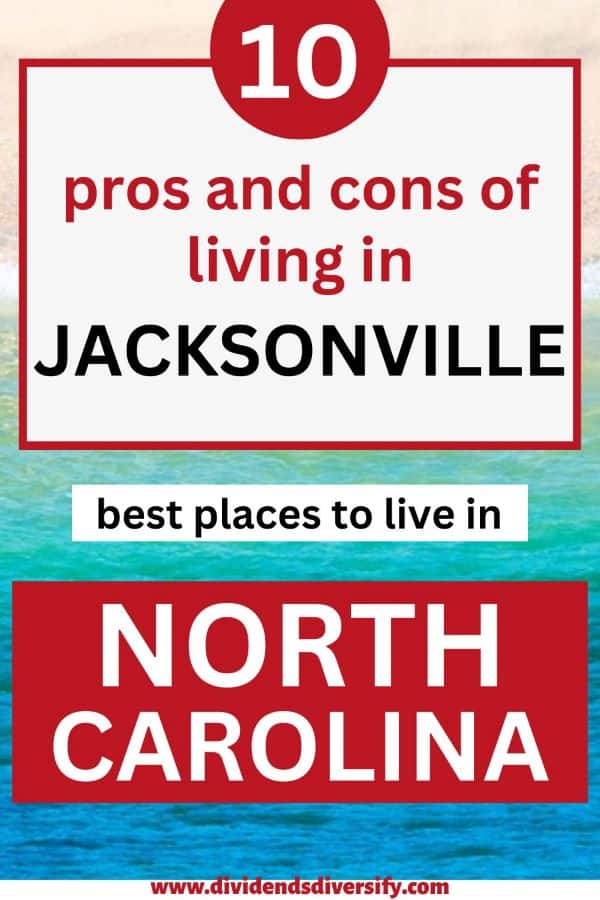 6. High Humidity And Bugs
First, in Jacksonville, humidity readings are always high.
Furthermore, the humidity can make the heat index very uncomfortable from June through August. So, be prepared to sweat when you head outside.
Finally, insects love the warm, humid, tropical-like weather here.
Thus, for the unprepared, mosquitos can ruin the best-made outdoor plans. In addition, cockroaches and palmetto bugs can be a nuisance to your indoor living arrangements.
Next, I have one of the most important reasons not to move to Jacksonville.
7. Risk Of Hurricanes And Flooding
Overall, North Carolina is one of the most hurricane-prone states in our country.
Thus, it would be best to understand that hurricane season runs from June through November. As a result, residents spend this time of year on hurricane watch. Thus, shutdowns, board-ups, and evacuations are an annual possibility.
In addition, you need to be aware of the flood zones since specific properties require owners to carry flood insurance.
The following item is probably not one of the worst things about living in Jacksonville; however, you should know about it.
8. Noise Pollution
The military bases do their best to be considerate of their neighbors. However, excessive noise caused by training exercises does occur.
Residents learn to live with loud artillery fire, low-flying aircraft, and demolition noises, some of which will cause homes to vibrate.
Locals sometimes refer to it as the sound of freedom.
Moving along, here is another item on my list of disadvantages of moving to Jacksonville.
9. Limited Employment Opportunities
Before moving to Jacksonville, understand that this is a small military town.
Thus, high-paying jobs in management and finance are in short supply. For those types of opportunities, consider moving to Charlotte.
Outside the military, jobs in education, health care, food service, and retail are most prevalent. But, unfortunately, some of this type of work doesn't pay all that well.
Last but not least, here is another one of the possible financial reasons not to live in Jacksonville.
10. High Tax Burden
First, the state has a flat income tax system.
That means no matter how much money you make. Everyone is subject to the same tax rate. Unfortunately, the tax rate is relatively high at 4.75%.
So, before moving to Jacksonville, consider nearby states in the southeast, like Florida and Tennessee. Neither of which has a state income tax for individuals
However, there is some good news. Specifically, the North Carolina state government has steadily reduced the income tax rate over the past decade. And it may go lower in the future.
The sales tax rate is high too.
Combining the state's base sales tax rate with the additional amount local municipalities can add, you will see rates pushing 7% on your purchases.
This tax goes on top of your everyday expenses. For example, say you need to replace the appliances in your new home, costing $3,000. Then the sales tax here will add another $210 to your bill.
Okay. I'm sorry to end on the depressing things about living in Jacksonville. Okay. I'm sorry to end on the negative things about living in Jacksonville. However, we must take the good with the bad.
That's all I have, so please let me wrap up with some final thoughts.
Wrap-Up: Pros And Cons Of Living in Jacksonville, NC
By now, you can see that living in Jacksonville will only be for some, but not all.
Many military families have relocated here as part of their service to our country. While here, they enjoy the modest cost of living, proximity to the ocean, and abundance of family-friendly activities.
Your Question About Living In Jacksonville Answered
Hopefully, this discussion has helped you address some vital questions, such as,
Why move to Jacksonville?
And
What is living in Jacksonville like for residents?
So, good luck, no matter what you decide. And if the Jacksonville, North Carolina lifestyle doesn't suit your tastes, check out all my:
Guides About the Very Best Places to Move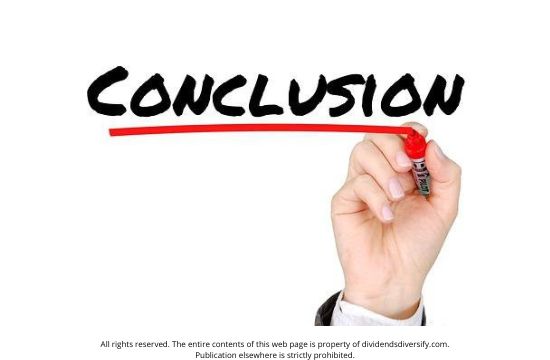 Author Bio, Disclosure, & Disclaimer: Please join me (Tom) as I try to achieve my goals, find my next place to live, and make the most of my money. However, I am not a licensed investment adviser, financial counselor, real estate agent, or tax professional. Instead, I'm a 50-something-year-old, early retired CPA, finance professional, and business school teacher with 40+ years of DIY dividend investing experience. I'm here only to share my thoughts about essential topics for success. As a result, nothing published on this site should be considered individual investment, financial, tax, or real estate advice. This site's only purpose is general information & entertainment. Thus, neither I nor Dividends Diversify can be held liable for losses suffered by any party because of the information published on this website. Finally, all written content is the property of Dividends Diversify LLC. Unauthorized publication elsewhere is strictly prohibited.
The Pros And Cons Of Living In Jacksonville, North Carolina Explained