For Anyone Questioning: Should I Move To Virginia Beach, Virginia?
Thought of as one of the best seaside destinations on the east coast, let's dig into the pros and cons of living in Virginia Beach. Located in the great state of Virginia.
Then you can decide for yourself. Whether or not moving to Virginia Beach for work, life, or retirement is right for you.
Let's get moving…
Pros And Cons Of Living In Virginia Beach
Here is our summary list of 10 living in Virginia Beach pros and cons:
Healthy job market
A family-friendly place
Lots of fun things to do
Nice neighborhoods
Vibrant surrounding communities
Higher cost of living
Tough to get around
Problems with pollution
Risks of extreme weather
Transients and tourists
Shortly, I'm going to break each of these Virginia Beach lifestyle points into all of the details for you.
But first, let's hit the most important question of the day…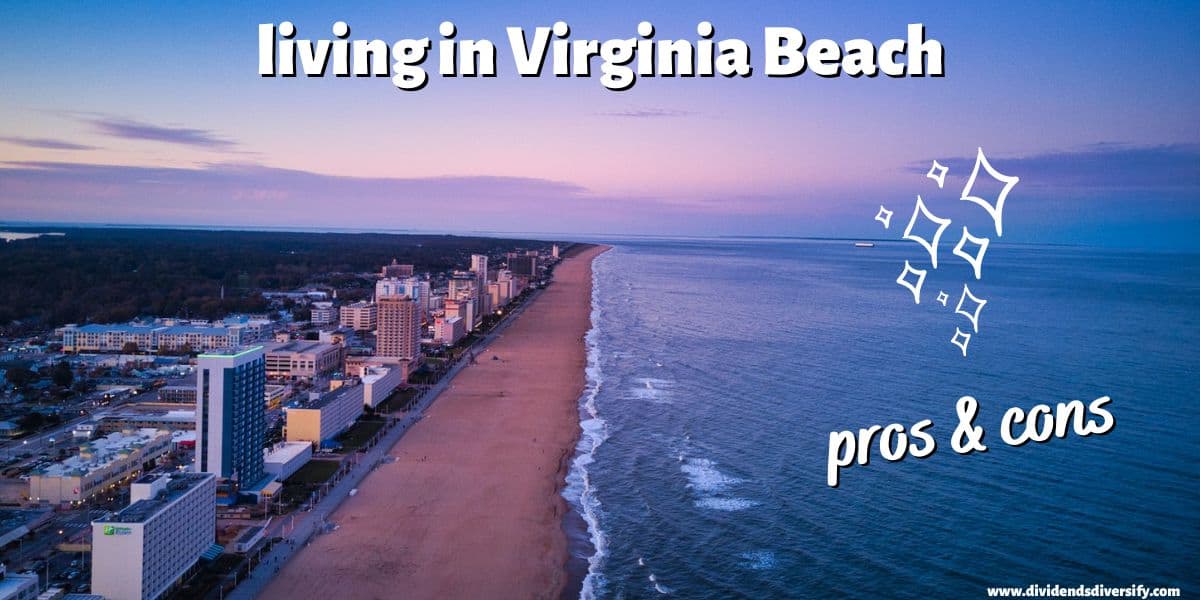 Disclosure: At no cost to you, I may get commissions for purchases made through links in this post.
Is Virginia Beach A Good Place To Live?
Virginia Beach is a good place to live for anyone seeking a resort-like atmosphere in a beach city located on the Atlantic Ocean. Residents benefit from job opportunities, good schools, low crime, and plenty of options to fill their leisure time. In a nutshell, the good life in Virginia Beach is hard to beat.
With that said, next, let's review each of the moving to Virginia Beach pros and cons.
Because like anywhere you decide to settle, it's not perfect here…
Healthy Job Market
What you will find is an economy that is heavily influenced by tourism, hospitality, agriculture, and military jobs.
The latter makes for a relatively recession-resistant economy here. Keeping the unemployment rate lower even during difficult economic times.
According to Virginia Beach Economic Development, the city has the largest concentration of military personnel outside of the Pentagon.
There is nearly 90,000 active-duty military personnel. In addition to roughly 50,000 civilian employees servicing their needs.
Major Employers For Residents Of Virginia Beach
Some of the largest employers of the civilian workforce here include:
Naval Air Station Oceana
Sentra Health Care
GEICO Insurance
​​​​Gold Key | PHR Hotels & Resorts
​STIHL Incorporated
Anthem Insurance
Joint Expeditionary Base Little Creek-Fort Story
So, while jobs are plentiful and unemployment runs low. It's important to understand that the economy and job market are not as diverse as other cities of similar size.
For example, if you move to Virginia Beach looking for jobs in banking, finance, or management consulting. Your options will a little more limited. Versus say, a city like Charlotte in nearby North Carolina.
Unless of course, you can pull off a remote assignment in your chosen field.
Then you may find the best that Virginia Beach offers. High-paying professional employment while living in a beach city.
Either way, make sure your resume is in good shape. For presenting your qualifications in the best possible light.
For this, I like to use MyPerfectResume.
Next, another one of the benefits of living in Virginia Beach…
Family-Friendly
Simply put, this is a great place to raise a family. Here's why…
Virginia Beach Is A Safe Place To Live
First of all, it is safe here. The crime rate is very low and has been decreasing in recent years.
Furthermore, the area is well-policed. So, watch your speed when driving.
One study found Virginia Beach to be the number one safest large city in the United States. Both violent and property crime rates were included in the findings.
This just makes sense to me.
Any city that is partly dependent on tourism and hospitality, wants to keep it safe. Otherwise, visitors will choose another coastal resort-like city to visit.
Next, there is an excellent public school system here. Another one of the advantages of moving to Virginia Beach if you have school-age children.
Let's discuss…
Access To Good Schools When Living In Virginia Beach
The Virginia Beach Public School System consistently ranks in the top tier out of the more than 100 school districts in the state.
Boasting an on-time high school graduation rate near 95%. Also, an extremely low dropout rate.
While most all the schools around this city are good. Like anywhere, some are better than others.
So, it's always wise to do your homework. Before deciding exactly where to relocate within Virginia Beach.
Best School Districts In Virginia Beach
To start your search, many residents say, Cox, First Colonial, and Kellam are three of the best school districts. While Kempsville, Princess Anne, and Ocean Lakes aren't far behind.
Many private schools are available as well. However, choosing this route will cost significantly more money.
Colleges And Universities Near Virginia Beach
Finally, there are solid higher education options too.
For anyone who wants to take a class, get an advanced degree, or just keep the kids close to home for their first year or two of college.
Nearby colleges and universities include:
Norfolk State University
Old Dominion University
Regent University
Virginia Wesleyan University
Okay. So we have covered working and going to school. How about having some fun?
Fortunately, that's one of the best things about living in Virginia Beach…
Lots Of Fun Things To Do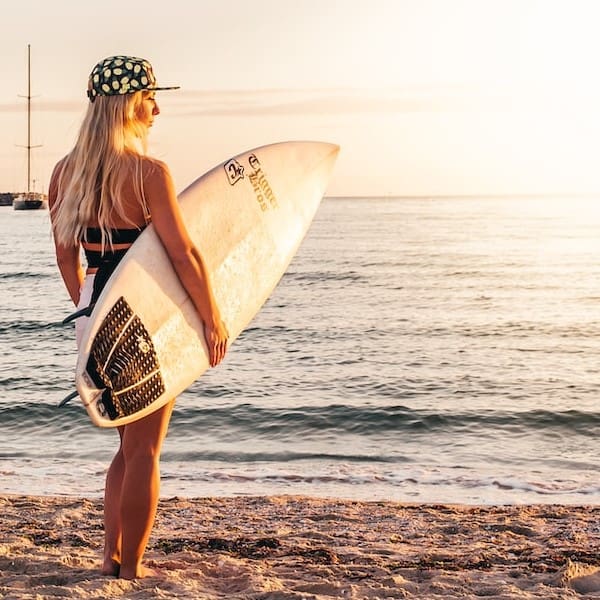 This is an active outdoor lifestyle community in Virginia. Perfect for all of you outdoorsy types reading this.
Possible Outdoor Activities When Living In Virginia Beach
Of course, because of the oceanfront location, water sports reign supreme. Such as surfing, kayaking, boating, fishing, and paddle boarding.
Speaking of kayaking, there is a devoted community of enthusiasts here. Some favorite spots to get the Kayak out in the water include Back Bay National Wildlife Refuge, Stumpy Lake, and Rudee's inlet
For land lovers, there are plenty of camping and hiking opportunities here. Or, just enjoy a stroll along the beach.
Furthermore, First Landing State Park is a great place to get out and experience the outdoors.
Speaking of the beach, this is a beach town too, after all.
Some great spots include:
Sandbridge Beach
Chic's Beach
Croatan Beach
…just to name a few of the possibilities. Because there are many more.
Why move to Virginia Beach? Well, here's another good reason.
It's the weather…
Planning Your Outdoor Activities Around Enjoyable 4-Season Weather
You will want to plan your outdoor pursuits with the weather in mind. Here's what you can expect as you enjoy outdoor living in the southeastern tip of this beautiful southern state…
First, the spring season is typically cool and rainy. Bringing all the spring flowers and blooms to life.
During the summer, 90-degree days with high humidity are common.
So, it's a sticky heat and feels warmer than the temperatures indicate. Perfect weather for cooling off at the beach! Until the temperatures start to drop during the fall season.
Finally, winters are mild. As temperatures rarely fall below 40 degrees. However, the city does experience snow from time to time.
And being a beach town, snowfall pretty much shuts the place down for a day or two. Until the temperatures warm, the snow melts, and everyone goes back to their normal routines.
Next, for those of us who like to watch our sports. Rather than participate in them. Here's another one of the reasons to live in Virginia Beach.
Organized Sports After Moving To Virginia Beach
Unfortunately, what you won't find are many local professional sports teams in this city. None to be exact. In case that is important to you.
However, you can get a good dose of live baseball and hockey.
First of all, there are the Norfolk Tides. The Triple-A farm team for the Baltimore Orioles. Attending their games is a lot of fun during the summer.
Next, the Norfolk Admirals are nearby. They are a very competitive and entertaining minor league hockey squad.
Then, for all of you creative types. Here are more reasons to move to Virginia Beach…
Music, Arts, And Culture For Your Virginia Beach Lifestyle
Because entertainment options of different kinds are available. And many residents like to take advantage of them.
So, consider these for music, arts, and culture…
Museum of Contemporary Art Boardwalk Art Show
Veterans United Home Loans Amphitheater
Sandler Center for the Performing Arts
Virginia Aquarium & Marine Science Center
Virginia Beach Neptune Festival
…for a fun day, or a fun night out.
Finally, I bet all this action and entertainment is making you hungry. Fortunately, satisfying a hearty appetite is another one of the great things about your potential life in Virginia Beach.
Here's why…
Excellent Fresh Local Foods For Virginia Beach Residents
First, this is a beach town. That caters to thousands of tourists. So, there are plenty of restaurants to choose from.
Down around the oceanfront area, you are going to find mostly locally-owned and independently operated eateries. Where the owners care about the quality of the food they serve.
Furthermore, being located on the ocean, there is great fresh seafood to savor.
It's common for that restaurant dish you are eating at night. To have been pulled out of the ocean waters earlier the same day.
Oysters, rockfish, and tuna are popular. And you don't have to move to Maryland to enjoy fresh blue crab.
Next, agriculture plays a big role in the area too. And there are plenty of farms for fresh strawberries, peaches, and seasonal berries.
Cullipher Farm Market is a popular choice especially if you like to pick your own.
Finally, consider investing in area farmland to have a stake in the community here or anywhere you decide to settle down.
Let's keep moving with another one of the best things about Virginia Beach living…
Nice Neighborhoods To Choose From
Because there are many pleasant neighborhoods and good places to live for your consideration.
Yes, this is a large city, with a population approaching 500,000 residents. However, like many larger metros, it is a city of diverse neighborhoods. Making it feel a little like a small town.
So, you will have to do some more homework to find your perfect neighborhood in Virginia Beach. With the feel, setting, and amenities, you desire.
Best Virginia Beach Neighborhoods
Some of the best neighborhoods to start your search include:
Alanton: on Broad Bay and Linkhorn Bay
Ashville Park: larger and newer to the south
Bay Colony: pricey but very nice and peaceful
Christopher Farms: near Oceana Naval Station
Chic's Beach: up north on the Chesapeake Bay
However, the housing market is quite competitive. So, make sure your credit score is in good shape. For presenting your financial qualifications in the best possible light.
Thus, I suggest you check your credit for free using Credit Karma.
Then, beyond the local neighborhoods.
There is so much more to this amazing region. Just another one of the perks of living in Virginia Beach…
Vibrant Surrounding Communities Of Hampton Roads
Because this city is part of a larger community called Hampton Roads. A metropolitan area that is home to nearly 2 million residents.
Each of the other 6 cities of Hampton Roads has a unique character and feel about it. The cities are…
Chesapeake
Hampton
Newport News
Norfolk
Portsmouth
Suffolk
To give you a hand here's a geography lesson so you can get your bearings…
The Cities Of Hampton Roads
First, Norfolk, Chesapeake, and Virginia Beach are located close to each other.
Norfolk acts as the downtown area for Virginia Beach. Since it doesn't have a traditional downtown of its own.
While Chesapeake borders these two cities to the south. It is inland and doesn't have oceanfront property.
To the northeast of these 3 cities. On the other side of the Hampton Roads bridge tunnel to the. And across the Chesapeake Bay. You will find the cities of Hampton and Newport News.
Then, by crossing another waterway by bridge to the south you have Portsmouth and Suffolk.
Putting it all together, you can think of it as a giant triangle of these 7 cities of Hampton Roads. Separated by waterways and connected by bridges and tunnels.
Finally, if that's not enough. You can be across the southern Virginia state border in about 45 minutes. To explore North Carolina and its barrier islands in the Atlantic Ocean.
Okay. It's time to transition. Because that's all the good stuff.
However, an article about the pros and cons of living in Virginia Beach would not be complete. Without addressing some of the disadvantages of moving here.
Let's do it…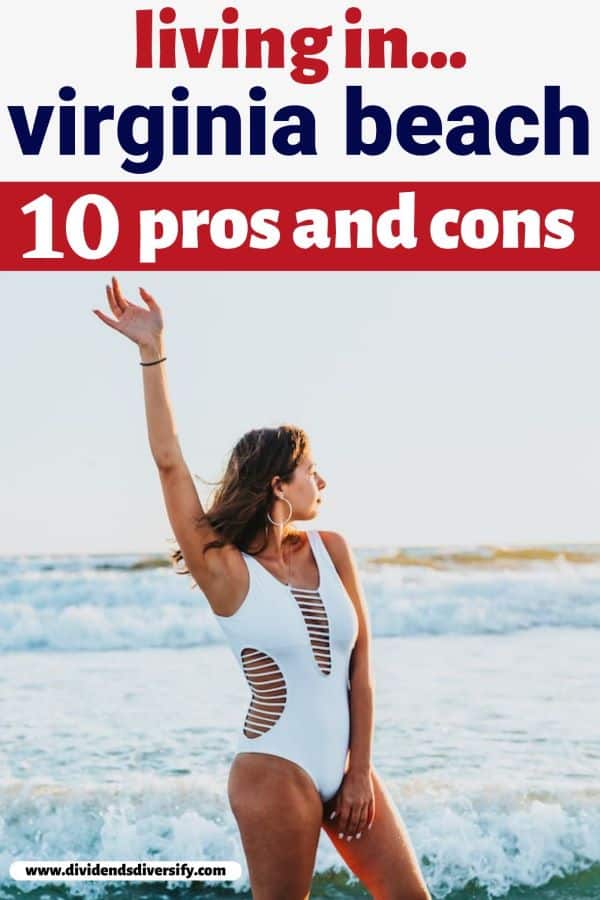 Higher Cost Of Living
Let me get to the point. You can find a cheaper place to live in the south.
So, let me put the financial pieces of the puzzle together for you. Regarding the average cost of living in Virginia Beach.
Pricing Out The Virginia Beach Lifestyle
First of all, this is a resort-like coastal community on the Atlantic ocean. The weather is generally nice and there are no harsh winters to deal with here.
Furthermore, the public schools are high quality. And crime is low.
Unfortunately, this type of living arrangement doesn't come with a bargain price tag.
Thus, the average cost of living is a little higher here. Of course, much will depend on where you choose to live. And the lifestyle you desire.
For example, waterfront real estate usually carries a hefty price premium.
To get a feel for it, I scanned sites like bestplaces.net and payscale.com. They estimate the cost of living to be anywhere between 3% and 10% higher than the national average.
To save a little money, we use the cash-back app from Rakuten. It's an easy way to reduce your expenses on everything you buy online. No matter where you live!
Also, another one of the worst things about Virginia Beach living that adds to the cost is…
High Tax Rates
Because the beach, the schools, the public services to handle the tourists, and the crime prevention come at a cost too. Specifically, higher taxes.
First, Virginia has an income tax that can easily take 5% of a typical family's income.
I mean come on. Just head west and live in Tennessee. One of only a handful of states where residents do not pay state income tax.
Second, sales taxes are no bargain either. Plan on paying roughly 6% on top of the cost of the things you buy to maintain your lifestyle.
Finally, Virginia has a hefty gasoline tax too. Adding almost 30 cents per gallon every time you fill up at the pump.
So, if you think there are a lot of money considerations when moving to Virginia Beach. You are right.
So make sure your financial house is in order. I use Empower to pull our spending, budget, and investments all together in one place online.
Empower makes managing your money less of a chore.
Speaking of driving and gasoline, I have another one of the disadvantages of living in Virginia Beach for you…
Tough To Get Around
First, as you know by now, the city is surrounded by water. This means…
The Roadways In And Around Virginia Beach
There are a lot of narrow roads, bridges, and tunnels.
As a result, even when traffic isn't all that heavy. Accidents, breakdowns, and road construction can slow things down a lot. Making your knowledge of alternate routes a must.
Rush Hour Traffic In Virginia Beach
Next, there is heavy rush hour traffic.
So choose your work and home locations carefully. Otherwise, you may regret the additional time spent commuting for your workday.
Beach Traffic
Finally, being close to the beach means heavy summer traffic.
Tourists traveling to the beach in summer can make Interstate 264 a real log jam. With the I264 and I64 interchange frequently being an issue.
Advice For Getting Around This Beach Town
Thus, the best advice I can provide is this:
Decide what you want out of all the pros and cons of moving to Virginia Beach. Then move closer to that, whatever "it" is you desire the most. Thus, reducing your time spent driving.
Depending on your exact circumstances, you might even find Norfolk or Chesapeake to be a better fit. While making the drive into Virginia Beach only when you choose to go.
It all depends on the lifestyle priorities you set for yourself. When moving to the Hampton Roads area.
Finally, what you will find is it's virtually impossible to get around without owning a car. Which only adds to the road congestion.
Yes, there is Hampton Roads Transit (HRT). The primary public transportation provider for the region. They mainly have a fixed-route bus system.
But, for the most part, HRT won't get you where you need to go when you need to get there.
Next, and continuing with another one of the cons of living in Virginia Beach…
Problems With Pollution
It's too bad such a lovely place struggles with pollution. Here's what I mean…
Naval Air Station Oceana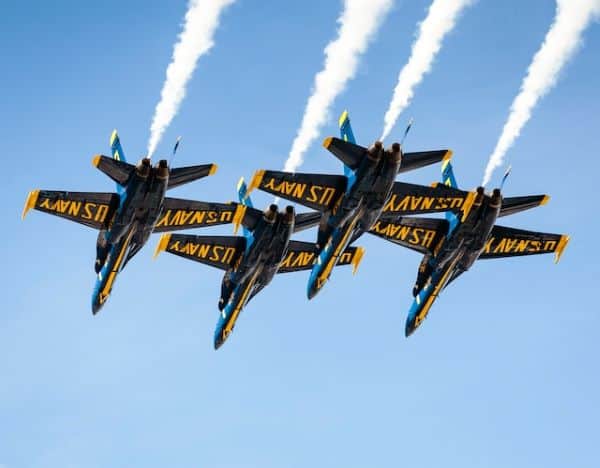 First, the jet noise from Naval Air Station Oceana can be disturbing. Especially for people who haven't experienced it before.
During times of heavy flight operations, it can shake your house, interrupt conversations, and drown out your television.
So, the closer you live to the base, located just south of Interstate 264 and 2 miles west of the ocean, the louder it gets. Because this is a major installation for the U.S. Navy's air fleet.
To be fair, NAS Oceana was first constructed and opened in 1943. At that time, it was in the middle of nowhere.
But because of its premium location. And people's desire to live in the area, developers built around it.
Water Pollution
Next, the city monitors recreational waters weekly for bacteria. When testing reveals an area doesn't meet water quality standards, the city will issue swimming advisories.
High bacteria levels in the water can result from wildlife waste, pets, storms, agricultural runoff, breaks in wastewater pipes, or boat discharges.
Industrial Pollution
Finally, a little farther away, but still close to home. Both Newport News East End and Norfolk's Lambert's Point get complaints about coal dust.
Thus, negatively impacting the quality of the air. Primarily in these more industrialized parts of the area.
Next, and sticking with environmental concerns, here is one of the very important reasons not to move to Virginia Beach…
Risks Of Extreme Weather
First of all, you know by now this city is located on the ocean. So…
Hurricanes And Tropical Storms
Hurricanes and tropical storms are a possibility every year.
Thus, formal watches and warnings are common. Heavy rains and high winds are typical, mostly during the fall weather season.
These storms can be devastating. As the recent experience with Hurricane Ian showed.
Flooding
Furthermore, flooding is a common occurrence. Even inland off the coastline and closer to downtown Norfolk.
So you will want to learn about the places you can and can not go. Especially, during the fall storm and hurricane season when flooding is most prevalent.
Because roads can and will flood. As a result, blocking your route to wherever you are traveling.
Finally, when buying a home, be sure to check into the history of flood issues in the neighborhood. Because flooding is a very real problem here. As the entire area is comprised of flood zones.
Take the time to talk with people who live on or near the street you're interested in.
Ask if they have had flood problems. Because you don't have to be on or near the water to have issues. Most importantly, remember that water problems around your home can be devastating.
Last but not least, here is another one of the reasons not to live in Virginia Beach. At least for some people…
Transients And Tourists
If you want to live in a place where your friends and neighbors remain the same. And the people you see on the street and around town are a constant. Then this may not be the place for you.
Military Personnel
First, a lot of military families live in the area.
They come and go over time. Because of their changing deployments and the relocations that come with them.
Tourists
Second, this city attracts plenty of tourists.
Because millions of people come here every year to enjoy the beach and the surrounding resorts. Thus, jamming into a small area of your hometown.
As a result, the oceanfront gets crowded. Wait times increase at popular restaurants. Traffic to and from the beach is heavy.
Making matters worse, many drivers are not familiar with the area. Thus, they aren't sure where they are going.
Fortunately, when the fall comes, the tourists depart. And finally, the locals can have their beach back.
So, to sum it up, you have to be comfortable with residents moving in and moving out. Also, throngs of tourists descend on this town every year.
Okay, I hope that's enough to help you make your decision about moving to Virginia Beach.
So, allow me to close with a few parting thoughts…
Pros And Cons Of Living In Virginia Beach
Before moving to Virginia Beach, carefully consider all of the advantages and disadvantages.
We have covered a lot, so I have summarized them in this table for your convenience.
Table 1: List Of Living In Virginia Beach Pros And Cons
| | |
| --- | --- |
| 10 Virginia Beach Pros | 10 Virginia Beach Cons |
| Plenty of jobs | Cost of living |
| Solid economy | High taxes |
| Low crime rates | Rush hour traffic |
| Good schools | Beach traffic |
| Outdoor activities | Public transit |
| Arts & cultures | Jet noise |
| Fresh seafood | Air & water pollution |
| Good weather | Tropical storms |
| Nice neighborhoods | Flooding |
| All of Hampton Roads | Transients & tourists |
The pros and cons of Virginia Beach summarized
Your Questions Answered About Life In Virginia Beach
Today's review should give you a good start answering some important questions. Such as…
1) Is Virginia Beach a nice place to live?
and…
2) Should I move to Virginia Beach?
Finally…
Exploring Beyond The Virginia Beach Lifestyle
Thanks for reading. And be sure to check out all of our…
Living the Good Life Guides by City and State
…just in case Virginia Beach is NOT the right place for you!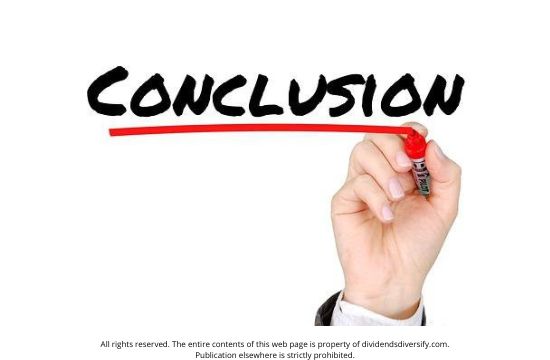 Author Bio, Disclosure, & Disclaimer: Please join me (Tom) as I try to achieve my goals, find my next place to live, and make the most of my money. However, I am not a licensed investment adviser, financial counselor, real estate agent, or tax professional. Instead, I'm a 50-something-year-old, early retired CPA, finance professional, and business school teacher with 40+ years of DIY dividend investing experience. I'm here only to share my thoughts about essential topics for success. As a result, nothing published on this site should be considered individual investment, financial, tax, or real estate advice. This site's only purpose is general information & entertainment. Thus, neither I nor Dividends Diversify can be held liable for losses suffered by any party because of the information published on this website. Finally, all written content is the property of Dividends Diversify LLC. Unauthorized publication elsewhere is strictly prohibited.
The Pros And Cons Of Living In Virginia Beach Explained