Spending Money at the Farmer's Market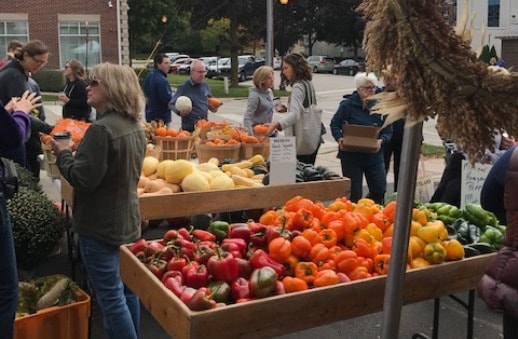 A few weeks ago I wrote about how we save money at our local farmers market. First of all, it is not really what you think.
To save money while enjoying your local farmers market here are the 3 things I recommended:
Get free exercise by walking to and from the market

For a light snack or lunch, try some free samples

Enjoy some of the free local entertainment that is provided
WHAT ABOUT BUYING THE PRODUCTS?
You may notice I didn't mention buying anything. So let's flip it around today and talk about spending money at the farmer's market.
Can you save money by shopping at a local farmers market? I really doubt it. The products are high quality goods from local farmers and artisans. It's great stuff, but it is all premium priced. Furthermore, we can usually find quality products for less money at our local grocery stores.
SO WHY DID WE BUY?
In contrast, with our farmers market closing down for the season we wanted to make some purchases of our favorite products that we have sampled this summer. Certainly we wanted to support the local vendors.
Also, we had Mrs. DD's sister in town visiting for a few days. She and her husband own and operate a small farm in Tennessee. And they sell their products at farmer's markets. As a result, Mrs. DD's sister wanted to see how our farmer's market operates.
Most of the produce vendors had packed it in for the season. Which is okay. We had our eye on other items. Finally, with the eating frenzy of the holiday season upon us, I thought it would be a good time to give a summary of what food we purchased and enjoyed over the subsequent days. So grab a coffee and check it out with me.
THEN WHAT DID WE BUY?
So if this article is about spending money at the farmer's market, then what did we buy? Here is the bounty: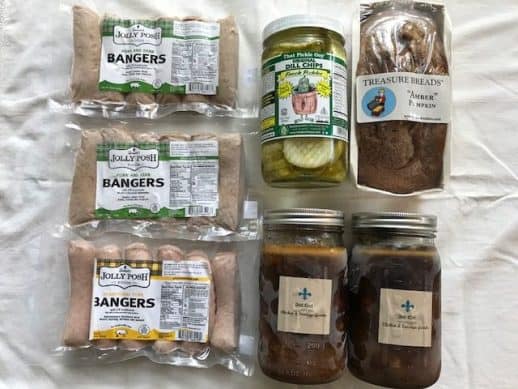 SPENDING MONEY AT THE FARMER'S MARKET
Here is what we bought and what it cost:
3 packs of sausages, $20

2 large glass jars of gumbo, $30

A large jar of pickles, $7.50

A loaf of pumpkin bread, $11
As you can see, none of the items are cheap. But they are really good. Restaurant quality, in my humble opinion without the restaurant price tag.
If you think about it, one bowl of gumbo at a restaurant would probably be $10. A grilled sausage on a bun at a sporting event would be close to $10. So no money saving bargains at the farmer's market, but it is all in how you look at it.
I like how Mr. Groovy from Freedom is Groovy put it when he commented on the first article…."Not every purchase in life has to be optimized. Paying a little more at your local farmer's market is well worth it". And of course, I agree with Mr. G!
WRAP UP
You can enjoy many aspects of your farmer's market for free

There are not many bargains if you choose to buy, but

Not every purchase in life needs to be optimized
And that last point is the personal finance lesson for today. Don't let saving money every day get in the way of living life. Just be smart about it and make good, thoughtful decisions.
Pardon me while I go enjoy a sausage. It is quite possibly one of my favorite foods. Right up there with pizza.
More importantly, what's your favorite food?
BE SURE TO SUBSCRIBE
As part of your subscription to Dividends Diversify, you will get 20 wealth building and investment tips free! In addition, never miss a new post. I will send a weekly email to all subscribers with a link to the current weeks new content. Finally, thanks for visiting.
PINTEREST
Are you a Pinterest user? Then be sure to follow Dividends Diversify on Pinterest by clicking this link: Pinterest Home Page. Then click the red follow button. And be sure to save this pin for later!