Moving To Indiana May Be Your Ticket To The Lifestyle You Desire
Is relocating to "The Hoosier State" on your radar? If yes, let's zero in on the essential things to know before moving to Indiana.
Whether you are moving back to Indiana or are a first-time resident, we have it covered from lifestyle, work, school, and more.
Let's get moving.
Things To Know Before Moving To Indiana
Here's what to expect when moving to Indiana:
Distinct lifestyle options
Affordable cost of living
Modest taxes
Abundant farmland
Diverse economy
Excellent colleges and universities
Changeable and extreme weather
Friendly but primarily similar people
Limited public transportation
Extreme boredom is possible
Next, let's review these vital things to learn about Indiana living. Then, you can make an informed decision about if moving here is right for you.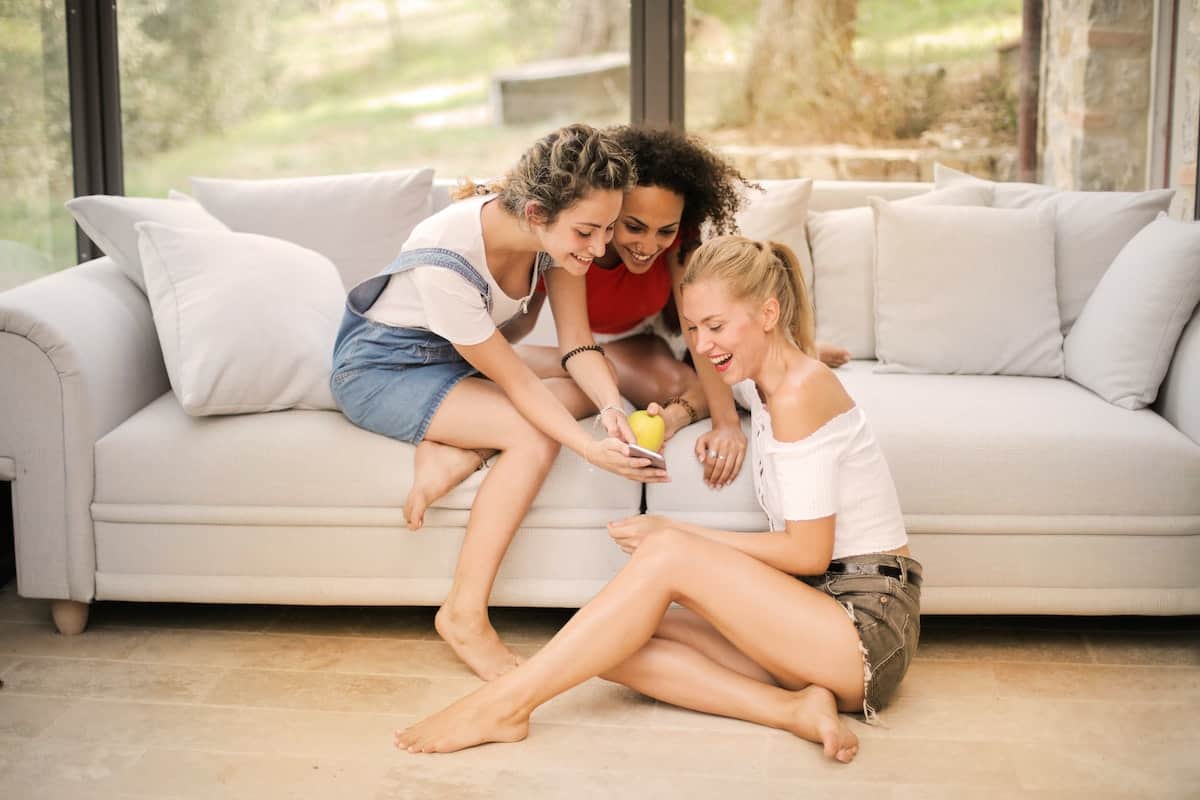 Disclosure: At no cost to you, I may get commissions for purchases made through links in this post.
1. Distinct Lifestyle Options
The first of my ten things to know before moving to Indiana is the availability of different lifestyle options.
City living. The Indianapolis metropolitan area offers a vibrant urban setting with nearly 2 million residents. People here enjoy fine dining, nightlife, and professional sports.
However, the next largest city is Fort Wayne, with only about 250,000 residents.
Small-town living. Beyond the city lights of Indianapolis, the state is mainly a collection of small towns and mid-sized cities.
Outdoor living. Southern Indiana gives way to rolling hills and forests. The area is excellent for outdoor lovers who enjoy hiking, biking, and lake living.
If you choose Southern Indiana, check out Brown County State Park. The park is one of my favorite places to hike in the area.
Northwest Indiana living. Northwest Indiana is distinctly different because of its gritty industrial roots. Residents here enjoy easy access to Chicago, Lake Michigan, and Indiana Dunes National Park.
2. Affordable Cost Of Living
The second important thing to know about Indiana is the state has a moderate cost of living.
First, median home values run roughly 40% less than the U.S. average. Second, groceries, health care, utilities, and transportation also cost less.
Most importantly, Indiana routinely ranks as one of the cheapest places to live in the U.S. Thus, the low cost of living makes for an attractive retirement destination for Indiana seniors and others on a tight budget.
3. Modest Taxes
Before moving to Indiana, the state's reasonable tax burden is another good thing to know.
First, the highest income tax bracket tops slightly over 3%. Better yet, under certain economic conditions, the state has approved reduced income tax rates moving forward.
Second, according to Wallet Hub, Indiana residents enjoy affordable property taxes. The state ranks as one of the country's lowest ten states for real estate taxes.
4. Abundant Farmland
Here is the next thing you should expect when moving to Indiana.
Nearly two-thirds of land in Indiana is devoted to farming. Corn and soybeans are the two largest crops. Wheat, hay, and tomatoes are also grown.
5. Diverse Economy
The fifth thing you must know before moving to Indiana is the state's economic diversity.
Beyond agriculture, Indiana is known for the following industries:
Manufacturing
Health care
Pharmaceuticals
Livestock production
The growing economy is one of the 20 largest in the United States. Furthermore, the unemployment rate is modest for job seekers.
6. Excellent Colleges And Universities
Another one of the things to know about Indiana is the quality of higher education options available in the state.
Families with college-age adults can choose from outstanding private and public schools, including the following:
Indiana University in Bloomington
Notre Dame in South Bend
Purdue University in West Lafayette
Butler University in Indianapolis
Indiana State University in Terre Haute
University of Indianapolis
7. Changeable And Extreme Weather
The seventh thing to know before moving to Indiana is about everyone's favorite topic: the weather.
On a positive note, Indiana residents enjoy all four weather seasons.
On the other hand, summers can get uncomfortably hot and humid. In comparison, winters can bring plenty of snow, ice, and cold temperatures.
For anyone moving back to Indiana's northern area, expect heavy lake-effect snow during the winter.
Relocate to Indiana's southern region for a more moderate winter climate and the beautiful fall season with its changing leaves.
Finally, tornadoes are a risk from the spring season through the fall.
8. Friendly But Primarily Similar People
The next thing to expect when moving to Indiana is about the people.
I find the state's residents friendly, well-mannered, and down-to-earth. However, they are mostly "cut from the same cloth."
Thus, you won't find a lot of racial, religious, or political diversity here as you might in another state. For example, white, Christian, conservative thinkers form the majority here.
9. Limited Public Transportation
The ninth of my ten things to expect when moving to Indiana is the lack of public transportation. Studies have shown that less than 1% of the population regularly uses public transit.
Public transportation systems outside of Indianapolis are limited at best. Thus, traveling within your community around the state almost always requires a car.
10. Extreme Boredom Is Possible
The last thing to know before moving to Indiana is that many people consider Indiana a dull place to live in.
Much of the state is a collection of sparsely populated small towns spread across a vast and primarily landlocked area of farmland.
Nightlife options are limited, there are no mountains or ocean beaches, and the weather could be more cooperative, to name a few of the issues. Some have called it one of the least fun states in the country.
As a result, depending on where you move, be ready to create your entertainment.
Okay. That completes my review of the essential things to know before you relocate to Indiana.
So, please allow me to wrap up with some final thoughts.
Things To Know About Indiana Before Moving
Indiana is an excellent place to live. There is a region, city, or town to serve divergent lifestyles at an affordable cost.
However, many factors are location-specific. Thus, before choosing your exact place to settle down, do your research. Otherwise, you may regret moving to Indiana.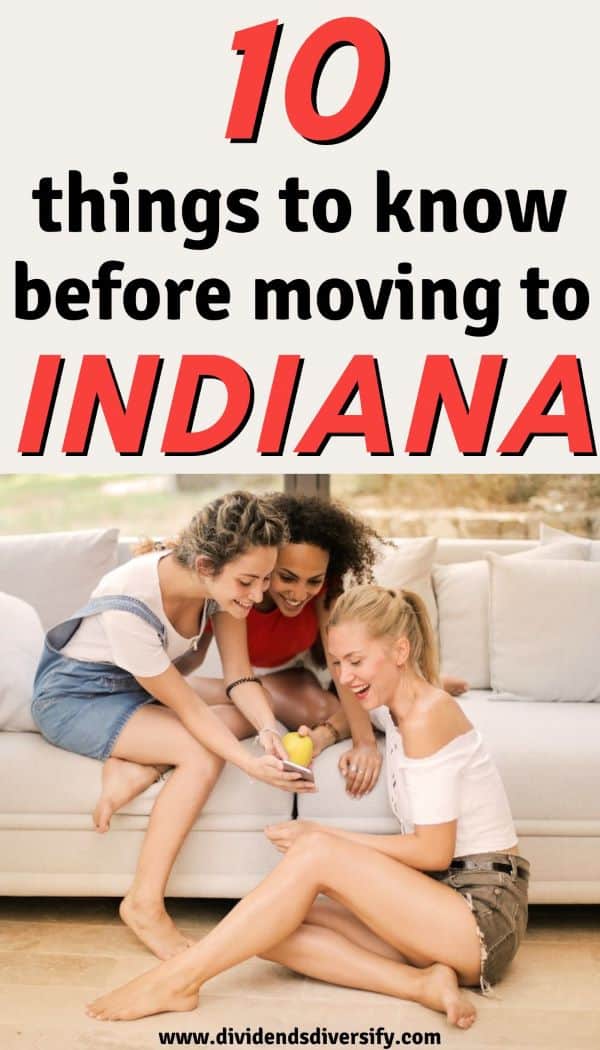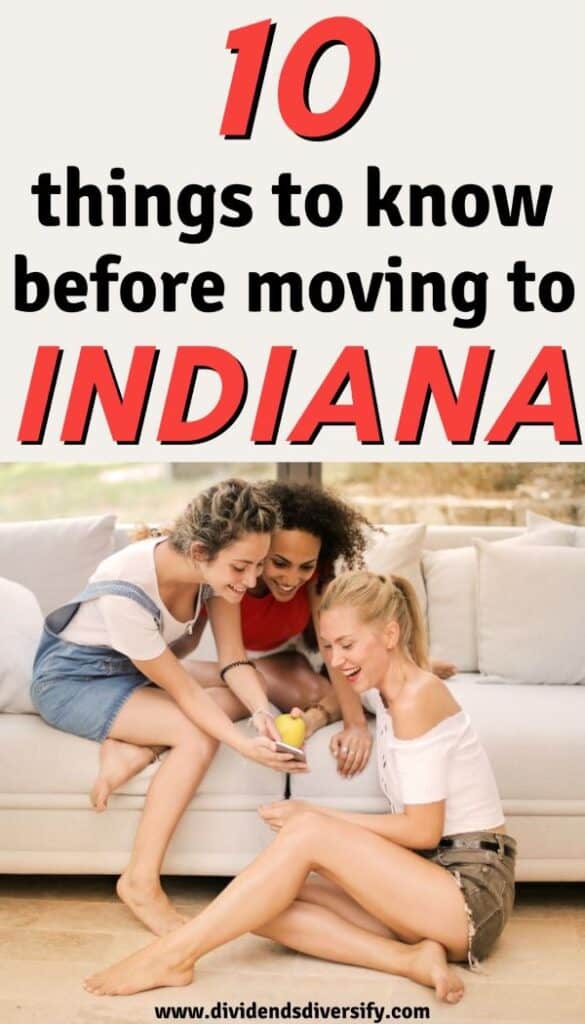 Author Bio, Disclosure, & Disclaimer: Please join me (Tom) as I try to achieve my goals, find my next place to live, and make the most of my money. However, I am not a licensed investment adviser, financial counselor, real estate agent, or tax professional. Instead, I'm a 50-something-year-old, early retired CPA, finance professional, and business school teacher with 40+ years of DIY dividend investing experience. I'm here only to share my thoughts about essential topics for success. As a result, nothing published on this site should be considered individual investment, financial, tax, or real estate advice. This site's only purpose is general information & entertainment. Thus, neither I nor Dividends Diversify can be held liable for losses suffered by any party because of the information published on this website. Finally, all written content is the property of Dividends Diversify LLC. Unauthorized publication elsewhere is strictly prohibited.
10 Things To Know Before Moving To Indiana Explained