Discover The Main Reasons People Are Retiring To Indiana
Is Indiana a good place to retire? I'm here to tell you it is, and I have several reasons for believing so.
Let's dive right in and cover the big-picture view right away. Then, I will get into the details.
Why Indiana Is A Good Place To Retire
Indiana is a good state to retire in for anyone seeking a high quality of life supported by the low cost of living, moderate tax burden, convenient access to health care services, and central location. Furthermore, retirees love the urban amenities offered in Indianapolis and the natural beauty of the state's southern regions.
Are you ready for more about what makes retirement living in Indiana an excellent choice? If yes, let's go deeper into today's topic, addressing eight reasons Indiana is a good place to retire.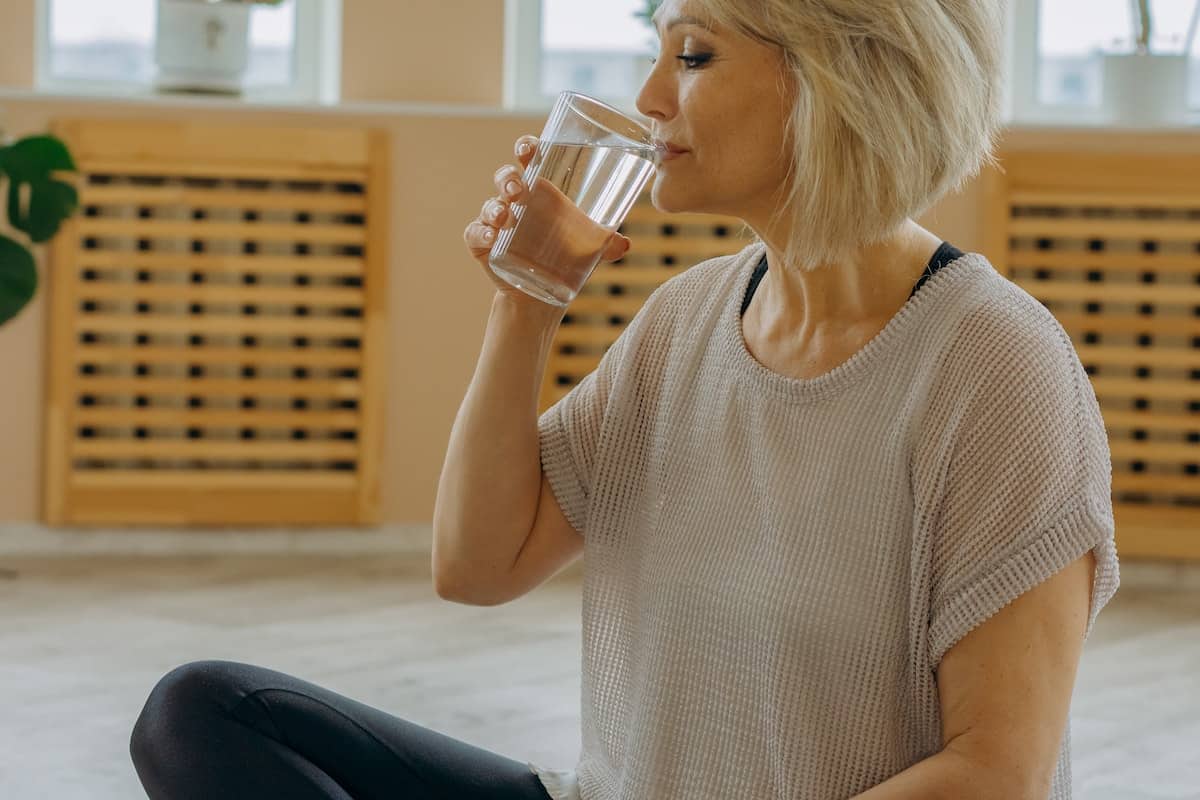 Disclosure: At no cost to you, I may get commissions for purchases made through links in this post.
1. The Low Cost Of Living Makes Indiana Retirement Friendly
Indiana is a good place to retire because of the low cost of living.
First, the state has a low median home price. Values are nearly 40% less than the national average. Furthermore, Indiana's overall cost of living index is 10% lower than the rest of the United States.
Source: wisevoter.com
To further emphasize, cost-of-living studies routinely show Indiana is one of the cheapest states to live in.
2. Indiana's Retirement Taxes Are Reasonable
Indiana is a good state to retire in because of the state's reasonable tax burden.
Compared to some other states in the Midwest, income taxes here are a bargain. For example, the tax rates are considerably lower than the state's neighbors—Illinois, Kentucky, and Michigan.
First, Indiana does not tax social security income.
Second, the state has a flat income tax rate of just higher than 3%. Better yet, under certain economic conditions, the state has approved reduced income tax rates moving forward.
Finally, real estate taxes are a bargain. Combining affordable home values with reasonable property tax rates means Indiana residents have some of the lowest property tax bills in the country.
3. Retiring In Indiana Means Different Lifestyle Choices
Many people are considering retirement in Indiana because of the abundance of lifestyle choices.
First, there are vibrant college towns:
Bloomington – Indiana University
South Bend – Notre Dame
Terre Haute – Indiana State University
West Lafayette – Purdue University
Second, you can get to know your neighbors and join the community in any one of the dozens of small towns. Kick back and enjoy the relaxed pace of life in small-town Indiana.
Finally, Indianapolis is a good place to retire for seniors seeking an urban lifestyle. I have more on retiring to Indianapolis a bit later.
Okay. We are just getting warmed up. Before moving to Indiana for retirement, my next point is critical to know.
4. Accessible Health Care Options For Retirees In Indiana
Indiana is retirement-friendly because of the quality and breadth of its hospital system.
The Indiana University Health Medical Center in Indianapolis tops the list of highly regarded hospitals.
Other top-notch medical care centers include:
Deaconess Hospital in Evansville
Ascension St. Vincent Hospital in Indianapolis
IU Health Ball Memorial Hospital in Muncie
Memorial Hospital of South Bend
Parkview Regional Medical Center in Fort Wayne
Community Hospital of Anderson and Madison County
Franciscan Health Indianapolis
Mishawaka Medical Center
5. Indianapolis Offers Retirees Excellent Urban Amenities
Another reason Indiana is a good place to retire is because of Indianapolis, the state's capital city.
Indy is located right in the heart of central Indiana. Thus, residents all over the state have convenient access to everything this bustling midwestern metropolitan area offers without the hassles of the country's megacities like Chicago.
Thus, getting around and enjoying everything the city offers is easy. For example, Indianapolis residents can access professional sporting events, diverse shopping experiences, fine dining, fantastic festivals, entertainment, museums, and cultural events.
So, Indianapolis is a good place to retire in Indiana for anyone who enjoys urban living. Choose from the city proper or one of the quiet, comfortable suburbs.
Either way, you can't go wrong retiring in Indianapolis, Indiana.
6. Southern Indiana Retirement Is Best For Outdoor Lovers And Natural Beauty
For my taste, retiring in southern Indiana is the way to go. By heading south from Indianapolis, the terrain turns to rolling forested hillsides. The area is an outdoor lovers paradise, perfect for the adventurous retiree.
Some of Southern Indiana's outdoor attractions include:
Brown County State Park
Charleston State Park
Deam Lake State Rec Area
Hoosier National Forest
Big Oaks National Wildlife Refuge
My wife and I love visiting Brown County. The area has a relaxed vibe and caters to visitors looking for a convenient and fun getaway.
7. Indiana Retirees Enjoy Four Distinctive Weather Seasons
Retirees love Indiana because of its varying weather patterns throughout the year. Thus, nothing is boring in Indiana when it comes to the weather.
Spring features mild temperatures in the 40s, 50s and 60s. There is plenty of rainfall and thunderstorms that bring the blossoms to life.
Summers are warm and humid. High temperatures reach into the 80s and 90s.
Fall sees crisp, cool weather. The season offers stunning fall foliage through October and November before winter arrives.
Winter is brisk. Temperatures rise only into the 20s, 30s and 40s. Expect snowfall, especially in the northern parts of the state.
Pro tip: Retire to southern Indiana for warmer winter temperatures and limited snowfall.
8. Conveniently Located For Indiana Retirees Who Love To Travel
Many retirees want to spend their newfound freedom traveling. Fortunately, Indiana is an excellent place for getting away whenever your retirement lifestyle calls for it.
First, Indiana sits at the crossroads of several major interstate highways, including I-65, I-69, I-70, and I74. These key interstate routes conveniently connect Indiana to the rest of the country.
Major cities like Chicago, Detroit, Louisville, and Cincinnati are within a day's drive. The state's central location allows for reasonable flying times anywhere in the country, departing from Indianapolis International Airport.
Okay. That's all I have about Indiana retirement today. So, please allow me to summarize my thoughts.
Why Is Indiana A Good State To Retire In?
Indiana is a good place to retire for the following eight reasons:
Low cost of living
Reasonable tax burden
Abundance of lifestyle choices
Accessible health care
Indianapolis' urban amenities
Southern Indiana's outdoor beauty
Four distinctive weather seasons
Central location for easy travel
Put all these pieces together, and you won't regret moving to The Hoosier State for retirement.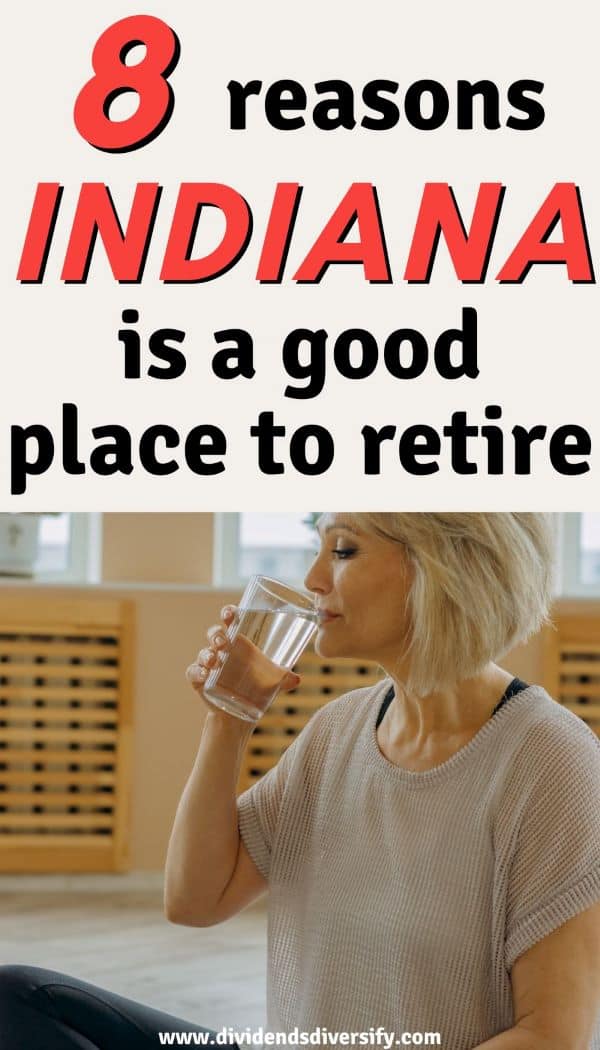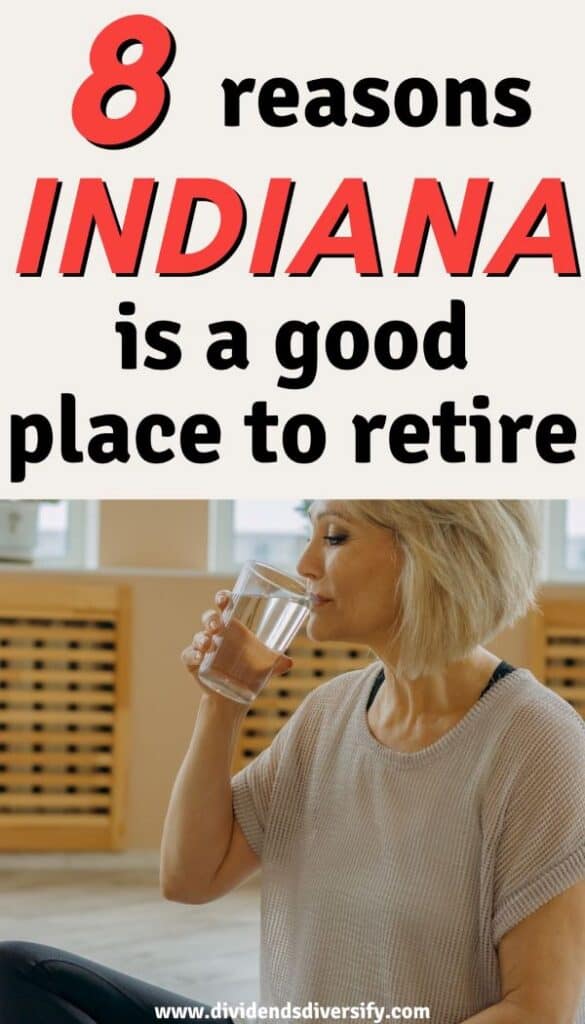 Author Bio, Disclosure, & Disclaimer: Please join me (Tom) as I try to achieve my goals, find my next place to live, and make the most of my money. However, I am not a licensed investment adviser, financial counselor, real estate agent, or tax professional. Instead, I'm a 50-something-year-old, early retired CPA, finance professional, and business school teacher with 40+ years of DIY dividend investing experience. I'm here only to share my thoughts about essential topics for success. As a result, nothing published on this site should be considered individual investment, financial, tax, or real estate advice. This site's only purpose is general information & entertainment. Thus, neither I nor Dividends Diversify can be held liable for losses suffered by any party because of the information published on this website. Finally, all written content is the property of Dividends Diversify LLC. Unauthorized publication elsewhere is strictly prohibited.
Why Indiana Is A Good Place To Retire