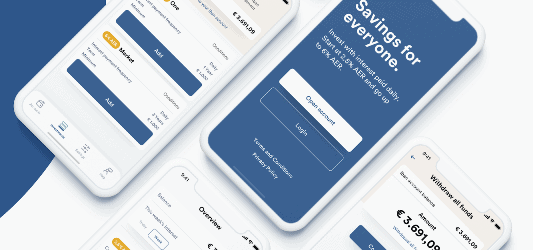 Today's article is about the peer-to-peer lending company, Iban Wallet.
In the peer-to-peer lending industry, Iban Wallet is a relatively new player. So, let's learn a little more about them.
Please note that today's article is sponsored on behalf of Iban Wallet. All information presented is based on my research. And, all opinions are my own. But please understand this is not a recommendation to invest. Do your own research. All investments have the risk of loss.
My experience lending money comes from bonds and bond funds. I have not personally loaned or borrowed money on a peer-to-peer basis in the past. So as I began researching Iban Wallet and its service offerings, I had a lot of questions of my own to answer.
You may have the same questions that I did, so I set this article up in a question and answer format. I hope you find it informative and useful.
What Is P2P Lending?
Peer to peer lending is known as P2P lending for short.
P2P lending enables individuals to obtain hard asset loans directly from other individuals. The P2P lending process cuts out traditional financial institutions as the middleman.
Companies and their websites that facilitate P2P lending have greatly increased adoption. As a result, P2P lending has become a viable method of financing for borrowers. And is no longer an unusual alternative investment opportunity for those looking to invest.
What Is Iban Wallet?
Iban Wallet is an online investment platform. The platform offers investors several different types of asset-backed investment products with different terms and returns.
The company was founded in 2016. Its original focus was collecting deposits in Europe. And then, lending that money in Latin America.
Now, they have grown and are a global company. Their deposits and loans originate from all over the world.
How Does Iban Wallet Work?
The company acts as an intermediary to the lending process.
Borrowers apply for a loan, supported by their credit information and collateral. Loan originators that work with Iban will select only the best applicants and present these potential loans to Iban for approval
Investors can invest in different types of asset-backed investment products with different terms and interest rates. The investment provides a passive income stream.
Unlike other P2P marketplaces, Iban does not allow the investor to choose the specific loans or assets they would like to invest in. Rather, Iban aggregates many loans together that form the basis for their account offerings.
What Types Of Accounts Does Iban Wallet Offer An Investor?
They have 4 different accounts an investor can select from. The account types offer different interest rates, terms, and minimum investments.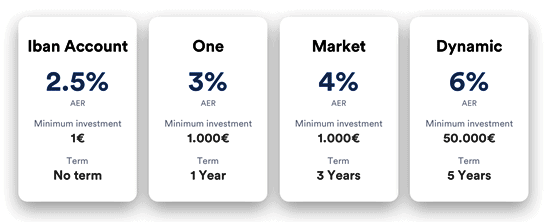 Source: Iban Wallet accounts
What Account Security Processes Has Iban Wallet Put In Place?
Investor funds are deposited in an Electronic Money Institution (EMI) regulated by the European Central Bank. Also, they have implemented the following security measures:
Automated regulatory compliance to prevent money laundering and terrorism financing
Multi-step protection of investor identity
Real-time transaction notification to ensure investors are always informed
Source: Iban Wallet account security
How Much Money Do I Need To Open An Iban Wallet Account?
You can get started with an Iban account with as little as $1. Accounts that pay higher interest rates require larger initial deposits.
What Safeguards Are In Place To Reduce Risk Of Loss With An Iban Wallet Account?
Their accounts do not fall under government-backed depositor protection plans. So, investor accounts are not guaranteed. Therefore, there is a risk of loss.
This is in contrast to United States Banks that offer FDIC insurance. Or, the FSCS depositor protection plan in the United Kingdom.
However, they have several different safeguards in place to limit your risk of loss as an investor.
Let's cover those safeguards next…
Loan selection
On an individual loan level, the loan originator issues loans by following their established underwriting and credit evaluation policies. This process is monitored by Iban Wallet.
Selection steps include industry-standard processes. Also, advanced checks to verify identity, credit, affordability, and fraud. These steps are taken to ensure borrowers are trustworthy and creditworthy.
Diversification
Their loans are aggregated. So, when you invest in one of the Iban Wallet accounts you are lending your money to several different borrowers. Not just one. Solid diversification is a fundamental investing principle.
Collateral
All loans are asset-backed investments. This means if a borrower defaults on their loan payments, their assets are contractually available to seize and sell to pay off the loan.
Buy Back Guarantee From Loan Originators
All loan originators have a buyback guarantee on the loans they originate.
What is the buyback guarantee? It means that if the loan payments are delayed by more than 90 days, the loan originator will repurchase the investment. They will pay the value of the principal and any accrued interest until the date of the buyback.
Safeguard Trust
The safeguard trust is a provision capital account with reserves funded by Iban Wallet. It provides investors with protection in case any loan originator fails to administer the investments.
To fund the safeguard trust, a proportional monthly balance is set aside. The amounts collected are held in the trust for their investors.
The safeguard trust is designed to provide additional protection in case of failure of the loan originator's buyback guarantee.
What Do I Give Up For This Level Of Safety With Iban Wallet Accounts?
All of the investment protections come at a cost. That cost is lower interest rates for the investor.
It is just a risk and reward relationship. Lower potential risk means lower potential rewards.
For example, you could source and loan money to a friend who lost their job. Perhaps you could agree to a 9% interest rate on that loan for one year. And that entire 9% would be yours to keep, assuming your friend pays you back in full.
But, look at what you give up:
Diversification
Collateral
Buyback guarantee
Safeguard trust
So in my example, the investor has more risk of loss. But also, more reward in the form of a higher interest rate and return on investment.
How Quickly Can I Access Cash From My Iban Wallet Account If I Need It?
Interest income from an investment is projected to be credited to your account daily. All or part of your original investment and interest can be redeemed at any time. Thus, your investment account is very liquid.
But understand that 3 of the account types are subject to an early termination charge. The base-level Iban Account is never affected by this charge.
The One, Market and Dynamic accounts do have a charge. It is the lesser of 2.5% of the total amount in the account or the accrued interest at the time of cancellation.
Since the early termination charge never exceeds the accrued interest at the time of the cancellation, the investor will always get back at a minimum, their initial investment.
How Much Does It Cost To Invest With Iban Wallet?
Other than the charge for early termination that we just discussed, there are no fees associated with an investor's account.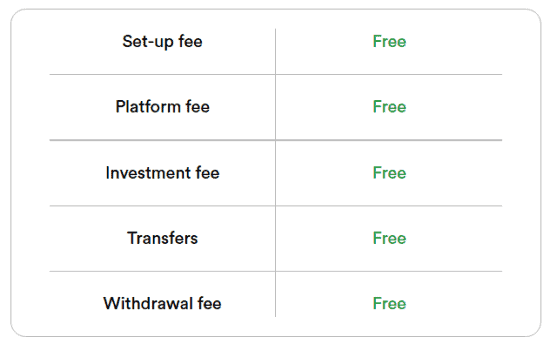 Then How Does Iban Wallet Make Money?
As I mentioned earlier, the borrower is paying a higher interest rate than you as the lender is getting paid.
That spread between the interest rates provides Iban Wallet with a profit margin for providing their services.
Does Iban Wallet Have An App?
Yes. The Iban Wallet app provides easy access to your account.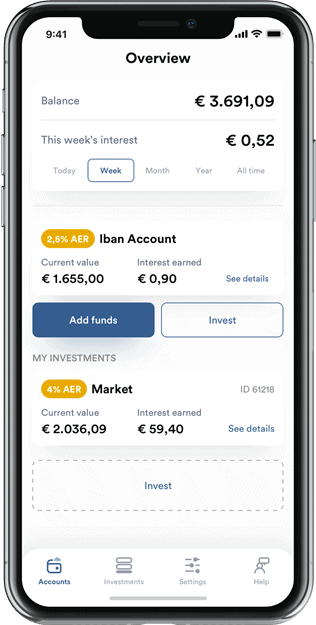 How Do I Open an Iban Wallet Account?
To open an account, you must be at least 18 years old. And reside in one of the countries in which they offer services. Accounts are available in the majority of European countries and the United States.
The account opening process is simple and fast. You can create an account online in a few minutes. Plan to have the following information available: email address, contact phone number, and identification.
To fund the account the investor can use a debit card, credit card, or bank transfer. Accounts are currently offered in the following currencies: Euro, US dollar and Mexican Peso.
Iban Wallet Review – Conclusion, Pros, And Cons
Is an Iban Wallet account right for you?
I can't say for sure since I'm not familiar with your financial situation. So, be sure to do your due diligence and make your own investment decisions.
That being said, here are some of my conclusions and things to think about if you are considering investing with Iban Wallet.
Iban Wallet may be right for you if you:
Prefer a simplified solution to participate in P2P lending
Do not desire to select individual P2P loans
Prefer stable investment values versus stocks and bond markets
Like the certainty of fixed rates of return
Like seeing interest earned and credited to your account each day
Desire liquidity – immediate access to your cash if necessary
Want higher interest rates (and risk of loss) than traditional government-backed banking products
On the other hand, if you desire to:
Be a more active versus passive investor in P2P lending & select the individual loans you wish to participate in
Have more direct ability to manage your risk and return profile
Desire a more established provider in the P2P space with a longer operating history
Then, you may want to consider other P2P lending options.
Author Bio, Disclosure, & Disclaimer: Please join me (Tom) as I try to achieve my goals, find my next place to live, and make the most of my money. However, I am not a licensed investment adviser, financial counselor, real estate agent, or tax professional. Instead, I'm a 50-something-year-old, early retired CPA, finance professional, and business school teacher with 40+ years of DIY dividend investing experience. I'm here only to share my thoughts about essential topics for success. As a result, nothing published on this site should be considered individual investment, financial, tax, or real estate advice. This site's only purpose is general information & entertainment. Thus, neither I nor Dividends Diversify can be held liable for losses suffered by any party because of the information published on this website. Finally, all written content is the property of Dividends Diversify LLC. Unauthorized publication elsewhere is strictly prohibited.
I am not a current Iban Wallet customer. Nor have I invested with Iban Wallet in the past.