By definition, investing is the act of committing money to an endeavor with the expectation of obtaining a profit.
The goal of investing is to put your money to work in one or more types of investment vehicles in the hopes of growing your money over time.
Conquer the basics of money management. Then move up the Dividends Diversify wealth pyramid. And dip your toe into a few good investments.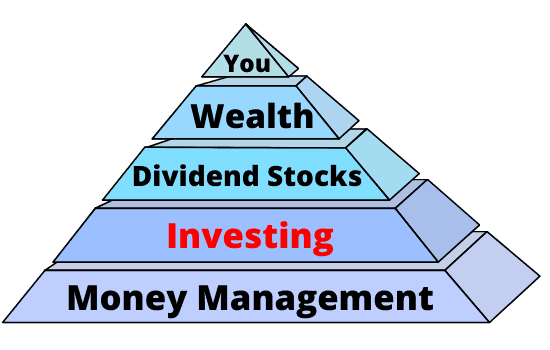 To invest successfully, ground yourself in some fundamental principles and concepts. Let's break them down into 3 main categories.
Types of investment assets
Investing tips and techniques
Investment tools
Types Of Investment Assets
This series of articles covers a wide range of different investment types. The articles are broken down into categories. But, realize the categories can overlap.
For example, an income-producing asset can also be an asset that appreciates. So, let the article titles guide you to your investing area of interest.
Assets That Appreciate
Income-Producing Assets
Exchange-Traded Funds (ETFs)
Real Estate
Investing Tips & Techniques

Just like any activity, when it comes to investing, there are tips, techniques, and best practices. This series of articles covers many important aspects of investing.
From building an investment portfolio. Protecting it, and optimizing it are the types of topics addressed.
Investing For Income
Income investing strategies have become more popular in recent years. So, I have put together a series of articles to address this topic.
Tips On Investing in Exchange-Traded Funds
Techniques & Tips For Investing In Stocks
Best Practices Across Various Investment Types
Investing Tools
And finally, here are a few good tools to make the most of your investments.
Disclosure & Disclaimer
Disclosure & Disclaimer: I am not a licensed investment adviser, financial adviser, or tax professional. And I am not providing you with individual investment advice, financial guidance, or tax counsel. Furthermore, this website's only purpose is information & entertainment. And we are not liable for any losses suffered by any party because of information published on this blog.