When Improving Dividend Yield And Building Dividend Income Are Your Goals
Let's talk about how to increase dividend income today.
Because I am a big fan of increasing income to build wealth. Not only active income from work. But also passive income from dividends.
So, today we look at several different ways to increase dividend income and improve dividend yield.
Let's get started…
How To Increase Dividend Income Using 5 Different Methods
To build dividend income, put in place these strategies…
Invest new cash in dividend-paying stocks
Receive dividend increases from the companies you own
Reinvest your dividends
Swap lower-yielding stocks for those with higher dividend yields
Practice dollar-cost averaging
I'm going to go through each of these ways to increase your dividends in a moment. But first, I want to cover a couple of related and critical topics.
Starting with the all-important "why"? Because knowing why we do something. Motivates us to do it!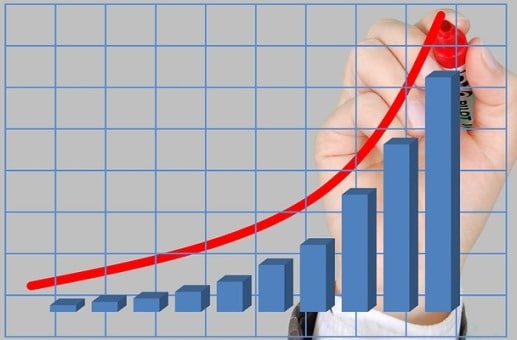 Disclosure: At no cost to you, I may get commissions for purchases made through links in this post.
Why Increase Dividend Income?
We all can build wealth by creating a gap between our income and expenses. Most importantly, by increasing income, reducing expenses, or a combination of both. Doing so creates free cash flow.
Then, with your monthly cash flow, you can do several important things to improve your financial situation.
Specifically…
Build up your emergency fund
Pay off debt
Save money
Invest money
These are the basic building blocks. For creating wealth and achieving financial independence.
Of course, you can find a lot of information about reducing costs. Housing, cars, and food are usually big targets. Much of it is common sense and self-discipline.
On the other hand, I like to focus on increasing income. Why is that?
Because costs can only be decreased by so much.
In contrast, the potential to increase income is unlimited. And if you want to live off dividends to cover expenses. Then suffice it to say, more income is better.
Next, to improve dividend yield. And maximize dividend income. You must have this one thing…
A Dividend Portfolio
A group or portfolio of dividend stocks is required. You need to have or put one in place to make dividends and increase that dividend income over time.
Whether you choose to hold your dividend stocks in a taxable brokerage account. Or, a Roth IRA. The portfolio is your foundation.
Either way, this raises important questions about increasing dividends. Just how many dividend stocks do you need? And what kinds of companies pay growing dividends?
The Number Of Stocks And Industries You Need
Well, it can be as few as 3 stocks. However, a foundation of 5 dividend stocks is better for anyone just getting started.
Most importantly, academic research suggests that adequate diversification can be achieved. By just owning the stocks of 20 to 25 companies. Assuming they are spread among a variety of industries.
For example, these industries and business sectors typically pay solid and growing dividends…
Food and beverage
Health care
Household goods
Real estate investment trusts
Pharmaceuticals
Telecommunications
Utilities
…just to name a few.
Furthermore, you can get some stock-specific ideas from our dividend resource center.
Where I have set up a model portfolio. And completed reviews for the stocks held in it.
Better yet…
You may also benefit from the Simply Investing Report and Analysis Platform.
The service covers hundreds of dividend stocks. And provides the last dividend metrics for all of them. Plus, suggestions for the best dividend stocks to buy. And when to buy them.
Funds And ETFs Are Options Too
Or, consider one or more dividend-focused mutual funds, index funds, or exchange-traded funds (ETFs). Because most of the ways to increase dividends that we are going to discuss still apply.
My favorites are the Vanguard High Dividend Yield ETF (VYM). And the Vanguard Dividend Appreciation ETF (VIG). They are 2 solid choices among the lineup of Vanguard dividend funds.
Then with your portfolio of dividend stocks in place. We have finally come to the moment you have been waiting for.
Here are the 5 primary ways to increase your dividend income.
Use these methods to create a rising stream of monthly dividends from your dividend income portfolio…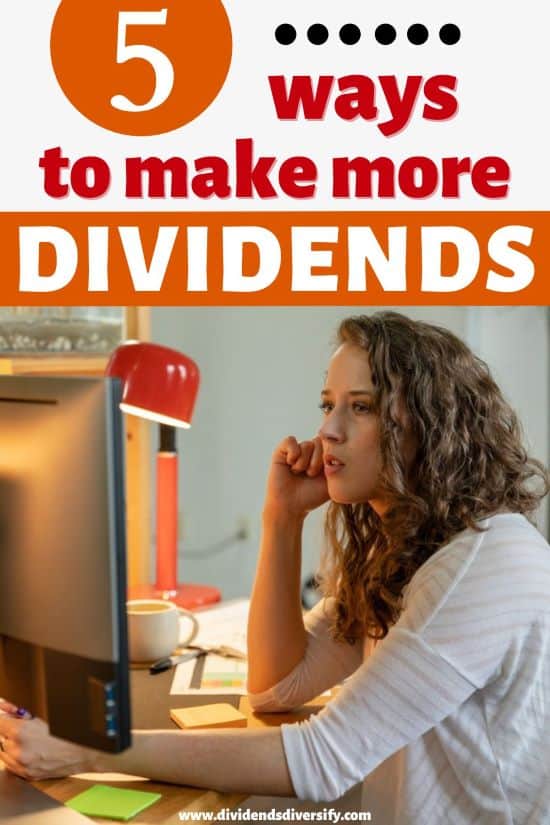 1. Invest New Cash In Dividend-Paying Stocks To Increase Dividend Income
When you make more money from your job. Versus what you spend during the month, you have created free cash flow.
Use your free cash flow to maximize dividend income by…
Adding to one of your existing dividend stocks
Initiating a position in a new dividend stock
As a result, your dividend income increases. The increase is the amount invested times the stock's dividend yield at the time of purchase.
For even more dividends, let's move on to the second way to increase dividend yield and dividend income…
2. Receive Dividend Increases To Increase Dividend Income
Dividend increases from the stocks I currently own are my favorite way to increase dividends. Sometimes this is referred to as organic dividend growth.
Furthermore, there are lots of dividend-paying companies. Increasing their stock dividends on an annual basis. They are often referred to as dividend growth stocks.
The actual amount of the dividend increase depends on several factors. They can range from a few percentage points to 8% or even more.
Finally, some companies increase their dividend payments annually for many years without interruption. The longest-running dividend increase streaks are held by companies known as Dividend Kings and Dividend Aristocrats.
These are the kind of companies I like to own in my portfolio. Hence, buy, hold, and let the company do the work to maximize dividend income.
3. Reinvest Your Dividends To Increase Dividend Income
It's a great idea to reinvest your dividends to accelerate monthly dividend income growth.
Thus, with the dividends you receive. Reinvest them back into your portfolio of dividend stocks.
There are several ways to go about reinvesting for increasing dividends. Each method has its own set of advantages and disadvantages.
But you can't go wrong with any of these…
First, consider investing through company-sponsored dividend reinvestment plans (DRIPs).
Second, you can instruct your stock broker to automatically reinvest the dividends paid. Right back into the stock that paid them.
Last but not least, let your dividends accumulate in cash. Then periodically reinvest them in the stock or stocks of your choice.
To sum up, whatever method you choose. Reinvesting dividends can be a good idea.
Next up, is the fourth strategy for higher dividend income through dividend investing…
4. Swap Lower-Yielding Stocks For Those With Higher Dividend Yields To Increase Dividend Income
Consider the option of selling some or all of a portfolio holding and replacing it with another.
I'm not a huge fan of this method. Since I prefer to buy and hold my dividend growth stocks forever. However, sometimes this method can make a lot of sense.
For example…
Let's assume a stock in your portfolio has increased in value by a significant amount. Of course, this is great news.
As a result, it may have created a very low dividend yield. Because a stock's dividend yield moves in the opposite direction of the stock price.
Thus, you may decide to sell all or part of this highly appreciated stock.
Then, reinvest the proceeds in a different stock with a higher dividend yield. As a result, your portfolio's dividend yield improves, and your dividend income increases.
Last but not least, our 5th way to generate higher dividend yields for more income from stock dividends…
5. Practice Dollar-Cost Averaging
Dollar-cost averaging (DCA) is simple. It just means investing the same amount of money into stocks regularly. Typically, using a monthly or quarterly time frame.
Unless of course, you are an expert at timing the stock market. Which most of us are not.
By using the DCA approach, more shares are purchased when stock prices are lower. And fewer shares when stock market prices are higher.
Most importantly, by consistently dollar-cost averaging into dividend stocks. Over the long run, it often results in a lower total average cost per share.
And by lowering your average cost per share. By default, you increase the dividend yield on the cost of your investments. Also, increasing the amount of dividend income you make per dollar invested.
Okay. That concludes the 5 points I wanted to review today. For creating dividend growth from your stock portfolio.
So, allow me to wrap up with a few parting thoughts…
How To Increase Dividend Income
Increasing your income from great dividend-paying stocks is a key element to building wealth.
So, to increase dividend income and dividend yield, consider implementing these methods:
Invest new cash in dividend-paying stocks
Receive dividend increases from the companies you own
Reinvest your dividends
Swap lower-yielding stocks for those with higher dividend yields
Practice dollar-cost averaging
Finally, some investors use options to increase dividend income. I have never personally used this strategy. So, I elected not to put it on today's list.
Thanks for reading. And good luck with your investments As you pursue the growth of your dividend income.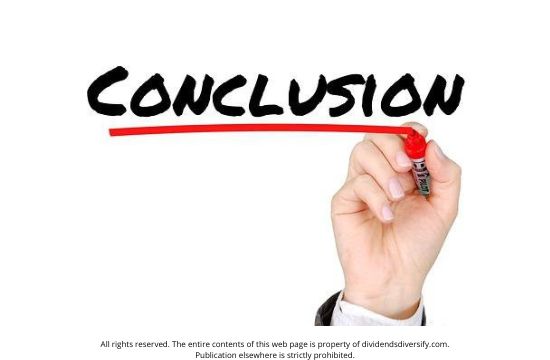 Author Bio, Disclosure, & Disclaimer: Please join me (Tom) as I try to achieve my goals, find my next place to live, and make the most of my money. However, I am not a licensed investment adviser, financial counselor, real estate agent, or tax professional. Instead, I'm a 50-something-year-old, early retired CPA, finance professional, and business school teacher with 40+ years of DIY dividend investing experience. I'm here only to share my thoughts about essential topics for success. As a result, nothing published on this site should be considered individual investment, financial, tax, or real estate advice. This site's only purpose is general information & entertainment. Thus, neither I nor Dividends Diversify can be held liable for losses suffered by any party because of the information published on this website. Finally, all written content is the property of Dividends Diversify LLC. Unauthorized publication elsewhere is strictly prohibited.
How To Increase Dividend Income Explained