Things To Know Before Moving To Jacksonville Florida
If you are asking yourself this question: is Jacksonville a good place to live? Then, I'm here to outline the pros and cons of living in Jacksonville FL.
Whether you are thinking about moving to Jacksonville for retirement, work, or just a fresh start in life. This guide will help you think through that decision.
For coming up with the right answer to this question: should I move to Jacksonville?
So, let's dive right in…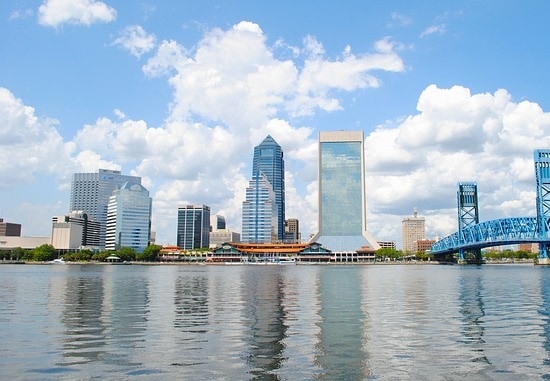 Disclosure: At no cost to you, I may get commissions for purchases made through links in this post.
Pros And Cons Of Living In Jacksonville FL
Our top 10 list of living in Jacksonville FL pros and cons includes:
Big city life with a small-town vibe
Nice neighborhoods to choose from
Affordable cost of living
Plenty of fun things to do
Nice weather to enjoy
Higher crime rates
Limited public transportation
Cars required
Difficult travel conditions
Lower incomes
Next, let's talk about each of these points about life in Jacksonville in more detail.
And before you go. Be sure to check out all of our guides about where to live. Just in case Jacksonville doesn't work out.
But for now, here's the first of our reasons to live in Jacksonville FL…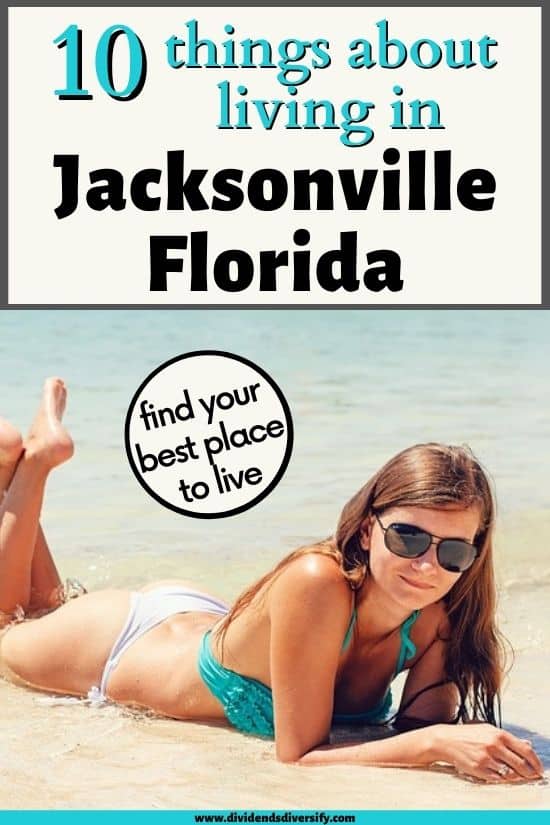 Big City Life With A Small-Town Vibe
Based on its land area, Jacksonville is the largest city in the United States.
It is also ranked in the top 15 of all U.S. cities based on population. And is located in expansive Duval County.
On the other hand, residents will say this city has a nice community feel about it.
Since it is comprised of many smaller neighborhoods. They each have their unique look and feel.
Speaking of neighborhoods…
Nice Neighborhoods To Choose From
Whether you are looking for downtown Jacksonville living, retirement communities, or districts with excellent schools.
You will find, that Jacksonville living has a little something for everyone.
Some of the more notable neighborhoods include:
Atlantic Beach
Bartram Park
Beachwalk
Deercreek
Fruit Cove
Murray Hill
Neptune Beach
Nocatee
Ocean Way
Palm Valley
Ponte Vedra Beach
Riverside-Avondale
San Marco
Of course, the more sought-after locations. Especially near the waterfront. Tend to be the most expensive.
So, you will be glad to know…
Affordable Cost Of Living
For a big city, the Jacksonville cost of living is surprisingly low. Yes. There are other cheaper places to live in Florida. For sure.
But, the low cost of living is nice. Compared to other major cities.
First, you will find groceries, health care, utilities, and transportation are generally on par with the national average.
More importantly, home prices and real estate are where residents save their money.
According to BestPlaces.net, the median home price in Jacksonville is about 20% less. Versus what you will find elsewhere in Florida. And the same percentage less than the median home value in the United States.
Another area where all Florida residents save is income taxes. Because one of the great things about the state of Florida is this. It does not charge an income tax on its residents.
For a family moving from a state with an income tax. The savings here can be substantial.
As a result, many part-time residents. Sometimes called "snowbirds" look to change their address of record. Just to save on taxes.
This is not an issue if you pick up and move to Jacksonville, or anywhere in Florida. But for part-time residents, be sure to consult with your tax advisor.
Finally, if you want to save a little more money in Jacksonville. Or, anywhere you choose to settle down.
Be sure to sign up for Rakuten. It's the best app for earning cashback rebates on all of your online purchases.
But for now, back to the pros and cons of living in Jacksonville FL…
Plenty Of Fun Things To Do
Most people find there is plenty of recreation and entertainment to be found in Jacksonville.
Living in Jacksonville Means Water And Beaches
First, this is a city for beach lovers in the audience. No matter where you choose to live. Your commute to one of the area's beaches will be relatively short.
Whether you choose to go to…
Amelia Island
Atlantic Beach
Jacksonville Beach
Mayport Beach
Neptune Beach
Ponte Vedra Beach
Vilano Beach
… or others.
Furthermore, the St. John's River offers scenic views. Along with water sports such as fishing, boating, and water skiing.
Living In Jacksonville Means Parks
The city is also known for its large park system. For outdoor lovers, the parks are one of the great reasons to move to Jacksonville.
The list includes National Parks, State Parks, and City Parks. As a result, you will have no trouble finding your favorite green space to relax and recreate.
Some of the area's parks include:
Castaway Island Preserve
Dutton Island Preserve
Fort Caroline National Park
Fort Family Regional Park
George Island Cultural State Park
Hanna Park
Huguenot Memorial Park
Jacksonville Arboretum
Kingsley Plantation
Pumpkin Hill Creek Preserve State Park
Talbot Islands State Parks
Timucuan Ecological and Historic Preserve
Yellow Bluff Fort Historic State Park
Living in Jacksonville Mean Sports & Culture
Then, for sports lovers, you can take in pro football. Namely the Jacksonville Jaguars.
Or golf. With many public and private courses in the area. Including a stop on the PGA tour.
Finally, for anyone looking for a bit more on the cultural side of things. There is the Jacksonville Symphony Orchestra. Plus plenty of live music and art festivals throughout the year to enjoy.
When You Need To Get Out Of Jacksonville
Road trips are another great way to seek adventure while living in Jacksonville. Because Florida cities like Orlando, Tampa, and Miami are great for weekend getaways.
Also, consider the opportunities for short regional trips. For example, a historic coastal city like Charleston is within easy reach. Savannah too. They are good choices for sure.
Since Georgia is just across the state line to the north. And South Carolina is not far away. Just to name a couple of cities to consider around the area.
What makes all of these activities possible? It's the next item on our list of living in Jacksonville FL pros and cons…
Nice Weather To Enjoy
Many people move to Florida or Arizona, and other southern states for the warm climates they offer.
On the other hand, the state's intense summer heat and humidity can be tough to take.
But, one of the good things about Jacksonville, located near Florida's northern border. Is that the summers are less extreme.
While the winters are mild. And there is no snow to deal with.
Also, Jacksonville tends to avoid the worst of the hurricane season. Since direct hits from these violent storms are much less frequent. Versus other parts of of the state like Miami in South Florida.
Okay. An article about moving to Jacksonville FL pros and cons would not be complete. Without examining some of the reasons not to move to Jacksonville in the first place.
Let's do that now…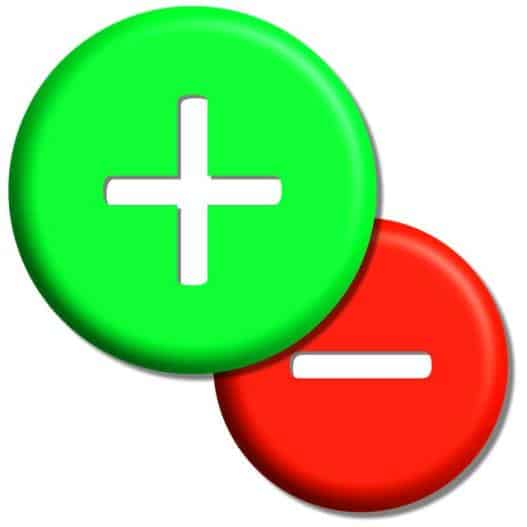 Higher Crime Rates
You will find that there are plenty of safe neighborhoods to choose from in Jacksonville. But overall, the metropolitan area has a crime rate higher than the national average.
Both property crime and violent crime are contributors to the problem. So, do your research and choose your exact location wisely.
Doing so will ensure your safety. For both you and your family.
Limited Public Transportation
Public transportation isn't this city's greatest asset.
Inadequate scheduling. Coupled with frequent delays make this option a time-consuming hassle. At least for getting around town daily.
So, what does it mean?
Cars Required
A large land area and high population have a downside. Specifically, they have contributed to urban sprawl in and around the Jacksonville metropolitan area.
What's worse, with limited public transportation options, most people need a car. Unless of course, you can pull off living and your work in a confined environment.
That's possible, but not likely. So, plan on including an automobile in your plans for relocating to Jacksonville.
Ready for another one of our reasons not to live in Jacksonville? Here goes…
Difficult Travel Conditions
Popularity, cars, limited public transportation options, and urban sprawl, all come with a price. Specifically, heavy traffic and plenty of road construction slow down your commute.
Also, the city scores poorly for walkability. In addition to not being considered very bike-friendly.
So, these alternative forms of transportation. Won't help much when it comes to getting around.
You should also know that the largest airport, Jacksonville International. Does not provide nonstop international service.
It's an efficient medium-sized airport. Pretty good for regional travel. And trips up and down the east coast.
But, keep in mind that travel to the west coast will be time-consuming. If business or family take you in that direction.
For example, the flight time from Jacksonville to Seattle located in the state of Washington is almost 6 hours. Assuming non-stop travel.
Finally, one last of our Jacksonville FL pros and cons. Then, I will wrap up…
Lower Incomes
Even though Jacksonville is a larger city. It doesn't have the higher incomes often associated with other major metropolitan areas.
According to the U.S. Census Bureau, the median household income is 20+% less when compared to the United States as a whole.
The economy is growing. As is the population. With a job market comprised of diverse industries participating in the growth.
Unfortunately, economic and population growth have not translated to higher incomes for workers.
This may be partly due to the relatively few Fortune 500 companies headquartered in the area. And lesser representation from trending industries like technology.
As a result, there are a lot of moving parts when it comes to your money. When deciding if living in Jacksonville is right for you.
On the plus side, the Jacksonville cost of living is lower. And there are no state income taxes.
But you may have a harder time. When it comes to finding a high-paying job.
As a result, moving here (or anywhere) is a big deal. So, make sure you have your finances in order. Before, during, and after the big move.
I like and use Personal Capital. It's a free online tool for budgeting, monitoring your spending, and managing your investments.
Give Personal Capital a try. I think you will like it. And best of all, it's free!
Pros And Cons Of Living In Jacksonville FL
To conclude, here's a summary of the pros and cons of moving to Jacksonville.
Big city life with a small-town vibe
Nice neighborhoods to choose from
Affordable cost of living
Plenty of fun things to do
Nice weather to enjoy
Higher crime rates
Limited public transportation
Cars required
Difficult travel conditions
Lower incomes
Hopefully, this discussion has helped you with some important questions. Such as…
1) How is living in Jacksonville Florida?
and
2) Why move to Jacksonville?
Best of luck with your decision. No matter where you decide to settle down.
Searching For Your Best Place To Live?
And I mentioned it before but will do so again. In case Jacksonville isn't the right place for you.
Be sure to check out our where-to-live guides!
They are neatly organized. So one quick scroll will land you on what you are looking for.
Here's an example of just one of many. In case you are thinking about moving to Georgia. Just across the state line from Jacksonville.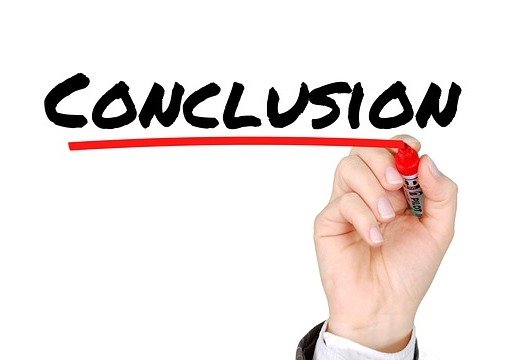 Author Bio, Disclosure, & Disclaimer: Please join me (Tom) as I try to achieve my goals, find my next place to live, and make the most of my money. However, I am not a licensed investment adviser, financial counselor, real estate agent, or tax professional. Instead, I'm a 50-something-year-old, early retired CPA, finance professional, and business school teacher with 40+ years of DIY dividend investing experience. I'm here only to share my thoughts about essential topics for success. As a result, nothing published on this site should be considered individual investment, financial, tax, or real estate advice. This site's only purpose is general information & entertainment. Thus, neither I nor Dividends Diversify can be held liable for losses suffered by any party because of the information published on this website. Finally, all written content is the property of Dividends Diversify LLC. Unauthorized publication elsewhere is strictly prohibited.
Living In Jacksonville FL Pros And Cons Explained