For Anyone Thinking About Moving To Ocala, FL
This article discusses the pros and cons of living in Ocala, Florida. A popular and growing city in the north-central region of the state.
Let's dive right in…
Pros And Cons Of Living In Ocala, Florida
20 important things to know before moving to Ocala:
A family-friendly small town
Affordable cost of living
No state income taxes
Plenty of fun things to do
Lots of outdoor activities
Horses and horse farms
Excellent central Florida location
Good access to healthcare
Warm and sunny weather
Minimal hurricane risk
Hot and humid summer weather
Possibility of tornadoes
Lacking big city amenities
No professional sports
Not close to the beach
Lots of retirees and seniors
Limited diversity
Little access to professional jobs
Growth and urbanization
Risk of sinkholes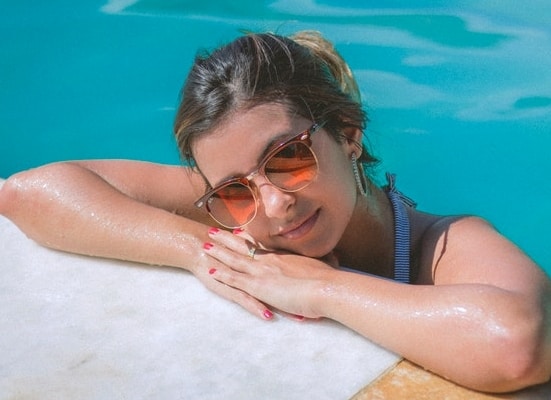 Disclosure: At no cost to you, I may get commissions for purchases made through links in this post.
After this first glance, if you aren't sure if Ocala is the best place to live. Then check out all of our…
Guided Posts About Where to Live
Otherwise, let's walk through these living in Ocala pros and cons one by one.
Starting with the pros…
A Family-Friendly Small Town
Located in Florida's Marion County, Ocala has a small-town feel about it.
First of all, there is a noticeable community spirit. While getting to know your neighbors and other folks about town is easy.
Furthermore, there isn't any hardcore traffic congestion. Like other, more urban parts of the state.
Next, everything is accessible. Just hop in your car. And in 25 minutes you can cross the entire city area.
Then exit the city limits and the surroundings turn rural. In case you are looking to invest in farmland. Or, build a house on vacant land. You have plenty of options.
Finally, crime is low. And the schools are good.
So, I think you will find Ocala is a nice place to raise a family.
Affordable Cost Of Living
You won't have to break your budget by moving here. Because the Ocala cost of living is reasonable.
According to BestPlaces.net, the overall cost of living is about 17% less than the Florida average.
The median home value is the largest contributor to the savings. Since you can purchase housing here for about 35% less compared to the rest of Florida. And the United States as a whole.
Want to trim a little more fat out of your budget? Then try the cash rebate app from Rakuten. For savings on all of your online purchases.
Next, another one of the best things about living in Ocala. Also, related to your money…
No State Income Taxes
Just by deciding to move to Florida, you can save on taxes.
Because the state does not have an individual income tax. However, federal income taxes still apply.
Depending on what state you are moving from. And how much money you make.
The tax savings can be substantial. Some families save thousands of dollars.
Thus, living in a no-tax state is a great way to improve your finances after you move.
Plenty Of Fun Things To See And Do
First, for getting out, some of Ocala's best features include:
A downtown square
Lots of shopping
Wide selection of restaurants
Movie theaters
A historic district
Furthermore, the month of November features the Light Up Ocala annual celebration. It kicks off the holiday season with a tree lighting ceremony that attracts thousands.
Finally, for arts and culture, you will find:
Fine Arts for Ocala Art Festival
The Appleton Museum of Art
Reilly Arts Center
Ocala Civic Theater
I think you will find that artists, vendors, and shops connect on a local level here. Unlike larger cities.
Lots Of Outdoor Activities
For outdoor lovers, Ocala is a great place to live.
There is the Ocala National Forest. Located just west of the city limits.
It is for camping, swimming, snorkeling, hiking, and canoeing. There you will also find crystal clear water sourced from natural springs.
Area lakes are popular attractions too. For boating, fishing, and other water sports.
And of course, there is a thriving golf community. With dozens of area courses to serve any skill level.
Next, here is one of the most unique things about Ocala…
Horses And Horse Farms
Because the city calls itself the Horse Capital of The World. Arguably, right up there with central Kentucky living for all of you horse lovers.
First of all, Ocala is home to the World Equestrian Center. It was constructed in 2021. And holds claim to the largest equestrian complex in the United States.
Furthermore, in the rural areas. You will find miles and miles of beautiful horse farms.
And throughout the year, there are many horse-related events. Including riding, training, and competitions.
Finally, many people work in the equine industry here in one capacity or another. Plus you will see supporting businesses including feed suppliers and gear stores.
As a result of this, a lot of money flows through Ocala. Specifically, due to the horse industry. It's very similar in this way to Lexington Kentucky.
Next, sometimes you just get out of town. To get away from it all.
Bringing us to one of the best things about Ocala…
Excellent Central Florida Location
Located in central Florida. With access to a good highway system. You can pack the car, get out, and enjoy the many other things that Florida offers.
Some examples include:
It is 90 minutes to the bustling Orlando metropolitan area. And the many popular theme parks located there.
A 2-hour drive east will put you in Daytona Beach. On the Atlantic Ocean.
While an hour and one half heading west. You can enjoy the more serene waters and pristine beaches of the Gulf of Mexico.
Just 2 hours and you can explore Florida's largest city by population, Jacksonville.
Or, head northwest out of Ocala on Interstate 75.
This drive will have you pass by Gainesville. Home to the University of Florida. En route to your destination Georgia.
Let's keep rolling through the pros and cons of moving to Ocala. Because we are just getting warmed up!
Good Access To Health Care
Ocala has some excellent health care facilities. Some of the options include:
The HCA Florida Ocala Hospital. It is highly rated for cardiac care.
Next, HCA Florida West Marion Hospital. Recognized for its orthopedic care.
Finally, there is UF Health Shands Hospital in nearby Gainesville. A highly regarded teaching hospital. It is associated with the University of Florida Medical School.
Next, let's talk a bit about everyone's favorite topic, the weather…
Warm And Sunny Weather
Florida is known for sunshine and warmth. And Ocala is no different.
You won't have to worry about winter. Because temperature rarely drops below 40 degrees.
So, leave your winter gear and snow shovels behind. When you are moving to Ocala.
Finally, for all of you who need the sun to feel your best. No worries.
Because bright daylight is abundant in the Sunshine State.
Minimal Hurricane Risk
Unfortunately, Florida is one of the most hurricane-prone states in the country. However, there is good news here.
Because of Ocala's inland location. It is protected from the brunt of these damaging storms.
After coming off the Atlantic Ocean or the Gulf of Mexico and hitting land. The wind and rain dissipate. Limiting damage and the threat to lives in this area.
Okay. That completes my review of all the great things about living in Ocala.
But, it is time to balance this conversation out. And present the other view.
So, here are the cons of Ocala living…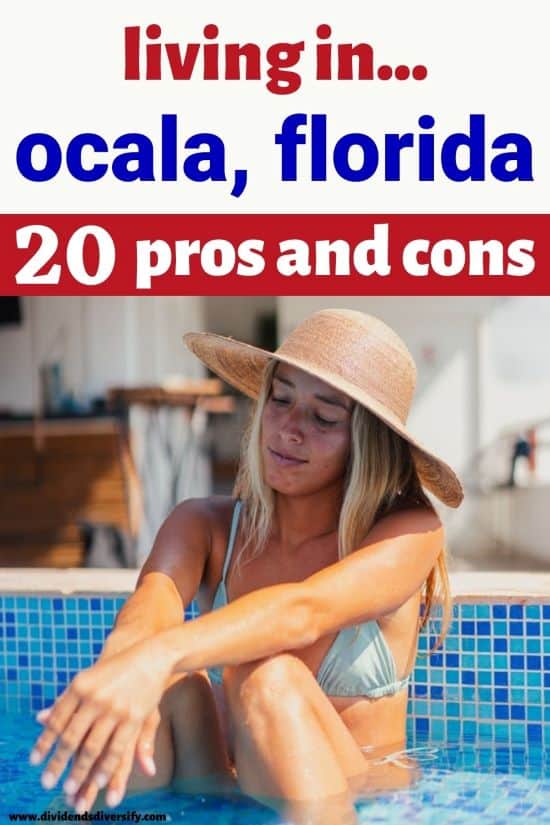 Hot And Humid Summer Weather
You need to either like or be able to tolerate summer heat and humidity. Since summertime temperatures routinely climb into the 80s and 90s.
Also, afternoon thunderstorms are typical. With the potential for dangerous lightning strikes.
Furthermore, the rain ramps up the humidity. And when the sun comes back out. Afternoons can feel like you are in a sauna.
Possibility Of Tornadoes
So, you won't have to worry much about hurricanes here. But that doesn't mean destructive weather events are out of the question.
Because Ocala and the surrounding areas are prone to tornadoes.
Look no further than a recent twister. That caused an estimated $15 million of damage.
Lacking Big City Amenities
Ocala remains a small town. Although a growing and developing one.
I think this line from a resident best sums it up…
"All your needs are covered in Ocala, but not necessarily all of your wants. When it comes to restaurants, high-end grocery stores, the arts, and luxury shopping."
So you won't find massive science and art museums like in Sarasota, Orlando, or Tampa. Or, a big city-style nightlife scene.
Finally, there isn't a lot to do for teenagers and 20-somethings.
No Professional Sports
If you like to enjoy pro sports by having the thrill of the stadium experience. You won't find that in Ocala.
Enjoy the many Florida pro sports teams from the comfort of your couch. Otherwise, plan on a visit to Tampa, Orlando, or Jacksonville to meet your live pro sports needs.
Not Close To The Beach
Most folks considering a move here usually ask: How far is Ocala from the beach?
And the answer is about a 90-minute drive in either direction to the east or west. To get to the Atlantic coast or the Gulf Coast.
So, this isn't like you are living in southwest Florida. Where access to pristine beaches on the Gulf Coast is readily available.
Lots Of Retirees And Seniors
Retiring in Ocala has become popular. Because of the warm winters, a moderate cost of living, and no state income tax.
Thus, Ocala has gained a lot of reasonably well-to-do retirees and senior citizens.
They favor early-bird dinners out in the local restaurants. And tend to drive a little slower about town.
But for the most part, they are no trouble. And they do support the local economy.
It's just that not everyone desires to be surrounded by older residents.
Leading me to my next negative point about Ocala…
Limited Diversity
Because there isn't a ton of diversity here.
Since most residents are older, retired, and fairly well off. Or, on the other extreme, working-age Floridians just trying to make ends meet.
You won't find much in between. Since there is little to keep or attract a younger upwardly mobile generation.
Partly due to…
Little Access To Professional Jobs
Since there are very few professional and higher-paying jobs in Ocala. That you more typically find in the urban population centers.
As a result, most people work in lower-paying service-related jobs. Or, the equine industry.
Next, depending on your perspective, this item may be one of the worst things about living in Ocala. Or, maybe not.
I don't know. You decide…
Growth And Urbanization
What used to be a very small tight-knit community. Surrounded by horse farms. Has grown significantly in recent years.
Mostly due to the influx of new residents. Desiring easier access to goods and services.
However, it's not to the liking of all the long-time locals.
Because they have watched their little town change and grow up. With a level of commercialization that hadn't existed before. And is not popular with everyone.
Risk Of Sinkholes
Finally, Florida in general. And this area of central Florida specifically, is susceptible to sinkholes.
They occur when the ground opens up. And to put it quite simply, it sinks.
At best, sinkholes are an inconvenience. At worst, a dangerous and costly issue for property owners.
Okay. That's all I have for today.
Allow me to wrap up with a few parting comments about moving to Ocala…
Pros And Cons: Is Ocala, Florida A Good Place To Live?
The Ocala lifestyle is hard to beat. With nice weather, affordability, things to do, and centrally located amidst several Florida urban centers. It's easy to see why so many have decided to call Ocala home.
But, moving here won't be for everyone. So make sure you consider all of these living in Ocala pros and cons before you do.
More Reading About Living In Ocala And Far Beyond
Don't forget we have dozens of…
…many of which are focused on the best towns and cities in Florida.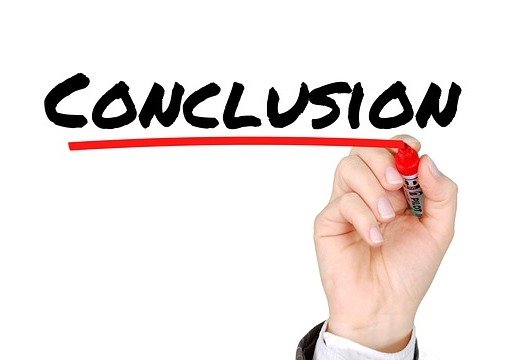 Author Bio: Tom Scott founded the consulting and coaching firm Dividends Diversify, LLC. He leverages his expertise and decades of experience in goal setting, relocation assistance, and investing for long-term wealth to help clients reach their full potential.
The Pros And Cons Of Living In Ocala Explained