For Anyone Thinking About Moving To Naples, Florida
On tap for today are the pros and cons of living in Naples, Florida.
In case you are looking for a perfect place in Florida to retire. Or just want a fresh start in life. In a warm-weather location.
Then moving to Naples might be the right choice for you.
But, before you do, it's a good idea to carefully consider these 10 living in Naples, Florida pros and cons…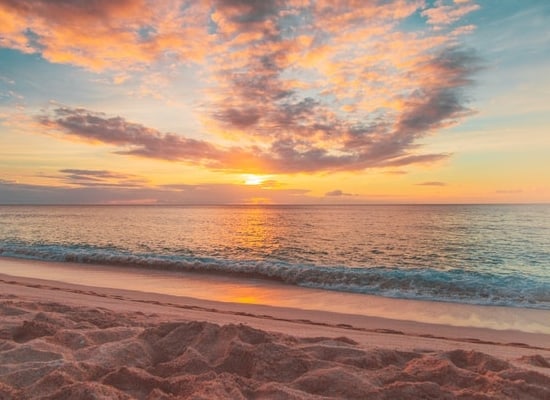 Disclosure: At no cost to you, I may get commissions for purchases made through links in this post.
Pros And Cons Of Living In Naples, Florida
So, to kick it off. Here's our top 10 list.
It includes both the advantages and disadvantages of Naples living:
Warm winter climate
Beautiful beaches
Lots of golf courses
Minimal crime
No state income taxes
High cost of living
Extreme weather
Too many tourists
Bad traffic
Lots of insects
We will cover each of these points in more detail. But first, I want to alert you to this:
Our suite of articles about the best places to live.
Just in case after reading today's post. You decide the Naples lifestyle isn't right for you.
Otherwise, let's cover the pros and cons of moving to Naples right now…
Warm Winter Climate
For anyone wanting to get away from cold winters. accompanied by ice storms and heavy snow.
Then you will love the winter season here. It is similar to the town's much larger neighbor. Specifically, Miami in Southeast Florida.
Understand that January is typically the coldest month. But I'm using the term "coldest" very loosely.
Since average daily high temperatures reach into the low to mid-70s. And nighttime temperatures bottom out around 60 degrees.
Furthermore, the surrounding winter months of December and February. Often the worst of the winter season in North America. Are comparable to January.
Thus, the winter temperatures are mild. While humidity and rainfall levels are not significant issues during this time.
So, it's easy to see why Southwest Florida is a perfect winter destination. For tourists, snowbirds, residents, and anyone who wants pleasant outdoor living conditions during wintertime.
Beautiful Beaches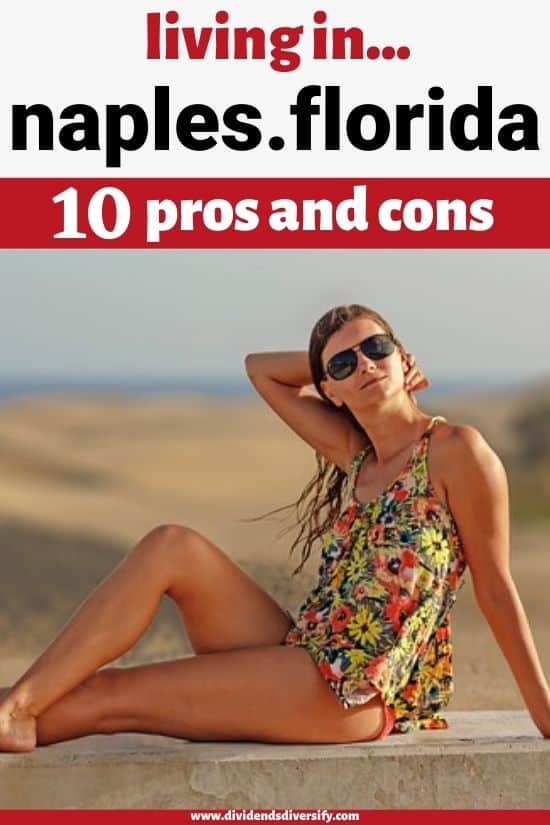 Living in Naples means access to spectacular beaches. Accompanied by stunning sunsets over the Gulf of Mexico.
First of all, when thinking about the beaches in the area. Picture clean and soft white sand. That is warmed to a comfortable temperature by the sun.
Plus, aqua clear blue water lapping at your feet.
Furthermore, a 17-mile drive from Naples will put you on Marco Island. A barrier island in the Gulf of Mexico. That is linked to the mainland by a bridge.
The island is considered to have some of the top beaches in the world.
So, for all of you beach lovers. That like to put your toes in the sand. Or cool off in the water.
Be sure to consider visiting some of the top beaches in the area.
Here is a sampling. But, with a little investigation, you can find more.
In case one of these doesn't meet your interests…
Barefoot Beach Preserve County Park
Clam Pass Beach
Delnor-Wiggins Pass State Park
Lowdermilk Park on Naples Beach
Naples Municipal Beach
Tigertail Beach (Marco Island)
Okay, we are just getting warmed up. So, let's continue with the pros and cons of Naples, Florida…
Lots Of Golf Courses
There are a lot of golf courses here. So, you won't have any trouble pursuing this favorite sport.
Because there are a wide variety of public and private courses to choose from. To fit your level of skill. Whether you are a beginner, pro, or somewhere in between.
Most noteworthy, there are nearly 100 18-hole golf courses to choose from in and around the area. The most courses of all cities in Florida. Earning this town, the title of "Golf Capital of the World".
While most of the courses are for private use only. For those of you who do not care to belong. Some excellent courses are open to the public.
Such as…
Lely Resort
Old Corkscrew Golf Club
Tiburon Golf Club
Otherwise, do your research. And find that perfect private membership that fulfills your needs and interests.
Minimal Crime
Naples is known for having an exceptionally low crime rate. As reported by the Naples Daily News, and based on FBI crime data, the city ranks as one of the safest in Florida.
First of all, statistics show that violent crime is virtually nonexistent. While the property crime rate is slightly higher, but not significantly so.
Furthermore, law enforcement is well staffed. Having one of the highest counts of police per 1,000 residents in the state.
Finally, many of the communities are gated. Contributing to the low crime rate. And adding an extra layer of security in and around many local residences.
No State Income Taxes
Another one of the benefits of living in Naples. Or taking up residence anywhere in Florida for that matter.
Is the fact that the state does not levy an individual income tax. One of only a handful of states in the country that does not tax your earnings.
For example, a family that makes an average household income in the United States. Which is approximately $70,000.
And lives in a state with an average income tax rate of 3%. Will pay more than $2,000 per year to their home state in income tax.
Furthermore, Florida does not have an estate or inheritance tax.
Finally, everyone's tax situation is different. So, be sure to talk to your tax advisor.
So, to sum up, the best things about living in Naples. With pleasant winter weather, beaches, golf, low crime, and no income tax.
You may be starting to think this: Naples is the perfect place to retire. As compared to other popular retirement hot spots.
To live out your golden years. In a paradise and resort-like setting.
And you may very well be right!
On the other hand, an article about the pros and cons of living in Naples would not be complete. Without addressing some reasons not to move to Naples in the first place.
Let's do that now. Starting with one more topic that impacts your finances…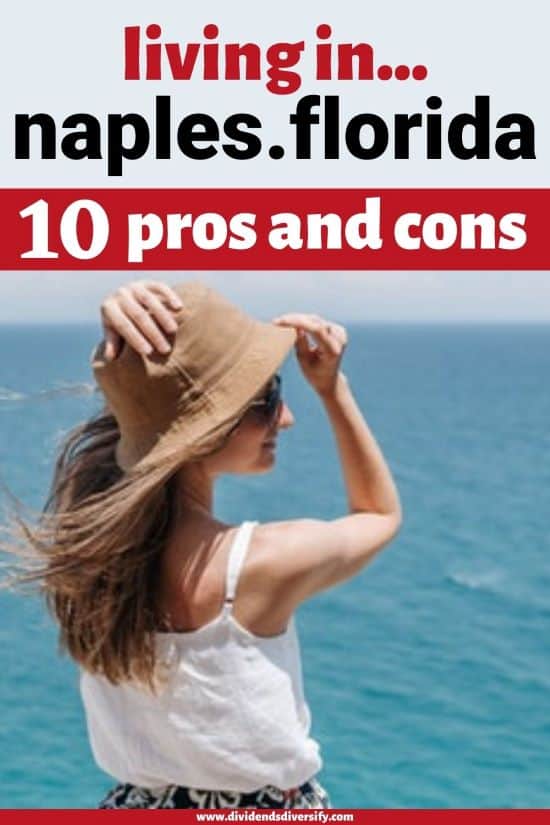 High Cost Of Living
First of all, take note. While you won't have to pay state income taxes.
The cost of living in Naples is very high. And it starts with homes and real estate prices.
Because according to BestPlace.net, the median home value here is approximately 35% higher than in Florida as a whole.
Making matters worse. Many houses are subject to Home Owners Association (HOA) fees.
After all, someone has to pay for the amenities within the gated communities. And those neighborhoods make up a large chunk of the real estate market in Naples.
However, not everyone wants to live in a gated community.
So, if you prefer to live without restrictions and with no association fees. Then do your research and find a non-gated community that will fit your Naples lifestyle.
Cheaper Places To Live In Southwest Florida
For example, if you have your heart set on coastal living in southwest Florida. But, Naples is beyond your budget. Consider moving to Cape Coral.
A planned community. With many housing options. It is just a short drive north up the coast.
Or for another place to consider. Also near Fort Myers, there is the small village of Estero.
Closer yet to Naples. And a little less expensive. You can check out the quaint, quiet, smaller, and the less commercialized town of Bonita Springs.
Going farther north along the coast. It will open up more possibilities.
Such as moving to Venice, Florida. Some consider it one of the best-planned cities in the United States.
But, back to Naples…
After housing. You will find groceries, insurance, and gasoline are higher priced than the national average too.
And restaurant meals are quite expensive. Especially during the winter season when there are a lot of visitors in town.
If you are deciding that living here is too much on your wallet. But you still want to live in the state. Know that there are plenty of affordable locations in Florida to live.
Managing The High Cost Of Living In Naples (or anywhere)
In addition, as long as we are on the topic of money.
I have 2 suggestions to improve your finances. Whether you end up moving to Naples, or not.
First, check out Personal Capital here. It's a free online tool to bring all of your financial life together in one place.
Specifically, your spending, investments, and budget.
Personal Capital makes managing money less of a chore. And will help you get your finances in order before, during, and after your big move.
Second, consider using the cash rebate app from Rakuten.
By itself, Rakuten won't make the difference in you being able to afford it here. But every little bit helps.
So, get money back on all of your online purchases. Including Amazon. Plus get $10 cash just for signing up and making your first purchase.
Thus, Rakuten is a painless way to save money. On the stuff that you buy online anyway.
That's all I have about your money. So, let's get on to another issue with moving to Naples.
Extreme Weather
Although the winter weather is nice. All is not perfect as it relates to the outdoor environment.
First of all, this is a city in southwest Florida. On the Gulf of Mexico.
That means a tropical climate. With plenty of summer heat and humidity.
So, if you don't like the heat. You will find yourself spending a lot of time indoors soaking up the air conditioning during the warmest months of the year
Second, the area experiences significant amounts of rain. Especially during the summer.
When about 9 inches of rain falls per month from June through September. Expect mid to late afternoon storms. Since they are common almost every day.
Finally, being located on the Gulf of Mexico, tropical storms and hurricanes are a dangerous aspect of life in Naples. Sometimes requiring evacuation from the area.
If you want to live in Florida. But want to minimize the risks of hurricanes. Then consider moving to Jacksonville.
Too Many Tourists
Living in Naples means getting used to and accepting the many tourists in this popular area.
Think of it this way. The town's normal population is a little more than 20,000 residents.
But, during the peak winter tourist season. The population is estimated to balloon up to about 300,000 people.
Snowbirds, vacationers, beach bums, you name it. They come to Naples and the surrounding Collier County area for the weather, the golf, and the beaches.
This has a couple of implications…
First, for a summer break. This area of Florida is family-friendly. Since kids love to play on the beach and in the water.
But, outside of that, there are limited opportunities and activities for children. This is reflective of an older demographic in the year-round population.
Second, the job market is very active during the summer season. Especially for anyone in the hospitality industry.
Finally, what does the massive influx of visitors and workers going to and from jobs cause?
Well, it brings us to another one of the living in Naples, Florida pros and cons…
Bad Traffic
It means heavy traffic congestion in and around the metro area.
Resulting from clueless drivers on vacation. And too many people for the limited road infrastructure.
Even during the offseason traffic is bad. For anyone commuting to work. Or, running errands.
So, plan on some extra time to get around. Especially during peak season.
Okay. One last reason not to live in Naples…
Lots Of Insects
Because the heat, humidity, moisture, and surrounding bodies of water cause another problem. Specifically, it makes for the perfect insect breeding ground.
After all, they like living in Naples too. And won't be moving out anytime soon.
So, be prepared for mosquitos and other biting and stinging pests. Since they take up residence in Naples.
And don't forget. You won't be far from the Florida Everglades. So, it's not uncommon to encounter alligators.
They aren't known to be aggressive to humans. But I wouldn't test that theory if I were you.
Okay. That concludes our 10 Naples, Florida pros and cons.
So, allow me to wrap up with a few concluding thoughts. And before you go, be sure to check out our dozens of articles about: The best places to live!
Pros And Cons Of Living In Naples, Florida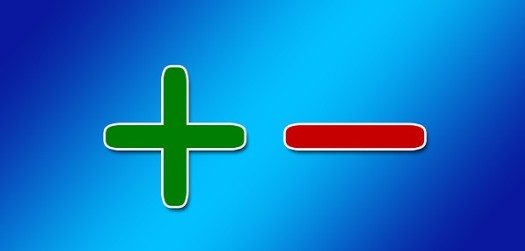 For a wrap-up, here are the 10 living in Naples, Florida pros and cons that we covered today:
Warm winter climate
Beautiful beaches
Lots of golf courses
Minimal crime
No state income taxes
High cost of living
Extreme weather
Too many tourists
Bad traffic
Lots of insects
I hope this discussion has helped you with some important questions. Such as…
1) Is Naples, Florida a good place to live?
and
2) Should I move to Naples?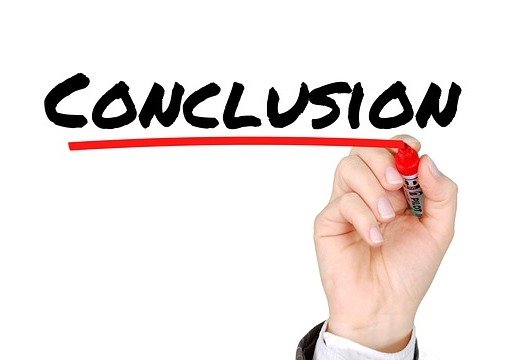 Author Bio, Disclosure, & Disclaimer: Please join me (Tom) as I try to achieve my goals, find my next place to live, and make the most of my money. However, I am not a licensed investment adviser, financial counselor, real estate agent, or tax professional. Instead, I'm a 50-something-year-old, early retired CPA, finance professional, and business school teacher with 40+ years of DIY dividend investing experience. I'm here only to share my thoughts about essential topics for success. As a result, nothing published on this site should be considered individual investment, financial, tax, or real estate advice. This site's only purpose is general information & entertainment. Thus, neither I nor Dividends Diversify can be held liable for losses suffered by any party because of the information published on this website. Finally, all written content is the property of Dividends Diversify LLC. Unauthorized publication elsewhere is strictly prohibited.
The Pros And Cons Of Living In Naples, Florida Explained