Best Things To Know When Thinking Of Moving To Georgia
Let's talk about the pros and cons of living in Georgia.
Including the best things about Georgia. And some reasons not to move to Georgia too.
Whether your goal is to find higher-paying work. Better living arrangements. Or, learn about retirement living in Georgia.
We have it covered.
So, let's dive into today's living in Georgia pros and cons right now!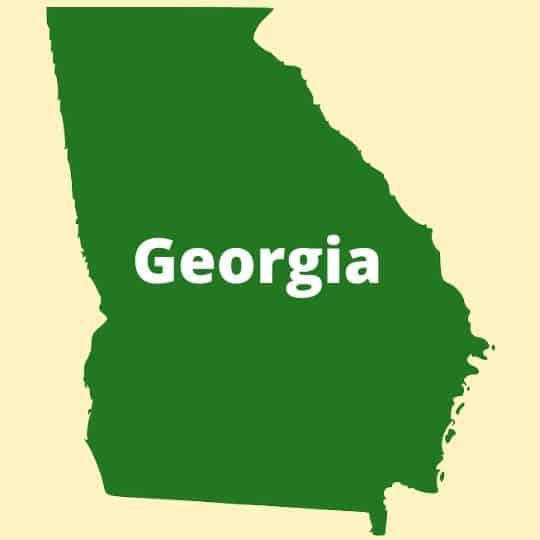 Disclosure: At no cost to you, I may get commissions for purchases made through links in this post.
Pros And Cons Of Living In Georgia
Here's my top 10 list of living in Georgia pros and cons. Also known as "The Peach State"…
Productive economy
Moderate cost of living
Many fun things to do
A beautiful and varied landscape
Great weather
Hot and humid summers
Too many mosquitos, bugs, and pests
Lots of allergy-producing pollen
Negative effects of urbanization
Lower overall well-being
We are going to dive into each of these points in great detail. So you can decide if relocating to Georgia. Is the right decision for you.
But first. I would like to address a very important question about Georgia…
Is Georgia A Good Place To Live?
As you likely know. There are very few, if any, perfect places to live.
And the state of Georgia is no different. So, let's examine this more closely…
Benefits Of Living In Georgia
Why move to Georgia? Here's why…
Georgia's economy is big and productive. With many companies large and small having operations in the state.
Also, compared to the rest of the country. The cost of living in Georgia is pretty reasonable.
Then add in the many fun things to do. Four distinct weather seasons. And nestle it in a beautiful landscape.
Then, I would have to say yes. Georgia is a good place to live.
But, not so fast…
Cons Of Living In Georgia
First of all, spending time outdoors in the state can be problematic.
Because the summers are very hot and humid.
Bringing with it, mosquitos, different bugs, and other unpleasant pests. Plus loads of allergy-causing pollen in the air.
Furthermore, parts of the state are heavily urbanized. Causing bad traffic and overcrowding.
Finally, not all of Georgia's residents are well off. Because of poverty, obesity, and lower quality health care. All being present in the state.
Okay. With those highlights about the state of Georgia taken care of.
Let's cover each of the living in Georgia pros and cons next. Who knows? Maybe you will find your slice of paradise here.
Productive Economy
This state has a great economy. Based on several positive aspects.
Georgia's Economy Is Large
For example, Georgia's economy is one of the top 10 largest in the United States. With a total output of nearly 700 billion dollars.
Georgia also exports a lot of goods and services to the rest of the world. Making it one of the most economically important states in America.
Georgia Has A Good Job Market
Dozens of Fortune 500 companies are located in the state. Many of which have campuses. And other centers of operation.
These large companies include Coca-Cola, Delta Air Lines, Home Depot, UPS, and many more.
Add to that popular small businesses. Like Chick-fil-A and garment maker Spanx.
So you can see that business is pretty good. Thus, it makes my list of pros and cons of living in Georgia
Low Unemployment In Georgia
And here is another one of the pros of living in Georgia…
Workers do not have to worry about finding good jobs. Because unemployment is low. And jobs are plentiful.
Most noteworthy, this state's unemployment rate is low. Well below the national average.
And Georgia has plenty of opportunities for part-time work too. Especially with tourism being a big part of the state's economy.
An Air Transport Hub In Georgia
One of the reasons businesses flock to Georgia is its air transportation infrastructure.
For example, there is Hartsfield-Jackson Atlanta International Airport.
It is one of the world's busiest. Handling more than 100 million passengers in peak years.
It makes Atlanta a hub for air transportation in North America. Partly due to Delta Air Lines' strategic use of the facilities.
Plus the operations by other major airlines too. That cater to both business travelers. And the many tourists that visit the state.
And another one of the reasons to live in Georgia…
Moderate Cost Of Living
Overall, this is a less expensive state to live in. As measured by the cost of living in Georgia.
This means the average resident can afford goods and services. Which are more expensive in other states.
Reasonable Home Prices For Living In Georgia
The savings start with the real estate market. And home prices.
Usually the biggest piece of most family's budgets.
For example, take the average home price in Georgia. Because it is about 20% less than the national average.
Which means more families can buy homes. Or, it means your family will be able to afford better housing.
And you can have more living space. Versus other states.
I don't want to imply that there are no expensive homes in Georgia. For example, parts of Atlanta and Savannah can be very costly.
So, choose your location wisely.
Other costs in Georgia are low too. Leaving residents with more money left over after household expenses.
Specifically, costs for groceries and health care. They are both below national averages.
Save Money On Everyday Expenses In Georgia
But why not try to save a little more money?
We use the cashback app from Rakuten for all of our online purchases.
Plus get cash savings at the grocery store.
By using the popular Ibotta app. For cashback.
Rakuten and Ibotta. They are an excellent one-two money-saving punch.
No matter where you choose to live!
Property Taxes Are Manageable Living In Georgia
Adding to the lower cost of homeownership. Are the reasonable property taxes.
Furthermore, property taxes are a result of 2 things.
First, a state's tax rate. Second, the property values the rate is applied to.
Georgia's property tax rate is about average. But, because home prices are lower.
The total real estate taxes paid. By an average Georgia resident. Will be lower than most other states in the country.
On the other hand, if you are looking for a place with a very low property tax rate. Jump the border and head to South Carolina.
And you will find. One of the lowest state property tax rates in the country.
Save More Money On Your Georgia Housing
No matter where you choose to live. Be sure to keep your credit score in good shape.
It will help you get an apartment rental. Or, a low-cost home loan.
You can check your credit for free with Credit Karma. Then take any actions necessary. To improve your score.
And, if you are in the market for a home mortgage. For the best rates possible, check out Lending Tree.
Pull All Your Finances Together
Finally, moving is a big deal. So, put your finances in good order first.
Between the active job market. And the reasonable price of living in Georgia.
You should do just fine.
But just in case. Do what I do.
And pull all your expenses and investments together in one place online. With Personal Capital.
It makes budgeting and managing your money less of a chore. And best of all Personal Capital is free to sign up and use.
Finally, all these pros make it easier to live in Georgia on a smaller budget. Or, at least help you save.
Okay. Recapping and moving on…
There are jobs in Georgia.
And, it is one of the best states for the low cost of living.
Next, time to have some fun. And take part in a little recreation.
Furthermore, finding some fun. Is one of the best things about Georgia…
Lots Of Fun Things To Do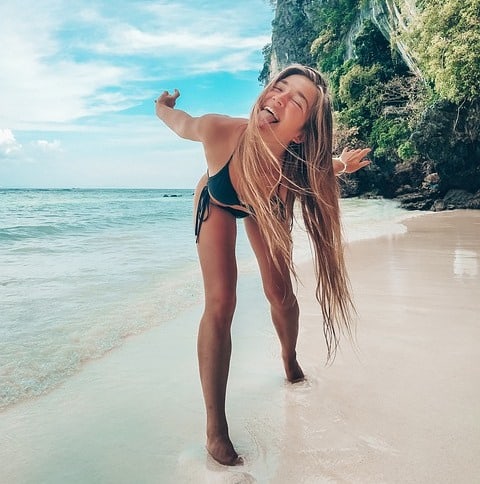 Nightlife, sporting events, and festivals. There's diversity and something for everyone in Georgia.
So, let's take them one by one.
Georgia Living Means Good Nightlife
First, the nightlife in this state is awesome.
Bars and clubs can be found all over Atlanta. Where you can find some good craft beers. And much more.
Atlanta is the city with the most concentrated nightlife. And the biggest city in the state.
But, many other towns have good nightlife. Such as Savannah.
Being on the waterfront with many bars and restaurants. It's similar to Miami in that way. Another vibrant seaside city on the Atlantic coast.
While the town is touristy. Residents too, like to get out and go. And frequent the clubs for a good time.
Savannah is also known for its many live music performances. By both local acts. And big-name performers.
Also, Georgia has a large college-age population.
So, the nightlife runs hot. For students, as well as twenty-somethings. Plus older residents looking to enjoy the college atmosphere.
And doing so in the Georgia college towns.
For example, Athens, Kennesaw, and Statesboro. Just to name a few.
Georgia Living Means Sporting Events
Sports of all kinds are one of the perks of living in Georgia. And, you can find them all over the state.
For example, Atlanta, Georgia is home to professional sports teams such as baseball's Braves and the NFL's Falcons.
And, let's not forget the Atlanta Hawks. Of the NBA.
Plus pro golf. Like The Masters Tournament. Held each year in Augusta, Georgia.
There are minor league sports teams too.
And don't forget. Georgia residents are crazy for their college football.
Living In Georgia Means Fun Festivals
There are festivals around the state all year long. You'll have to decide what you love most. To fit them all in.
They are great for family-friendly getaways. Outdoor activities. And short staycations. When sticking close to home is your best choice.
For example, there's the Atlanta Pride festival and parade each year. Which celebrates diversity and tolerance in Georgia.
There are great music festivals too. Like the Savannah Music Festival in Hilton Head Island. One of the best cross-genre music festivals in the world.
Or the Georgia Renaissance Festival near Fairburn. That combines theatre, entertainment, crafts, and food.
Several cities host festivals celebrating science or technology too. For example, there's Dragon Con.
It is a multi-media, pop culture convention. That focuses on science fiction, fantasy, gaming, comics, literature, art, and music.
And there is much more to the festival scene. For example…
Bio Festival in Athens
Regional wine festivals
Sweet Auburn Festival in Atlanta
Next, I have yet another one of the cool facts about Georgia…
Relocating To Georgia Means Diversity And Hospitality
Life in Georgia USA means being embraced with open arms.
Because Georgia is a crossroads of cultures, ethnicities, and lifestyles.
I already mentioned the annual pride festival. But, racial diversity is strong too.
Many African Americans and people of Hispanic descent. Have a large representation in the population.
So, come as you are. And be yourself. In Georgia.
Then let the southern hospitality in this state wash over you. And take in the charm of the old south culture.
But, be ready. Because you may find that making new friends in Georgia. Is easier than many other places in the country.
Since people are friendly here.
Don't go. There is more. Another one of the reasons to live in Georgia…
Beautiful And Varied Landscape
You can expect to find a picturesque landscape in this state.
For example, the state is home to the Blue Ridge Mountains.
They are part of the Appalachian Mountain range. And are located in northeast Georgia. Near the increasingly popular town of Chattanooga, Tennessee.
Be sure to visit Amicalola Falls State Park.
It is the southernmost starting point for the Appalachian Trail. And home to Georgia's tallest waterfall.
Then there is Stone Mountain near Atlanta.
It is a large dome of exposed granite. And part of a 3,000 plus acre park.
Also, there are many natural springs and lakes to enjoy too.
Like Lake Lanier in Gainsville, Georgia. Or Indian Springs State Park. Located in the northcentral part of the state.
Finally, explore the scenic coastline along the Atlantic Ocean.
The shoreline runs between Savannah, Georgia. And down to Jacksonville, Florida to the south.
Speaking of Jacksonville…
It is one of many affordable places to live in Florida. In case you are open to living in "The Sunshine State".
But back to the Georgia coast. It is known for its marshes and beaches. And is called the "Golden Isles". Because of its natural beauty.
Last, but not least. One more of the good things about Georgia…
Great Weather
Isn't this everyone's favorite topic? The weather!
Four Season Living In Georgia
You can expect to experience all four seasons in Georgia.
First of all, the fall weather in Georgia is a welcome change of pace. Versus the summer (more on summer in Georgia in a bit).
You can enjoy the yellow, orange, and brown hues in the trees each year. Of autumn leaves changing colors.
Mild Winters & Little Snow Leading To Spring When Living In Georgia
And remember… Winter is a beautiful time of year too.
With moderate temperatures. And virtually no snow.
Unless you are near the mountains in the northern reaches of the state.
Just be sure to have a jacket or sweater. For chilly temperatures at night.
Then spring weather in Georgia brings colorful blooms to the trees.
Enjoy the beauty of the natural color progression as the spring progresses. And the temperatures start to warm.
Okay. It's time to transition. Since I have covered my top 5 reasons to move to Georgia.
Next, I have 5 reasons NOT to move to Georgia.
To present a balanced argument. And round out this article on the living in Georgia pros and cons.
So, let's move forward…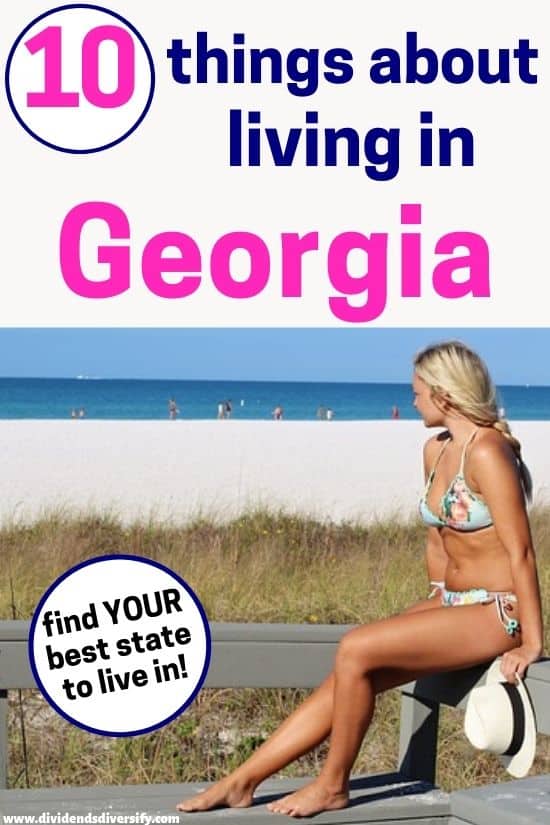 Hot And Humid Summers
Meet summertime in Georgia…
Georgia Living Means Hot And Humid Summers
First of all, summers are hot and humid here. Especially in the middle and southern parts of the state.
Furthermore, several times each summer. the thermometer will top out over a hundred degrees Fahrenheit. And humidity levels are high too.
Even if you are accustomed to living in a warm climate. It can be a bit much to handle in the summer. Similar to Georgia's border state of Florida.
Remember, it is the south. And humidity levels go up and stay up. Regardless of the season or weather conditions.
The Summer Weather Pattern Living In Georgia
Furthermore, summer in Georgia can be like a roller coaster ride. It comes with highs and lows.
The weather can be hot and humid one day. Then a little cooler with scattered showers and thunderstorms a day or two later.
How To Beat The Heat Living In Georgia
To escape the worst of Georgia's heat and humidity. You can head to higher elevations away from the coast.
Thus, cooler temperatures can be found in the north and northwest parts of the state.
In and around the mountains. Near the Tennessee state border.
And another one of the things to know before moving to Georgia…
Too Many Mosquitos, Bugs, And Pests
Yes. Unfortunately, all those flowering plants and trees. Coupled with the summer heat, humidity, and rainfall. Attract a lot of bugs in Georgia.
For example, mosquitos are active in this state. During the warm summer months. They are jokingly referred to as Georgia's state bird.
Other bugs are prevalent especially during the spring, summer, and fall months too. Including:
Palmetto bugs
Ants
Biting fleas
Gnats
Ticks
Various cockroaches
What's worse, insects can be a concern anywhere in Georgia. Not just in or near the woods or fields.
Yes. Bug issues even inside your home!
Ready for another one of the disadvantages of living in Georgia?
Ready or not. Here goes…
Allergy Producing Pollen
This is another unpleasant side effect of Georgia living. Especially if you have allergies.
Because there are a lot of pollen and mold spores floating around.
And they are a big nuisance to allergy sufferers. Not to mention asthma sufferers too.
The pollen count usually peaks in March and April. But can be high through the early part of summer too.
The yellow-green tint is from tree pollen. And coats everything outdoors in a sticky substance during the spring.
Grass pollen arrives in May through June. Followed by "weeds" such as ragweed in August or September.
If that's not enough. I have another one of the cons of living in Georgia for you…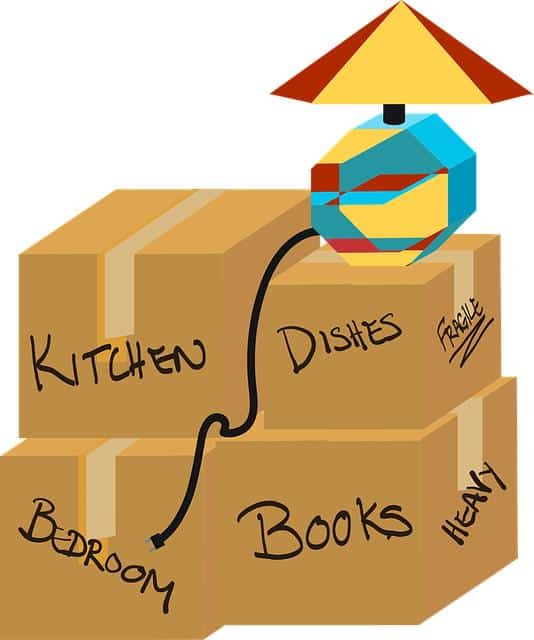 Negative Effects Of Urbanization
With popularity. And the people that come with it.
They bring another unfortunate aspect about moving to Georgia pros and cons.
That being urbanization. And all that comes with it…
Bad Traffic Living In Georgia
Urbanization means traffic.
But it depends on where you are moving to in the state. And what part of the day.
But, no matter where you come from. Expect Atlanta traffic to be as bad as anything you have experienced.
It's not uncommon for commuters to spend an hour in their car. Each way!
And the interstate highway in Atlanta is big. Something about 10 lanes wide!
And there are still 2-3 mile backups in heavy traffic. During the morning or evening rush hours.
Lack Of Public Transportation In Georgia
Traffic is bad partly due to the lack of public transit.
Since other forms of travel such as the rails aren't developed to their full potential. To put it bluntly, Georgia's public transportation system is severely lacking.
With that being said, there are forms of mass transportation available. In the larger metropolitan areas like Atlanta and Savannah.
There are bus lines, subway systems, and other forms of multi-modal transport. However, they do not reach as many places as other major cities in the country.
Then there is another effect of urbanization. It is another one of the risks of living in Georgia…
High Crime Rates Living In Georgia
Naturally, crime rates are higher in the larger Georgia cities.
According to statistics, urban areas have a much higher crime rate than suburban and small-town living.
And even less crime can be found in the rural areas of Georgia.
Regardless of the crime statistics. Which shows Georgia has mid to higher levels of crime. Versus other states in the country.
On the other hand, there are plenty of safe places to live. Just do your homework. And choose your location carefully within the state.
Last, but not least. Here is one more of the bad things about Georgia…
Lower Overall Well-Being
Your Georgia quality of life is mostly what you make of it. At least in my opinion.
But Georgia tends to stack the odds against residents. As it relates to overall well-being.
Sub-Par Quality Of Health Care Living in Georgia
Health care is not the best in Georgia.
A recent survey by WalletHub ranks Georgia in the bottom quarter of all states.
For cost, access, and outcomes related to health care.
High Obesity Rates Among Georgia Residents
The state's obesity rate is on the rise. Similar to other southern states.
I guess it's all of the good old southern cooking. Fatting up resident's waistlines.
Poverty Rates Are High In Georgia
Many of the health risks in Georgia are aggravated by poverty.
Since the poverty rate in the state is one of the highest in the nation!
With nearly 13% of residents. Living at or below the poverty line.
As mentioned above, with higher crime rates. And overall poor quality of life for many.
It is understandable why, but unacceptable. That so many live below the poverty line here.
Okay. Thank concludes my living in Georgia review.
Let's wrap it up with a summary. And a few concluding thoughts…
Pros And Cons Of Living In Georgia
In case you are moving to Georgia for work or retirement. Consider these interesting facts about the state.
And carefully evaluate these 10 living in Georgia pros and cons before you move.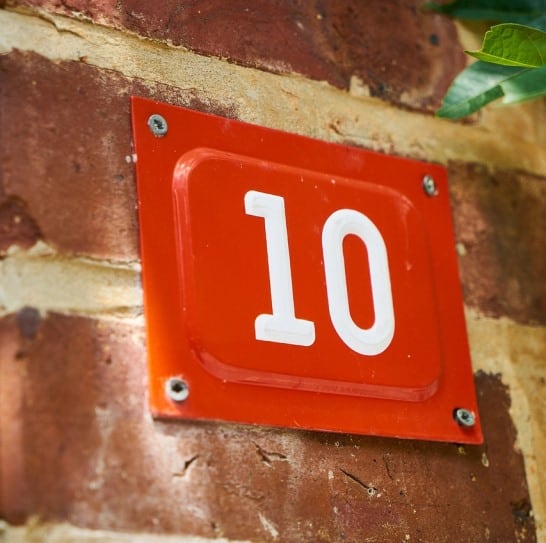 Productive economy
Moderate cost of living
Many fun things to do
A beautiful and varied landscape
Great weather
Hot and humid summers
Too many mosquitos, bugs, and pests
Lots of allergy-producing pollen
Negative effects of urbanization
Lower overall well-being
Hopefully, I have the Georgia life, fully explained for you.
And have given you the information necessary. To answer the question: Is Georgia a good place to live for me?
More Reading About Living In Georgia And Beyond
My Favorite Resources For Living In Georgia, Or Anywhere
I referenced several of my favorite finance tools in this article about living in Georgia pros and cons.
They are summarized here for your convenience. They are great money-saving tools!
Author Bio, Disclosure, & Disclaimer: Please join me (Tom) as I try to achieve my goals, find my next place to live, and make the most of my money. But understand, I am not a licensed investment adviser, financial adviser, real estate agent, or tax professional. I'm a 50-something-year-old guy, CPA, retired finance professional, and part-time business school teacher with 40+ years of DIY investing experience. I'm just here because I enjoy sharing my findings and research on important topics. However, nothing published on this site should be considered individual investment advice, financial guidance, or tax counsel. Because this website's only purpose is general information & entertainment. As a result, neither I nor Dividends Diversify can be held liable for any losses suffered by any party because of the information published on this blog. Finally, all written content is the property of Dividends Diversify LLC. Unauthorized publication elsewhere is strictly prohibited.
The Pros And Cons Of Living In Georgia Explained