Things To Know Before Moving To Idaho
Today's goal is to walk through the pros and cons of living in Idaho.
Perhaps you are considering moving to Idaho from California. A popular choice these days.
Maybe you are weighing the pros and cons of retiring in Idaho.
Or, just looking for a fresh start. In a new place to live. Because the benefits of Idaho living have captured your imagination.
Regardless of your goals. We have it covered.
So, there is no reason for delay. Let's dive into the top living in Idaho pros and cons today…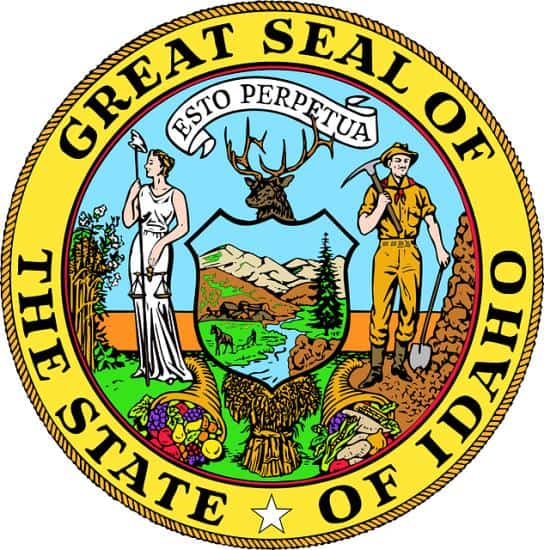 Disclosure: At no cost to you, I may get commissions for purchases made through links in this post.
Pros and Cons Of Living In Idaho
Here are my top 10 moving to Idaho pros and cons:
Excellent economy
Low cost of living
High quality of life
Enjoyable outdoor living
Good entertainment and cultural options
Negative effects of urbanization
Lagging infrastructure and amenities
Cold and snowy winters
Unique behaviors and views
Lack of diversity
We are going to go through the details of each of these Idaho pros and cons in just a bit.
But first, let's answer the big question of the day…
Is Idaho A Good Place To Live?
Like all of the 50 United States. There are some good things. And some not-so-good things.
And the Idaho quality of life is no different. Here's why…
Benefits Of Living In Idaho
First of all, if you are looking for a new job. Then you are in luck.
Because this state has a thriving economy. And the unemployment rate is very low.
Furthermore, putting the median home value aside for a moment, the cost of living in Idaho is very reasonable.
Then throw in the state's natural beauty. Abundant outdoor and cultural activities.
All set in a clean, safe, family-friendly environment. Then you can start to see some of the many great reasons to live in Idaho.
But, you will find that Idaho life. Does have a few drawbacks.
Such as…
Cons Of Living In Idaho
First of all, parts of the state are suffering from rapid population growth.
This influx of people is pushing up home prices. And putting a strain on the state's infrastructure. While increasing the state's limited diversity.
Furthermore, winters are cold and snowy here. So, Idaho isn't a place for "snowbirds". Looking to enjoy a mild winter climate.
Finally, you will come across some behaviors and attitudes. That may be off-putting. Depending on your specific likes and dislikes.
Mainly attitudes towards politics, guns, and personal privacy. We will talk more about these topics a little later.
Okay. That covers some of the highlights of the Idaho lifestyle.
Important things to know. If you have been asking yourself: why should I move to Idaho.
Now it's time to dig into each of the 10 pros and cons of living in Idaho.
Starting with one of the best things about Idaho. Let's do it…
Excellent Economy
U.S. News ranks Idaho's economy as one of the best in the nation. When compared to other states.
The state ranks highly in all categories of the evaluation. Specifically:
Business environment
Employment
Growth
Also, the economy is diverse. With representation from multiple sectors.
Leading to its resilience. In good times, or bad.
And if you are looking for a new job. You should be able to find one in Idaho…
Job Market For Those Who Live In Idaho
Because this state has a very low unemployment rate. It is one of the lowest in the country.
And jobs are available with companies across a variety of industries. Including…
Manufacturing
Agriculture
Food processing
Technology
Health care
Outdoor recreation and tourism
Thus, the state's economy is rolling. And you can get a job in this state. If you want to work for a living.
Whether you are the type to roll up your sleeves. And get your hands dirty.
Or, an individual with a unique talent. That is in high demand.
Either way, there is very likely a job for you in Idaho.
Next, here is another one of the advantages of living in Idaho…
Low Cost Of Living
As long as you can find an affordable home (more on that later). You will likely enjoy a reasonable cost of living in Idaho.
According to BestPlaces.net…
Groceries are 6% lower than the national average. While health care is 5% lower.
Then there are the utilities for your home. Running 11% below the national average.
While transportation. Mainly being the cost to own and maintain an automobile. Is almost 20% less than the average for other states.
Finally, World Population Review has Idaho apartment rents at 15% less. Versus the national average.
Thus, the state has a low cost of living. Then, if you looking to save a little more…
Saving Money Living In Idaho (or anywhere you settle)
There are a couple of other ways I like to save money. And these tips work no matter where you choose to live.
First, I use the cashback app from Rakuten. For cash rebates on all of our online purchases.
Plus, Rakuten offers $10 for signing up. And making your first buy.
Then, for those trips to the grocery store. You can't go wrong with using the Ibotta app.
For more cashback savings. On your groceries.
Now for one of the bad things about Idaho. As it relates to the cost of living…
High Home Prices When Moving To Idaho
Because the state has become very popular. With folks looking to move.
The increase in new residents. Has pushed up home prices.
As a result, the median home value of an Idaho house. Is 14% more than the national average.
Let me be honest. The real estate market in Idaho has been red hot.
For one thing, there has been a lot of interest in moving to Idaho from California. The state with the largest population.
With the sky-high home prices in many parts of California. These movers have the home equity to bid up prices in Idaho. To get exactly the home they want.
And, they are doing it. Much to the disappointment of other would-be buyers. And some Idaho residents.
So, here are a couple of tips. To best compete for that Idaho home you would like to buy.
Competing For Your Idaho Home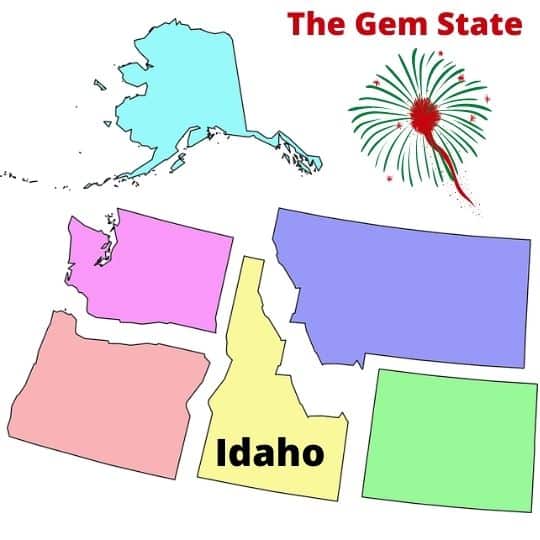 To have a chance in Idaho's competitive housing market.
First, make sure your credit score is in top-notch shape. Since your mortgage lender or potential landlords for you renters. Are sure to check it.
Get out in front of them. And check yours for free. Using Credit Karma.
Then, take the necessary steps. To improve your credit score.
Furthermore, get the best mortgage rate you can. A good way for doing so is shopping online with Lending Tree.
Finally, get a handle on your finances. Before and after your move to Idaho.
For us, I pull all expenses together in one place. And our investments too.
By using the FREE online tool from Personal Capital.
These little money-saving tips add up. And put the odds in your favor. For making a successful move to Idaho!
And if you are asking yourself this: why are people moving to Idaho. Then this next point may help you understand…
High Quality Of Life
Good quality of life means different things to different people. But here is what I think about it. Related to the pros and cons of Idaho quality of life:
Next, let's unpack these attributes about life in Idaho.
Since they are important. When choosing a place to live in the United States.
Friendly And Welcoming People Live In Idaho
Because you will find the people of Idaho. Quite friendly and laid back.
Certainly willing to offer a helping hand. When you need one.
And as I think about the benefits of moving to Idaho. This next point may make it easier to reach a decision…
Low Crime Rate When Living in Idaho
For anyone that thinks about their safety. And who doesn't from time to time?
This state ranks highly for the low crime. Because whatever evaluation you care to review.
Idaho always fairs well for both low violent crime. And low property crime.
Furthermore, the city of Boise is known to have more police offers per resident. Than most other cities in the country.
Last, but not least on my list of why Idaho offers a high quality of life…
Idaho Means Clean And Sustainable Living
You will generally find the urban areas to be quite clean in Idaho. Since both the residents. And government organizations take cleanliness very seriously.
Furthermore, the state values sustainability. Both in terms of green energy production. And recycling programs.
Finally, I think this area stems from the people of Idaho's deep appreciation for the outdoors.
And the outdoors is up next. On our list of perks of living in Idaho…
Enjoyable Outdoor Living
There are several advantages to the Idaho lifestyle. As it relates to the great outdoors.
So, allow me to take these attractive features of "The Gem State" one by one.
Natural Beauty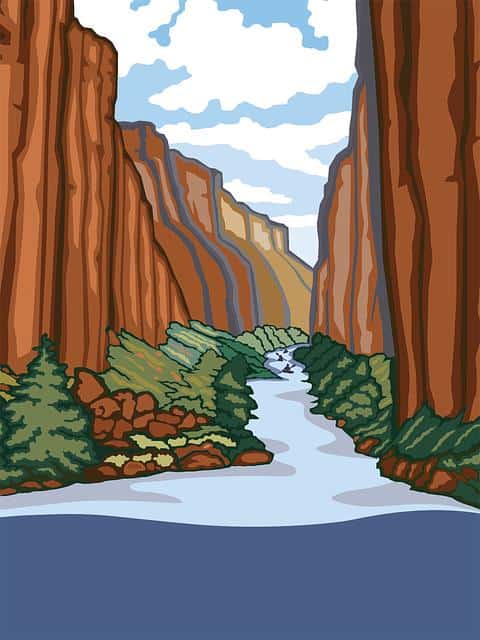 This state has a beautiful landscape. Like no other.
Because it is full of mountains, streams, rivers, and lakes. Not to mention stunning waterfalls.
For example, in the western part of the state. Along the border with the amazing state of Oregon.
Therin lies Hells Canyon National Recreation Area.
It is home to the deepest river gorge in North America. And scenic views that rival any in the country.
Furthermore, you will enjoy there, spectacular mountain peaks. Acres of remote wilderness. And diverse, abundant wildlife.
Next, I'm going to cheat a little bit. And mention the Grand Teton National Park. Although technically located in the alluring state of Wyoming.
The park's natural wonders can be accessed from Idaho. Using the Granite Canyon entrance. Located about 90 miles from Idaho Falls. A popular small-town located along the Snake River.
And don't forget about the area in and around Sun Valley. Located in south-central Idaho. Near Bald Moutain, Dollar Mountain, and Proctor Mountain.
And what does all of this natural beauty mean? Well, allow me to share another one of the advantages of living in Idaho…
Outdoor Activities
Because this state is tops for outdoor recreation options. Since your opportunities will be limited only by your time and imagination.
Go fishing at the Salmon River.
Hike in the Sawtooth National Forest.
Boat on Redfish Lake.
Ride horses in the mountains.
Ski or snowboard at Schweitzer Mountain Resort.
White water raft down the Snake River.
And what makes these things possible? Besides the landscape.
Allow me to share it with you. Because the weather is certainly a big part of the Idaho living pros and cons.
Great Weather When Living In Idaho
Because the weather is another one of the benefits of living in Idaho.
First of all, you get to enjoy the 4 weather seasons. With nearly 200 sunny days a year. Depending on where you choose to live.
Warm summer temperatures are common here. From June through August.
While October is a great time. To enjoy a fall foliage tour.
And there is plenty of snow in the winter. To cover the slopes at the ski resorts.
Only before, the spring thaw fills the mountain streams and lakes. And the numerous falls that send water crashing down. While the seasons start anew.
But, that's not all. Because I have another one of the pros of living in Idaho…
Good Entertainment And Cultural Options
When you need a break from the outdoors. This state has more to offer.
First, there is country music. A favorite of music-loving locals.
Next, for the wine lover, the state boasts more than 50 wineries. And over 1,000 acres of vineyards.
While craft beer breweries. Are growing in popularity too.
Furthermore, Idaho is developing an artsy reputation.
Especially in and around the city of Boise. Where museums, theatres, music festivals, ballet, and opera are flourishing.
In addition, the state's universities also contribute to the cultural options. Including sporting events, and educational opportunities. Especially if you have school-age children.
Some popular choices include the University of Idaho, Idaho State Univesity, Boise State University, and Lewis-Clark State College.
Or finally, make a point to visit the Idaho Potato Museum.
It is located in Blackfoot, Idaho. Known as the potato capital of the world.
Now that's a slice of local culture! But, I think another state produces the best potatoes. Just sayin'.
Okay. That concludes my top 5 reasons to move to Idaho. These ideas should help you answer the question: why move to Idaho?
As a recap, here are the 5 good reasons to live in Idaho:
Excellent economy
Low cost of living (excluding home prices)
High quality of life
Enjoyable outdoor living
Good entertainment and cultural options
But a thorough discussion about the pros and cons of living in Idaho would not be complete.
Without assessing some of the reasons not to move to Idaho in the first place.
That's next. So, let's keep moving…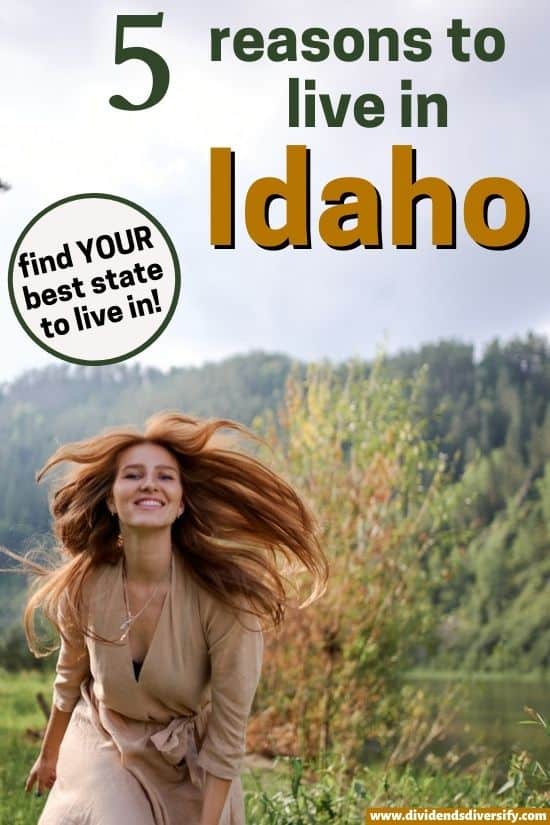 Negative Effects Of Urbanization
Moving to this state is popular.
And the trend has been in place for several years. But accelerated in 2020.
Because people looked to flee from more densely populated urban areas. Remote work became a realistic option. And good retirement living in Idaho gained widespread interest.
With the city of Boise. And all it has to offer. Leading the surge.
This has meant higher levels of congestion. And more expensive housing prices in this state. Stemming from the hot real estate market.
Furthermore, not all of the locals are happy to see thousands of people. Flocking to their cities and small towns each year.
And creating another one of the cons of living in Idaho…
Lagging Infrastructure And Amenities
The rapid growth has meant less time to plan for. And implement necessary infrastructure improvements.
Also, amenities a growing population of outsiders expects. Well, they are lacking in some ways.
Some examples include…
The state's largest airport. Located in Boise. Is only equipped to handle domestic and regional flights.
Roads and bridges require a more rapid pace. Of maintenance and upkeep.
Outside of the larger cities. Public transportation options are not well developed.
And even the public transportation that does exist. Is not as efficient as it could be.
So, unless you plan on living in one of the larger cities. And staying there all of the time. You will need a car in Idaho to get around.
Finally, the state's people are mostly down-to-earth folks. And not overly materialistic.
So, shopping for luxury goods. Or, the availability of high-end goods and services is underdeveloped within the state's borders. If that is something that interests you.
Next, another one of the reasons not to live in Idaho…
Cold And Snowy Winters
If you are dreaming of living in a place. With mild winters. And no snow to shovel.
Then Idaho probably won't be for you. Since the winters are cold here. And fairly harsh.
Particularly in the mountain regions. That experience lots of snowfall. And are very cold for a good part of the year.
Fortunately, temperatures do not fall below zero. For extended periods.
But fog is one of the challenges during the winter. With the reduced visibility that comes with it.
Mountain trails often close. Or, become impassable during heavy snowfall. And roads become slippery. Because of the cold and icy conditions.
Next, depending on the type of person you are. And your view on life.
These points could be one of the bad things about Idaho for you. But we can't skip them. Because they are part of the living in Idaho pros and cons…
Unique Behaviors And Views
Much of life comes down to people. And our relationships with them.
So, be sure to understand some of these likes and dislikes. You can expect from your fellow Idahoans…
Isolation
As I said earlier, the people of Idaho tend to be friendly. But they have a healthy respect for privacy and enjoy isolation.
Let's just say they like to keep their business private. And stay out of other people's lives.
Couple this with the low population density in this state. Especially in the barren central region.
And you will see the people enjoy. A certain amount of isolation.
Guns
Hunting is popular in this state. And people place a high value on personal protection.
Thus, gun laws are fairly liberal.
You can carry a gun openly in Idaho. And in many instances carry a concealed firearm too.
Most noteworthy, a permit is not necessary to purchase. Nor, is a license required to carry a weapon. According to the state's gun laws.
Finally, I hate to bring it up. But I must…
Politics
Most of the people in this state are conservative republicans. And vote for republican candidates.
They also tend to lean towards conservative principles.
This is kind of surprising for a state that has passed laws. Contributing to high-income taxes.
Nevertheless, if you are a staunch liberal. Your political views may not carry a lot of weight in Idaho.
Okay. One last of my disadvantages of living in Idaho…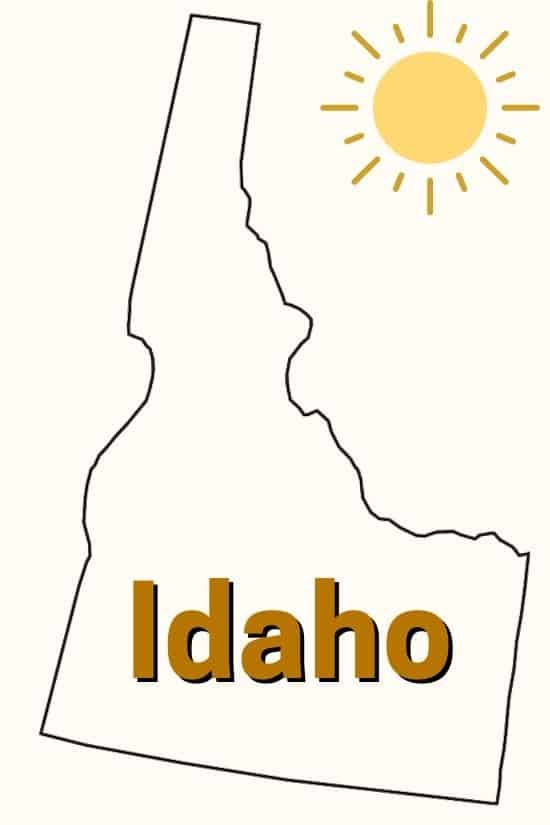 Lack Of Diversity
This state has a predominantly white population. While Boise is easily the most diverse city in Idaho.
But, if you identify with a minority group. Moving to Idaho could mean that you won't find a lot of restaurants or activities. Being representative of your heritage, culture, or perspective.
As a result, you could feel like an outsider. Since you won't fit the dominant caucasian demographic.
Okay. That completes my review of 10 living in Idaho pros and cons.
Allow me to wrap up. With a summary…
Pros And Cons Of Living in Idaho
Here's the list of moving to Idaho pros and cons that we reviewed today:
Excellent economy
Low cost of living
High quality of life
Enjoyable outdoor living
Good entertainment and cultural options
Negative effects of urbanization
Lagging infrastructure and amenities
Cold and snowy winters
Unique behaviors and views
Lack of diversity
Hopefully, this discussion has given you the information necessary. To answer some important questions.
Such as…
1) What is it like living in Idaho?
and…
2) Is Idaho a good state to live in?
Good luck with your decision. No matter where you decide to live.
More Reading About The Pros And Cons Of Where To Live
Resources For Making The Most Of Living In Idaho (or anywhere)
I mentioned several resources for improving your finances.
When living in Idaho. Or anywhere for that matter.
They are summarized here for your convenience…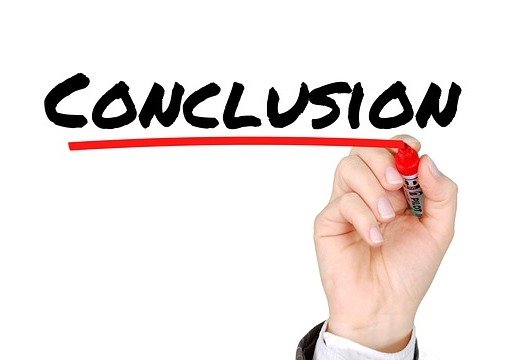 Disclosure & Disclaimer: I am not a licensed investment adviser, financial adviser, or tax professional. And I am not providing you with individual investment advice, financial guidance, or tax counsel. Furthermore, this website's only purpose is information & entertainment. And we are not liable for any losses suffered by any party because of information published on this blog.
The Pros And Cons Of Living In Idaho Explained