What To Know Before Moving To Montana
The pros and cons of living in Montana are very interesting. More so than almost any other state in the country.
Why is that?
Because even some of the benefits of living in Montana. Come with a dubious side to them.
And like each and every state. There are some clear-cut reasons not to move to Montana in the first place.
As a result, we are here to give you the straight scoop. So you can be aware of all the things to know before moving to Montana.
That's enough of an introduction. Thus, there is no reason to delay.
Since it's time for the living in Montana pros and cons for today!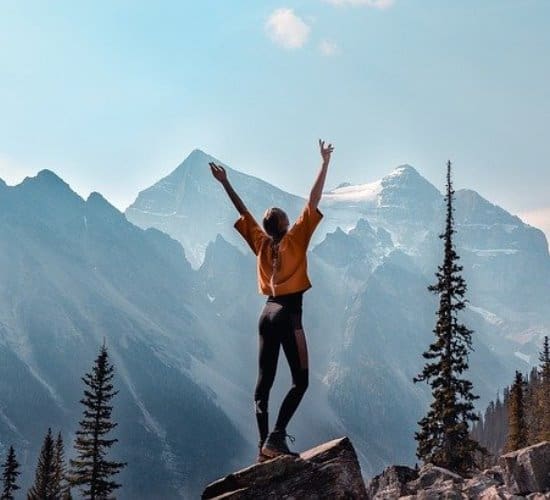 Disclosure: At no cost to you, I may get commissions for purchases made through links in this post.
Pros And Cons Of Living In Montana
Here's my top 10 list of moving to Montana pros and cons:
An amazing outdoor setting
Limited effects of urbanization
Reasonable cost of living
Plenty of jobs and education options
Interesting residents
Extreme and diverse weather
Lacking in urban amenities
Too many tourists
Dangerous wildlife
Remote lifestyle
I will go through each of these living in Montana pros and cons in just a moment. But first, let me give you the big picture.
And answer an important question that is probably on your mind. If you are thinking about moving to Montana…
Is Montana A Good Place To Live?
Like anywhere you choose to live. This state has advantages and disadvantages.
Thus, you have to take the good with the bad. But overall, I have to say yes.
Montana is a good place to live. Here is why I believe it…
Best Things About Montana
First of all, this is one of the most beautiful states in the country.
From the Rocky Mountains, the grasslands, and the badlands. It has a wild and diverse ecosystem.
Full of wide-open spaces. That allows for many different types of outdoor recreational activities.
Furthermore, the state has a small population. And because of its immense land size. It has a limited population density.
So, you can forget about traffic congestion, crowds, or lines to deal with.
And depending on the Montana lifestyle you choose. Many living costs are reasonable. Versus the rest of the country.
Finally, jobs are available. Unemployment is low.
And you will run across some very interesting residents. Calling this state their home.
On the other hand, all is not perfect in "Big Sky Country".
Also, the pros and cons of Montana would not be complete. Without providing the downside of living here.
This is what I mean…
Bad Things About Montana
First of all, the winters are long and hard. With plenty of snow. Especially in the higher elevations.
Furthermore, many locations in the state are remote. And combined with the chances for severe weather. This means…
Living here is about sometimes adjusting to isolation. And becoming self-sufficient to outlast the latest snowstorm. And electricity failures that sometimes come with them.
Then, there are the urban amenities that many big-city dwellers take for granted. Because they aren't always readily available here.
For example, the housing stock is in short supply. Which has driven up prices in recent years.
While the nightlife options are limited too. In case you like to go out clubbing all night long.
Then there is public transportation. Or, lack thereof. Since it is virtually nonexistent. And when you find it. It's not very good.
Next, for those residents who love the quality of life in Montana. Well, they aren't alone.
Since plenty of dangerous wildlife like to live here too. And droves of tourists come each year. To see the state's natural wonders.
Okay. With those highlights taken care of.
It's time to plug away at each of the 10 pros and cons of living in Montana.
That's next. So, let's keep moving…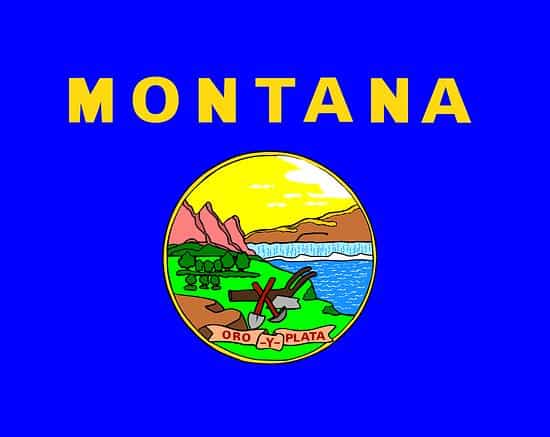 An Amazing Outdoor Setting
Some of the pros of living in Montana are debatable. Depending on one's perspective.
But, in my honest opinion, this first of my reasons to live in Montana is not up for argument.
Because this is a drop-dead gorgeous state.
Just like that beautiful girl. Or, handsome guy. You can't get off your mind.
Let's discuss…
Scenic Beauty
First of all, the western part of the state is mountainous with snowcapped peaks. And, dramatic valleys.
There are dozens of named mountain ranges. All part of the Rocky Mountain chain.
Where a colorful sunset. With the mountains in the backdrop. Just might take your breath away if you're not careful.
Next, moving to the east. You will encounter the northernmost part of the Great Plains.
A broad expanse of flat land. Covered in prairie and grass. And dotted with ranches and farms.
Finally, there are the badlands. In the easternmost part of the state.
Named by Native American's for the rocky terrain, lack of water, and extreme temperatures. Making them difficult to traverse.
And culminating at Makoshika State Park. Montana's largest state park featuring badland formations and historic fossil remains.
Thus, Montana is unlike any other state for its natural beauty. With its clean air, inspiring mountains, and lush forests.
Get far enough off the beaten path. And it still feels like a wild place. Perhaps rivaling the rugged outdoor state of Alaska.
Next, here is another one of the perks of living in Montana. Also, related to the outdoors…
National Parks
If all that scenic beauty isn't enough. The state is home to America's most acclaimed National Parks. Namely, Yellowstone and Glacier.
But to be fair. Most of Yellowstone National Park is located in the border state of Wyoming.
It can be accessed by using Yellowstone's north entrance. Located in the town of Gardiner, Montana. This is the only park entrance that is open year-round.
On the other hand, Glacier National Park is the state's very own.
It is more than 1,500 square miles of wilderness. Running into the Canadian border.
The park consists of glacier-carved peaks and valleys. And dozens of lakes. Plus hundreds of miles of hiking trails.
The park is crossed by the mountainous Going-to-the-Sun Road. Which you can drive if you dare to.
Since it may create some nervous, white-knuckle driving. For anyone scared of heights.
And in either park, you may encounter a diverse range of wildlife. From mountain goats to grizzly bears. And deer, elk, black bears, moose, and buffalo to name just a few.
Next, here is another one of the outdoor advantages of living in Montana…
Wide-Open Spaces For Living In Montana
First of all, the plains open up to a stunning view of the sky. It is specifically why Montana is called "Big Sky Country".
A great place to stargaze. And maybe catch a glimpse of the Northern Lights if you are lucky.
Furthermore, the state has large reserves of precious metals including gold, sapphire, and silver. The primary reason Montana has been called "The Treasure State".
Finally, if living in a state that has ranching, farming, or a cowboy lifestyle. Is something that interests you.
Then you are going to have plenty of opportunities here. Since there are thousands of operational farms and ranches.
Thus, agricultural activities are common. And if you are interested in farmland. As part of relocating to Montana. Or as an investment opportunity.
Then check out the land for sale at AcreTrader.
Because over the long run, farmland has proven to be a good investment. And a chance to enjoy living in wide-open spaces.
Next, if you haven't already figured it out. I have another one of the cool things about Montana…
Outdoor Recreation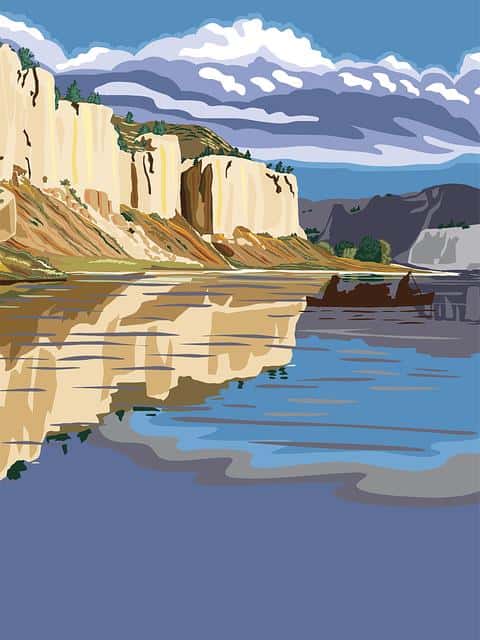 Since outdoor recreational options are abundant here. Some of the many things to do outside that come top of mind include:
Backpacking
Boating
Birdwatching
Camping
Cross country skiing
Cycling
Dog sledding
Downhill skiing
Fishing
Four wheeling
Hiking
Hunting
Mountain climbing
Photography
River rafting
Soaking in hot springs
Snowboarding
Snowmobiling
Water skiing
And concerning the white stuff. On one hand, it's not "the greatest snow on earth". As claimed by the southwest state of Utah.
On the other hand, you will find nearly 15 ski resorts to choose from. Including the Big Sky Ski Resort. With access to world-class downhill runs.
So, it should be easy to see by now. That this is a great state for outdoor enthusiasts. And fitness buffs alike.
Next up, another one of the benefits of living in Montana. This one is tuff to argue with too.
Limited Effects Of Urbanization
Because of the state's size. And small population.
The hassles of big city life. And urban sprawl. Are pretty much nonexistent.
Here's why…
Population
First of all, Montana is the 4th largest state in the union. Based on its landmass.
Only Alaska, Texas, and California have more territory.
Yet, the state has only about 1 million residents.
Making it one of the least populated states in the country.
Put those two data points together. And the population density is very low here.
Thus, you have a lot of open lands. Unspoiled by urban development.
But, I will warn you about this one thing. The population has been growing.
Over the last two U.S. census studies spanning 10 years. The state's population grew almost 10%.
Furthermore, this is creating some issues. That I will get to a little later. As part of the 10 living in Montana pros and cons.
City Living in Montana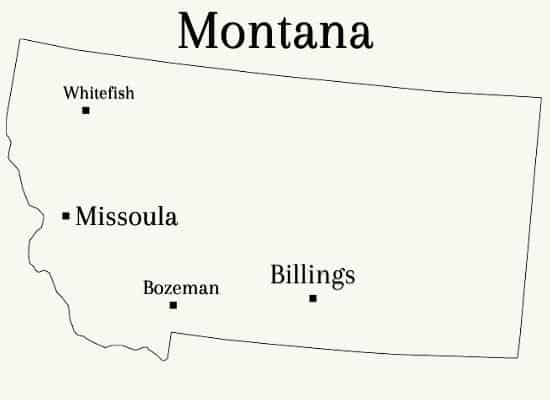 For anyone considering the benefits of moving to Montana.
Wanting access to the outdoors. But, not desiring to locate into a remote area of the state.
Then, you have a few different cities and towns to consider. For example…
Billings. The largest city in the state based on population. Located in the southcentral region.
The city has downtown blocks of historic buildings. And vibrant art community.
Missoula. It is located in the far western part of the state.
First of all, the town is home to the University of Montana. The flagship school of the state's university system.
Furthermore, it is nicknamed "The Garden City". Since there are many parks and green spaces.
Finally, by being west of the big mountains. It has a "milder" climate.
Bozeman. Here we have the location of Montana State University. And it is close to the north entrance to Yellowstone.
Helena. This is the capital city. It is located near the mountains. And spreads into a broad scenic valley.
Finally, for those interested in towns with even smaller populations. And a bit more remote locations. We have Whitefish.
There you will find Whitefish Mountain Resort. For skiing, hiking, mountain biking, and much more.
In addition, Whitefish is near Glacier National Park. Also, close to the larger town of Kalispell.
Where you will find Flathead Lake to the south. The largest freshwater lake in the lower 48 states. Also a popular outdoor recreation area.
But regardless of where you end up relocating to in Montana. You won't find much of this…
Traffic
While most people here own a car. Or more likely, a truck. You won't find yourself getting stuck in traffic.
Furthermore, the number of drivers decreases even more in the winter. As the roads turn icy. And the summer tourists have long disappeared.
Okay. So far we know that this state is beautiful.
And it is mostly untouched by human hands. Limiting the negative effects of urbanization.
But, we are just getting warmed up. So, let's continue with another one of the pros and cons of moving to Montana.
Reasonable Cost Of Living
First of all, I want to say the average cost of living in Montana is a bit of a mixed bag. Depending on the Montana lifestyle you can afford to lead.
But with that in mind, here are a few areas where you can find some savings for your budget. According to BestPlaces.net…
Apartments For Living In Montana
First of all, apartment rents are quite affordable in many areas. For example, the average cost of a 2-bedroom apartment in the state. Is about 30% less per month than the national average.
Then, because a lot of natural resources are readily available here. Such as oil, natural gas, and water.
You get this…
Utilities And Transportation
Residential utility bills that run lower. Nearly 10% below costs nationwide.
Finally, transportation costs are quite affordable too. Since CNN Money ranks the state as one of the lowest. Based on the annual cost of owning a vehicle.
Since you won't waste gas sitting in traffic.
And with the light road congestion. It lessens the wear on your auto.
Reducing maintenance costs and insurance costs too.
Sales Taxes
Next, we have sales taxes. This is truly one of the perks of living in Montana.
Since neither the state nor local municipalities add sales tax to your purchases. Most noteworthy, Montana is one of only 4 states with zero sales taxes applied to purchases.
It is a nice cost-saving. For sure!
Groceries And Health Care
Other costs, like groceries and health care services. They tend to fall out near the national average.
But think about this…
There Are Cheaper States To Live In Than Montana
So, as I said, you can find a reasonable cost of living in Montana. While I was careful not to say the average cost of living in Montana is low.
Because it is not. Since you can find a cheaper state to live in nearby.
And did you notice something else? I didn't mention the price of homes here.
That was intentional. Something I will talk about a little later.
Are still looking for ways to afford life in Montana? If yes, I have a few additional tips for you…
Ways To Save More Money Living In Montana (or anywhere)
First of all, keep your credit score in good condition. So you can get the best deal on a mortgage. Or, apartment lease.
You can check your score for FREE. Using Credit Karma. Then get to work improving it.
Ready to buy a home? Then shop for the best mortgage rates online at Lending Tree.
Next, get cashback. Off all of your online purchases.
By signing up for the Rakuten cash rebate app.
As a bonus. Rakuten gives you 10 dollars in cash. Just for coming on board.
Then you earn rebates on almost everything you buy online. No matter where you shop. Even your Amazon deliveries are covered!
Next, cut your grocery bill. When you shop at the store in Montana. And you will find Albertson's is a popular grocery store chain in the state.
So, when you go to the store. I suggest using the cashback app from Ibotta.
Last but not least. It is important to get a handle on your entire financial picture. Before, during, and after your move to Montana.
Whether it's preparing your monthly budget. Or, reviewing all of your financial accounts online.
Do these tasks in one place, quickly, and for FREE. By using the online tool from Personal Capital.
Because Personal Capital saves time. And makes managing your money less of a chore.
Don't miss out. Since all of these tips and tools work anywhere you choose to live!
Furthermore, they are all FREE to sign up and use. So start saving more money right away.
Okay. Enough about the price of living here.
Let's look at another one of the positives about Montana living.
Plenty Of Jobs And Education Options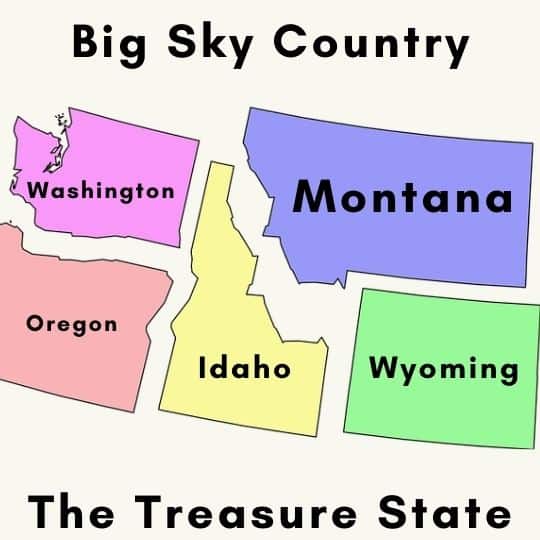 If earning a living. Or, improving upward mobility for you and your family is important.
Then consider the following good things about Montana life…
Job Market
First of all, the unemployment rate in this state is low.
It is well below the national average. And one of the lowest state rates in the country.
Primary sources of income result from ranching, farming, oil, coal, gas, mining, and lumber activities.
Thus, many residents often work outside as part of their jobs. They are farmers, ranchers, construction workers, and natural resource company professionals.
On the other hand, there are also opportunities in the larger cities and towns. Consisting of basic, but important jobs.
In industries like retail, food service, housekeeping, janitorial, and real estate. There are jobs in hospitality-based businesses too.
That cater to the summer tourists. And winter visitors to the ski resorts.
What you won't find are a lot of high-paying big city-type jobs. For example, jobs in banking, financial services, business management, and consulting are few and far between.
And this is reflected in the state's average household income. Being ranked in the lower quarter of all states in the country.
So, maybe you are a well-paid remote worker. Or, have a good local job lined up.
Or, you are a little older. And have your long-term finances in place. While thinking about the pros and cons of retiring in Montana.
Then, in any of these cases. You should be in good shape.
On the other hand, don't move to Montana in search of a high-paying occupation.
Thinking that's how you will make ends meet. Because you will likely be disappointed.
Educational Opportunities When Living In Montana
When it comes to upward mobility. Or, lifelong learning is a priority. For you or your family.
By pursuing higher education. This state offers some good schools.
Since Montana State University and the University of Montana. The two schools with the largest enrollments. They are both well-respected institutions.
Furthermore, after establishing residency. You will find that in-state tuition is quite reasonable. Some of the lowest in the United States.
Although, I must say. A college degree is rarely considered cheap.
And another one of the good things about Montana coming your way. But, be careful with this one…
Interesting Residents
To say the least, this state is full of some interesting people.
Friendly Residents Living In Montana
First of all, you will find the people who live in Montana are usually friendly. Having been brought up in rural and small-town community-minded environments.
They are good neighbors who rely on each other. To make it through tough times when they happen. And for getting through the long winters every year.
But overall, I'd say the happiest people. Are all about enjoying the country living in Montana.
Working hard. Sticking to their daily business. Causing no trouble for anyone.
Now, I did say the residents are interesting didn't I? And that's a good thing I guess. Since who needs boring?
Here is a couple of ways that plays out…
Politics
When it comes to politics. The majority attitude is conservative.
If that's how you view the world. Then you should fit right in.
On the other hand, progressives are represented too. Particularly in the cities and the two college towns, Bozeman and Missoula.
As for the presidential elections. They usually go to the Republican candidate.
So, I guess you would have to say the politics are divided. But with a nod to the conservatives.
From my perspective, a little diversity is usually a good thing.
Here's one more very important point about Montana people…
Welcoming Residents Living in Montana? (Sort Of)
I think historically, locals were fairly welcoming to outsiders. But earlier I mentioned there have been a lot of people relocating to the state. Especially Californians moving to Montana.
As a result, folks here have become a little less receptive to outsiders. So, as a newcomer, you will want to try your best to fit in. And keep a low profile.
Because it is completely different here. Versus the major population centers on the west coast. Or other big cities that you may be arriving from.
You might even find the locals are slow to accept newbies. And a bit nosey or judgmental. When it comes to other people's affairs.
So, consider yourself warned. If you decide to move to Montana.
Okay. That's all the good stuff about Montana. That I have for today.
But, an article about the pros and cons of living in Montana would not be complete. Without a fair assessment of the bad things about Montana too.
Let's keep moving…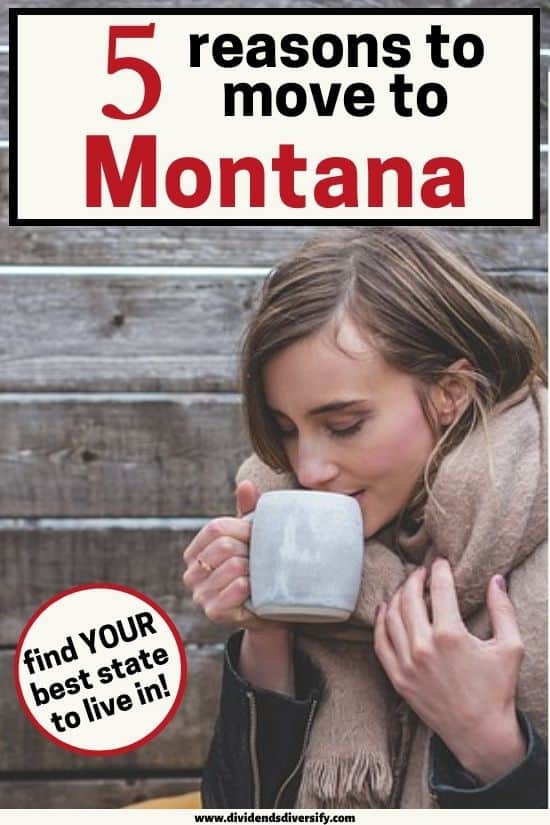 Extreme and Diverse Weather
First of all, the Rocky Mountains affect the climate. As does the Continental Divide that runs through the state.
They restrict the warmer Pacific Ocean air from flowing east. And keep the dry cold air from moving west.
Thus, west of the mountains has a coastal climate. With milder winters, cooler summers, and less wind.
Clouds and fog can form in the valleys during the winter. Keeping warmer air from escaping into the atmosphere.
This is unlike the eastern part of the state. That experiences greater temperature extremes.
And it is important to note. That most of the state falls east of the mountains.
Winter Living In Montana
Regardless of location. Winters are brutally cold. With the below-freezing temperatures starting as early as October.
For example, the capital city of Helena routinely records extreme sub-zero temperatures during the winter. And it is colder still in other more remote parts of the state.
Then you should know, that over certain months of the year, 100 degrees swings are possible. For example from -30 to 70 degrees Fahrenheit.
And snowstorms can happen almost every month of the year. Certainly in the higher elevations.
Spring Through Fall
Then from spring to autumn, the mountainous areas are prone to severe thunderstorms. That can pop up anytime.
On the other hand, especially in the lower elevations. And in the south and eastern parts of the state.
Summers can be very hot. With temperatures approaching 100 degrees.
Most importantly, the weather varies all over the state. Depending on where you choose to move to in Montana.
So, use these guidelines as an overview. About what you can expect. Then fine-tune your knowledge as you hone in on your desired location.
But overall, this type of weather may put a damper on retirement in Montana. If that's what you are thinking about.
Next up, another one of the worst things about living in Montana…
Lacking In Urban Amenities
It stands to reason. A state with one of the smallest population bases. And the largest metropolitan area (Billings) has less than 200,000 residents.
That some of the basics of urban life might be lacking.
Here is what I mean…
Low Supply Of Affordable Housing
I mentioned earlier that the state's population has been growing. Partly due to remote work. And well-off folks from big cities relocating here for a better life.
This has put homes in short supply. And increased prices dramatically. Offsetting many of the benefits of a lower cost of living.
The dynamic has made homeownership less affordable for locals. Or those of lesser means. Working in an economy that supports only a modest average household income.
Bozeman
In some places, Bozeman for example, the situation is extreme. It has been one of the fastest-growing towns in America. And often cited as one of the best places to live.
But popularity brings its own set of challenges. Because the real estate here doesn't support aggressive development.
There are mountains, wetlands, large parcels dedicated to agriculture. And vast amounts of federally owned land in and around the area.
Making development cost-prohibitive at best. Or, impossible at worst.
Other Montana Towns Too
Other popular towns have similar issues. Also, the situation doesn't go over very well with long-time locals.
Especially for Californians moving to Montana. You may not find current residents a little on the hostile side.
I mean Bozeman's not-so-flattering nickname says it all. As some refer to it as "Boz Angeles".
To sum it up, the state does not have a large and diverse housing supply. That can be found in states with large populations.
And this is a real problem. For the locals, the real people, and the workers.
Who may not have the money for an expensive house. But are an important and necessary piece of the state. And it's economy.
Here's another thing a city dweller may view as one of the cons of living in Montana…
Public Transit And Getting Around
Since public transportation is limited here.
On one hand, the larger cities and towns have bus systems. But, they are limited at best.
So, plan on owning a vehicle. And seriously consider four-wheel-drive.
Because the rural roads can be rugged. While the snow makes the extra traction a welcome convenience.
Just be careful. As folks around here like to drive fast. Because of the long stretches of open roads. And little traffic to get in the way. Breaking the speed limit is a common occurrence here.
The Night Life When Living In Montana
If you are the clubbing, late-night, party type. Or, looking for high-end cultural events. Then this place may not be for you.
Since many businesses and restaurants close up shop by 5 pm.
Furthermore, other than the larger towns of Bozeman, Missoula, or Billings. You won't find much in the way of theater, lectures, or dining.
Next, after moving to Montana. You are going to find that you are not the only one that likes it here.
Bringing us to another one of the disadvantages of living in Montana…
Too Many Tourists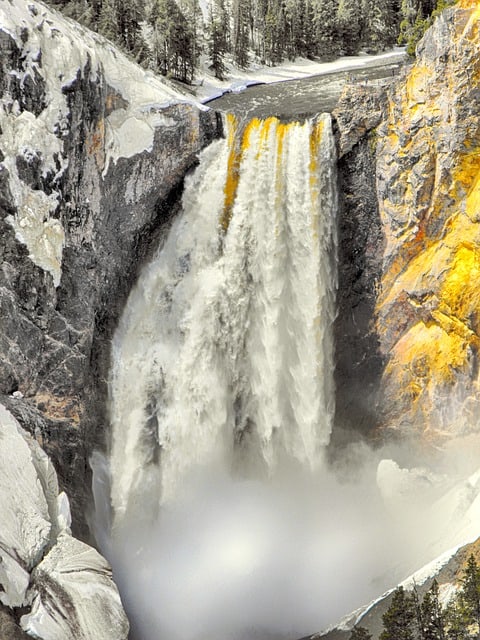 Since we have an amazing landscape here. Access to unbelievable National Parks. And top-notch ski resorts.
Those things alone attract droves of tourists. Thousands come by busload and by automobile every year.
Resulting in traffic congestion. Coming in and out of the most popular areas. At the most popular times.
By observing a busy summer day in Glacier or Yellowstone. You might conclude there are more people there than on a busy city street. Unfortunately, you wouldn't be far off concluding that.
Next, I've got one of the dangers of living in Montana…
Dangerous Wildlife
Because, once again. We humans aren't the only ones that find this place appealing.
As the state has wildlife of all kinds. Including grizzly bears, black bears, cougars, bobcats, wolves, and coyotes. Just to name a few.
Furthermore, the state has thousands of farms. Many with livestock. That attracts predators looking for a good meal.
So, it is wise to be cautious as you go out exploring. Even in the cities, but to a lesser degree.
And when hiking. Or, heading into the backcountry. It's a good idea to carry bear spray.
Okay. One last of my reasons not to live in Montana…
Remote Lifestyle
If you haven't gotten the idea already. This is a remote rugged state. With harsh winter weather.
So, there are a couple of things you need to think about…
Isolation
First of all, living in parts of the state means being somewhat isolated from other people. Since towns are located far apart.
As you go to the east, it is possible to drive for many miles. And see nothing but fields, mountains, or badlands.
Some towns may not even have a gas station. So, it's important to travel with a full tank.
Then, when the worst winter weather hits. You might not see others for days. As everyone hunkers down. To avoid the frigid temperatures and icy roads.
Bringing me to another point. As part of our Montana living pros and cons…
Self-Sufficiency
In rural areas, a storm can knock out electricity. Keeping the lights off for several days at a time.
While icy roads can be dangerous to navigate. Leaving the possibility of getting stranded for a while. Before help arrives.
Thus, one of the negatives of living in Montana is this. You need to be self-sufficient.
For example, keeping emergency supplies on hand. Both in your home and your car.
It's something others do not have to worry about. In many parts of our country.
Okay. That's all of the interesting things about Montana that I have for today.
Allow me to wrap up with a summary…
Pros And Cons Of Living In Montana
Here are 10 living in Montana pros and cons. To consider before moving to "Big Sky Country":
An amazing outdoor setting
Limited effects of urbanization
Reasonable cost of living
Plenty of jobs and education options
Interesting residents
Extreme and diverse weather
Lacking in urban amenities
Too many tourists
Dangerous wildlife
Remote lifestyle
Hopefully, I have given you some clues. To answer these important questions:
1) Should I move to Montana?
And
2) What is Montana like?
Best of luck as you study other living in Montana reviews. And no matter where you choose to settle down.
More Reading About Living In Montana And Beyond
Make The Most Of Your Money Living In Montana
I mentioned several tools for effectively managing your money in this article. And they are summarized here for your convenience.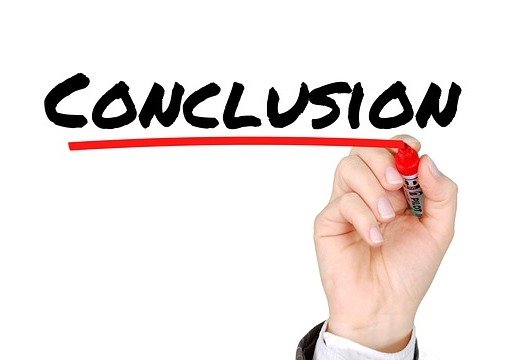 Disclosure & Disclaimer: I am not a licensed investment adviser, financial adviser, or tax professional. And I am not providing you with individual investment advice, financial guidance, or tax counsel. Furthermore, this website's only purpose is information & entertainment. And we are not liable for any losses suffered by any party because of information published on this blog.
The Pros And Cons Of Living In Montana Explained