Check Out These Amazing Places To Live In The Western United States
Today I will explore the best Western states to live in, including some of the top Western cities and towns. It's the perfect topic for anyone thinking of moving out west.
Whether looking for the best western states to retire in or seeking to kick-start your life in a new location, you have arrived in the right place.
So, let's work through it before you pack up and move it.
Best Western States To Live In
For many good reasons, people are migrating to the western United States. But only a few of the best states out west make for a great place to live.
Thus, here are my recommendations on the top 5 best western states to live in right now:
Arizona
Idaho
Montana
Washington
Wyoming
I have ranked the list in alphabetical order. However, before we wrap up, I will share my opinion on the number 1 best state to live out west.
But now, let me cover the advantages of living in these five western states. Also, I will note some of the best cities in the west to live in right now.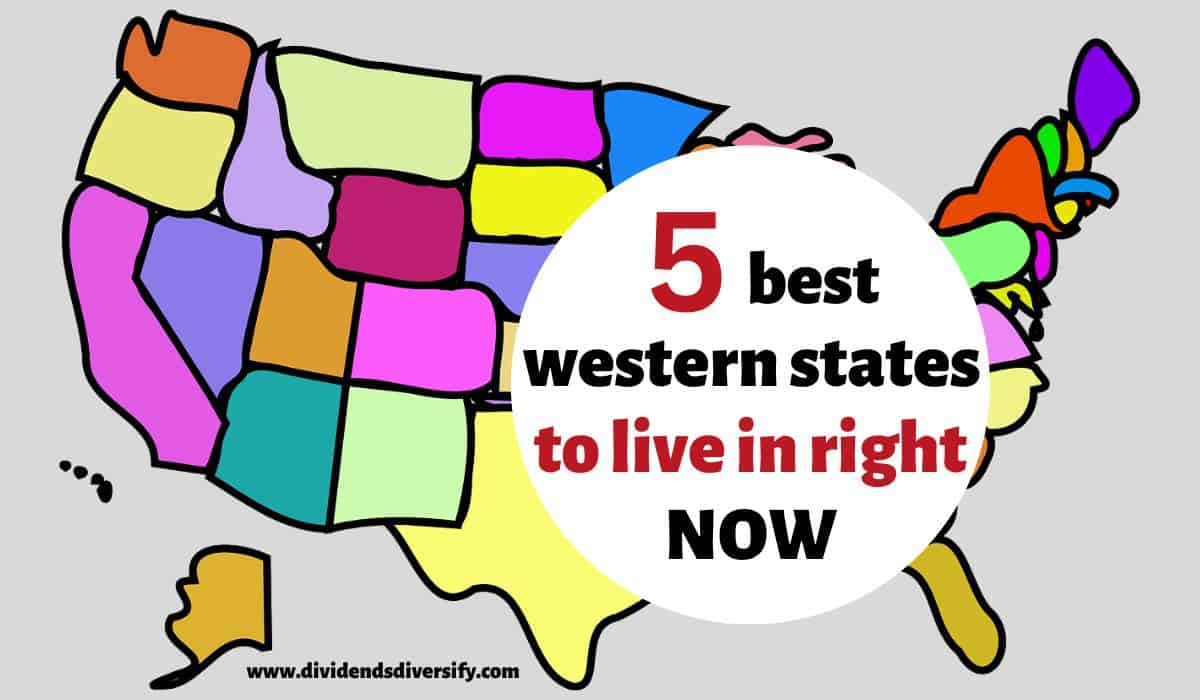 Disclosure: At no cost to you, I may get commissions for purchases made through links in this post.
1. Arizona
There's a lot to like about Arizona living.
First, on the economic front, the state offers:
A competitive cost of living
Low state income taxes
A growing economy with good jobs
Next, throw in more than 300 days of sunshine annually, mild winters, fun things to do, and a fantastic landscape. Add it all up, and you can see why so many retirees are flocking to "The Grand Canyon State."
Yes, Arizona attracts a lot of retirees. For example, the popular city of Prescott has attracted many in recent years.
However, the median age of residents is about 38 years. Thus, placing the state in the top one-third of all states for youthfulness in America.
Flagstaff and Scottsdale are two lovely cities within the state's borders.
However, they are entirely different. So let's discuss each of them next.
Flagstaff
Situated 160 miles north of Phoenix, Flagstaff is an outdoor lover's dream. Nearby are several national parks, state recreation areas, and historical sites.
Also, Flagstaff is the gateway to the San Francisco Peaks, home to Arizona's tallest mountain, Humphreys Peak standing more than 12,000 feet above sea level.
Examples of outdoor getaways near Flagstaff include:
Grand Canyon National Park
Dead Horse Ranch State Park
Red Rock State Park
Furthermore, the city rests at 7,000 feet above sea level. Mountains surround the town, and residents enjoy all four weather seasons. However, summer-time temperatures are less extreme than in Arizona's southern regions.
Thus, the city offers perfect conditions for an active, year-round outdoor lifestyle, including winter sports.
Finally, you can slow the pace here and enjoy downtown Flagstaff. The city offers plenty of restaurants, breweries, and fun events throughout the year.
Or, head down the canyon to check out touristy Sedona.
Thus, by putting all these positives together, you end up with one of the best places to live out west.
Scottsdale
Then, consider the Phoenix suburb of Scottsdale for something completely different yet still in Arizona.
Scottsdale is a clean, well-maintained city with upscale areas and the higher price tags that go with them. Furthermore, residents don't encounter snow like their neighbors in the higher elevations of Flagstaff.
The weather is perfect for enjoying outdoor activities for more than six months of the year. So get out and explore the 200-plus area golf courses. But realize summers bring an intense dry heat that may only be for some.
Downtown Scottsdale has plenty of bars and dining options. Also, numerous local, independent art galleries support southwestern art and the artists creating it.
On top of that, hundreds of luxury retailers, unique boutiques, and upscale malls make Scottsdale a shopper's paradise.
Okay. Let's switch gears and head north to another one of the best states in the west to live.
2. Idaho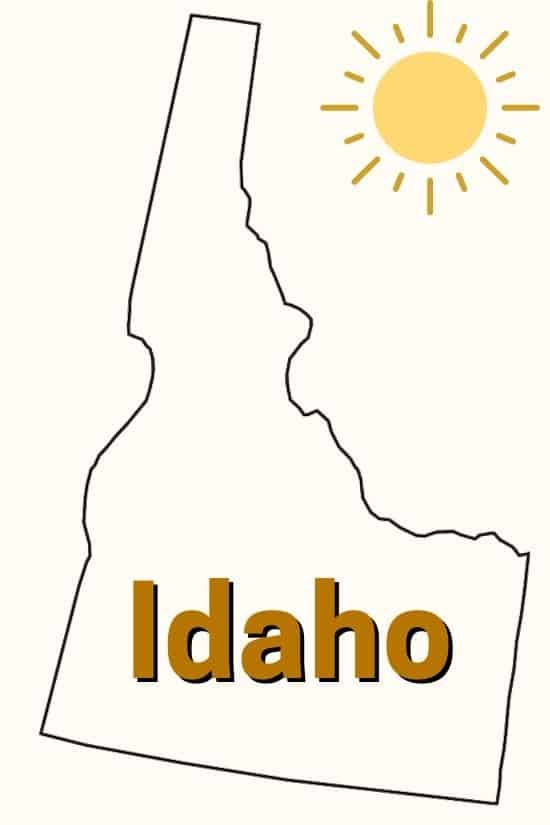 There are good reasons many people are moving to Idaho. Several that are top of mind include the diverse economy, low unemployment rate, and the reasonable cost of living in the west.
Furthermore, the state's urban areas are clean and safe. Residents are friendly and value sustainability to protect the precious environment here, doing so for many good reasons.
Some of the landscape's highlights include the Hells Canyon National Recreation area. The site is home to the deepest river gorge in North America.
Or pick one of the thousands of trails in the Sawtooth Mountains. You can hike and explore until your heart is content.
Discover Twin Falls, home to the famous Shoshone Falls, also known as "the Niagara of the West." Here you will find one of the largest natural waterfalls in the country.
Put it all together, and you can see good reasons the state is one of the fastest-growing in America. Second only to Florida, according to recent census data.
Yes, the city of Boise is a popular destination. However, I'm highlighting two lesser-known places to consider for your move out west.
Coeur d'Alene
First, I have Coeur d'Alene located in the northwest corner of the state, about 100 miles south of Canada.
Furthermore, a 30-minute drive will put you in Spokane, one of the largest cities in Washington. I have more on Spokane a little later.
The region is known for water sports on Lake Coeur d'Alene. Also, the trails in the Canfield Mountain Natural Area and Coeur d'Alene National Forest.
You can also enjoy a more urban outdoor experience ideal for the kids. McEuen Park offers plenty of amenities for the entire family.
More than 50,000 residents call the city home. They enjoy being close to nature, walking, biking, minimal traffic, and the slower pace life delivers here.
During the summer, downtown has a resort-like feel about it. But, of course, the lake and beaches are at the heart of it all.
Also, there is a nice variety of local restaurants and retailers to grab a bite or pick up the essentials.
However, shopping and business ventures differ from the real reasons why people come here. Instead, they come for the laid-back atmosphere and the proximity to the great outdoors.
Next, let's travel to the southeast corner of Idaho for another one of the best western cities to live in right now.
Pocatello
Pocatello is one of the state's largest cities in the southeast. Furthermore, the combination of nearby Idaho Falls makes for a relatively substantial metropolitan area.
The surrounding landscape is a high desert. There are also numerous hot springs located around the region.
And, of course, just like all of Idaho, you will find plenty to do outdoors.
There is American Falls Reservoir for all kinds of summer water activities. In addition, the Pebble Creek Ski Area is nearby for winter fun.
And for a more relaxed in-town experience, walk, bike, or jog the Portneuf Greenway. The space provides a network of paved bicycle and pedestrian trails throughout the greater Pocatello-Chubbuck area.
Next, you must know that Idaho State University calls the city home.
The school offers more than 250 programs at its main campus in Pocatello and other locations in Meridian, Idaho Falls, and Twin Falls. In addition, 10,000-plus students attend classes here, giving the city a college-town vibe.
Finally, historic downtown Pocatello has plenty to offer. There are boutique shops, locally owned restaurants, and a great farmers market during the warmer months.
Okay. It's time for number 3 on today's list of the best western states to live in for fun, family, and everything life offers. And I guarantee the next state will not disappoint.
3. Montana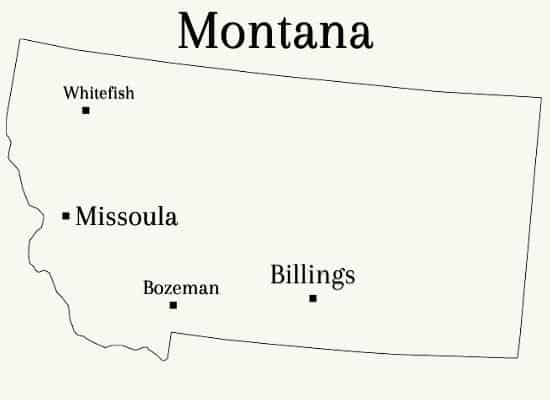 I'm talking about Montana here, also known as Big Sky Country, a state full of wide-open spaces and limited population density.
Here, you will discover the Rocky Mountains in the west. To the east of the mountains are the northern regions of the Great Plains. At the same time, the Badlands encroach on the easternmost areas.
Most noteworthy, parts of the state's land are home to two of the most highly acclaimed National Parks. Specifically, Glacier and Yellowstone.
Fortunately, human development and urbanization have thus far had a light touch on the state. Therefore ranching, farming, and the cowboy lifestyle are prevalent, as evidenced by the thousands of operational farms and ranches.
Thus, it is the ideal environment to put a financial stake in the agricultural community. Historically, farmland real estate investments have performed exceptionally well.
So, are you ready to move out west, specifically to Montana? If yes, I can't blame you.
But it would be best if you focused on picking the right place to live for you and your family. Yes, there are the more significant, popular cities of Billings, Missoula, and Bozeman.
However, let me introduce a couple of other lesser-known options.
Great Falls
With a population of nearly 60,000 and its central location within the state, Great Falls has lots to offer its residents. Specifically, safe neighborhoods, excellent schools, abundant recreational opportunities, an international airport, and excellent healthcare facilities.
There are dozens of parks and the River's Edge Trail.
The trail stretches almost 60 miles along both sides of the Missouri River. The route is perfect for walking, jogging, or biking.
Rivers Edge has views of the mountains, prairies, river canyons, waterfalls, reservoirs, and several hydroelectric dams. It connects to Great Falls' historic downtown, numerous parks, dining options, and other attractions.
Thus you may find living in this central Montana region the perfect blend of city amenities and small-town charm.
Next, let's travel to the northwest corner of the state.
Kalispell
Kalispell, the largest city in the Flathead Valley, is the retail and economic hub of Northwest Montana. The surrounding valley region includes parts of Flathead County and Lake County.
The city offers a welcoming business environment and outstanding quality of life, making for an attractive community in which to live.
Downtown Kalispell boasts a nicely kept Main Street with old-time street lamps, beautiful flower baskets in the summer, and greenery in the winter. The downtown hosts parades, monthly shopping and dining events, unique restaurants, boutique shops, cafes, and salons.
Arts and culture are prevalent in the area. Studios, galleries, art festivals, and cultural events are frequent around town.
For outdoor lovers, you will be at the doorstep of Glacier National Park. Also, several national forests and wilderness areas.
To the south of the city is Flathead Lake. This fantastic water feature is the largest natural freshwater lake west of the Mississippi River. While in town, the 38-acre Woodland Park is a year-round family favorite.
Finally, protected by mountain ranges, the climate is surprisingly mild for an area this far to the north.
Next, we move on to what I consider one of the best west coast states to live in and best western states to live in for everything you want to get out of life.
4. Washington
Located in the heart of the Pacific Northwest, we have the great state of Washington.
First, the state's landscape offers immense scenic beauty. Many miles of Pacific Ocean coastline, fantastic Puget Sound, the Cascade Mountains, and Mount Ranier reaches 14,000 feet above sea level.
For outdoor enthusiasts, Washington state has three national parks:
Mount Rainier National Park
Olympic National Park
North Cascades National Park
Furthermore, the state has a large, diverse, and thriving economy. Industries such as technology, retail, agriculture, and manufacturing are well represented.
Finally, I must add that Washington does not charge residents individual income taxes. Nor does the state levy a corporate income on businesses.
These factors make Washington one of the best western states to move to for the good life. So, let me uncover some possibilities for your pending relocation.
Spokane
I will start with Spokane. As I previously mentioned, this large city with more than 200,000 residents is a quick drive from Coeur d'Alene, Idaho.
So, if you have fallen in love with this part of the country, be sure to understand that you won't pay state income taxes in Washington. However, you will have to pay taxes if you cross the border in Idaho for your new home.
Whatever you decide, let's discuss living in Spokane.
First, Spokane's Riverfront Park was transformed into a beautiful setting many years ago. The park has a redesigned Pavilion, several playscapes for the kids, basketball courts, food truck rallies, and more. It is accessible from downtown and near the university district.
Second, the downtown area has flourished. It boasts more restaurants and shops than ever.
Nearby is Riverside State Park. This park has 9,000 acres along the Spokane and Little Spokane rivers. In addition, 200,000 feet of shoreline provides the perfect setting for hiking, boating, and camping.
Next, there are thousands of farms in the area. Perfect for anyone looking for locally grown fresh produce and farm goods from the farmers' markets throughout the growing season.
Finally, you won't have to go far for outstanding higher education opportunities either. Spokane Falls Community College, Gonzaga Univesity, Whitworth University, and satellite campuses from the University of Washington and Washington State are all nearby.
Next, let's head west across this great state for another one of the best places to live on the west coast.
Tacoma
A far less expensive city than its more well-known neighboring city to the north, Tacoma has become an attractive place for young creatives and entrepreneurs.
Two things describe Tacoma compared to Seattle. First, it is a bit more affordable. And the city is much less congested, with just a little more than 200,000 residents.
This waterfront city has abundant cultural options, artistic sights, and appealing neighborhoods.
Some features of Tacoma you should be aware of include the following:
Top-rated colleges and universities
Mild year-round climate
Convenient public transportation
Tacoma Ranier's minor league baseball
700-acre Point Defiance Park
Next is the last of my five picks for the best states in the west to live in right now.
5. Wyoming
Suppose you are looking for a state with abundant natural beauty, little urbanization, small towns, and no large metropolitan area. In that case, Wyoming may be your place.
For enjoying the great outdoors, this state doesn't take a back seat to any place. Not when two premier national parks are within the state's borders. Specifically Yellowstone and Grand Teton.
But where Wyoming sets itself apart is its low tax burden. Consider these tax benefits of choosing to live here:
No personal income tax
Zero tax on out-of-state retirement income
No corporate income tax
Low property taxes
Low sales taxes
No estate or inheritance tax
Thus, Wyoming is one of the country's top state tax havens.
Combine the tax savings with the favorable cost of living, and we get one of the best western states to retire to stretch your limited finances further.
Read more here for anyone wanting to geek out on the tax benefits of moving to Wyoming.
Next are two of the best places to live out west in "The Cowboy State."
Casper
Casper is the second most populated city in Wyoming, part of Natrona County, and centrally positioned within the state.
Here you will find the cost of living in the west relatively modest, the scenery beautiful, and the people friendly.
Also, there are plenty of things to do for outdoor lovers. For example,
Glendo State Park
Bighorn National Forest
Hogadon Ski Area
Thus, like many of the cities we have discussed, the opportunities to hike, bike, fish, boat, camp, and ski are virtually limitless. Or, take a moment to gaze up into the sky to see a fantastic array of stars on a nightly basis.
Finally, Casper's downtown area is home to various restaurants, bars, and shops. Also, plenty of businesses and amenities surround downtown to serve your lifestyle needs.
Cheyenne
Next, we have Cheyenne, the state's capital city.
State capitals are typically centrally located, but not this one. Instead, Cheyenne is in the far southeast corner of Wyoming, just a stone's throw from Fort Collins, Colorado.
Moving here means choosing a hospitable place with a small-town feeling and friendly residents. So, new residents feel more comfortable and safer than in larger cities.
Small businesses, restaurants, coffee shops, and office workspace fill out Cheyenne's historic downtown.
Close to the town's center is the grand cornerstone of Cheyenne. But, of course, I'm referring to the Botanic Gardens and Grand Conservatory. Not only can you view the horticultural exhibits year-round, but this venue is a great event center too.
Furthermore, the city has many local museums, movie theaters, and playhouses. The artist community is also robust.
For outdoors lovers, Holiday Park offers everything you want in an urban oasis. In addition, 30 minutes west of town are incredible hiking trails.
Also, for those who love to climb, an area west of Cheyenne is all about the rocks! Vedauwoo Recreation Area offers unique rock formations for experts and beginner climbers alike.
Okay. That concludes my discussion of the five best states to live in the west.
Next is a word about the other western states that didn't make my list of the best.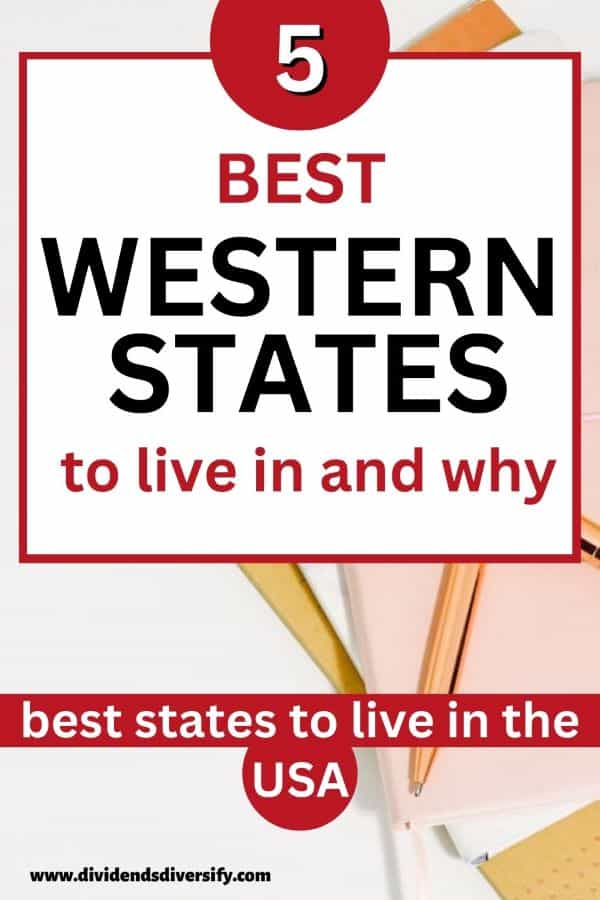 Best West States To Live In Beyond The Top 5
According to the U.S. Bureau of Labor Statistics, 13 states make up the western United States.
So you have my picks for the top 5 best western states to live in right now. But for the record, here's my hot take on the rest of the western states.
Alaska
Alaska is vast, remote, rugged, and cold in the winter. But perhaps there are good reasons Alaska pays residents to live there. That's all I have to say for now about the state.
California
The incredible California lifestyle is hard to beat except for the high cost of living, the heavy tax burden placed on residents, and aggressive government regulations.
Just think about everything the state offers if it weren't for those drawbacks. Such as,
Southern California
San Francisco bay area
San Diego
Wine Country
Silicon Valley
It's a massive state with a lot going on and many diverse areas to explore. However, it couldn't crack my top 5 best states to live in the west.
Colorado
Not putting Colorado in my top 5 was a tough call. However, I had to cut it off somewhere and make hard choices.
Thus, the many great things about the state of Colorado earn it the first of two honorable mentions.
Hawaii
Who wouldn't want to live in an island paradise? You can sign me up for it!
Hawaii is a great state to live in, except for the high cost of living, tourists, and its remote location.
Nevada
There is too much summer heat in the desert for me. And I've never been intrigued with Las Vegas. Thus, I could not choose Nevada as one of the best western states to live in.
However, I have one of many critical points about Nevada to put in the plus column: no state income taxes.
Are you getting the idea that I don't like paying taxes?
New Mexico
Santa Fe, Taos, and Albuquerque are all great places to live.
But there are several points about New Mexico living that I need to get beyond before considering it one of the best western states in which to live. Specifically, the economy is lackluster, and the educational system is subpar.
Oregon
Yes, Oregon is a beautiful west coast state with miles of ocean coastline. However, the state taxes and the cost of living are higher than I prefer.
Utah
The western state of Utah has excellent cities, fantastic national parks, and a young, vibrant population. Many residents are born here and choose to stay as adults for good reasons.
However, housing costs have risen dramatically. Also, racial and ethnic diversity is lacking. Even considering these points, I still give Utah honorable mention #2.
And now, drumroll, please. It is now time for the best state to live in the west.
What Is The Best Western State To Live In?
Washington is the best western state to live in because it has a little something for everyone. Vibrant big cities, peaceful small towns, a productive economic engine, cultural activities, miles of ocean coastline, mountains, and incredible scenic beauty. Thus, you can get the most out of your work, play, the outdoors, and life in Washington.
Final Thoughts About Moving Out West To The Best States
You can see by now that it's hard to go wrong living out west. The best western states to live in, including the west coast and the pacific northwest, have much to offer residents.
But just in case this region of the country isn't the perfect fit for you, check out my
Archives of Top Places to Move and Why
Happy exploring, and good luck finding your perfect place to live.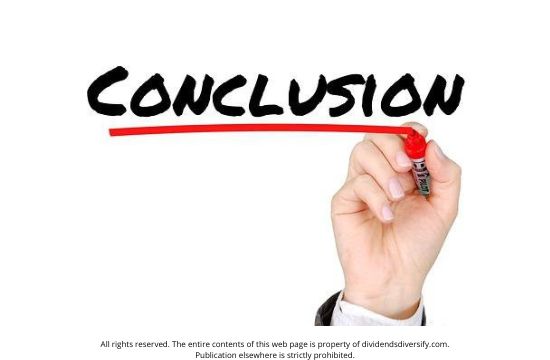 Author Bio, Disclosure, & Disclaimer: Please join me (Tom) as I try to achieve my goals, find my next place to live, and make the most of my money. However, I am not a licensed investment adviser, financial counselor, real estate agent, or tax professional. Instead, I'm a 50-something-year-old, early retired CPA, finance professional, and business school teacher with 40+ years of DIY dividend investing experience. I'm here only to share my thoughts about essential topics for success. As a result, nothing published on this site should be considered individual investment, financial, tax, or real estate advice. This site's only purpose is general information & entertainment. Thus, neither I nor Dividends Diversify can be held liable for losses suffered by any party because of the information published on this website. Finally, all written content is the property of Dividends Diversify LLC. Unauthorized publication elsewhere is strictly prohibited.
5 Best Western States To Live In And Why Fully Explained