Apple Dividend Stock Analysis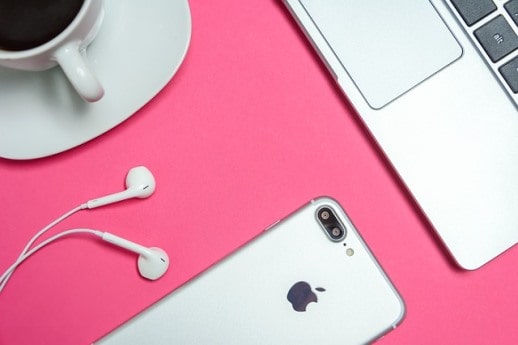 With all the recent talk about Millionaires here at Dividends Diversify, I haven't done a dividend stock analysis in a while.  Here's one company that has created a lot of new millionaires over recent years.
A few weeks ago I did a review of companies in the technology sector.  The article pointed out their gigantic cash holdings.  In addition, I questioned if the new 2017 tax law might result in larger dividend increases from companies in the sector.
Apple was one of 5 cash rich technology companies highlighted in the article.   With first quarter earnings in the books and an Apple dividend increase recently announced, let's take a closer look at this well known tech company.  So, please join me for a dividend deep dive.
COMPANY BACKGROUND
Headquartered in Cupertino, California, Apple designs, manufactures and markets mobile communication devices, media devices and personal computers.  In addition, they sell a variety of related software, services, accessories, networking solutions and third-party digital content and applications.
The company's hardware products include the:
iPhone smart phone

iPad tablet computer

Mac personal computer

Apple Watch

Apple TV
Apple's software includes:
macOS, iOS, watchOS and tvOS operating systems

iCloud

Apple Pay
Digital content and services are composed of the:
Apple Music

iTunes Store

App Store

Mac App Store

TV App Store

iBooks Store
APPLE DIVIDEND YIELD
Apple is paying an annualized forward dividend of $2.92 cents per share.  This represents a 1.56% yield at the recent price of $188 per share.
COMPOUND ANNUAL DIVIDEND GROWTH RATE
| | | |
| --- | --- | --- |
| 1 Year | 3 Years | 4 Years |
| 10.31% | 10.04% | 9.91% |
The current Apple dividend was initiated in mid-2012.  During that year they started paying a regular quarterly dividend and have continued to do so ever since.  Prior to that, the company had not paid a dividend to its shareholders since 1995.
On May 1, management announced a 15.9% increase to the Apple dividend starting with this months quarterly pay out.  The new increase is clearly a break from trend.  As the compound annual dividend growth rate table shows, Apple has annually raised the dividend about 10%.
REVENUE
 
Apple's revenue peaked in 2015 at $234 billion.  During 2016, as revenue declined there were concerns about the future revenue generating capacity of the company.
At the time, iPhone accounted for a very large portion of the company's revenue and profit.  The smart phone market was maturing.  Competition was catching up.  In addition, customers upgraded their phones less frequently.  This was mainly due to the annual changes from phone to phone becoming less dramatic.  As sales slumped, so did the stock price.  It made it's most recent bottom of $90 per share in May 2016.
Since then, the stock has never looked back.  It has doubled in value in less than 2 years.  The company has gone through a fundamental transformation.  They have turned a business centered on how many devices it ships into one built around high-end features and services for those devices.
The quarter ending March 2018 revenue clocked in at a little over $61 billion.  This represents the highest March quarter revenue in company history!
APPLE DIVIDEND, EARNINGS AND PAYOUT RATIO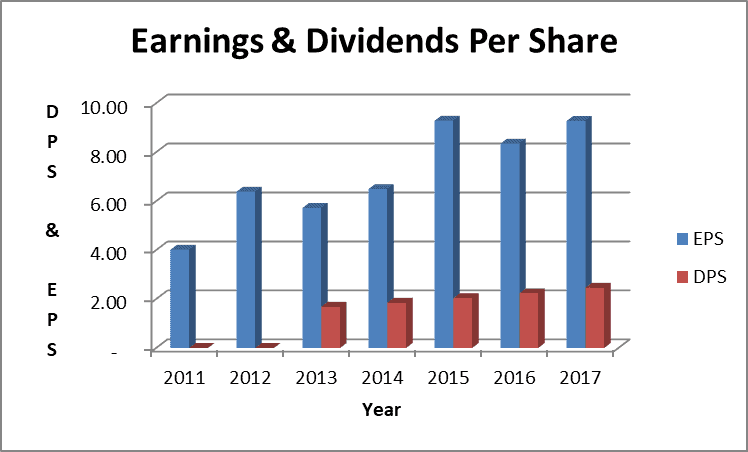 From a 2018 earnings perspective, analysts project greater than 20% growth.  Consequently, 2018 is setting up to be a record year.
The 2018 projected dividend payout ratio will be about 24%.  This is slightly lower than the past several years.  A lower dividend payout ratio is a positive metric.  It shows the company has ample room to raise the dividend in coming years.  Or, withstand an earnings drop with out having to reduce the dividend.
VALUATION & CONCLUSION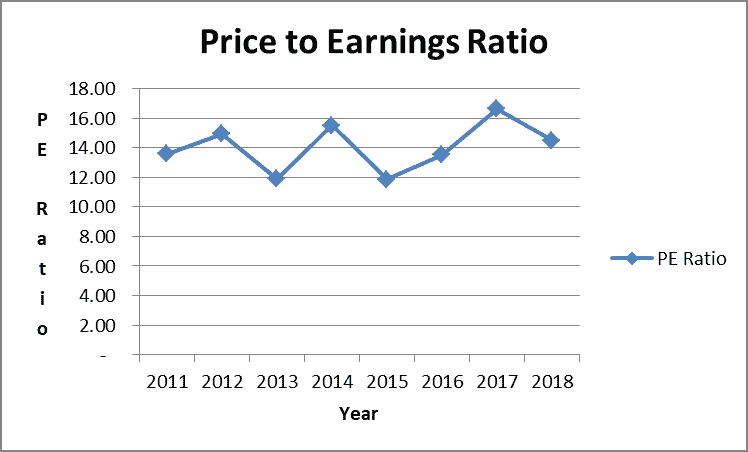 The stock price has already reflected the anticipated growth in 2018 earnings.  This leaves the forward price to earnings ratio for 2018 at about 14 times.  At this level the stock is trading near the mid point of its recent historical range.
WRAPPING IT UP
Apple isn't your father's dividend growth stock.  It doesn't operate in your traditional steady demand industry like consumer staples or utilities.  The company's growth is partly dependent on managing short product life cycles.  In addition, continual and consistent product and service innovation is an ongoing requirement.
I have a moderate size position in Apple at a cost basis of $85 per share.  I intend to hold and would only consider buying at a price below $120 per share.  This would equate to a 2.4% dividend yield.  I will let this winner ride and put my money elsewhere for now.  There are many other good dividend paying stocks at reasonable prices in the market right now for me to consider adding to Apple.
Hypothetically speaking, if I did not already own Apple, I would consider initiating a position below $145 per share.
OTHER RELATED ARTICLES
I hope you liked this post.  If so, here are a couple others that you may find interesting:
WHAT ARE YOUR COMMENTS?
Do you own Apple?
Are their other risks or opportunities with their business I haven't considered?
Do you use and like Apple products?
Leave a comment and let us all know!
BE SURE TO SUBSCRIBE
As part of your subscription to Dividends Diversify, you will get 20 wealth building and investment tips free!  In addition, never miss a new post.  I will send a weekly email to all subscribers with a link to the current weeks new content.  Last but not least, thanks for visiting.
Disclosure & Disclaimer
As of this writing, I am long Apple.  Always remember that the information on this site is for educational and entertainment purposes only.  The information is not to be used as investment advice specific to your circumstances.  Consult your personal investment and/or tax advisers prior to investing money.  Please realize you are solely responsible for any investment gains or losses as a result of the investments you enter into.  You can find additional information under this site's disclaimer tab: Disclaimer & Privacy Policy.