High Grades For Apple Stock Appreciation & Dividend Growth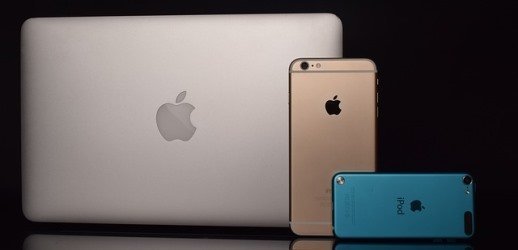 Apple dividend growth has been attractive in recent years. But, Apple stock has retreated from its all-time highs.
So, let's take a close look at the Apple dividend. I will do this by walking through an Apple stock analysis.
Is Apple a good dividend stock? If yes, is it time to buy Apple stock? These are just a couple of the questions I want to address.
Disclosure:  This post contains referral links.

Also, we will take a close look at Apple dividend growth, dividend safety and the dividend's prospects for the future. I will check into the Apple stock analysis from the Simply Investing Report.
I subscribe to the Simply Investing Report. And here you can read my full review of what tools the Simply Investing Report provides an investor.
But before we start, please note that Apple stock trades on the Nasdaq stock exchange. It trades under the ticker symbol, AAPL.
Apple: Company Background
Headquartered in Cupertino, California, Apple designs manufactures, and markets mobile communication devices, media devices, and personal computers.
In addition, they sell a variety of products related to software, services, accessories, networking solutions, and third-party digital content and applications.
The company's hardware products include the:
iPhone smartphone

iPad tablet computer

Mac personal computer

Apple Watch

Apple TV
Apple's software includes:
macOS, iOS, watchOS and tvOS operating systems

iCloud

Apple Pay
Digital content and services are composed of the:
Apple Music

iTunes Store

App Store

Mac App Store

TV App Store

iBooks Store
Fact & Figures Regarding The Apple Dividend
The current Apple dividend was initiated in mid-2012.
What Is Apple's Dividend Per Share?
Apple's dividend rate per share is $3.08 on an annual basis. This represents a 1.1% Apple stock dividend yield at the recent Apple stock price.
Apple's stock has performed very well in recent years. As a result, Apple's dividend percentage has been falling.
I prefer to purchase stocks with higher dividend yields. The best dividend stocks for me have yields between 3%-5%. But, I do make exceptions to this rule. Especially for such a high-quality company like Apple.
According to the Simply Investing Report, Apple's dividend percentage is less than its long-term average. This is a sign that Apple stock may be overvalued.
We will get to Apple stock valuation in a moment. But right now, let's continue our Apple stock analysis and review a few other facts about the Apple dividend.
How Ofter Does Apple Pay Dividends?
Apple's dividend frequency is every 3 months or 4 times per year. Each quarterly dividend payment is 77 cents per share.
In What Months Does Apple Pay Dividends?
Dividends are paid in the following months: February, May, August, and November.
What Is The Ex-Dividend Date For Apple Stock?
For an investor to receive Apple's next dividend payment, they need to complete their purchase of Apple stock by the ex-dividend date. Apple's ex-dividend date is around the 10th day of each month in which it pays its dividend.
Apple Dividend Growth Rate
We know Apple has a low dividend percentage. When this is the case, I want a stock with fast dividend growth. Let's say 8% each year or more.
Table 1: Apple compound annual dividend growth rate
| | | | |
| --- | --- | --- | --- |
| 1 Year | 3 Years | 5 Years | 7 Years |
| 5.3% | 9.6% | 9.8% | 9.9% |
As the table shows, Apple's dividend growth has met my expectations. However, I thought the 2019 Apple dividend increase was on the low side.
So, I'm anxious to learn about the next Apple dividend increase and payout. The new Apple dividend rate is expected to be announced in April. The next dividend payout at the new higher rate will be in May.
Apple Dividend History
Apple management has increased the dividend each year since it was initiated in 2012. This represents an 8-year streak of consecutive annual Apple dividend increases.
I expect Apple to become a Dividend Achiever in the near future. Dividend Achievers are stocks with increasing dividends for 10 years in a row, at a minimum.
Prior to 2012, the company had not paid a dividend to its shareholders for many years. In fact, the last year was 1995. After that year, the Apple dividend was suspended until its reinstatement in 2012.
The Apple Revenue Trend Supports Dividend Growth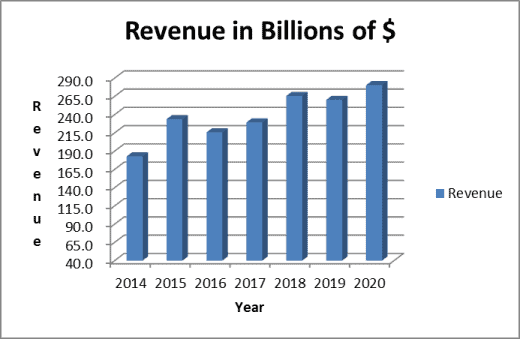 Apple's revenue peaked in 2015 at $234 billion. During 2016, as revenue declined there were concerns about the future revenue-generating capacity of the company.
First Revenue Uncertainty
At the time, the iPhone accounted for a very large portion of the company's revenue and profit. The smartphone market was maturing. And their competition was catching up.
In addition, customers were upgrading their phones less frequently. This was mainly due to the annual changes from phone to phone becoming less dramatic.
As sales slumped, so did the stock price. The stock made its most recent bottom of $90 per share in May 2016.
Then Apple Revenue Growth Resumes
Since then, revenues and the stock have taken off. The company has gone through a fundamental transformation. They have turned a business centered on how many devices it ships into one built around high-end features and services for those devices.
Revenue peaked again in fiscal 2018 checking in at a little over $265 billion. After a pause in revenue growth for 2019, estimates for 2020 reflect another all-time high.
Revenue & Product Pricing
Finally, Apple has implemented a premium pricing strategy with its newer iPhones.
High prices may protect and even enhance their profit margins. On the other hand, higher prices may come at the expense of lower unit volumes in future years.
The Apple Dividend Per Share Is Well Covered By Earnings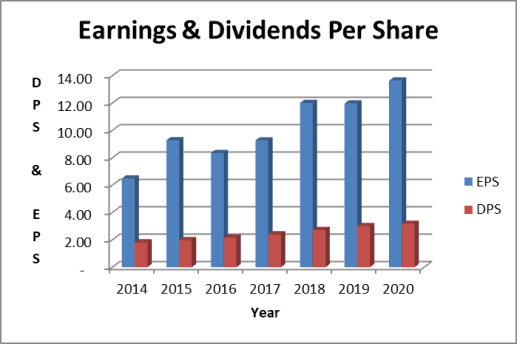 Apple's earnings have been strong. They have grown more than 13% annually over the past 7 years.
Apple Dividend Payout Ratio Based On Earnings
The dividend payout ratio is running at less than 25% of earnings. This is certainly a very secure level from my perspective.
A lower dividend payout ratio, like Apple's, is a positive metric. It shows the company has ample room to raise the dividend in the coming years. Or, withstand an earnings drop without having to reduce the dividend.
Apple Dividend Payout Ratio Using Free Cash Flow
Apple generates plenty of free cash flow. They generated nearly $60 billion in 2019 as the chart below shows.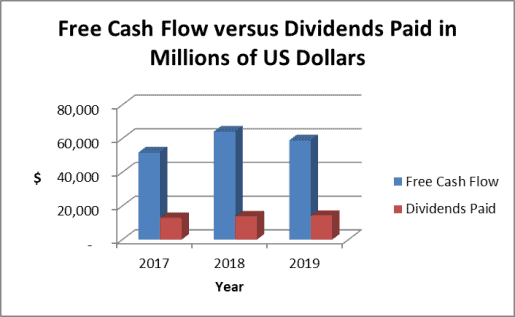 Management directs most of that excess cash toward share repurchases. That's another shareholder-friendly practice along with paying dividends.
However, I would prefer if more of that cash was directed toward dividend increases. As it stands in recent years, dividend payments consume less than 25% of free cash flow.
The Apple Credit Rating Provides For Dividend Safety
Apple carries an Aa1 and AA+ credit rating from Moody's and S&P, respectively. This is a very strong credit rating of "investment grade – very low credit risk."
Table 2: Credit rating evaluation grid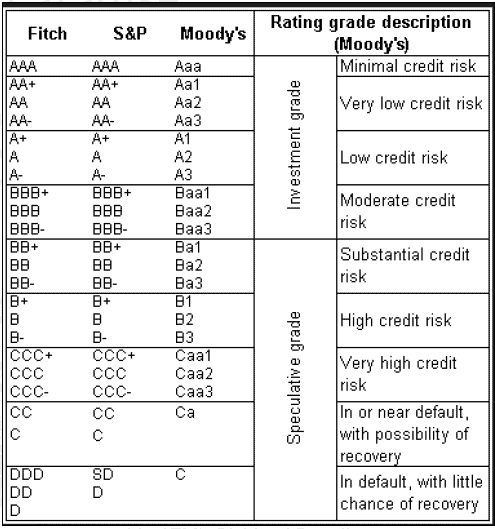 The rating is only one grade below triple-A. AAA represents the highest possible credit rating awarded. Only two US companies hold the highest triple-A credit rating. They are Johnson & Johnson and software company, Microsoft.
So, based on its credit rating, it is pretty clear that Apple will be able to meet both its short term and long term obligations as they come due.
The Apple Balance Sheet Is Strong Also Supporting Dividend Safety
Strictly speaking, Apple carries a debt to equity ratio of 1.2 to 1. But that doesn't tell the full story.
What I mean by that is Apple also carries a large amount of cash and short term marketable securities on its balance sheet. If the company chose to, they could pay off all of their debt with these assets.
Taking the credit ratings and capital structure into account, Apple has a very strong balance sheet.
Conclusions About Apple Dividend Safety
The Apple dividend appears very safe from a reduction in the foreseeable future. I base this assessment on a number of areas we have reviewed so far.
Specifically,
The company's solid business fundamentals

Apple's dividend rate compared to earnings and cash flow (payout ratios

)

Apple's dividend history

High credit ratings and strong balance sheet
Apple Dividend Growth Forecast
Given the modest payout ratios, the Apple dividend rate has room to be increased even if earnings growth stalls out.
So, for my planning purposes, I am going to assume an 8% annual Apple dividend growth rate in future years.
I think this is a very sustainable level. Maybe I will be surprised with even faster dividend growth. Unlike other slower growth technology stocks that pay dividends.
Apple Stock Valuation
An Apple stock analysis would not be complete without an assessment of the stock's value.
So, let's look at value now. And, judge value in several ways including:
Apple dividend Discount Model

Apple stock price to earnings ratio

Morningstar fair value estimate of Apple stock

Personal Finance investment newsletter buy target
Apple Dividend Discount Model
The single-stage dividend discount model considers several factors I have discussed thus far.
Current annual dividend payment – $3.08 per share

Projected Apple dividend growth – 8%

My desired annual return on investment – 10%
Using the dividend discount model assumptions above, the model calculates the fair value of Apple stock at $166 per share.
The Apple dividend discount model places a relatively low value on the stock. This is not surprising because of Apple's low dividend percentage.
Apple Stock Price to Earnings Ratio
The Apple stock price to projected 2020 earnings sits at about 20 times. To compare, the S&P 500 forward price to earnings ratio for 2020 is 16 times.
Based on Apple's stock price to earnings ratio, Apple stock is trading at a premium to the stock market as a whole. And, it is important to note that Apple historically has traded at a discount to the S&P 500.
Morningstar Fair Value Analysis Of Apple Stock
The investment analysis firm Morningstar believes Apple stock is fairly valued at $240 per share.
Source: Morningstar
Personal Finance Investment Newsletter
The long-running investment newsletter, Personal Finance, has a hold recommendation on Apple stock.
Source: Personal Finance
Simply Investing Report
The Simply Investing report uses the following rules to assess the value of a stock.
Stock price to earnings ratio must be below 25

The current dividend yield must be higher than the average dividend yield over the past 20 years

The stock price to book ratio should be less than 3
Stocks meeting these 3 rules are considered to be undervalued and trading at an attractive price for purchase.
Based on the Simply Investing report criteria, Apple stock is not considered a good buy at this time.
Apple Stock Analysis Valuation Summary
We have looked at several valuation methods that suggest a range of values for Apple stock. Most noteworthy, each method indicates that Apple stock is currently overvalued.
Taking all of this into consideration, I have set my personal buy target for Apple stock at $205 per share. This Apple stock price equates to a 1.5% dividend yield.
In other words, I won't consider buying more Apple stock unless the dividend yield is at least 1.5%.
Is It A Good Time To Buy Apple Stock?
One of the questions I promised to answer was if Apple stock is a good buy? And my answer to this question is?
Apple is a great company. And I am happy to be a long-time Apple shareholder. But, I do not believe Apple stock is a good buy at the current stock price levels.
Apple Stock Analysis Conclusions & Wrap Up
Apple stock has grown to a mid-size dividend stock holding in my dividend investing portfolio. Based on this Apple stock review, I intend to hold and will consider buying more at a price below $205 per share.
Is Apple A Good Dividend Stock?
Apple isn't a typical dividend stock in my opinion. It doesn't operate in a traditional steady demand industry like consumer staples or utilities. You won't be able to fund your retirement expenses from Apple's dividend payments.
Furthermore, the company's growth is partly dependent on managing short product life cycles. Also, continual and consistent product and service innovation is an ongoing requirement for growth.
However, I believe Apple is a good dividend stock. It can be a solid holding in a dividend portfolio for regular income.
The company is building a long track record of dividend increases. But, the Apple dividend percentage is lower than I prefer. And, lower than more traditional dividend stocks. But, dividend growth and share price appreciation have more than made up for that.
So, I will let this winner ride on in my portfolio. But look to put new money in other investment ideas for now. There are many other good dividend-paying stocks in the market for me to consider before adding to Apple at this time.
If You Enjoyed This Apple Stock Analysis, You Might Enjoy These Articles & Resources Too!

Disclosure & Disclaimer
This article, or any of the articles referenced here, is not intended to be investment advice specific to your situation. I am not a licensed investment adviser, and I am not providing you with individual investment advice. The only purpose of this site is information & entertainment. We are not liable for any losses suffered by any party because of information published on this blog. See this site's Disclaimer and Privacy tab for more information.
Thanks for reading this Apple stock analysis. I currently hold Apple stock.