Coke Dividend Stock Analysis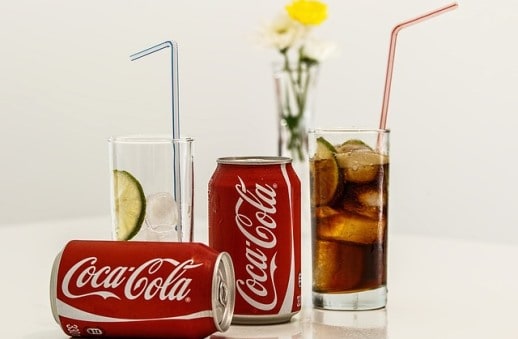 A short while ago I analyzed PepsiCo stock (NYSE: PEP) and the Pepsi dividend. But to be honest, on the few occasions where I enjoy a cola, my choice is Diet Coke.
But putting my beverage preferences aside, I thought it time again to put The Coca-Cola Company (NYSE: KO), or Coke for short, through a stock and dividend analysis. I call it a dividend deep dive. Let's not waste any time and get on with it!
Related: How To Pick Dividend Stocks
Company Background
Coke is one of the world's leading beverage companies. Their namesake product was created at an Atlanta, Georgia pharmacy in 1886.
Since then, the product and especially the company behind it have evolved. Coke now has a large portfolio of beverage brands that include:
Coca-Cola

Diet Coke

Minute Maid juices

Honest Tea

Dasani

Glaceau water drinks

Power Ade sports drinks
Source: Coca-Cola Company Brands
Coke's Business Objectives
Coke is unlike Pepsi who has a large snack food component to their business.
Target Beverage Categories
In contrast, Coke's vision is to build a total beverage company. They desire to be the strongest player in the following category clusters:
Sparkling soft drinks
Juice, dairy, and plant-based beverages
Hydration products
Tea and coffee
Energy drinks
Coke's Category Growth Tactics
The company seeks to grow in these category clusters through:
Product and packaging innovation
Deeply penetrating global emerging markets
Making disciplined investments in both new and mature products
Financial Expectations
Coke believes that by successfully achieving their business objectives they can deliver the following annual financial targets:
4-6% organic revenue growth
6-8% operating income growth
7-9% earnings per share growth
Source: Coca-Cola investor overview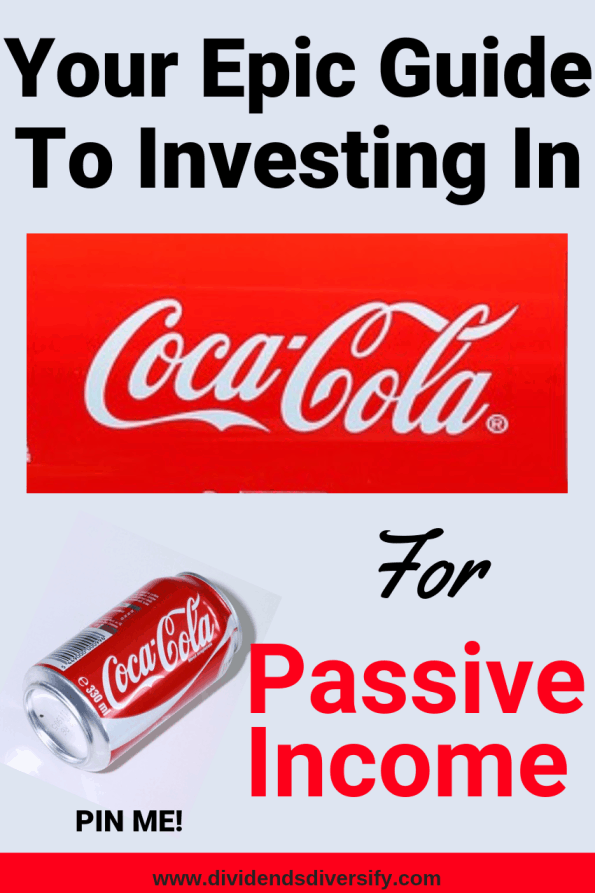 Coke Dividend Yield
Coke is paying an annualized forward dividend of $1.60 cents per share. This gives us a Coke dividend yield of 2.8% based on the recent stock price.
Coke Dividend Growth Rate
| | | | |
| --- | --- | --- | --- |
| 1 Year | 3 Years | 5 Years | 7 Years |
| 5.4% | 5.7% | 6.9% | 7.5% |
Coke has paid a quarterly dividend since 1920. And has increased dividends in each of the last 55 years.
Coke Is A Dividend King
This puts the Coke dividend in the rare company of other firms who have raised their dividend for more than 50 consecutive years. These companies are known as Dividend Kings.
Coke Dividend Growth Is Slowing
However, the Coke dividend growth rate has slowed in recent years. The 2019 dividend increase announcement confirms this trend with only a 2.6% hike. Let's look at the business fundamentals to see why.
Revenue
Coke's revenue has dropped significantly over the past several years.
Refranchising The Bottling Operations
The decrease in revenues is primarily due to selling its company-owned bottling operations to independent businesses.
The return to local bottling ownership is known inside the company as "refranchising." The local bottlers sell and distribute Coke's drinks to stores in every community.
In 2017, Coke completed the refranchising of the United States bottling system along with the bottling operations in China. And they helped create a new bottling partner to serve most of Japan.
Other Headwinds
In addition to declining revenues from refranchising, they have faced revenue pressure from foreign currency translation due to a stronger US dollar. And, declining volumes due to shifting consumer preferences away from carbonated beverages.
With the refranchising effort complete, Coke's revenues are expected to stabilize starting with 2018. And then grow low to mid-single-digit percentages in future years.
Coke Dividend, Earnings & Payout Ratio
Normalized Earnings
Please note that for comparison purposes historical earnings in the chart above have been normalized.
2016 and 2017 earnings were adjusted for gains and losses associated with the one-time sales of the bottling operations.
In addition, 2017 earnings have been adjusted for non-cash write-offs related to the 2017 tax cut and jobs act.
Coke Earnings Trend
With these adjustments factored in, earnings have declined over the past several years. This is also mainly due to the sell-off of the bottling operations.
By selling the bottling operations, Coke has gone through a big transformation. They are becoming a smaller and less capital intensive business. In addition, profits as a percentage of sales are expected to increase.
However, profits on an absolute basis have been declining. Similar to revenues, earnings are expected to stabilize and grow now that the refranchising effort is complete.
Coke Dividend Payout Ratio
The bottling transition and resulting profit declines have created a very high dividend payout ratio. Most noteworthy, dividends paid have exceeded both earnings and free cash flow in recent years.
This is not a favorable situation for investors seeking dividend growth. Coke's financial performance must improve before the dividend will grow more than a small amount in future years.
Coke Dividend Safety
Even with the high payout ratio, due to Coke's overall financial strength and stability, the dividend appears safe from a reduction. However, until profits begin to rise again, dividend growth will likely remain in the 2-4% range over the next few years.
I support my view regarding high dividend safety because of the following factors:
Coke will go to great lengths to protect its status as a Dividend King
Strong credit ratings by the major rating agencies
Consistency of cash flows
The drag of transforming the business through refranchising is over
Projected Coke Dividend Growth
According to the company's investor materials, management's stated intention for the dividend is to grow it as a function of free cash flow, with a 75% payout ratio over time.
Coke has a long way to go to achieve this objective. And provides further evidence that dividend growth will be low in upcoming years.
For my planning purposes, I'm going to use a 4% long term dividend growth rate.
Coke Financial Position
Let's take a look at the company's financial position.
Debt & Capital Structure
Coke carries a large amount of debt. Their debt to equity ratio checks in at a relatively high 2.5 to 1.
As a comparison, the overall debt to equity ratio of companies in the S&P 500 is only .9 to 1. On the other hand, Pepsi's debt to equity ratio is also pretty high at 2.2 to 1.
Credit Ratings
Coke has an A1 AND A+ credit rating from Moody's and S&P, respectively. Both of these are excellent ratings and are deemed "investment grade – low credit risk".
Source: FINRA Bond Center
Financial Position Summary
In summary, Coke's debt levels are slightly troublesome to me. Offsetting my concerns are the high credit evaluations. And, the consistency of the free cash flow generation from Coke's business.
Management has also stated in their investor materials their objective to reduce debt leverage in future years.
Coke Stock Valuation
Let's judge value in several ways:
Dividend Discount Model
Price to earnings ratio
Morningstar fair value estimate
Dividend Yield
Dividend Discount Model
The single-stage dividend discount model considers several factors I have discussed thus far.
Current annual dividend payment – $1.60 per share
Projected dividend growth – 4%
My desired annual return on investment – 9%
Using these assumptions, the dividend discount model calculates the fair value of Coke stock at $33 per share.
Coke Price to Earnings Ratio
The Coke stock price to projected fiscal year 2019 earnings sits at about 32 times. To compare, the S&P 500 forward price to earnings ratio is 18 times. And Pepsi trades at 25 times forward earnings.
Coke stock is trading at a large premium to the market as a whole. This is not an unusual situation for a high-quality dividend growth stock. But Coke looks pretty overvalued to me on this basis.
A Coke stock price of $38 per share would leave it trading at a forward price to earnings ratio of 25 times, similar to Pepsi. This is a more reasonable valuation level for me.
Morningstar Fair Value
The investment analysis firm Morningstar believes Coke is fairly valued at $54 per share.
I was surprised to see such a high value. Morningstar clearly believes in Coke's substantial brand power and future earnings potential now that the bottling refranchising is complete.
Source: Morningstar
Dividend Yield
I like dividend yields in the 3-5% range. And with Coke's low dividend growth, I would like to be at the higher end of my desired dividend yield range to justify additional purchases.
I personally would only buy more Coke stock at a dividend yield of at least 4%. A 4% dividend yield would give us a Coke stock price of $40 per share.
Coke Stock Valuation Summary
We have looked at a number of valuation methodologies that suggest a range of values for Coke stock.
Here is a summary:
Dividend discount model – $33 per share
Price to forward earnings ratio to parity with Pepsi – $38
Morningstar fair value – $54 per share
Dividend yield to 4% target – $40
For me, the value lies somewhere in the middle of the extremes. So for my personal buy target, I will use $40 per share. That would provide a nice dividend yield of 4% and make me much more eager to make a purchase.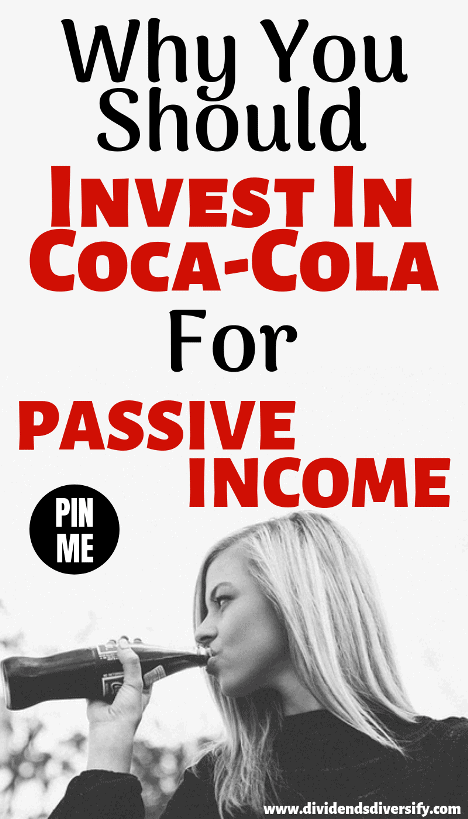 Coke Dividend & Stock Analysis Wrap-Up
Coke has completed a major business transformation. The company expects to be smaller, more focused, less capital intensive and produce higher profit margins. They now must leverage their product portfolio brand power across multiple beverage categories and distribution channels to grow again.
The company holds a mid-size position in my dividend growth stock portfolio. I intend to hold for the long term. At the current stock price, the combination of low dividend yield and low dividend growth is not compelling to me. I would consider add-on purchases only if the share price fell to $40 per share or less.
Pepsi & Further Reading About Dividend Stocks
To sum it up. I'll take a Diet Coke to drink, but right now I prefer Pepsi for my investment dollars.
Subscribe
As part of your subscription to Dividends Diversify, you will get 20 wealth building and investment tips free! In addition, never miss a new post. I will send a periodic email to all subscribers with a link to the content. Last but not least, thanks for visiting.
Disclosure & Disclaimer
This article, or any of the articles referenced here, is not intended to be investment advice specific to your situation. I am not a licensed investment adviser, and I am not providing you with individual investment advice. The only purpose of this site is information & entertainment. We are not liable for any losses suffered by any party because of information published on this blog. See this site's Disclaimer and Privacy tab for more information.
I own Coca Cola stock and collect the Coke dividend.