Is Pepsi A Good Dividend Stock?
It's time for a Pepsi dividend review and stock analysis.
Putting my personal drink preferences aside, PepsiCo is a favored stock of dividend investors. Most noteworthy, there is always a lot of interest in buying Pepsi shares by this group.
So, let's work through a Pepsi dividend stock analysis.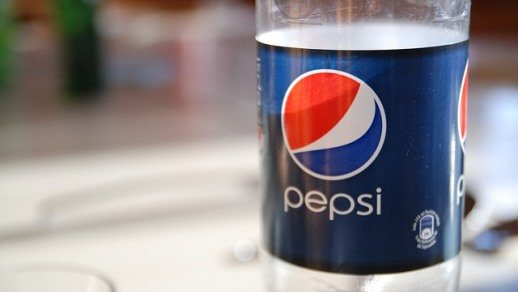 Disclosure: At no cost to you, I may get commissions for purchases made through links in this post.
Pepsi Dividend Stock Analysis
Are you ready to buy some PepsiCo stock? Then, we must answer some important questions first? Such as…
Is Pepsi a good dividend stock? Is Pepsico stock a good investment?
Which is a better stock, Pepsi, or Coke? Is Pepsi stock currently a good buy?
To help manage your finances and investments, I will answer these questions and more. So, let's dive into the Pepsi dividend stock review right now!
And begin with several of these questions. They will serve as key takeaways.
Is Pepsi A Good Dividend Stock?
In my opinion, yes. Pepsi is a good dividend stock.
First of all, Pepsi has a rich history of rewarding shareholders with dividends. Furthermore, Pepsi stock has an attractive dividend yield and solid dividend growth potential.
Finally, Pepsi's dividend is supported by a stable business loaded with iconic brands. This is a powerful combination any dividend investor can take a liking to.
Is Pepsi Stock A Good Investment?
Good investments depend on one's investment objectives. If your investment objectives emphasize:
Then yes, Pepsi stock is a good investment.
Is Pepsi Stock A Buy Now?
Pepsi shares appear to be fully valued. They are neither a clear-cut buy nor sell based on valuation.
I happen to like Pepsi stock at or below $140 per share. As a long-term holding in my dividend stock portfolio.
Next, let's dive into the details. Starting with background on the company.
Pepsi – Company Background
PepsiCo is one of the world's leading beverage and snack food companies. It was established through the merger of Pepsi-Cola and Frito-Lay.
Pepsi-Cola was created in the late 1890s. Frito-Lay, Inc. was formed by the 1961 merger of the Frito Company with H. W. Lay Company.
Source: Pepsico – About.
PepsiCo has a diverse global portfolio of brands. They reside in the savory snacks and beverages categories.
Some of their well-known brands include:
Pepsi Cola
Gatorade sports drink
Tropicana juices
Aquafina water
Lay's chips
Doritos chips
Fritos chips
Source: Pepsico Product Information
Pepsico Business Strategy
I thumbed through a recent presentation made by Pepsi. It was for the Consumer Analysts Group of New York Conference. Looking through it, I tried to get a sense of their business priorities.
Here is what I found:
Grow Product Revenue & Market Penetration To:
Leverage their #1 global position in savory snacks
Expand their #2 position in global beverages
Fortify growth in developed markets
Accelerate growth by investing in foreign markets
Accelerate Investments In:
Manufacturing capacity
Digitalization & technology
Delivery route optimization
Supply chain agility
Sustainability, talent, and culture
Advertising & Marketing
Manage Cost To Achieve:
Work redesign for simplification & waste reduction
Automation
Increasing returns on investments
Increasing asset utilization
Financial Improvement Goals:
4%+ Organic Revenue Growth
Expansion of operating margins
7%+ Constant currency earnings per share growth
Increasing returns on invested capital
Source: Consumer Analysts Group of New York Presentation
PepsiCo Stock Symbol
PepsiCo stock trades on the Nasdaq stock exchange. It operates using the stock symbol PEP (NASDAQ: PEP).
Furthermore, I trade all of my stocks commission-free. And use the fast, powerful Webull app to do. Also, it has some excellent stock research features.
You can sign up for a Webull account here.
Finally, with a brief review of Pepsi's business taken care of. Let's move on to the Pepsi dividend.
We will cover all the important facts that investors should know about dividends for this company.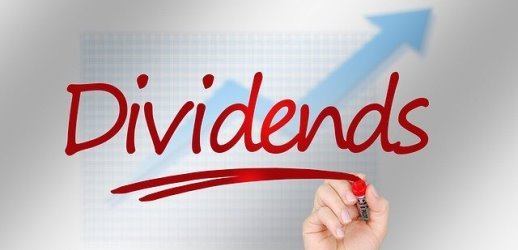 Does Pepsi Pay A Dividend?
Yes. Pepsi pays a dividend. And has paid a dividend for many years.
So, let's dig into all of the facts and figures about Pepsi's dividend next. It's the only way I can justify my answer to the all-important question. Is Pepsi a good dividend stock investment?
How Much Is The Pepsi Dividend Per Share?
Pepsi's board of directors has approved an annual dividend rate of $4.30 per share.
Pepsi Dividend Yield
The dividend per share gives us a 2.9% Pepsi dividend yield at the recent Pepsi stock price.
I start my search and selection process for dividend stocks looking for dividend yields that fall in the 3-5% range. I make exceptions to this rule. But, won't have to with Pepsi with its yield so close to 3%.
Let's continue the Pepsi dividend review.
How Often Does Pepsi Pay Dividends?
Pepsi currently pays dividends 4 times per year. And they do so every year.
In Which Months Does Pepsi Pay Its Dividend?
A company's dividend payment pattern is important to many investors. Why? Because some people build a dividend portfolio with the goal of getting paid dividends every month.
With that in mind, Pepsi's dividends are paid during January, March, June, and September.
In January the dividend is paid during the first week of the month. In contrast, during March, June, and September, it is paid during the last week of the month.
Pepsi's Ex-Dividend Date
As an investor in Pepsi, you must complete your purchase before the ex-dividend date. In order to receive the next stock dividend payout.
Pepsi's ex-dividend date falls about 4 weeks prior to when its dividend is paid.
Pepsi's ex-dividend date is slightly different each quarter. As is the payable date.
So, it's best to check Pepsi's ex-dividend date and timing of dividend payment dates each quarter. If the exact timing of cash from dividends is important to you.
Pepsi Dividend History
According to a recent news release, PepsiCo has paid consecutive quarterly cash dividends since 1965.
Furthermore, since 1973, the company has increased its dividend every year.
Will Pepsi Become a Dividend King?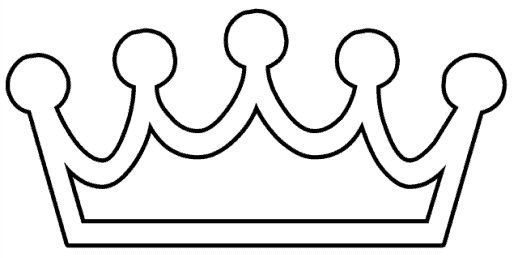 Assuming Pepsi is able to continue increasing its dividend each year, the company will become a newly crowned Dividend King very soon. But remains a Dividend Aristocrat for now.
In contrast, Coca-Cola has already joined the current group of Dividend Kings. Having increased dividends annually since 1963.
Dividend Kings are those incredible and rare companies who have increased their dividends for at least 50 consecutive years!
Are you looking to invest money in these types of companies? You already know that Coca-Cola is Dividend King.
And I have reviewed several others right here at Dividends Diversify. They reside in my model dividend income portfolio.
Here is a table with links to a few of these Dividend Kings for easy reference.
Table 1: Other Dividend Kings Pepsi Soon Will Join
Hopefully, that's plenty of investment ideas to keep you busy.
Pepsi Dividend Growth Rate
For me, the table below shows an excellent and consistent dividend track record of recent dividend growth. It is much better than Coke's dividend growth trend.
Table 2: Pepsi Compound Annual Dividend Growth Rate
| | | | |
| --- | --- | --- | --- |
| 1 Year | 3 Years | 5 Years | 7 Years |
| 5.1% | 8.3% | 7.8% | 8.7% |
Most Recent Pepsi Dividend Increase
Furthermore, for 2021, the Pepsi dividend was increased by their Board of Directors by another 5.1%.
Pepsi Dividend Policy
Every company has a dividend policy. Some choose to communicate that policy to the public. Other companies do not.
A formal dividend policy communication is very helpful in setting future expectations for a company's dividend. And, I appreciate it when management communicates this specific type of dividend information.
In Pepsi's case, I am not aware of formal communications from management about dividend policy. However, I do not consider this a "red flag". It's just an indication of how Pepsi chooses to go about its business.
Finally, I can tell from Pepsi's dividend history. That increasing cash dividend payments made to shareholders will be a big part of their future.
Pepsi Revenue Trend & Its Influence On Future Dividend Increases
Like many of the large, mature packaged food and beverage companies, revenue growth can be a challenge.
Until recently. As food and beverage consumption has shifted back into our homes.
Chart 1 : PepsiCo 7-Year Revenue Trend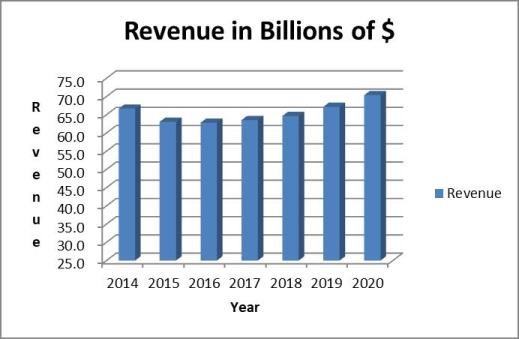 But over the past decade, changing consumer preferences have been an issue for companies like Pepsi. Why?
First of all, carbonated beverages have fallen out of favor. Furthermore, people also want fresher, healthier food. Finally, life is fast-paced and many folks just want to snack multiple times a day on the run.
The Pepsi snack business has been performing better than their beverage unit. Unfortunately for PepsiCo, most of their snacks do not fall into the fresh and healthy category.
Looking at the chart above, revenue was stagnant. Until the last 2 years.
Furthermore, management is targeting 4%+ annual organic revenue growth going forward. And acquisitions can add to that number.
But I will be watching to see how they do. After all, costs can only be cut so far.
Pepsi earnings growth and dividend growth will ultimately require higher revenues. And unlike other essential service businesses for dividends, consumers have a lot of choices when it comes to what they eat and drink.
So let's look at Pepsi's dividend in relation to earnings next.
Pepsi Dividend Payout Ratio Based On Earnings
Pepsi's accounting earnings are difficult to interpret. Since they are full of unusual charges.
To make sense out of them, I have excluded a number of 1-time items in the chart below. Specifically,
2015: noncash write-offs for failed investments in Venezuela
2017: tax adjustments due to the new corporate tax law
2018: cost impact from Pepsi's international reorganization.
Chart 2: Pepsi 7 Year Trend Of Earnings & Dividends Per Share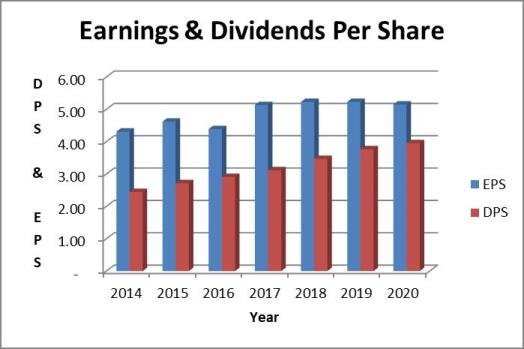 With these 1 time events removed, core business earnings have been on a generally positive upward trend. This is mainly due to margin expansion from pricing and cost reductions.
Since 2015, the company has cut more than $1 billion a year from costs. This has come from closing manufacturing facilities, identifying good investments with paybacks from automation, and reducing jobs. Efficiency efforts are continuing as their business strategy indicates.
Based on earnings, the dividend payout runs high with a ratio of about 75% in the last 2 years. But, dividends are paid from cash, not accounting earnings.
So, let's cross-check Pepsi's dividend payout ratio against cash flow.
Pepsi Dividend Payout Ratio Based On Cash Flow
In 2020, 86% of Pepsi's available cash flow was paid in the form of dividends for shareholders.
Chart 3: 3 Year Trend Of Pepsi Dividends And Cash Flow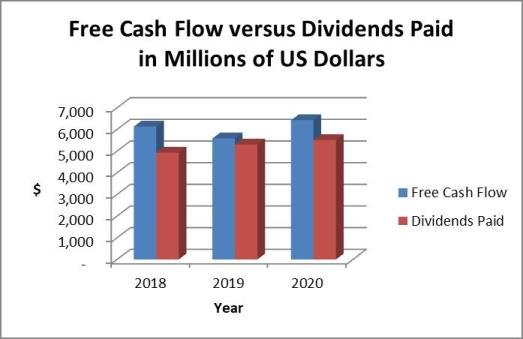 For the last 3 years in total, 87% of cash flow was paid out in dividends. Let's talk about Pepsi's dividend payout ratios in more detail next.
Thoughts About The Pepsi Dividend Payout Ratios
Dividend payments have been growing more rapidly than earnings and cash flow.
For 2020, this has led to an earnings-based dividend payout ratio of 77%. And a cash-based payout ratio of 86%.
A lower dividend payout ratio is a positive metric. It shows the company has ample room to raise the dividend in the coming years. Or, withstand an earnings drop without having to reduce it.
Pepsi's dividend looks adequately covered by earnings and cash for the time being. And because of the stability of Pepsi's business, they are of little concern to me. But the dividend payout ratios are starting to get on the high side.
I do not want to see Pepsi go the way of Coke. Where dividend payout ratios exceed 90%. And virtually guarantee very low dividend growth for the foreseeable future.
All of the discussion thus far about Pepsi's dividend leads me to my dividend growth forecast.
Pepsi Dividend Growth Forecast
Because of the high dividend payout ratios, I believe dividend growth will be constrained.
It will be limited to a mid-to-high single-digit percentage range in the coming years. In line with earnings growth. Or, slightly lower than earnings growth to reduce the dividend payout ratios.
So, for my planning purposes, I'm going to assume the Pepsi dividend will grow 6-7% annually in the coming years.
Pepsi Balance Sheet & Credit Rating
Pepsi carries a large amount of debt. Their debt to equity ratio checks in at a relatively high 3.3 to 1. As a comparison, Coke's debt to equity ratio is 2 to 1.
Similar to Coke, Pepsi has an A1 AND A+ credit rating from Moody's and S&P, respectively.
Source: FINRA
Table 3: Credit Evaulation Grid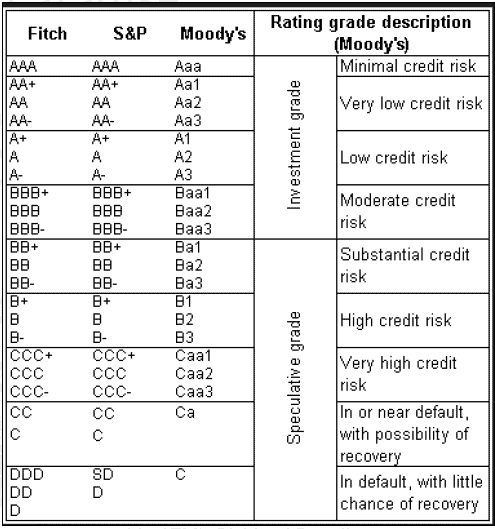 As shown in the table above, these ratings represent "investment grade – low credit risk".
Pepsi's debt levels are slightly troublesome to me. But, offsetting my concerns about debt is a high credit evaluation.
Furthermore, this company's consistent free cash flow generation is a good sign. And finally, the ample cash sitting on the balance sheet for liquidity purposes.
I do believe the higher dividend payout ratios combined with the debt levels will keep a lid on future dividend growth. So, I stand by my conservative Pepsi dividend growth forecast.
On a side note, it's a good idea to keep an eye on your personal credit score. You can do so for free using Credit Karma.
Pepsi Dividend Safety
I make a judgment about dividend safety by looking at many of the factors we have discussed so far. Specifically,
Business fundamentals
Earnings and cash flow trends
Dividend history
Dividend payout ratios
Debt levels and credit ratings
Based on these factors, I judge Pepsi's dividend to be safe from a reduction in the foreseeable future.
Next, it's time to wrap this Pepsi dividend stock analysis up by taking a look at the stock valuation.
Pepsi Stock Valuation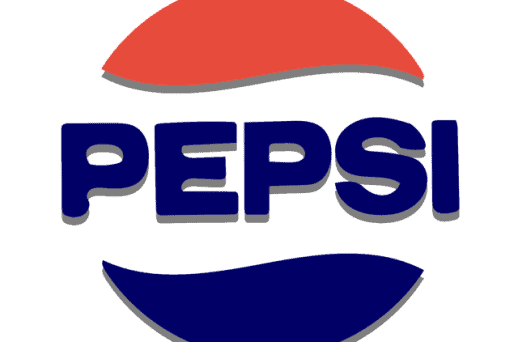 Let's judge Pepsi's stock value in several ways:
Dividend discount model
Morningstar fair value estimate
Price to earnings ratio
Dividend yield
Pepsi Dividend Discount Model
The single-stage dividend discount model (also known as the Gordon Growth Model) considers several factors I have discussed thus far.
The current annual dividend payment
Projected dividend growth
My desired annual return on investment – 10%
Using these assumptions, the Gordon Growth Model calculator tells us the fair value of Pepsi stock is $131 per share.
Pepsi Stock Price to Earnings Ratio
The Pepsi stock price to 2020 earnings sits in the high 20s.
Pepsi stock is trading at a premium PE ratio. This is not an unusual situation for a high-quality dividend growth stock.
Morningstar Fair Value Estimate For Pepsi Stock
The investment analysis firm Morningstar believes Pepsi stock is fairly valued at $146 per share.
Pepsi Dividend Yield As An Indicator Of Value
Finally, I like dividend yields in the 3-5% range. I personally wouldn't buy Pepsi stock unless the yield was at least 3%.
Especially given my concerns about future dividend growth. A 3% target dividend yield would give us a price of $143 per share.
Pepsi Stock Valuation Summary
We have looked at a number of valuation methods that suggest a range of values for Pepsi stock.
As I review the various measures of value, I conclude that Pepsi stock is fully valued at this time. Okay, perhaps a bit overvalued. But neither a clear-cut buy nor sell, in my opinion.
Looking at it from my personal long-term dividend investor perspective. This is a buy-and-hold forever stock.
So, I think Pepsi stock is a reasonable value on any price pullbacks. Providing a decent entry point price when using a dollar-cost averaging strategy into the shares.
And, absent a change in business fundamentals, Pepsi would be a good stock buy if and when the overall stock market corrects. Bringing stocks like Pepsi down with it.
Pepsi Dividend Review & Stock Analysis Wrap Up
Let's wrap up by comparing Coke to Pepsi.
Which Is A Better Stock, Pepsi or Coke?
In my opinion, both Pepsi and Coke are good stocks that pay dividends.
But from a business perspective, this may not be a fair comparison. After all, nearly 60% of Pepsi's business is in the snack food segment. While Coke is a pure-play in the nonalcoholic beverage sector.
Nevertheless, the 2 companies often get lumped together and compared. Because of their long history battling it out in the cola market.
The table below compares Coke and Pepsi stock head to head based on the factors I consider important as a dividend growth stock investor.
Table 4: Pepsi Stock Vs. Coke Stock
Advantage to Pepsi:
Advantage to Coke:
Dividend King Status
Communicates Dividend Policy
Tie between Pepsi and Coke:
Attractive Stock Valuation
It's a close contest. I currently own both in my diversified collection of dividend stocks. And expect to hold both for the long-term. So, I have little to no bias, in my opinion.
If forced to make a choice between the 2 stocks today, I select Pepsi for my dividend income and investment dollars.
Now, I must tell you. My choice for a refreshing cola on a hot summer day? I prefer an ice-cold Diet Coke!
But for a snack, I'll take some Doritos with a hamburger off the grill.
More Reading About Dividends And Dividend Stocks
My Favorite Dividend Investing & Finance Resources
Disclosure & Disclaimer: I am not a licensed investment adviser, financial adviser, or tax professional. And I am not providing you with individual investment advice, financial guidance, or tax counsel. Furthermore, this website's only purpose is information & entertainment. And we are not liable for any losses suffered by any party because of information published on this blog.
I currently own Pepsi stock and collect the Pepsi Dividend.