Pepsi Stock Analysis & Pepsi Dividend Review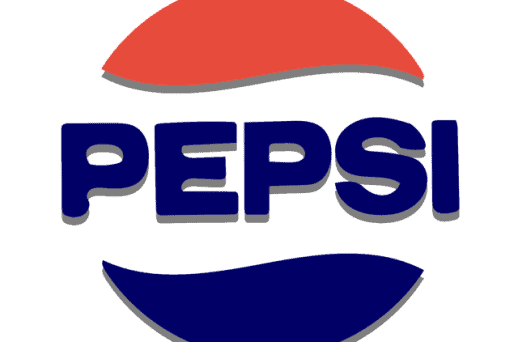 With the summer season upon us, my thoughts have turned to barbecues, chips and soft drinks. I occasionally drink a soda, but my preferred drinks during the summer grilling season have a little more kick to them. If you know what I mean.
Putting my personal drink preferences aside, PepsiCo (NYSE: PEP) is normally a favored stock in the dividend growth community. Most noteworthy, there is usually a lot of interest in buying Pepsi stock by this group of investors.
PEPSI STOCK ANALYSIS
Since Pepsi is also one of my long term stock holdings, I thought it would be a good time to revisit the companies prospects. So please read on for a Pepsi stock analysis using my dividend stock deep dive process.
Affiliate Link Disclosure: I may get paid commissions (at no cost to you) for purchases made through links in this post.
PEPSI – COMPANY BACKGROUND
PepsiCo is one of the world's leading food and beverage companies.
The company was established through the merger of Pepsi-Cola and Frito-Lay. Pepsi-Cola was created in the late 1890s. Frito-Lay, Inc. was formed by the 1961 merger of the Frito Company and the H. W. Lay Company. Source: Pepsico – About.
PepsiCo has a diverse global portfolio of brands included in the savory snacks and beverages categories. Some of the more well-known brands include:
Pepsi Cola

Gatorade sports drink

Tropicana juices

Aquafina water

Lay's chips

Doritos chips

Fritos chips
Source: Pepsico Product Information
PEPSI BUSINESS STRATEGY
I thumbed through a recent presentation made by Pepsi at the Consumer Analysts Group of New York Conference. Looking through it, I tried to get a sense of their business priorities.
Some of their key priorities include:
Product Growth & Market Penetration To:
Expand their core savory snacks portfolio
Expand their core beverage portfolio
Fortify growth in North American markets
Accelerate growth in international markets
Accelerating Investments In:
Manufacturing capacity
Digitalization
Supply chain agility
Sustainability
Advertising & Marketing
Expense Reductions Across The Entire Business By:
Redesigning work
Reducing non-labor costs
Increasing returns on investments
Increasing asset utilization
Financial Improvement Including:
4-6% Organic Revenue Growth
Expansion of operating margins by 20-30 basis points
Constant currency earnings per share growth
Increasing returns on invested capital
Source: Consumer Analysts Group of New York Conference
PEPSI DIVIDEND YIELD
Pepsi is paying an annualized forward dividend of $3.82 cents per share. This represents a 2.9% Pepsi dividend yield at the recent stock price.
PEPSI DIVIDEND GROWTH RATE
| | | | |
| --- | --- | --- | --- |
| 1 Year | 3 Years | 5 Years | 7 Years |
| 13.2% | 9.1% | 9.9% | 8.5% |
For 2019, the Pepsi dividend was increased by their Board of Directors 2.9%. The increase represents the 47th consecutive annual increase.
Most noteworthy, this recent increase to the Pepsi dividend is a clear break to the downside from recent historical trends of 8-9%. In contrast, the 2018 dividend increase was an outstanding 13.2% as shown in the chart above.
For my dividend income planning purposes, I'm going to assume the Pepsi dividend will grow 6-7% annually in the coming years.
Will Pepsi Become a Dividend King?
Assuming Pepsi is able to increase its dividend each of the next 3 years, the company will become a newly crowned Dividend King. Dividend Kings are those incredible and rare companies who have increased their dividend for at least 50 consecutive years!
PEPSI REVENUE TREND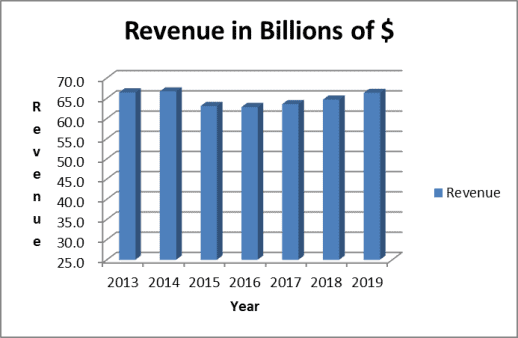 Like many of the large, mature packaged food and beverage companies, revenue growth has been a challenge.
Pepsi Revenue – What's Wrong?
Changing consumer preferences have been an issue for companies like Pepsi. Carbonated beverages have fallen out of favor. People also want fresher, healthier food. Additionally, life is fast-paced and many folks just want to snack multiple times a day.
The Pepsi snack business has been performing better than its beverage unit. Unfortunately for PepsiCo, most of their snacks do not fall into the fresh and healthy category.
Pepsi Revenue – A Look Forward
Looking at the numbers, revenue has been stagnant for the last 7 years. In contrast, management is targeting 4-6% annual organic revenue growth going forward. And acquisitions can further add to that number.
But I will be watching to see how they do. After all, costs can only be cut so far. Earnings and Pepsi dividend growth will ultimately require higher revenues. So let's look at these trends next.
PEPSI DIVIDEND PAYOUT RATIO AND EARNINGS TREND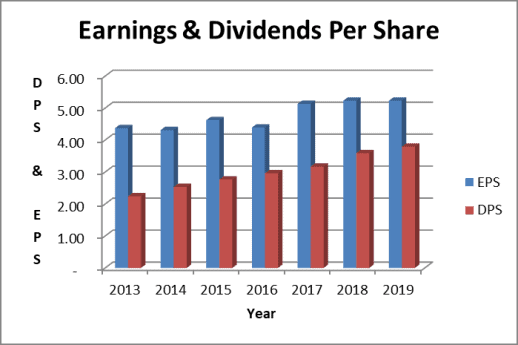 Please note that for purposes of this analysis earnings have been normalized for 2015 noncash write-offs related to the company's investments in Venezuela, the 2017 tax cut and jobs act and for 2018 tax impacts related to Pepsi's international reorganization.
Pepsi Earnings
Earnings have been on a positive upward trend mainly due to cost reductions. Since 2015, the company has cut more than $1 billion a year by closing manufacturing facilities, investing in automation and reducing jobs. These efforts are continuing as their business priorities indicate.
Pepsi Dividend Payout Ratios
Dividend payments have been growing more rapidly than earnings. This has led to a higher dividend payout ratio checking in at 69% for 2018. The 2018 dividend also accounts for about 80% of free cash flow.
A lower dividend payout ratio is a positive metric. It shows the company has ample room to raise the dividend in the coming years. Or, withstand an earnings drop without having to reduce the dividend.
The dividend looks well covered by earnings and cash because of the stability of Pepsi's business. But the dividend payout ratios are starting to get on the high side. Perhaps that is why this year's dividend increase was so small.
I do not want to see Pepsi go the way of Coke where dividend payout ratios exceed 90%. And virtually guarantee low dividend growth, at least in the short term.
Pepsi Dividend Growth Revisited
As discussed already, I believe dividend growth will be constrained to the mid-to-high single-digit percentage range in the coming years to limit further increases to the Pepsi dividend payout ratio.
PEPSI BALANCE SHEET & CREDIT RATINGS
Pepsi carries a large amount of debt. Their debt to equity ratio checks in at a relatively high 2.2 to 1. As a comparison, the overall debt to equity ratio of companies in the S&P 500 is only .9 to 1.
Pepsi has an A1 AND A+ credit rating from Moody's and S&P, respectively. These ratings represent "investment grade – low credit risk".
Source: FINRA
Pepsi's debt levels are slightly troublesome to me. Offsetting my concerns about debt is the high credit evaluation. And the consistency of the free cash flow generation from Pepsi's business.
I do believe the higher dividend payout ratio and the debt levels will keep a lid on future dividend growth supporting my 6-7% forecast.
PEPSI STOCK VALUATION
Let's judge value in several ways:
Dividend Discount Model
Morningstar fair value estimate
Price to earnings ratio
Dividend Yield
Dividend Discount Model
The single-stage dividend discount model considers several factors I have discussed thus far.
Current annual dividend payment – $3.82 per share
Projected dividend growth – 6.5%
My desired annual return on investment – 10%
Using these assumptions, the dividend discount model calculates the fair value of Pepsi stock at $116 per share.
Pepsi Stock Price to Earnings Ratio
The Pepsi stock price to projected 2019 earnings sits at about 24 times. To compare, the S&P 500 forward price to earnings ratio for 2019 is 17 times.
Pepsi stock is trading at a large premium to the market as a whole. This is not an unusual situation for a high-quality dividend growth stock.
A Pepsi stock price of $108 per share would have it trading at a forward price to earnings ratio of 20 times. This is a little more reasonable valuation level for me.
Morningstar Fair Value
The investment analysis firm Morningstar believes Pepsi stock is fairly valued at $125 per share.
Source: Morningstar
Dividend Yield
Finally, I like dividend yields in the 3-5% range. I personally wouldn't buy Pepsi stock unless the yield was at least 3%. Especially given my concerns about future dividend growth. A target 3% dividend yield would give us a price of $127 per share.
PEPSI STOCK VALUATION SUMMARY
We have looked at a number of valuation methods that suggest a range of values for Pepsi stock.
Here is a summary:
Dividend Discount Model – $116 per share
Price to Forward Earnings Ratio to 20 times – $ 108 per share
Morningstar Fair Value – $125 per share
3% Dividend Yield – $127 per share
Every value measure shows a slight to significant overvaluation of Pepsi stock at recent prices. As I assess this range to make a stock recommendation for my own purposes, I'm going to set a personal buy target of $120 per share or less.
PEPSI STOCK ANALYSIS – REVIEW & WRAP UP
Pepsi is a high-quality dividend growth stock. However, the rising stock price coupled with a subpar 2019 dividend increase as pushed the Pepsi dividend yield lower.
A rising dividend payout ratio and higher debt will likely keep dividend growth on the lower side in the coming years.
I will look to add to current holdings only at $120 per share or less.
BE SURE TO SUBSCRIBE
As part of your subscription to Dividends Diversify, you will get 20 wealth building and investment tips free! In addition, never miss a new post. I will send a weekly email to all subscribers with a link to the current weeks new content. Last but not least, thanks for visiting.
Disclosure & Disclaimer
This article, or any of the articles referenced here, is not intended to be investment advice specific to your situation. I am not a licensed investment adviser, and I am not providing you with individual investment advice. The only purpose of this site is information & entertainment. We are not liable for any losses suffered by any party because of information published on this blog. See this site's Disclaimer and Privacy tab for more information.
I currently own Pepsi stock and collect the Pepsi Dividend.