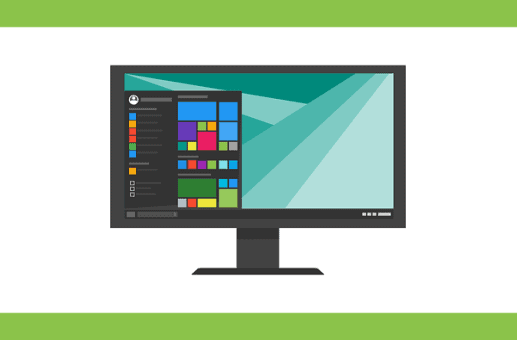 Let's get into the cash-rich technology sector today with a Microsoft dividend stock analysis.
Microsoft impacts our lives on a regular basis, so let's not delay. As we go, I will summarize my thoughts on the Microsoft dividend yield, dividend growth, and dividend safety.
Related: 40 stocks for passive income from dividends
Microsoft Company Background
Founded in 1975, Microsoft operates in over 190 countries. They develop, license, and support a wide range of software products, services, and devices.
Some of these product and service offerings include:
Computer operating systems

Systems management tools

Personal computers

Tablets

Gaming and entertainment consoles

Cloud-based software, services, platforms, and content

Support and consulting services
Finally, Microsoft stock trades under the stock symbol MSFT.
Source: Microsoft – About
Microsoft Business Strategy
Strategic emphasis is placed on 3 primary business segments.
Productivity & business processes consist of Microsoft Office products and services, LinkedIn services and subscriptions and Microsoft Dynamics business solutions.
The Intelligent cloud is composed of public, private and hybrid server products and cloud services that power businesses.
More personal computing is a "catch-all" for products and services that bring together the needs of end-users, developers and information technology professionals across all devices. Sales of tablets, gaming devices, and personal computer accessories fall into this category.
Revenue distribution across these strategic areas is shown in the pie chart below.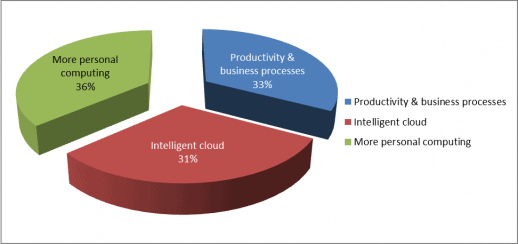 Source: Microsoft fiscal year 2019 10k SEC filing
Microsoft Dividend Yield
Microsoft pays an annual forward dividend of $2.04 cents per share. This represents a 1.3% Microsoft dividend yield at the recent Microsoft stock price.
Microsoft Historical Dividend Growth Rate
| | | | |
| --- | --- | --- | --- |
| 1 Year | 3 Years | 5 Years | 7 Years |
| 9.5% | 8.5% | 10.4% | 12.6% |
As shown in the table, Microsoft's dividend appreciation has been nice and steady over the past several years. And recently, the Microsoft dividend was increased by another 10.9%.
Related: AT&T dividend stock analysis and review
Microsoft Consecutive Annual Dividend Increases
Microsoft started paying a regular dividend in 2003. And, they have increased it every year since then.
This makes for a consecutive annual dividend increase streak of 17 years.
Microsoft Dividend Policy
Although Microsoft often brings up its track recorded for returning cash to shareholders, I am not aware of specific communications regarding a dividend policy.
After the 2017 tax cut and jobs act, there was a lot of media hype about cash-rich technology companies returning more cash to shareholders in the form of higher dividends.
When pressed on this subject, Microsoft management would not offer any additional guidance. They merely emphasized their track record for returning capital to shareholders. And, said they would continue to do so at an attractive rate.
Although I like it when a company more clearly states its dividend policy, this doesn't concern me. Many companies do not communicate such a policy.
Microsoft Revenue Trend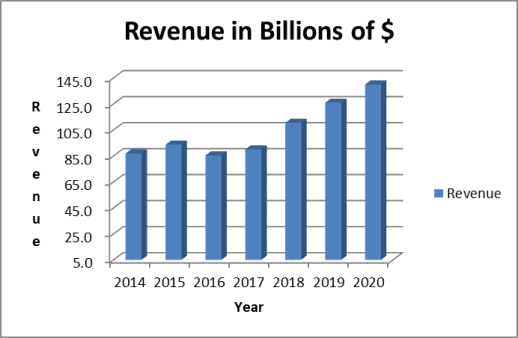 Revenue growth has been substantial. 8% annually over the past 7 years. And, 11% growth projected for the fiscal year 2020.
This is in contrast to another tech giant, IBM. Microsoft has been much more successful in pushing into new products and services.
Growth from new products and services has been important. Because the product life cycle of its popular Windows operating system matured over the past decade.
Microsoft Dividend, Earnings, And Payout Ratio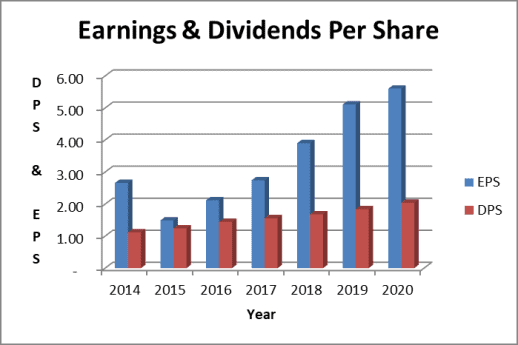 Note: In the chart above, the fiscal year 2018 earnings were normalized for the one-time impact of the 2017 tax cut and jobs act.
Microsoft's earnings have grown right along with revenue. And the dividend payout ratio stands at a very comfortable 36% based on earnings.
A lower dividend payout ratio is generally better. It shows the company has ample room to raise the dividend in the coming years. Or, withstand an earnings drop without having to reduce the dividend.
Microsoft Free Cash Flow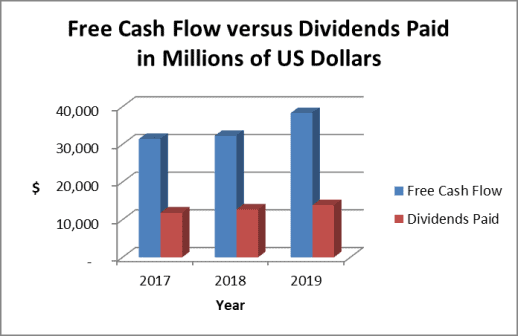 The company generated nearly $40 billion in free cash flow last year. And the Microsoft dividend consumed a little more than one-third of that cash.
With its remaining available cash, management chooses to buyback shares and reduce debt. And, maintain a hefty cash surplus on the balance sheet.
Microsoft Dividend Growth Projection
I like to make a forecast for future dividend growth. I take into account a number of factors. Specifically:
Historical dividend growth

Dividend payout ratio

Stated dividend policy (if management provides one)

Business health & growth strategy
For my planning purposes, I am going to assume the Microsoft dividend will grow 8% on an annual basis.
I'm tempted to go a little higher. But, I'm not comfortable a higher rate is sustainable over the long-term. Or, even if it is, that management will choose to allocate more cash to dividend growth.
Microsoft Credit Rating
Knowing a company's credit rating is important. A corporation's credit rating is similar to how your personal credit score works.
Higher ratings mean lower risk to those who lend the company money. Also, higher ratings mean lenders will likely get their loans paid back.
Microsoft really shines in this area. It is 1 of only 2 US-based companies that still have the highest possible credit rating.
This is represented by a AAA score. As indicated in the chart below, that is investment grade and minimal credit risk.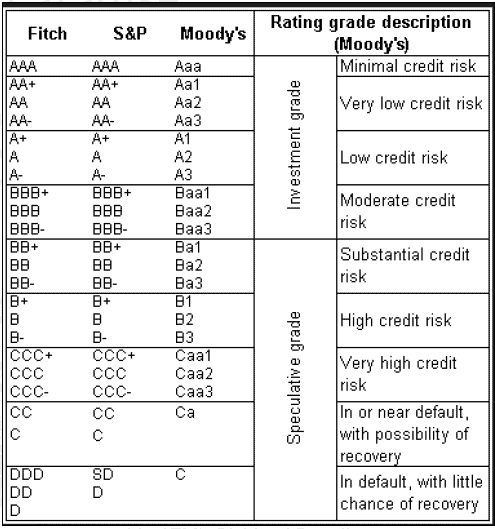 The other US-based company with AAA credit is Johnson & Johnson.
Related: Johnson & Johnson dividend stock analysis
Microsoft Debt To Equity Ratio
Debt to equity sits at .8 to 1. This is a comfortable level, but a little misleading.
Why? When I look at Microsoft's balance sheet, they have enough cash on hand to pay off all their debt. That is if they chose to do so.
Overall, Microsoft has a rock-solid balance sheet.
Microsoft Dividend Safety
Microsoft's dividend gets the highest of marks for safety from me. It has little risk of reduction for the foreseeable future.
I base this evaluation on:
Excellent business fundamentals

Low dividend payout ratios

Triple-A credit ratings

A solid balance sheet that is loaded with cash
Microsoft Stock Valuation
Let's look at a few different valuation measures to judge Microsoft's stock price:
Dividend Discount Model

Price To Earnings Ratio

Morningstar Fair Value Estimate
Microsoft Dividend Discount Model
The single-stage dividend discount model takes into account several factors I have discussed thus far.
Current annual dividend payments – $2.04 per share

Projected annual dividend growth – 8%

My desired annual return on investment – 9.5%
Using these assumptions, the dividend discount model calculates the fair value of Microsoft stock at $147 per share.
Microsoft Stock Price To Earnings Ratio
Microsoft stock is trading at 27 times projected earnings. This is a substantial premium to the S&P 500. And other technology stocks like Apple and IBM.
The premium valuation on a price to earnings basis does not surprise me. The market justifiably places a high value on the quality and growth of Microsoft's earnings potential.
Morningstar Fair Value Estimate
Finally, the investment analysis firm Morningstar estimates the fair value of Microsoft stock to be $155 per share.
Source: Morningstar
Microsoft Stock Valuation Conclusions
Like so many high-quality dividend stocks Microsoft stock carries a high price to earnings ratio. But for Microsoft, I put more creditability in the dividend discount model and Morningstar fair value estimate. A high-quality company like Microsoft often has a price to earnings ratio greater than the market and its peers.
That said, I believe Microsoft stock is fully valued at recent prices. But, feel the stock would be a solid buy on any pullback in the stock price.
Microsoft Dividend Stock Analysis Wrap Up
I have been very fortunate with Microsoft having accumulated my position from 2011 to 2013. This was at the end of a decade long stagnation in the stock price dating back to the burst of the technology bubble in the early 2000s.
On the strength of the stock price gains since then, it has jumped to my largest individual stock holding. Because of the size of my position and low dividend yield, I won't be adding more money here anytime soon.
I do think Microsoft is reasonably valued at recent prices. In fact, if I was building a new dividend stock portfolio, I would look to create a position in this high-quality company over a period of time.
Related Articles About Dividend Stocks And Dividend Investing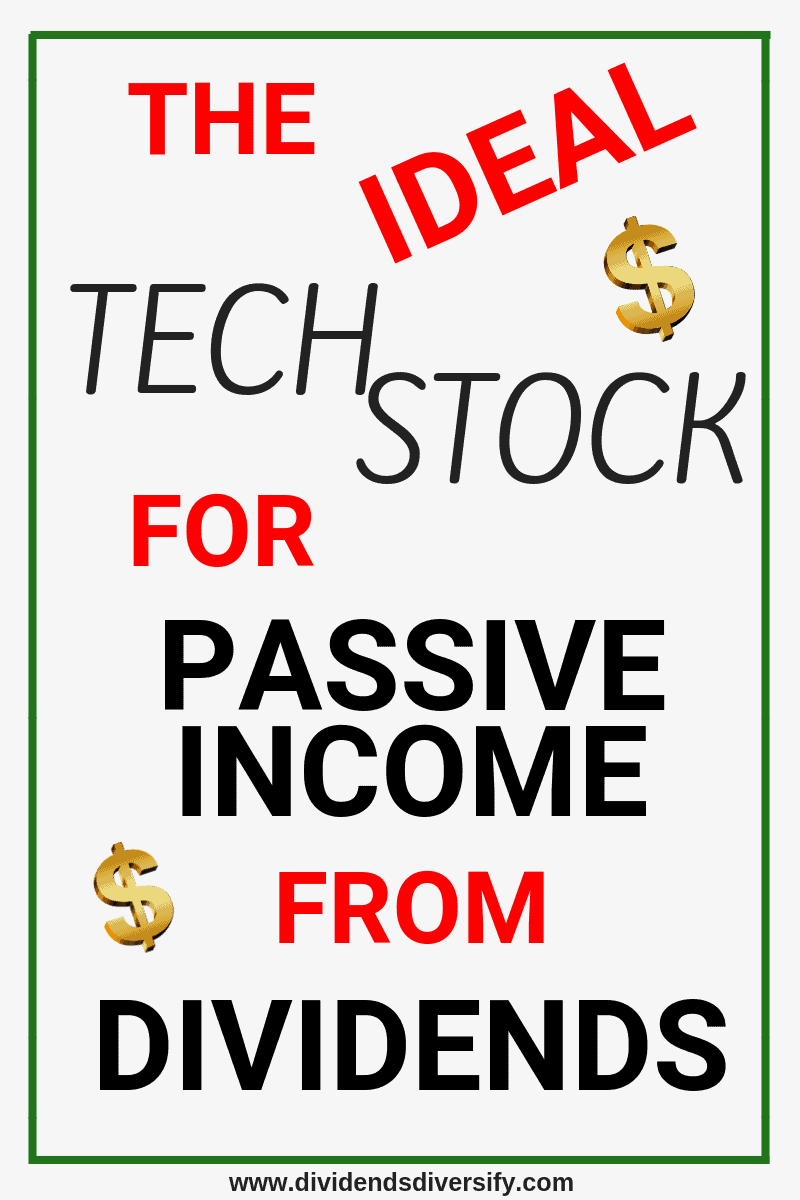 Disclosure & Disclaimer
This article, or any of the articles referenced here, is not intended to be investment advice specific to your situation. I am not a licensed investment adviser, and I am not providing you with individual investment advice. The only purpose of this site is information & entertainment. We are not liable for any losses suffered by any party because of information published on this blog. See this site's Disclaimer and Privacy tab for more information.
I own Microsoft stock and collect the Microsoft dividend.